What does California Dreaming mean to you? For me it's a mix between modern and vintage vibes, relax but stylish outfits! The perfect place to wear your hoodie and bandana!
California Dreaming: Blue and Pink Hues
I am totally obsessed with this city and this"California Dreaming" mural , which embodies the spirit of Los Angeles.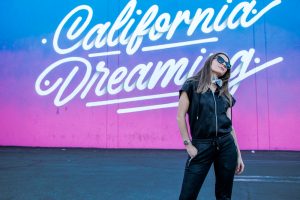 When I moved to Los Angeles, I was attracted by its size and dynamism but most of all by its diversity, retro vibes and creativity.
The city is the home of many industries: Entertainment, Digital, E-commerce, Tech (Silicon Beach) and Finance to name a few. I really connect with L.A. and it inspires me every day.
One of the best color combination of the city is blue and pink! These two colors are everywhere in town. Most of the time, the blue hue just comes from the sky.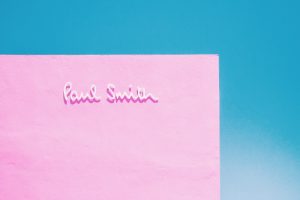 One thing that I particularly enjoy while driving around is finding amazing vintage cars just park randomly in the street! My dream prop for a photoshoot.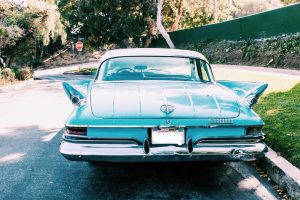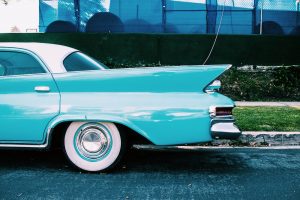 No wonder why so many Angelinos want to be in the movie industry. Los Angeles is made to shoot: neon signs, beautiful palm trees, cactus, massive mansions, stilt houses and vintage motels!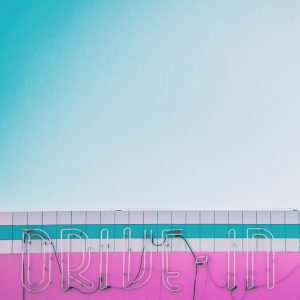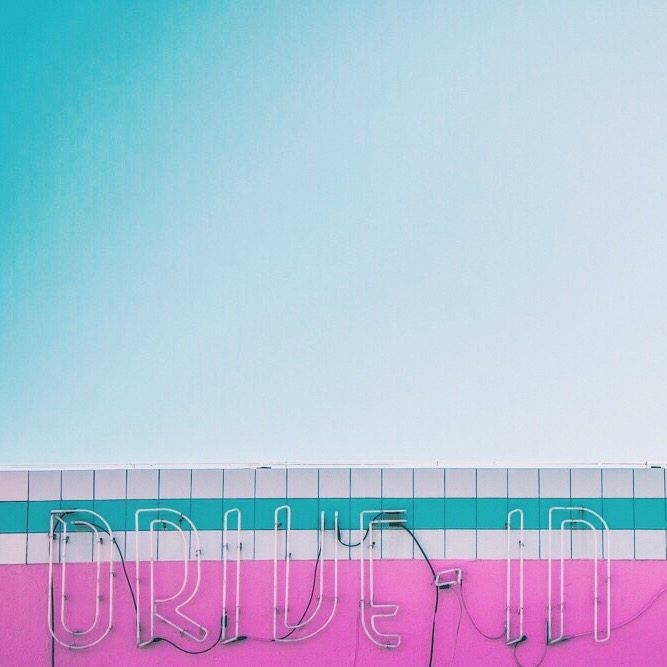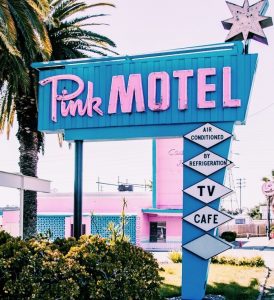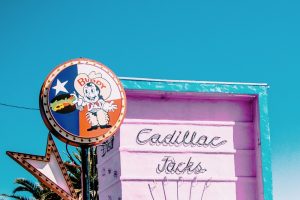 Not really pink but more red, the In-N-Out sign is also a Californian symbol you can't miss. Both locals and Tourists alike to this place to get affordable and "the-most-delicious" burgers (according to my husband and his friends, I am more a taco girl).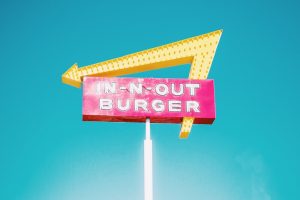 Californian Style with a French touch
Los Angeles is a place where you can wear any style you want (I really mean it!)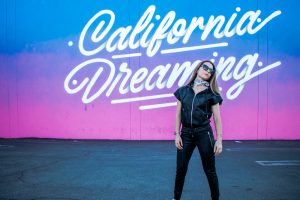 That is one the reason why I feel super keen on wearing this one piece designed by the French brand: "The Kooples".
The cap sleeves which really structures the outfit is what I like the most about this jumpsuit
To make it chic (Audrey Hepburn will always be my fashion icon), I like to style it with black retro sunglasses and a thin bandana.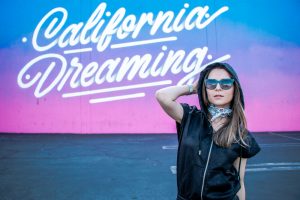 Speaking of bandana, you can find it everywhere in the City. The awesome "General Store" in Venice have even an amazing vintage bandana collection (yes this is a thing here in LA!). My favorite bandana is from Madewell, it is softer, longer and thiner than standard ones. So you can wear it as a bracelet, choker, bag accessory, etc. Possibilities are endless. Madewell also has bandanas made in silk or with fringes! They are affordable and of good quality; so stock them out!
Shop the look: Jumpsuit and bandana
Item credits: Jumpsuit: The Kooples (similar below)/ Eyewear: Farrah Small from Velvet Eyewear / Bandana: Madewell / Watch: Welly Merck / Bracelets: Wanderlust + Co.

Place: Culver City. This "California Dreaming" mural is in Culver City near Chinese Laundry HQ. For sure, one of the best wall of the city.
Photograph: Nicolas Comil / Stylist and Model: Julia Comil