Farbod Barsum Beverly Hills
Recently, as I was doing some researches on exotic skin handbags, I had the chance of being invited by Designer Farbod Barsum in his Beverly Hills flagship. Handbags have always been an obsession for me. Whenever you are dressed for business, casual or a cocktail, the final touch of your outfit will always be your bag. I really consider a handbag like an investment, it's a masterpiece: it needs to be timeless, practical, stylish and of high-quality.
Luxury exotic skin handbags
Farbod Barsum creates sustainably sourced exotic skin handbags and accessories, using chrome-free tanning. No wonder why its clients span from Royal families (the queens of Denmark and Spain, a Saudi Arabian princess) to Style icons (Sarah Jessica Parker, Louise Roe, Christina Hendricks, and more).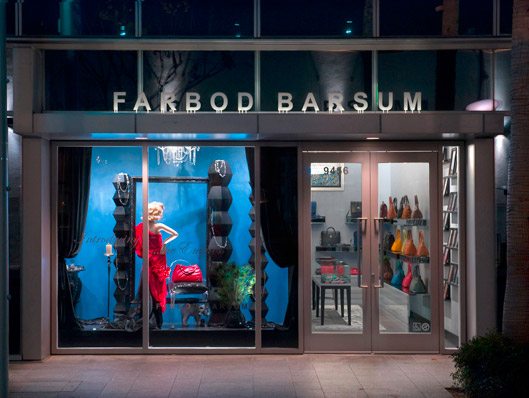 Farbod Barsum Flagship near Rodeo Drive – Picture from Farbod Barsum
Upon arriving in the Farbod Barsum flagship in Beverly Hills, the beautiful colors of the bag, gorgeous crystal chandeliers and incredible paintings of Jackson Pollock caught my eyes. During the visit, Mr Barsum walked me through his luxury boutique. Farbod Barsum studied art, architecture and fashion. And his passions are perfectly reflected in his designs. The structures of his handbags are uniquely inspired by nature and architecture; and his colors are vibrant and bright. In addition, when starting his business in 2010, Farbod Barsum pioneered the industry by matching different type of exotic skins and using color-blocking method. Soon after, famous luxury houses followed his path.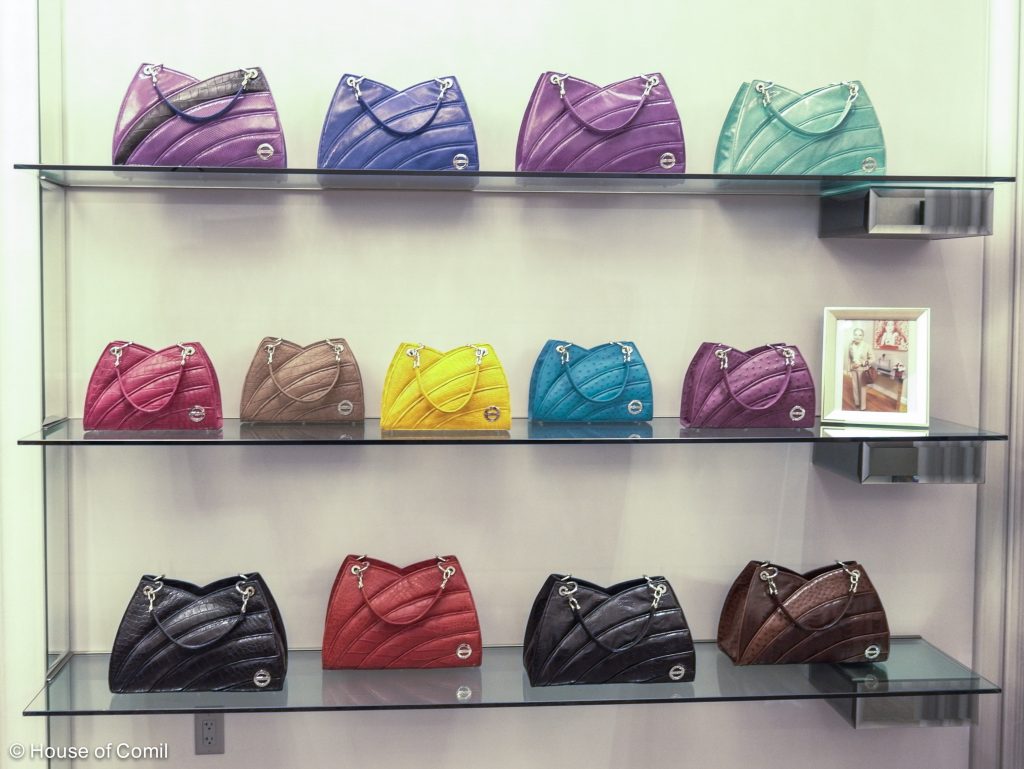 The Empress collection
I am completely astonished by the refinement and details of the bags. The brand is reaching perfection. One of my favorite handbags is the Holly: in navy ostrich leg and cypress lizard.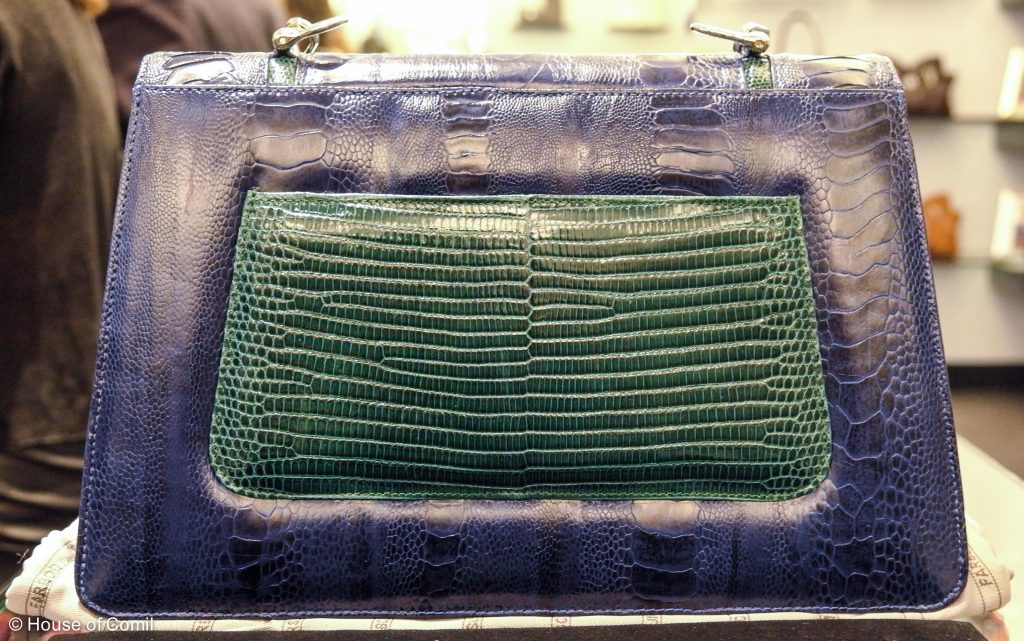 The Holly in navy ostrich leg and cypress lizard: Front and Back views
All Farbod Barsum bags have an interior trim with matching exotic skin; the bags are lined with a jacquard polka dot fabric.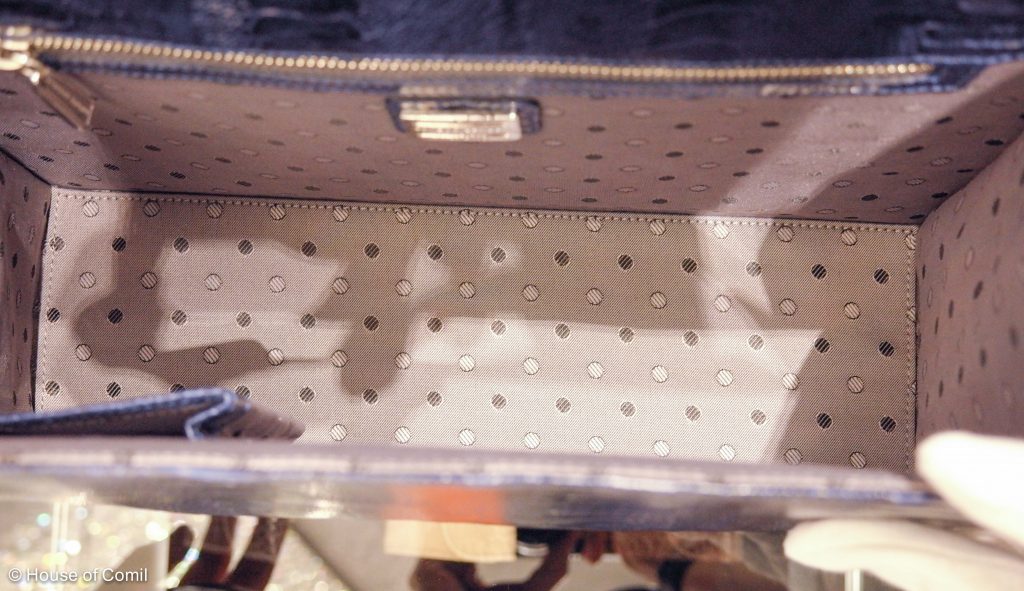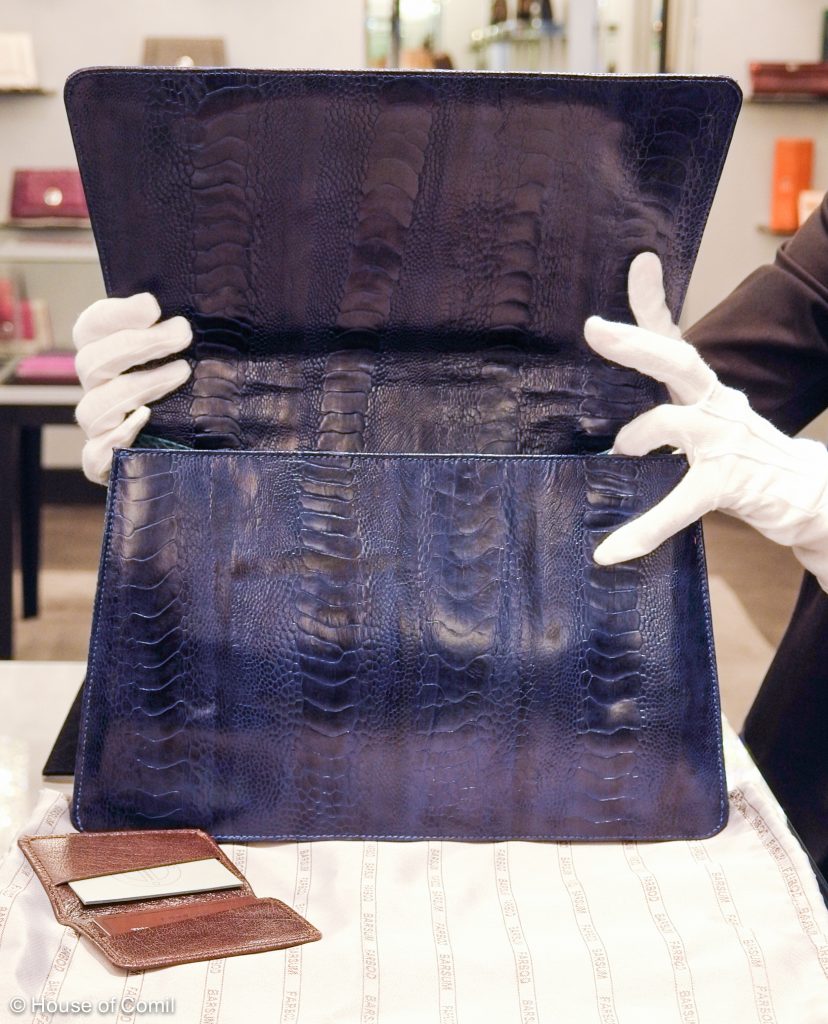 The Holly in navy ostrich leg and cypress lizard: Interior and lining views
With this extreme attention to details; it was not surprising to see that the dustbag is monogrammed with a jacquard lining.
To guarantee ownership and authenticity, each bag is stamped with a unique serial number, registered with the client's name. The ID card is delicately held in a genuine card holder. With a bespoke approach, Farbod Barsum makes no compromise on quality.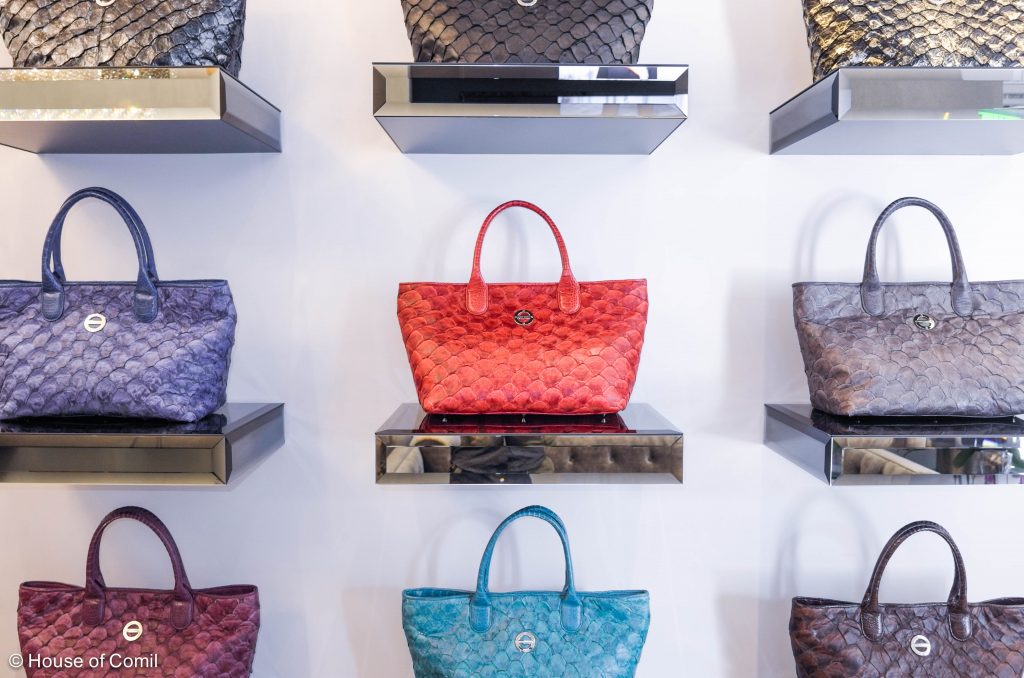 The Genevieve collection in ostrich leg and pirarucu
The eponymous brand is hand crafted in the US from globally sourced sustainable practice exotic skin harvesting techniques (which means that the entire animal was used and there is no waste generated). Each material is prepared using chrome-free tanneries. Every panel of the bag is finished with a "turned" edge. This yields a better looking and durable edge but also adds labors and materials. This utmost quality justifies a price range between USD 2k to 30k.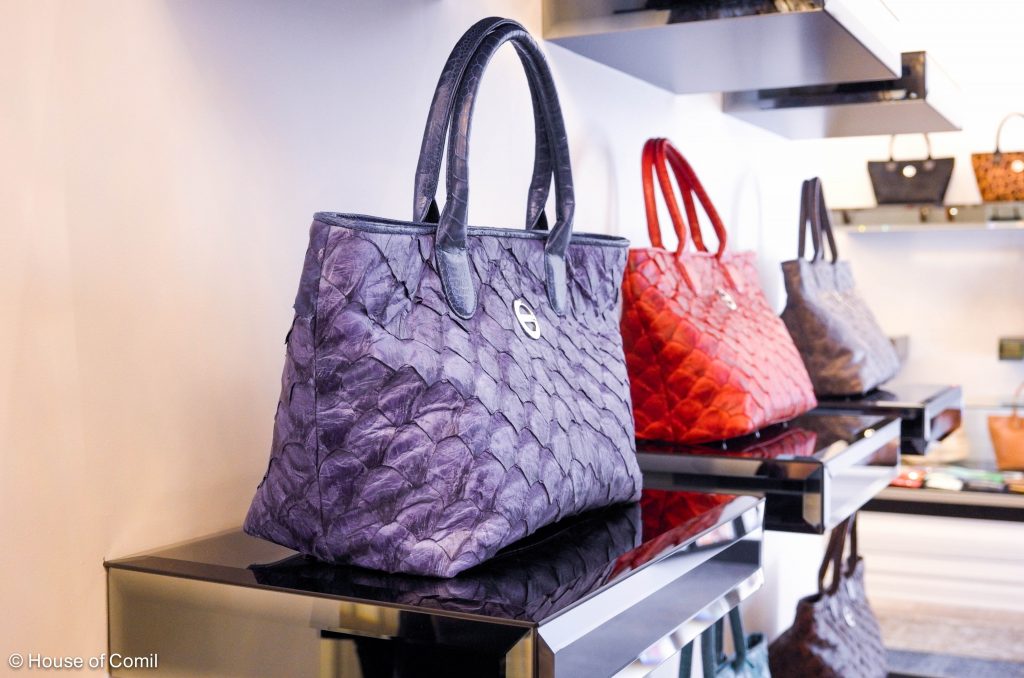 The Genevieve cobalt blue pirarucu and ostrich leg
The brand is using exotic skins such American alligator, African ostrich and Amazonian pirarucu (fish). The pirarucu skin is a very difficult material to handcraft and requires dexterity and time.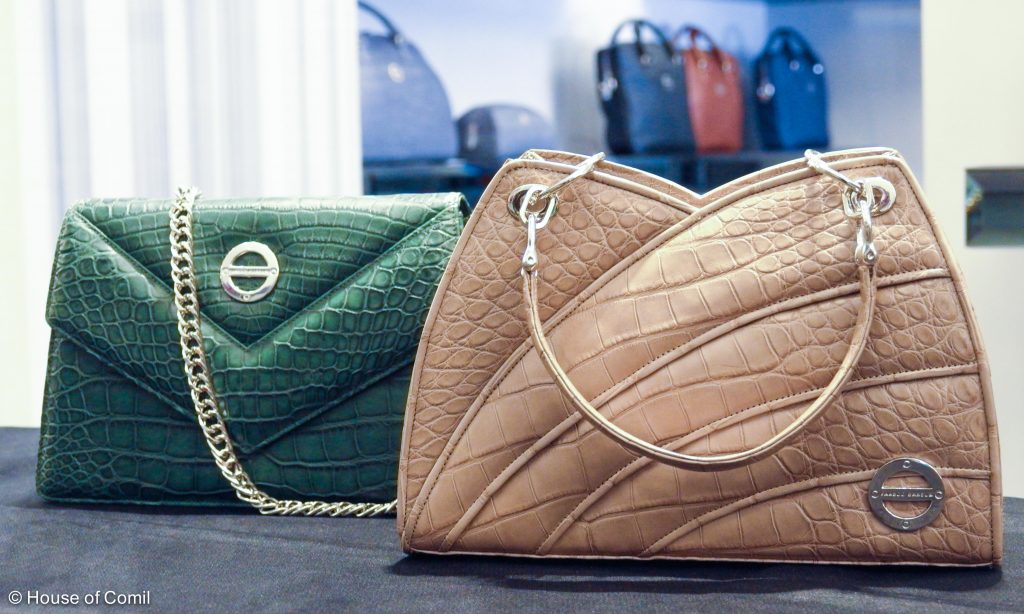 The Candis in cypress alligator and the Empress mini in taupe alligator
Farbod Barsum has the in-house expertise to create custom-made bags and colors. I am in love with this bespoke taupe color, which was specifically developed for the Queen of Danemark.
Farbod Barsum is a perfectionist and a pioneer. One of his latest addition is the mastering of these two tons black-silver.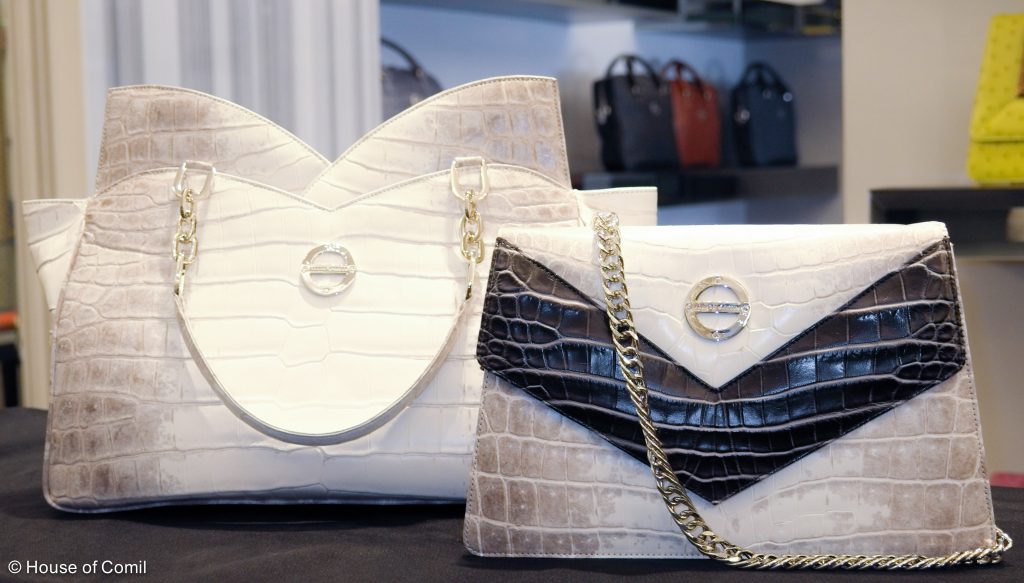 The Mona and the Candis in Himalayan crocodile
These colors are very difficult to hand-craft and require weeks of work.
Among this unique collection, I have found my dream bag: the Carmen bag combining fuchsia alligator and pirarucu skins. Perfect for any occasion, this bag is the latest exclusivity of the Beverly Hills flagship.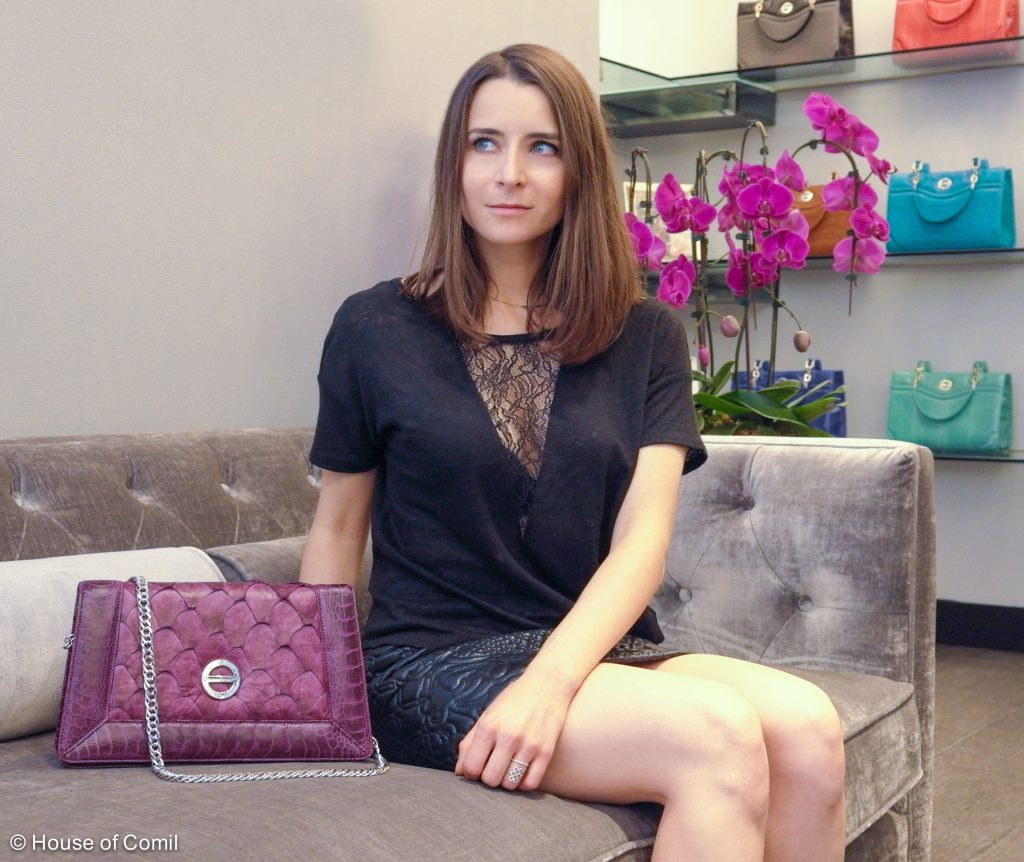 The Carmen bag in fuchsia alligator and pirarucu skins
It was a truly exciting experience to discover the world of Farbod Barsum. Icing on the cake, the open-air Dali's exhibition is just a block away from the boutique. Inspiration takes Beverly Hills.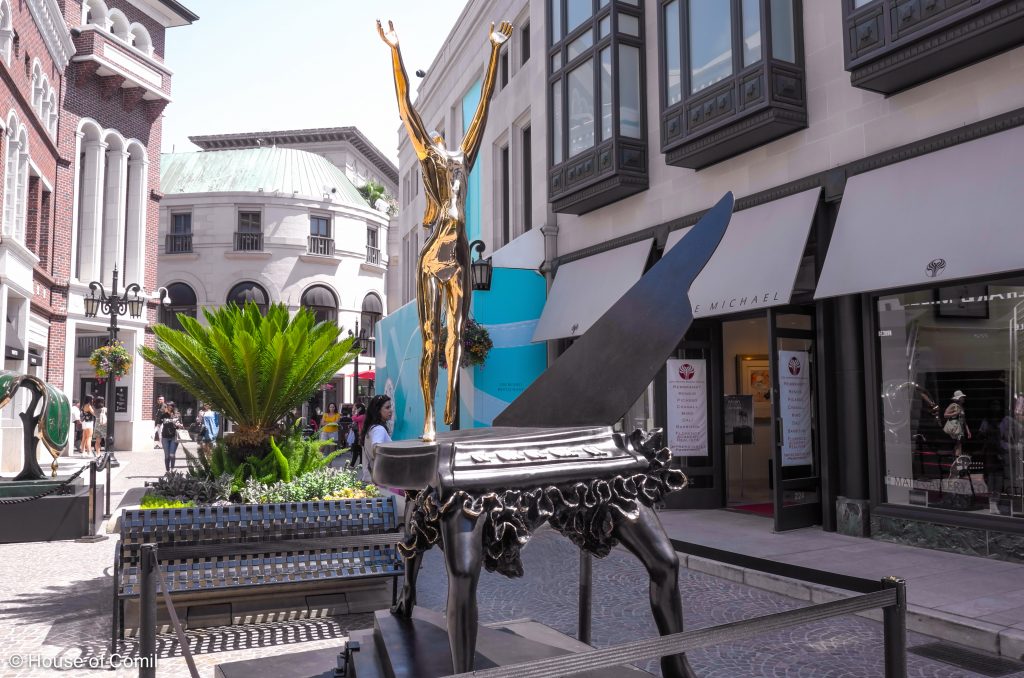 Dali open-air exhibition at Rodeo Drive
---
Location: Beverly Hills
Pictures from Nicolas Comil