Lately, I have tried new natural cosmetics I am very excited to share with you. For starters, these top-notch glamorous natural skincare brands are sulfate and paraben free. And the timing of this article is perfect, since November is one of the best months to try new beauty products to prepare for Winter or be glamorous for the coming end-of-year celebrations.
---
Bioxidea Paris
---

Courtesy of Biodexa
The brand:
Founded in Paris, Bioxidea develops natural anti-aging skincare: masks, BB cream, Eye and lips serum, etc. The products are for all skin types; enriched with botanical extracts and focus on regenerating your skin.
Star product:
The Miracle Element48 Natura Gold Face Mask
Products tried and tested: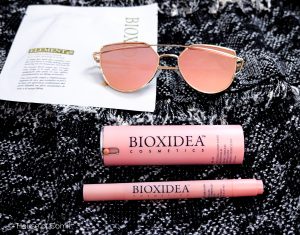 Results:
I am obsessed with all the products I tried from this brand. The rejuvenating effect is really noticeable.
Both the Diamond and Gold masks come in biocellulose sheets, which proves very potent because it allows for a deep penetration of the active ingredients into the skin. My skin instantly felt super smooth and glowing, and my  fine lines are clearly less noticeable. No wonder why Celebrities and make-up artists are fan of these masks.

The B.B.+ cream is formulated with UV protection. It clearly reduces the appearance of imperfections, moisturizes, smooth out fine lines and provides a light coverage. I love to wear this product on a daily basis, either under my makeup or on its own. This product is recommended by famous beauty blogger: Michelle Phan.

The Outline saver serum is formulated for the delicate under eye area. It is perfect for a quick touch up and it instantly revives and primes your skin. It can be used either under of over makeup.
: High-end, natural and effective anti-aging products that will make you feel like a glamorous celebrity.
: The price. The products are in the $50-$90 range. But you can currently use the coupon code: FALL10 to save 10% on your order. The outline saver serum needs to be use in complement to a real eye cream.
---
Tula
---

Courtesy of Tula
The brand:
Tula is an innovative and natural skincare brand. The products are formulated with a patented probiotic technology and carefully selected ingredients to deeply nourish the skin. Tula's mantra is providing a balanced beauty regimen for a balanced life. Tula focuses on probiotics which are known to improve the health of your digestive system, and these healing properties can also benefit the skin to restore its balance (source: Tula). The brand contains no phthalates, parabens, mineral oil, petrolatum, propylene glycol, gluten, or sulfates and is cruelty free.
Star product:
The illuminating serum
Products tried and tested: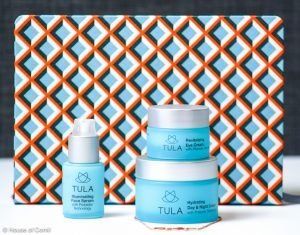 Results:
At first, when you apply those products, you feel like a light tingling sensation but this feeling disappears very quickly. The products are very rehydrating and the anti-aging effect is visible. I have sensitive skin and these products decrease redness.
: The serum combined with the cream, really brighten and improve the texture of the skin: it is perfectly suitable for sensitive skins. I also love this cream as it is for day and night.
: As the eye cream is rich, I try to avoid applying it close to the inner eye area. The price range is between $50-$80, but the quality justifies the price.
---
Beverly to 5th – Coffee Scrubs
---

Courtesy of Beverly to 5th
The brand:
Based in California, Beverly to 5th offers natural body scrubs. Its products are vegan and organic, and come in several natural fragances: Mandarin Orange, Island Coconut, Peppermint and Vanilla (limited edition).. These scrubs are perfect to feel like a cool and sexy Californian babe.
Star products:
Coconut Coffee Vegan Scrub and Vanilla Coffee Vegan Scrub
Products tried and tested: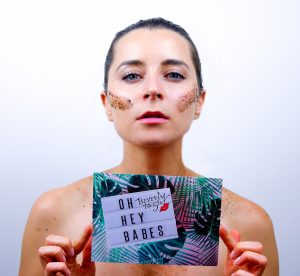 Results:
The products are made with 100% organic coffee and are perfect for sensitive skin. This coffee scrub exfoliates, soothes and tones the skin perfectly.
My skin felt very soft and nourished after the treatment. It will leave you feeling soft and sexy and smelling like a sexy little coconut. The coconut scent is amazing and lasts for hours.
: Smelling like a sexy little coconut, very soft skin and the cool Californian vibes of the brand. Good price point for quantity and quality (below $17).
: You will have to Rinse thoroughly the bathtub after applying (but it's worth it).
---
Mirada De Provence
---

Courtesy of Mirada de Provence
The brand:
Mirada De Provence skincare products are infused with botanical ingredients harvested from the rich farmland of Provence.  Their products are never tested on animals and are also free from paraben and phenoxyethanol.  Its cosmetics hydrate the skin with rich nutrients and help to find your most beautiful, natural self.
As a natural skincare label, Mirada is very careful about the selection of the ingredients and also about recreating your escape in Provence. The line comprises perfumes, body scrubs and body butters, soaps, hand and foot creams, etc.
Star product:
Aromatic Herbs Nourishing Body Butter
Products tried and tested: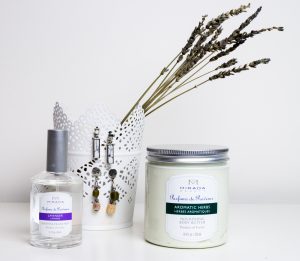 Results:
It smells like home (Provence).
I did not know what will be exactly the scent of "Aromatic herbs" until I tried their products and it reminds me all my summer vacations in Provence. I am totally addicted to this fragrance. The body butter is deeply nourishing, so nice to apply and the texture is not greasy.
I love the Lavender pillow mist. Lavender is one of my favorite scents, I always have lavender bags in my closet and drawers. Lavender is perfect to relax and enhance the sleeps. The mist is very lightweight and this is exactly what you need before going to bed.
: I am obsessed with the products I tried. I truly love the scents of these products. I like the fact that the brand is 100% paraben free, which is not the case of other renown made in Provence brands.
: The packaging could be more stylish (but it really looks like traditional products)
100% Pure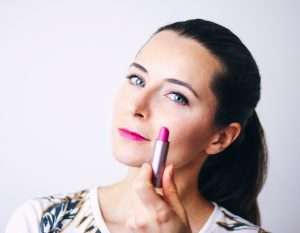 The brand:
100% Pure is a Californian brand, based in Silicon Valley. 100% Pure is completely free of all harmful toxins,100% natural (free of artificial colors, fragrances and chemical preservatives). 100% PURE provides not only make-up products but have an extensive range of skin, body and hair care items.
Star products:
Coffee bean eyecream, bb cream and semi-matte lipsticks.
Products tried and tested: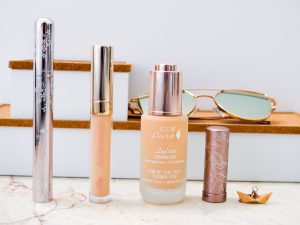 Results:
It is natural make-up but it is real make-up. The true difference of 100% Pure compared to natural cosmetics or other cosmetics brands are the pigments. They last so long and are vibrant.
I am obsessed with these semi-matte lipsticks. Currently this is the only brand I use for lipsticks.
I love the concealer because you can easily reapply it during the day. It really makes the difference for brightening the area around the eyes and nose. It should be noted that the texture is light so it will not be very efficient if someone uses it as a corrector.
The mascara amplifies lashes and the black shade is very intense. The result is beautiful and natural.
The foundation is true to its name: it is a second skin. The finish is natural but you look way better with it than without it. The first time I used it, all my entourage complimented me on my healthy skin. The foundation's texture is very liquid, so I apply it with a wet blender make-up sponge and I wait some seconds before applying the concealer.
: Speaking of natural make-up, the most important product we need to have is a natural lipstick. Indeed, because you can eat it and transfer harsh chemicals when you kiss your loves one, it is better to have a product with no harsh chemicals. I am very happy with the shades I have chosen online. The shade table really help me to choose the right products and the colors really fit to my skin!
: The packaging could be more fun. They could have more make-up products.
---
Shop the post
---

---
Share on Pinterest
---