Black Friday is around the corner; you will likely take advantage of the sale to refresh your wardrobe and buy your next investment piece. In this blog post, I share 5 tips for scoring your next timeless designer item and the best investment pieces that your wardrobe needs.
Tip 1: How to know if something is a true investment piece as opposed to a trend-led item?
A true investment piece has to match your style, your taste, and your lifestyle. Your fashion investment piece is the item that your wardrobe has always needed. It is not an item that you buy to look like the latest issue of a fashion magazine.
Tip 2: What colors, patterns do I choose for my wardrobe investment piece?
Although black, white, cream, and beige hues are the most common choices for a timeless investment; you can also invest in other colors if they highlight your face and skin tone and if you can mix them with neutral colors.
Regarding patterns: you should focus on patterns that are timeless and you have always liked. I only invest in classic graphic patterns (mostly polka dots, checks, houndstooth, stripes), as they are timeless and it is what I have always worn over time.
Tip 3: What kind of items do I need to invest in?
It is better to invest in an item that you can mix and match with other pieces of your closet. Usually, I invest in the perfect leather jacket, cashmere coat, blazer, tailored pants, handbags, and footwear.
Tip 4: Should I invest in emerging designers?
It will depend on the maturity of your style and your personality. Fashion connoisseurs will instantly put you in the trendsetter category if you invest in new designers. I will recommend investing in an emerging designer if you feel comfortable with your current style/aesthetic and if you can mix and match your new designer piece with other pieces from your closets. Also, emerging luxury labels tend to be less expensive than classic luxury labels for similar quality. Regarding resale value, you will take more risks by investing in an emerging brand. But as always, taking more risks also means more rewards (value can go up years after, more recognitions from the fashion community, etc.).
Outfit details: Cashmere Vest and Dress by Max Mara / Boots by Yuul Yie / Small Bambino Bag Jacquemus via Farfetch
Tip 5. What strategy should I adopt for Black Friday shopping?
I usually buy a piece that I will wear all year long from a designer I love. I also always check the designer accessories section (belts, sunglasses, earrings) to find the piece that will instantly elevate my outfit and to do some Xmas gifts.
Plus, I will check if I see a piece for the end of the year parties: a dress or shoes.
My go-to labels are Max Mara, Theory, Saint Laurent, Isabel Marant, and Chanel. Then I will mix these pieces with edgier designers like Marine Serre, Jacquemus, A.W.A.K.E Mode, Sportmax, Proenza Schouler, Stella McCartney, Jil Sander, etc.
My latest wardrobe investment piece: The Jacquemus small bag
I have been obsessed with Jacquemus' small handbags. Although I love them, I was waiting for a version that will hold my phone. That's why I instantly bought the small Le Bambino bag at Farfetch. I can fit my phone and credit card, and the bag is still super tiny. Plus, it has the 'Jacquemus-je ne sais quoi' factor — an organic shape that looks effortless and different at the same time. I chose the black version as it goes with everything in my wardrobe.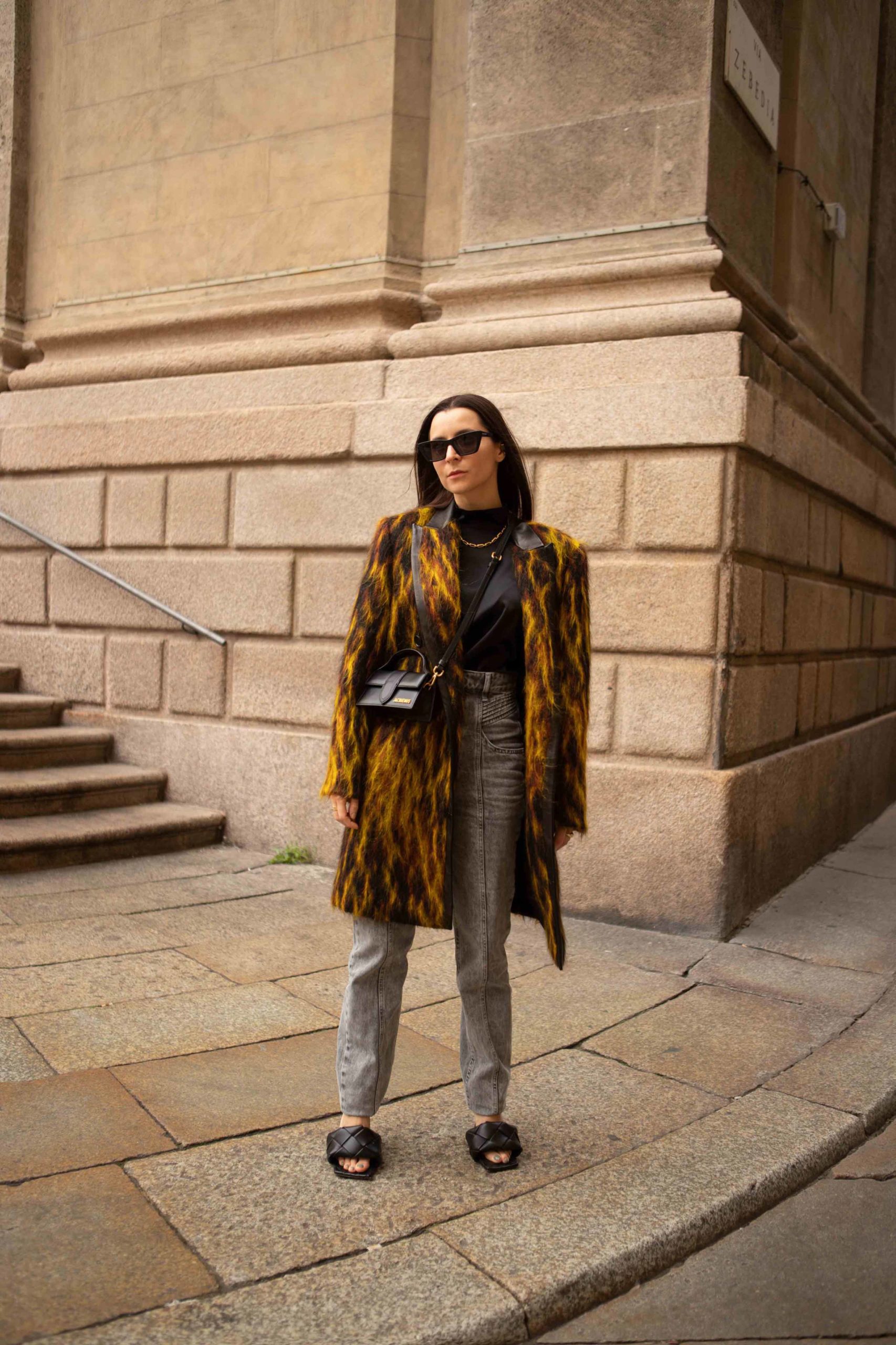 Outfit details: Coat Barbara Bui / Bottega Veneta sandals / Sunglasses YSL / Small Bambino Bag Jacquemus via Farfetch
My Bambino bag was a great addition to my wardrobe and I wore it on repeat during Paris Fashion Week. Indeed, the bag is very versatile thanks to its removable strap. I can wear it like a cross-body bag or like a clutch. 
Outfit details: Natan Couture Skirt and Blazer / Chanel sunglasses / Small Bambino Bag Jacquemus via Farfetch
Best investment pieces
I own some of them, and others are on my wishlist.
Blazers and trousers

Coats, denim, and jumpsuit

Bags and shoes

Accessories

Find more tips shared by other fashion bloggers to buy your next investment piece in this Farfetch article.
Looking to buy your timeless leather jacket, check out this blog post on Modersvp.com.