Fall Winter 2018 2019 Trends – fashion week coverage: bold prints, couture sportswear, Far West inspirations, bold belts, golden dresses, PVC coats, etc.
The New Golden Girl
This fall 2018, gold is a bold color worn by evanescent silhouettes. Gold tones were at the apogee of the Chanel Fall Winter 2018 2019 Ready To Wear Runway. On other runways, gold is mixed and matched with neutral colors for an elegant look.
All Over Prints
Animal prints (leopard, snake, zebra), florals or arlequin prints: choose your favorite prints and wear it all over! This fashion trend has been seen on Tom Ford, Saint Laurent, Balenciaga, Versace, Dries Van Noten, Emporio Armani, etc.
Wild Wild West
Westworld meets Mad Max. The fashion runways were pretty much inspired by the Farwest for this fall winter 2018 2019! Coach 1941, Etro, and Isabel Marant runways created the most wanted pieces to wear this season!
Double Exposure
When Fashion meets Photoshop. The designers Sacai or Creatures of Comfort created a fashion statement by mixing prints and fabrics into the same garment! I also discovered Dawei during the Paris Fashion Week and I was really impressed with its silhouettes mixing different prints and fabrics! A brand to keep on our fashion radar!
See it Clearer
Clear accessories were a big trend of the previous season. The PVC fabric is still inspiring fashion designers for this Fall Winter 2018 2019. My favorite piece will definitely be a clear trench!
Couture Sportswear
After launching luxury sneakers, more and more designer brands are integrating sportswear pieces to their collections. Parka, nylon jackets, hoods, and sweaters are taking over the catwalk (as seen on Balenciaga, Prada, Fendi and Leonard runways).
Belt It – Fall Winter 2018 2019 Trends
The belt is the star of your outfit! Belt your coat, suits or anything to be stylish! The chain belt is also a huge trend this season and has been seen on many it girls!
Accessories from the Fall Winter 2018 2019 Fashion Week Coverage
Your OOTD needs an eye-catching accessory! This season try some mix match earrings, vintage-inspired bags, bold belts, 80's lace tights and/ or retro sunglasses.
Let me know what is your favorite trend this Fall Winter 2018 2019 season!
I had a big crush on the Chanel show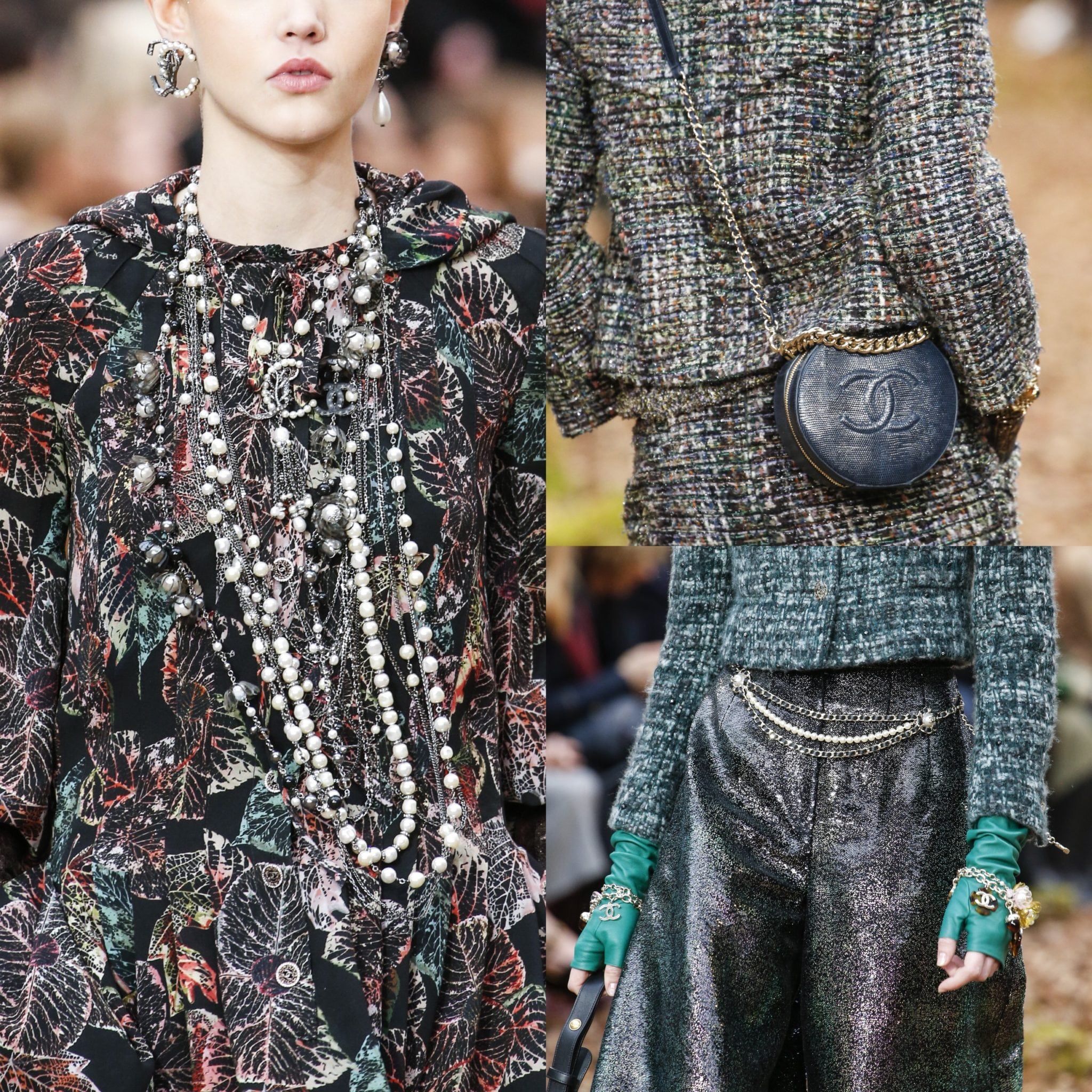 Pictures sourced on Vogue Runway.
More about fashion week: see my post here for my street style roundup for the Paris Fashion Week.