Fall Winter 2022 runway report: The 10 best Fall Winter 2022 fashion trends from the runway
From low-rise midi skirt, maxi oversized suiting, tie for women, sexy black bra-dress, shearling and voluminous outerwear, hot pink, diamond waist to corset: Discover the most coveted trends for Fall 2022 from the catwalk.
Y2K fashion (cargo skirt, hot pink, low rise) and sexy cut-outs are still strong trends of the Fall Winter 2022 season. However, more conceptual looks emerge from the runway with oversized and voluminous silhouettes. Our closet will also borrow some masculine wardrobe staples like pinstripe oversized suits and coats, white tank tops, and ties.

1. Best Fall Winter 2022 2023 runway trends: Low rise midi skirt
The classic midi skirt gets a sexy twist with a low rise waist.
2. Best Fall 2022 fashion trends as per the runway: Women tie
Borrow from the boy: his tie will be your best fashion accessory this season.
3. Best Fall Winter 2022 2023 fashion trends as per the runway: Sexy black bra-dress
Sexy cut-out, bra neckline to upgrade your black dress.
4. Runway Fall Winter 2022 2023 Best fashion trends: Pump up the volume
Go big or Go Home: huge puffer coats, maxi bracelets, balloon sleeves, petticoats.
5. Best fashion trends Fall 2022 from the catwalk: Maxi oversized suiting
Oversized coats and grey blazers are a must.
6. Top 10 fashion trends Fall Winter 2022 2023: Diamond waist
Choose a dress with a diamond shape to structure the waist.
7. Fall Winter 2022 Runway report: Top fashion trends: White tank top
Borrow from the boy: the white tank top.
8. City Corset
Structure your waist with a corset on top of your clothes.
9. Fall Winter 2022 Runway report: Best fashion trends: Sherpa shearling
Wear your favorite shearling coat or jacket, the trend is back this season.
10. Fall Winter 2023 Runway report: Monochrome Hot Pink or Chocolate
Barbie core – Hot Pink
Chocolate hues
Other stand-out looks
Over-the-knee rain boots
Cargo skirt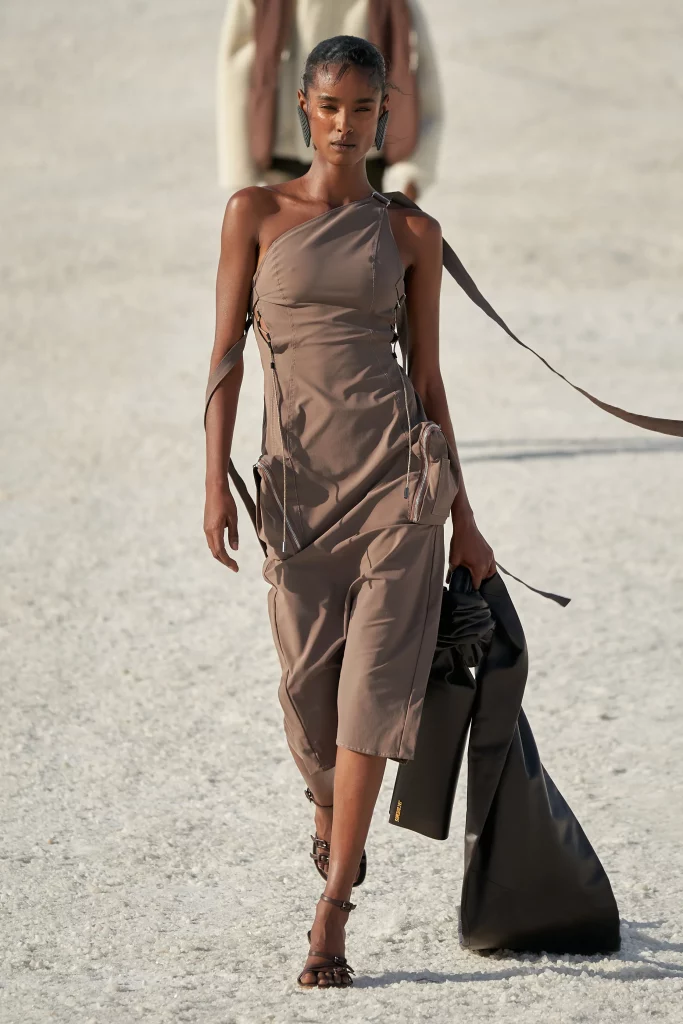 Jellyfish top
Metal fluid
Cut-out blazer and gaiters
Deep V Neck
Ultra Cropped shirt
Fall crochet
Shop the trends

More runway trends here.