Spring beauty: Review of Skin Laundry
I am obsessed by resurfacing laser facials with no downtime. No downtime is important because usually when you use a laser you need to protect your skin from the sun during two weeks. With a no downtime treatment, you can go out wearing just an SPF. It is safer and less harsh for the skin.
In California, men and women are flocking to Skin Laundry to get a deep-cleaning laser and light facials.
Why laser facials?
A laser treatment with no downtime is known to reduce acne, hyper-pigmentation and redness and to even skin tone, fine lines and wrinkles.
Why Skin Laundry?
Some months ago, I tested the Gen V laser treatment with no downtime at the Thibiant Beverly Hills Spa. I loved the treatment but because of the expensive price ($450 /treatment and you need to do 4 to 5 treatments to see results), I also wanted to try a more affordable treatment.
I heard some good reviews about Skin Laundry. One treatment at Skin Laundry costs around $65 for the face with the option to do the chest and neck for $30 more.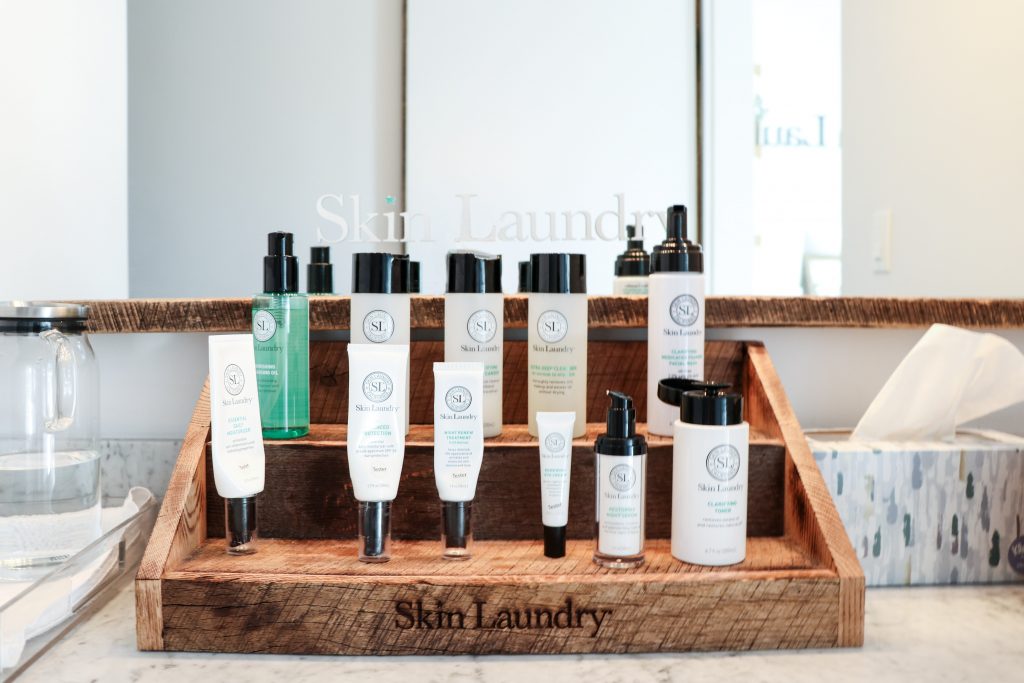 YAG Laser + IPL
However, unlike the Gen V laser treatment, the Skin Laundry treatment is not 100% laser. It is a combination of YAG laser and Intense Pulsed Light (IPL) with low settings. YAG laser is used to resurface skin, remove bacteria and fade brown spots and IPL is used to treat redness and lighten pigmentation.
About Skin Laundry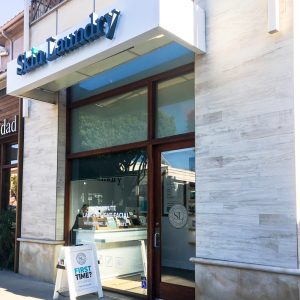 Skin Laundry was launched in Californian and has more than 15 locations in Southern California, Arizona, New York City, Hong Kong and London. It offers only one service: YAG laser followed by intense pulsed light (IPL) on face, chest and neck.
The Skin Laundry treatment leaves skin deep cleaned and toned. Skin Laundry promises that over time regular treatments will visibly improve skin's smoothness, evenness, tone, texture, radiance, and clarity, while diminishing the appearance of pores, reducing the look of lines, wrinkles and restoring firmer skin.
The experience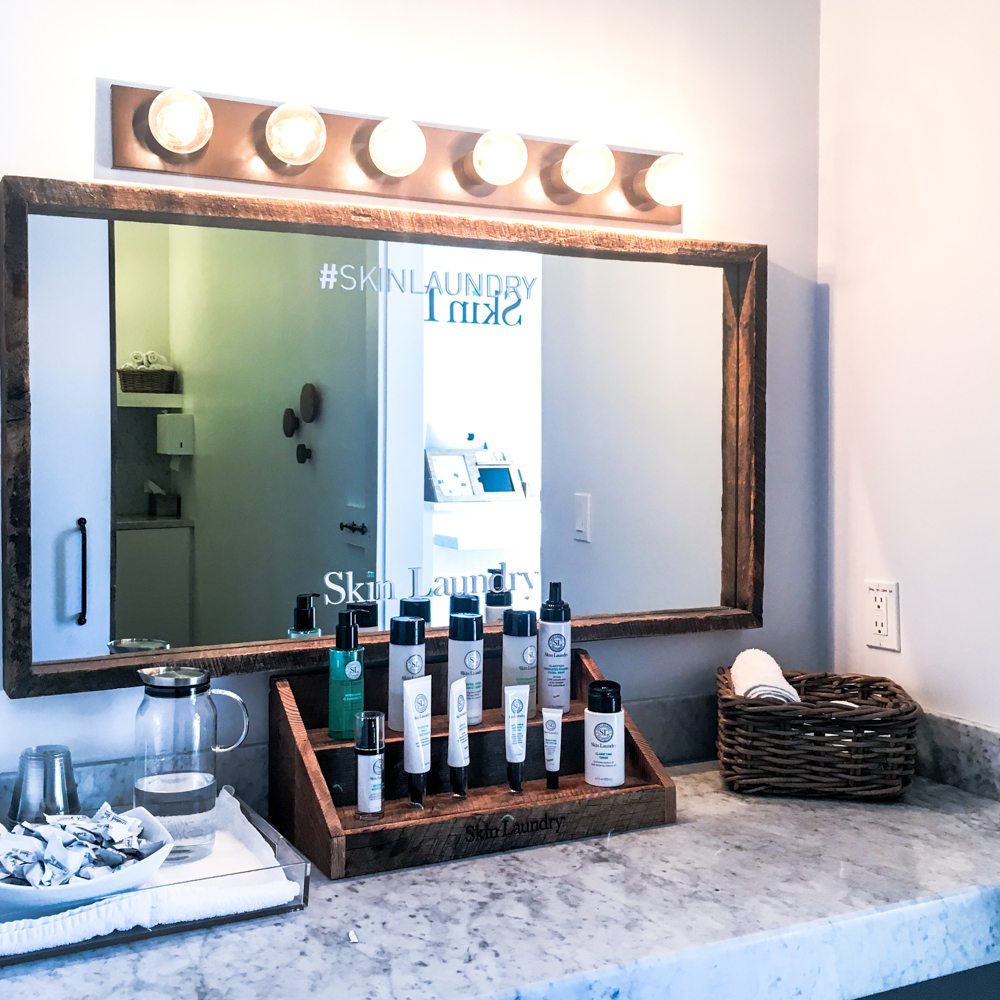 Skin Laundry offered to let me try 4 sessions so I could give you an honest review of how it works and what the results were.
The first treatment is free for any user, so feel free to try it too.
The treatment is not painful and it takes less than 15 minutes.
Check-in: when I arrived, I needed to register and agreed on the terms and conditions on an iPad
Skin prep: The team gave me a

Skin Laundry's Purifying Cleansing Cloth

to remove any makeup. You need to have a clean skin to do the treatment, it will help to have a deeper cleaning.
Consultation: The registered nurse asks me some questions about my skin (no tanning, no harsh cosmetics before the treatment, any medication, etc.). Then the nurse will apply goggles to protect my eyes (an absolute necessity when using a laser or IPL device)
Yag laser: The nurse moved the YAG laser which is a wand-like device. The nurse did two passes over my face. However, unlike with the Gen V treatment, the nurse did not insist on certain areas (when I did the Gen V laser treatment, I noticed that the nurse was targeting some area like my nose to reduce redness). The length of this treatment is less than 3 minutes. The laser did not hurt but it tingled a bit. Furthermore, I noticed a slight burning smell (as per the nurse, the smell is due to the laser vaporizing dirt and removing bacteria).
IPL laser: The nurse applied a cool gel all over my face before using the IPL. I did not feel the IPL actions, I only noticed flashes of light. The nurse did one pass with the IPL device over the face. The IPL duration is less than 2 minutes.
Skin prep: Then a team member came and removed the gel, cleansed the face with the

Skin Laundry's Balancing Antioxidant Toner

and then applied the

Daily Moisturizer Broad Spectrum SPF 35

.
Check-out: Surprisingly, my sensitive skin was not red after the treatment. During the next two or three days, I applied a SPF and did not facial scrub. Also to really enjoy all the benefits of this deep cleansing treatment, I did an hydrating mask.
Frequency
During the first treatment, the registered nurse took a picture of my skin and sent it to a registered dermatologist.
After a few minutes, she confirmed that I could do the treatment and she advised me on the frequency: once a week to see results.
I asked her if I can do the treatments every two weeks, but she told me that once / week will have better results on my skin. She also insisted on the fact that the frequency is different for everybody.
Results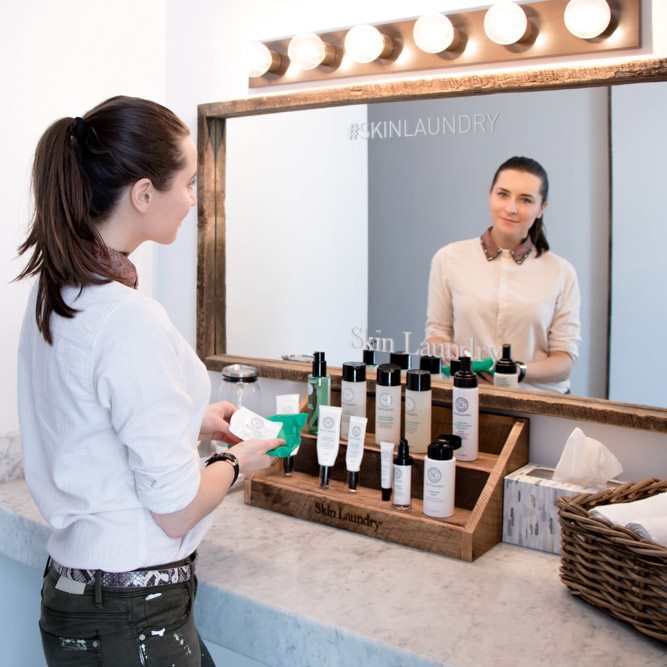 After one session, I clearly see a more glowing skin. After 4 treatments, I saw a reduction of the appearance of pores, a more even skin tone and less dark spots. To see more results, I was informed that I should do at least 10 treatments.
My opinion is that the treatment is very useful, the results are less spectacular that the Gen V treatment but it is more affordable on the long term and regularity is key to see good results.
Skin Laundry treatments are $65 per session or $500 for a package of 10, click here to see more packages.
Caution
My skin type is fairly medium with a sensitive and combination skin. I did not have major acne issues or any scars.
I was not afraid by laser as I did some laser hair removal treatments and as per the dermatologist my skin was totally appropriate for this type of treatment. Also I don't like to expose my skin to the sun so I believe I am a good candidate for those treatments.
However, I heard that laser treatments are not appropriate for every type of skin. As the Skin Laundry treatment uses the same settings for every type of skin, it is maybe better to consult with a dermatologist.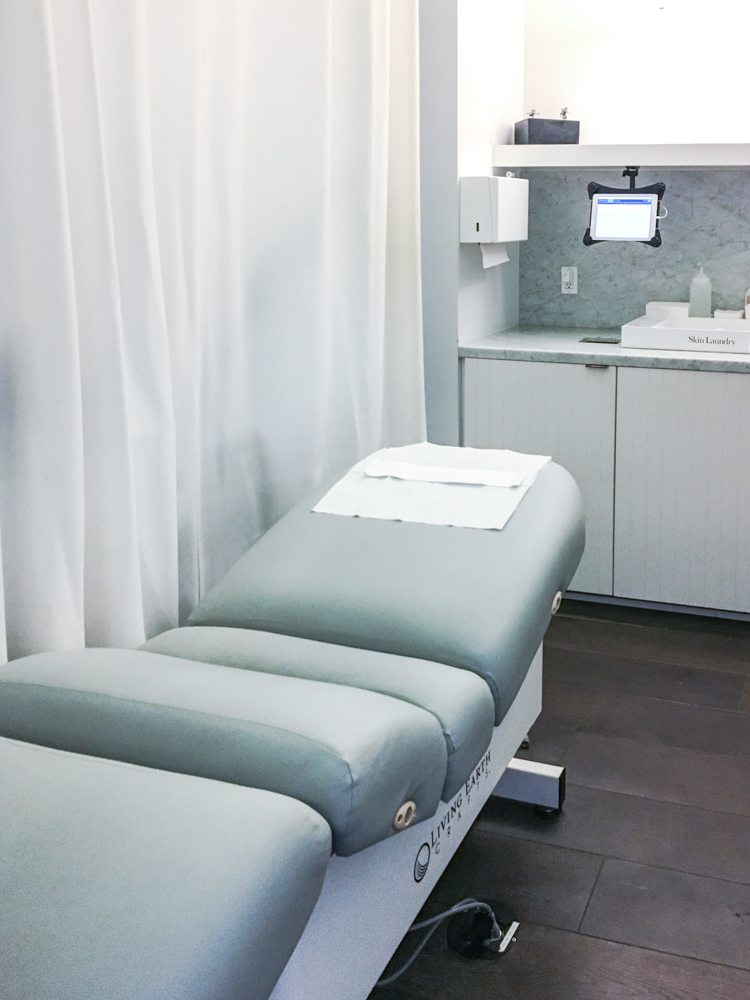 Skin Laundry skincare line
You can easily find the Skin Laundry products as they are now available at Sephora. I personally use the Skin Laundry's Hydrating Cream Face Wash, which is formulated without paraben, sulfate and phthalates. This product is perfect for sensitive skin. It contains Macadamia nut and meadow foam seed oils to clean and to hydrate, comfort, and calm dry skin.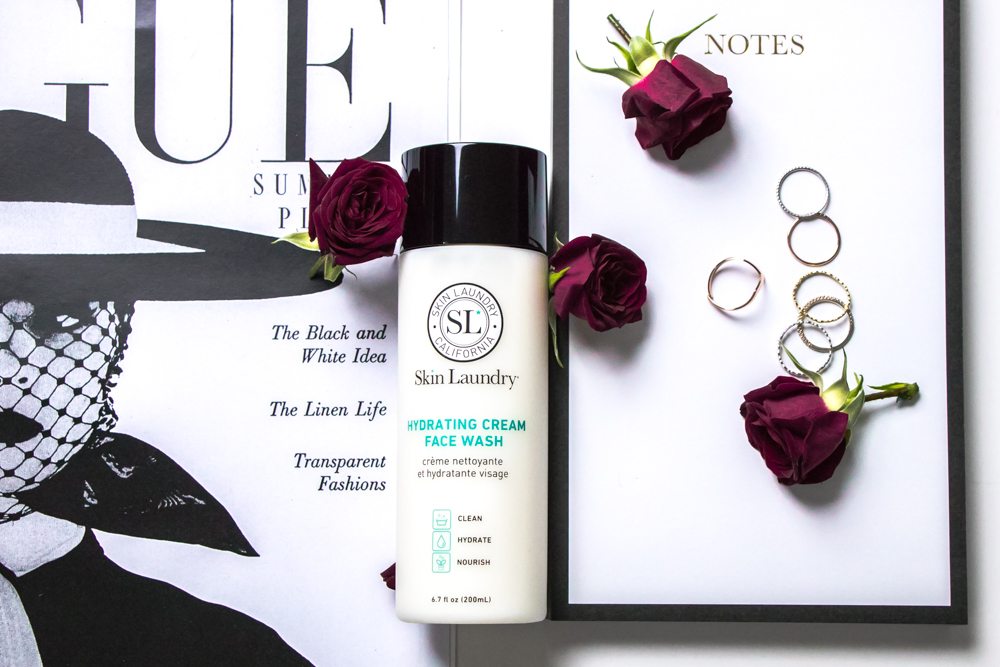 The location
I tried the treatment at the Santa Monica location based on Montana Avenue. The place is not pretentious, it is small and very cute. The place has the following features: the front desk where you need to register, a vanity place where you have a mirror and some products to remove your make-up, the waiting room and 4 small cabins dedicated to the treatments.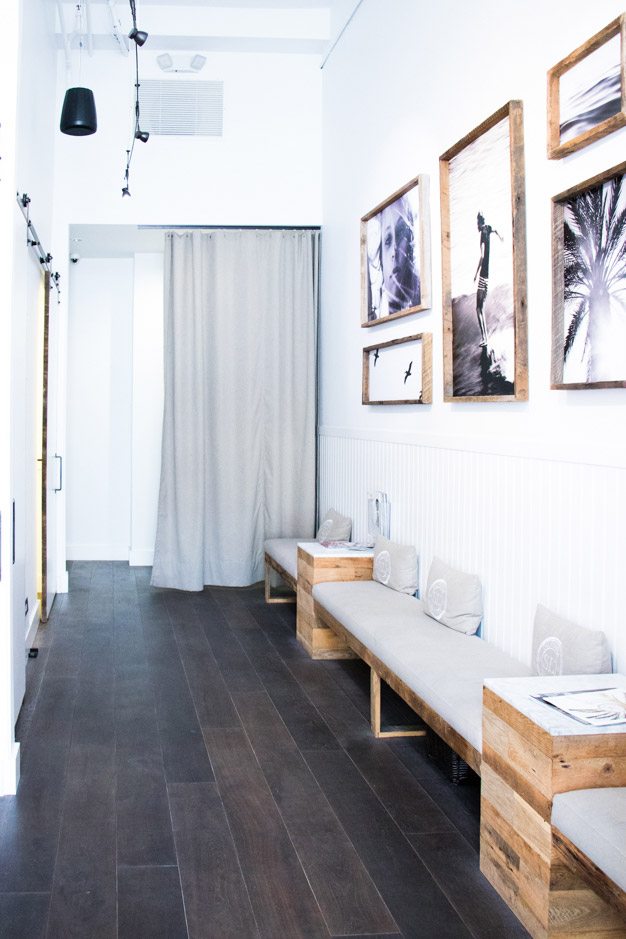 You can book your facial online with your phone number or at the location.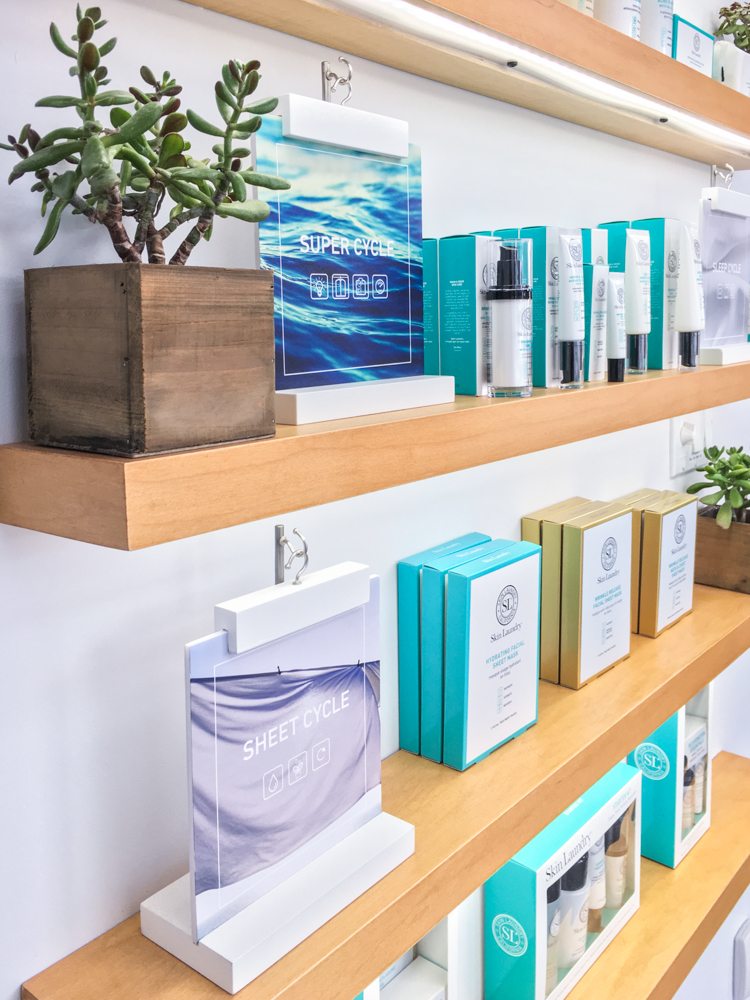 Pictures by Julia Comil.
Outfit: shirt: Maison Scotch / Pants: Zara
Try Skin Laundry cosmetics at Sephora

---
Disclaimer: This post was not sponsored. However, I contacted Skin Laundry to try and review their services for free. As always, opinions are my own.