I have discovered last year the amazing beauty concept store: Credo Beauty, which selects and carries the best natural skin care brands (see my previous post here). If you are into clean beauty, it is not easy to shop at regular beauty stores as there are very few brands which sell natural, glamorous and efficient clean beauty products. I am a regular customer at Credo Beauty (I order online or I go to the LA store) and I am super happy to partner with them for this spring beauty post.
Spring Beauty and Best Natural Skin Care brands
As an LA resident, my skin is always subject to wind and sun. During Spring, I use natural beauty products which hydrate, prevent aging, protect from sun, brighten the skin and even the skin tone. I have details my best natural skincare brands and spring beauty routine below.

Best natural skin care brands: Oil & Cleanser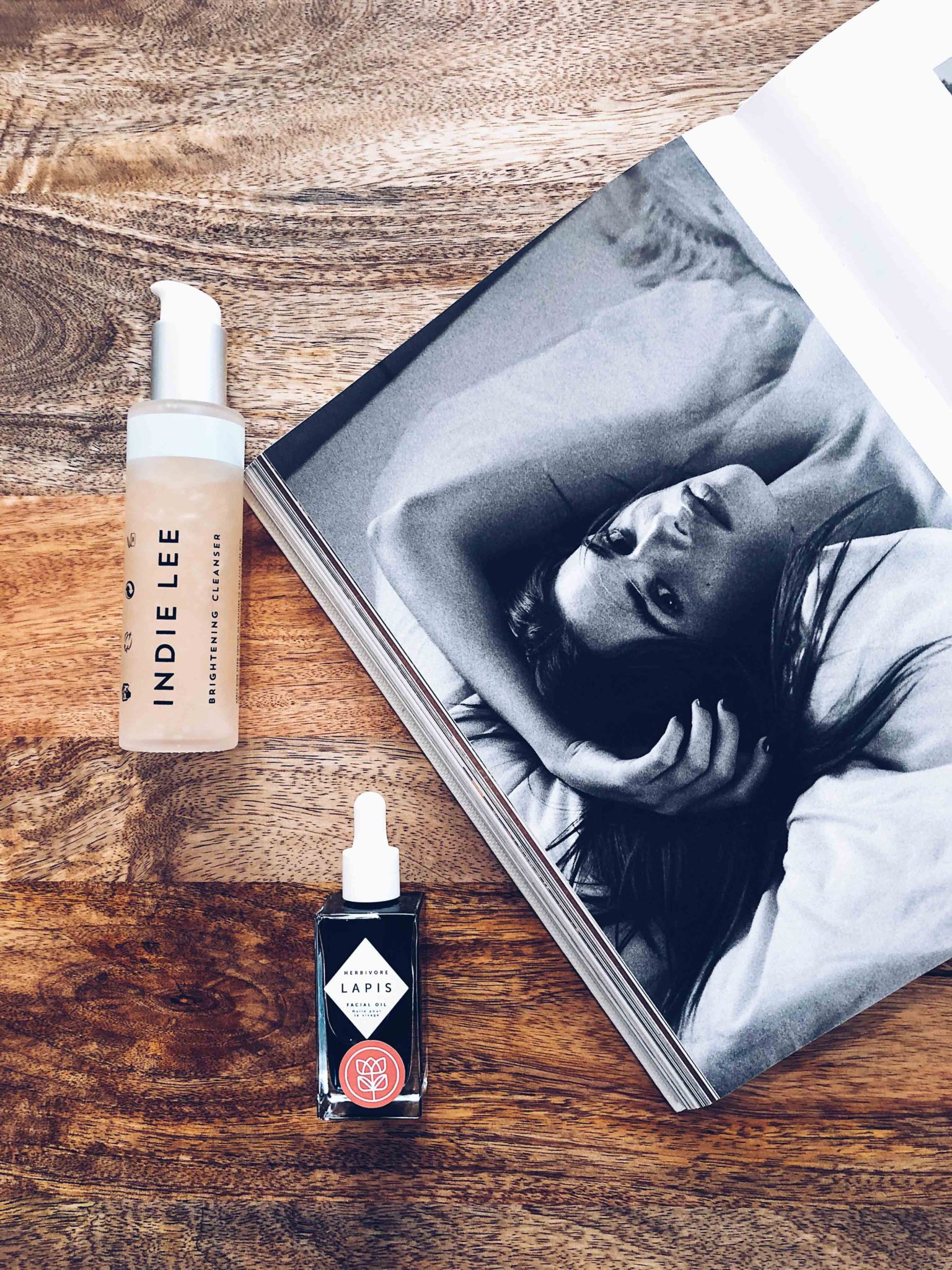 Indie Lee Brightening Cleanser: If you are looking for an effective cleanser gentle with your skin, anti-aging and without harsh chemicals (paraben, SLS, etc.) Indie Lee Brightening cleanser will be your day to night cleanser favorite. You can also apply it to the eyes with a cotton pad.
Herbivore Lapis oil: Herbivore is a must have clean beauty products. All their products are amazing! One of their best-sellers is the Lapis oil, which is perfect for a combination or oily skin. It helps clear up skin blemishes and improves skin tone, leaving it soft and supple. It moisturizes and protects from premature aging. This brand is producing very gentle products perfect for spring!
Best natural skin care brands: Masks and scrubs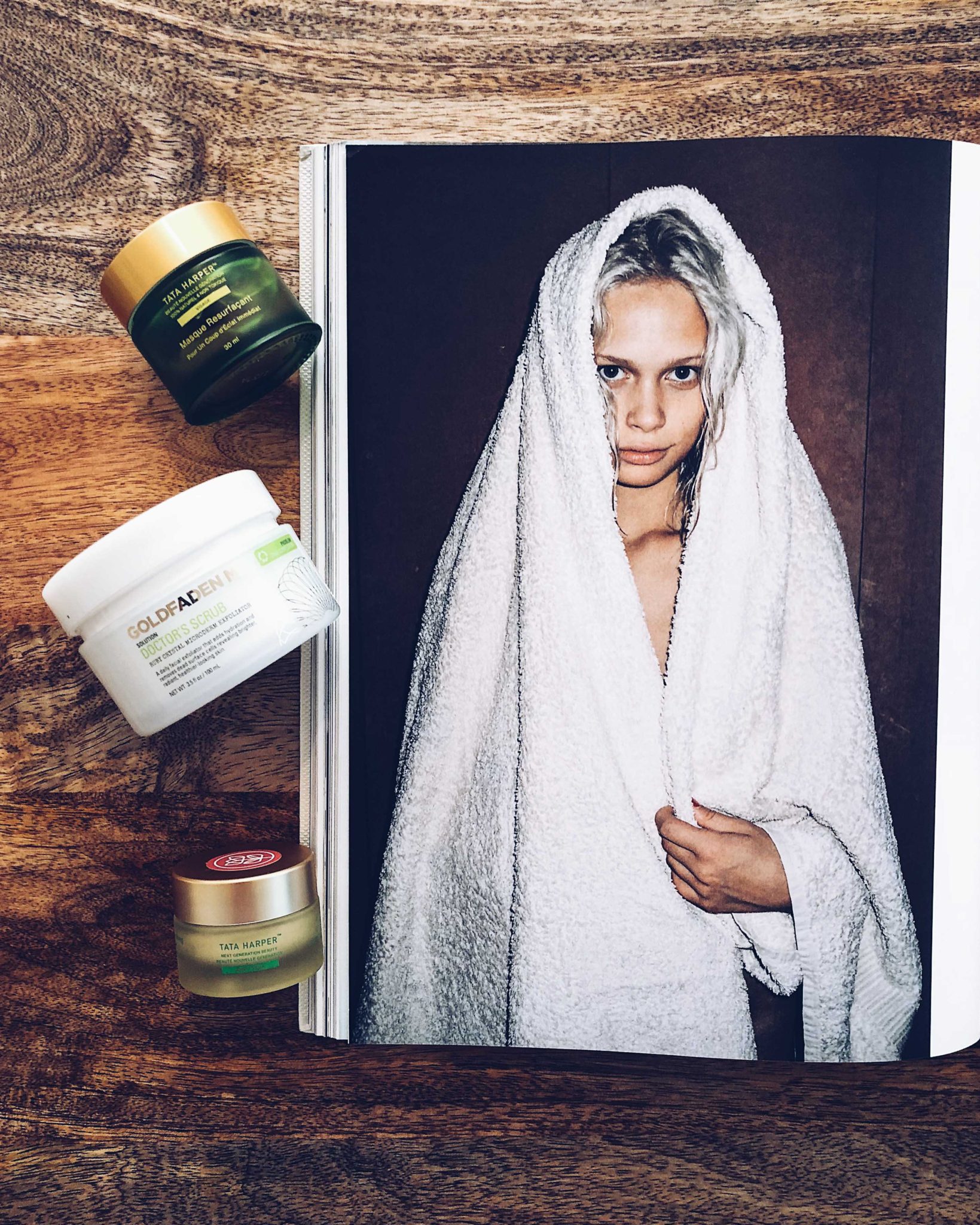 Tata Harper masks: since I have tried these masks I am obsessed and did not find something as good as them.

The resurfacing mask: it delivers instant glow, minimizes the appearance of pores and improves texture for smooth, glowing skin. It is not suitable for super sensitive skin. But I have a sensitive skin and I use it once a week for 15 – 20 min. It really helps.
Boosted Contouring Eye Mask: one of my favorite products to quickly refresh the delicate eye area. It lifts and restores the appearance of tired eyes! I use twice a week (and then once when I am in the middle of the pot)!

Goldfaden M.D. Doctor's Scrub Exfoliator: One of the few scrubs which is natural and suitable for sensitive skin. Dr. Goldfaden's exfoliator contains crystals that polish away dead surface cells, leaving skin brighter, clearer and younger-looking. It also contains Hyaluronic Acid to deliver long-lasting hydration and nourishing Seaweed and antioxidants Organic Red Tea Extract. I use it once or twice a week. As per Credo Beauty, a daily use may help reduce the appearance of fine lines, pores and leave healthy, radiant skin.
Best natural make-up products for Spring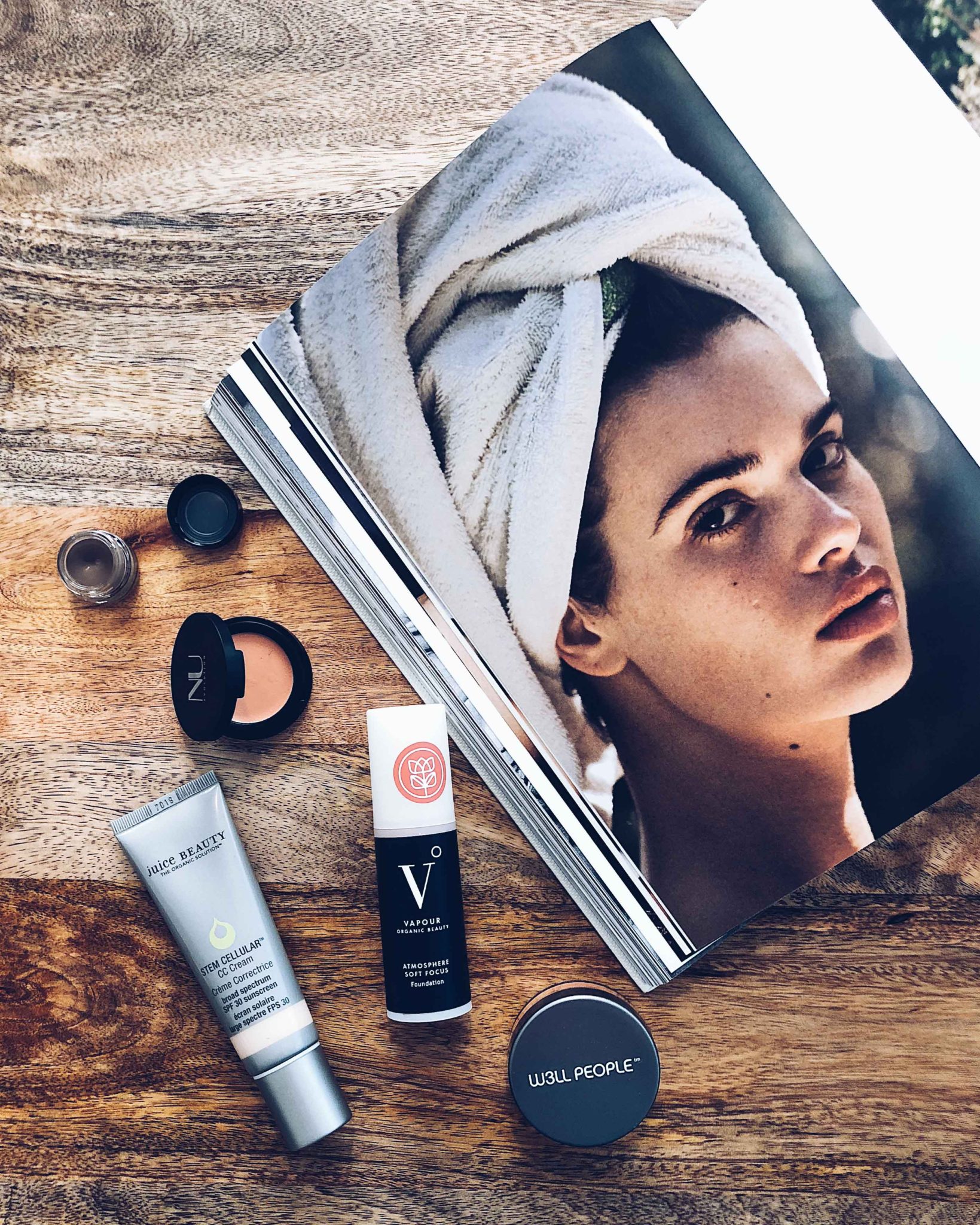 Best Tinted Moisturizer for Spring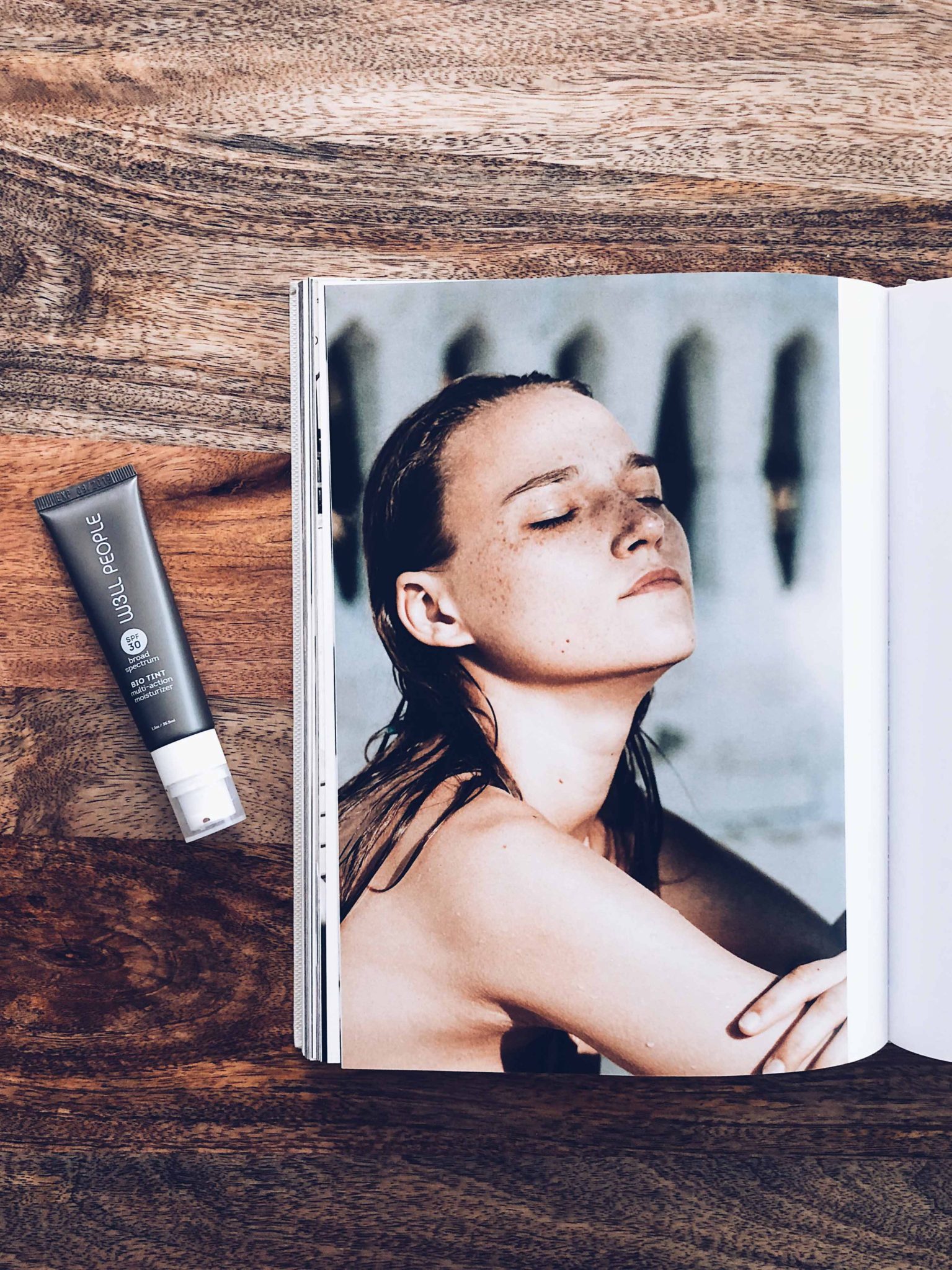 W3LL People Bio-tint Multi-Action Moisturizer. I was looking for a clean product as good as the Laura Mercier Tinted Moisturizer! Indeed, I tried different brands, but I never got the same coverage until I had Bio-Tint by W3LL People. With its SPF30 and Advanced bio-peptide complex which boosts collagen, and premium natural pigments which correct imperfections, this product is part of my makeup favorite for a natural look!
Shop the best natural skin care brands

Pin on Pinterest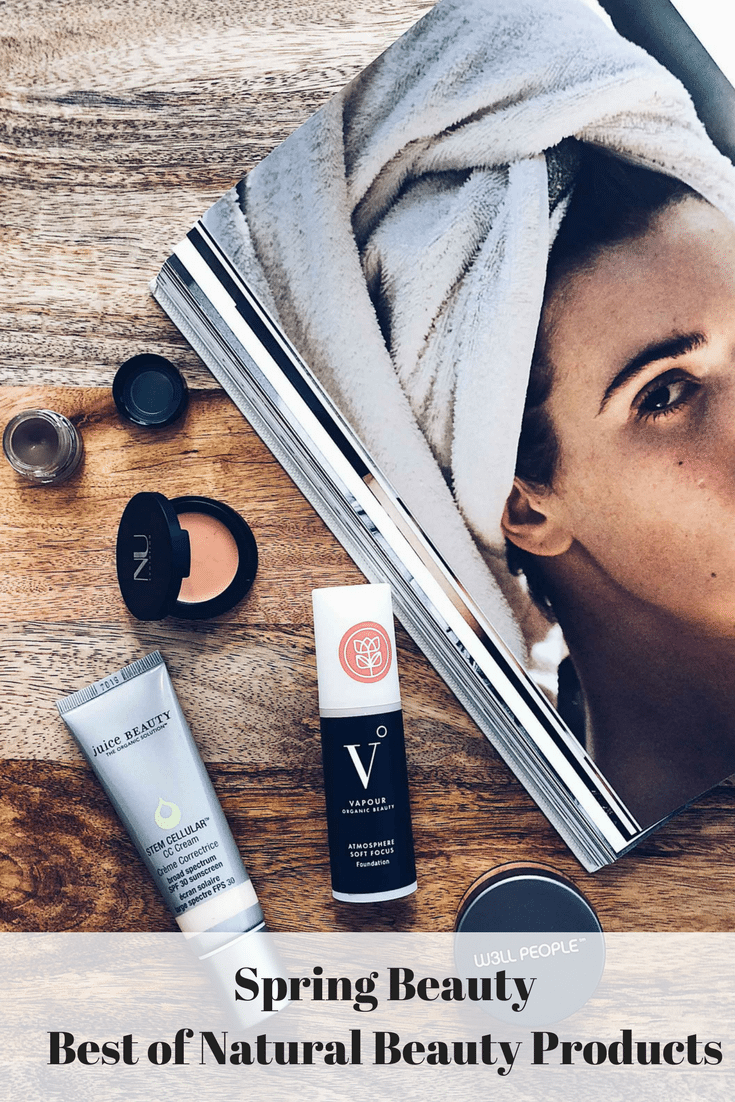 Pictures by Julia Comil, products by Credo Beauty – book: Purienne Holiday.
Disclaimer: I contacted Credo Beauty to do a collaboration as I am a loyal customer of this store and always found the best natural skin care brands at Credo Beauty. Credo Beauty generously offered me some products for this spring beauty post. As always, opinions are my own.