Fall Dresses 2017: The sleeveless shirt dress is a staple of any wardrobe and is perfect to transition from Summer to Fall.
How to wear the sleeveless shirt dress
This dress is perfect for a day to night outfit. I receive a lot of compliments on this sleeveless dress. It comes from Zan.Style. Zan.Style is focused on quality effortless chic and modern pieces produced in China. I have already received different pieces from them and the quality and cut are always good as well as the price point. It should be noted that Zan Style does not produce extra small pieces. This dress is a size small, I usually wear extra small but because there is a belt, the size small fits well.
They are different ways to wear this effortlessly chic dress:
Wear it as it is.
Layer it with a lace top or mesh top underneath.
Change the belt by a leather belt.
Make it a little sexier with a slightly unbuttoned bottom and with a slip dress underneath. See below
Fall bag: The studded Lollo Vitta bag.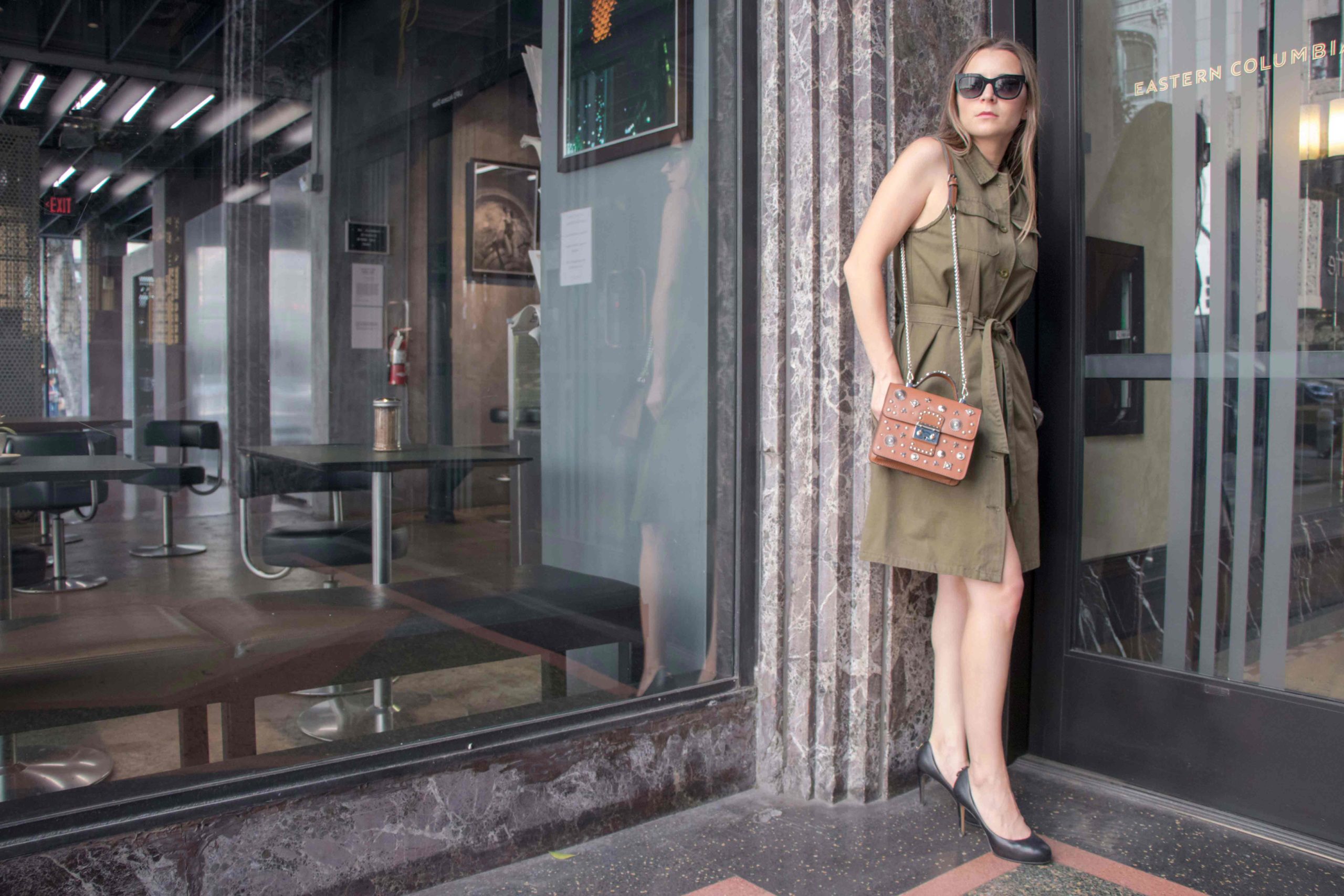 I love this little satchel I received from Lollo Vita.
The quality is very good and I love the charms (studs) on the bag. The bag comes in black, dark green, brown and red!  You can order it on Amazon or on Lollovita.com.
I choose it in brown (because I have a lot of black bags). It goes very well with denim, grey, white and olive colors. I also love the dark green color.

Selection of fall dresses 2017
For this fall: you can wear a olive, denim or black color. The gingham print is still strong this Fall as well as polka dots and stripes! Those prints and colors are timeless.

Credits
Items: Shirt Dress: Zan Style / Bag: Lollo Vita / Satin Slip dress: Victoria Secret / Glasses: Velvet Eyewear / Shoes: Salvadore Ferragamo
Location: Orpheum Theater, Downtown Los Angeles.
Photograph: Nicolas Comil
Disclaimer: I receive this Zan.Style dress and Lollo Vita bag for free. I truly believe these brands are worth knowing and learning about, hence the blog post! As always, opinions are my own.