Review of the European brand Strathberry: an effortless chic leather bag with a signature metal bar closure. Lately, this brand has been seen on Meghan Markle (Prince Harry's fiancé), and since then, Strathberry is on the fashion radar of many women.

When it is sold out on Strathberry website, you can also find some bags from the permanent and previous Strathberry collection on Saks Fifth Avenue, Monnier Freres, Nordstrom and on Lane Crawford.

Strathberry Review: A minimal bag with a signature bar closure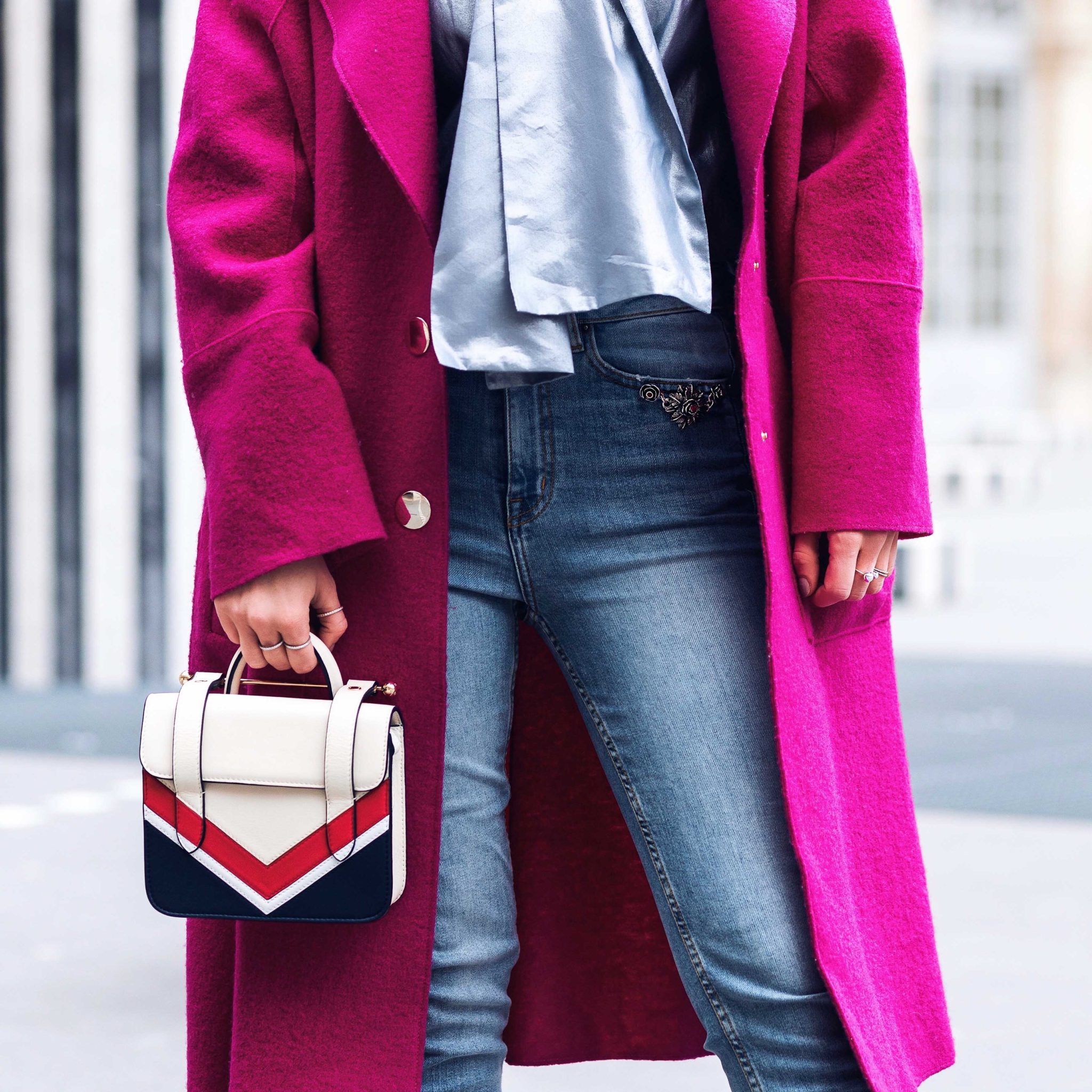 Strathberry was founded in 2013. This amazing brand creates premium leather goods, handcrafted in Spain by the finest artisans, using high-quality materials. Strathberry products are defined by clean lines and its signature bar closure.
How did the Metal Bar Bag trend start?
Since the end of 2015, the metal bar detail has emerged as a new minimal and very stylish bag trend. Absolutely timeless, these type of bags are very fashionable for this season.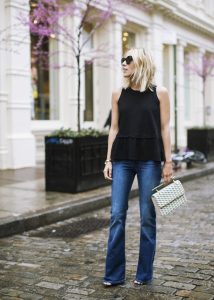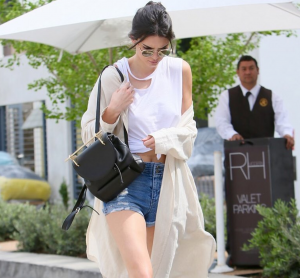 Pictures: Left: Damsel In Dior /Right: Kendall Jenner for M2M Malletier
The iconic label M2M Malletier which designs have been seen on famous street style stars is the most renown brand for this type of leather goods.
However M2M Malletier is not the only label which masters the metal bar closure. Strathberry, the Edinburgh based luxury label embodies to perfection this minimal trend, it has a wider selection of styles and it is more affordable!
Strathberry Review: The East/West Bi Color Vanilla/Beige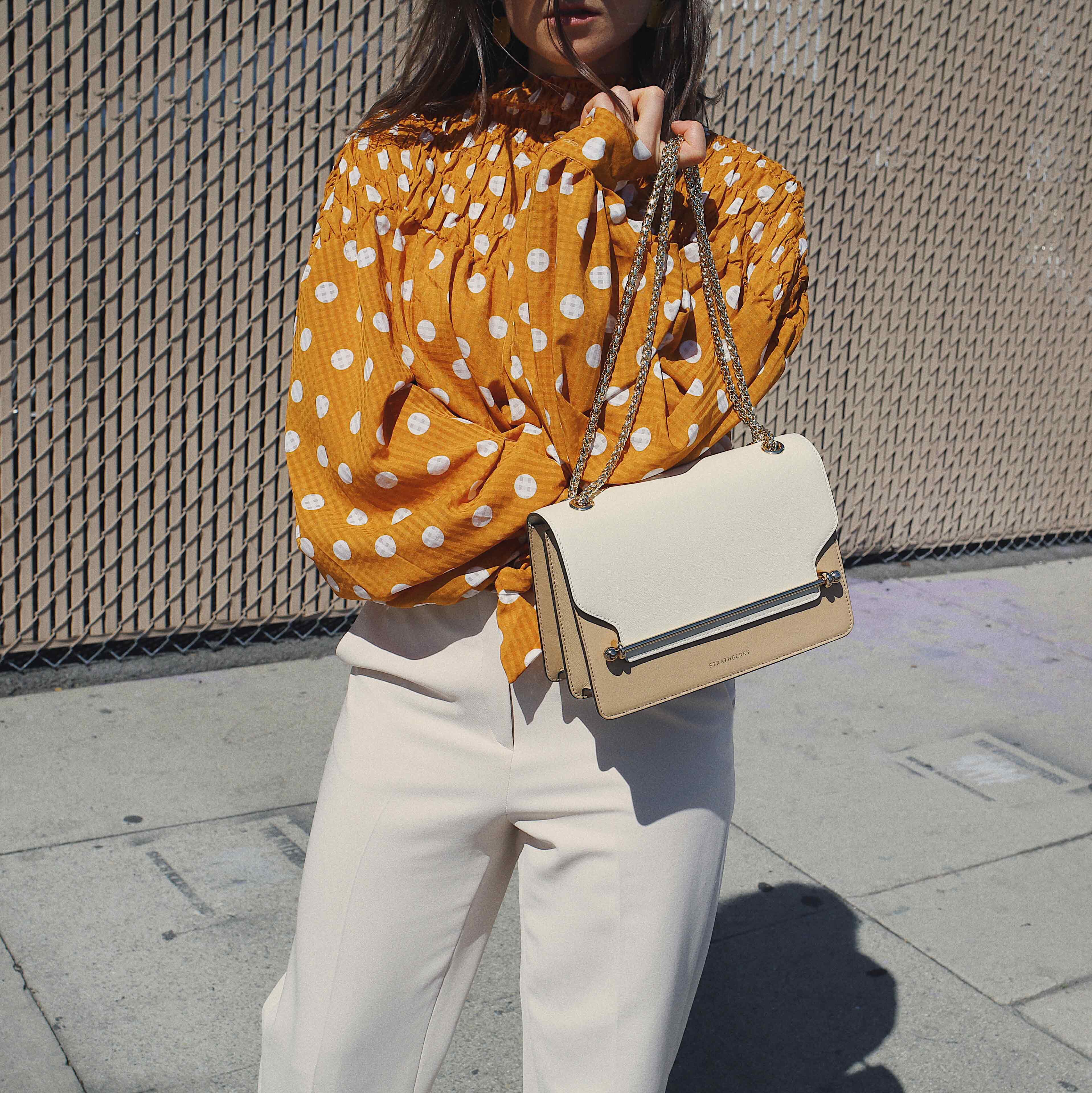 Effortlessly elegant and timeless, the East/West Mini is defined by structured, clean lines and the iconic Strathberry bar closure. The East/West is the perfect companion from day to night. Featuring two compartments with one interior pocket, Strathberry branded hardware and a dual length chain shoulder strap. Made in Spain using the finest calf leather and microfiber lining with a suede like finish. The vanilla/beige is currently sold out on Strathberry website but you can currently find it at Monnier Freres.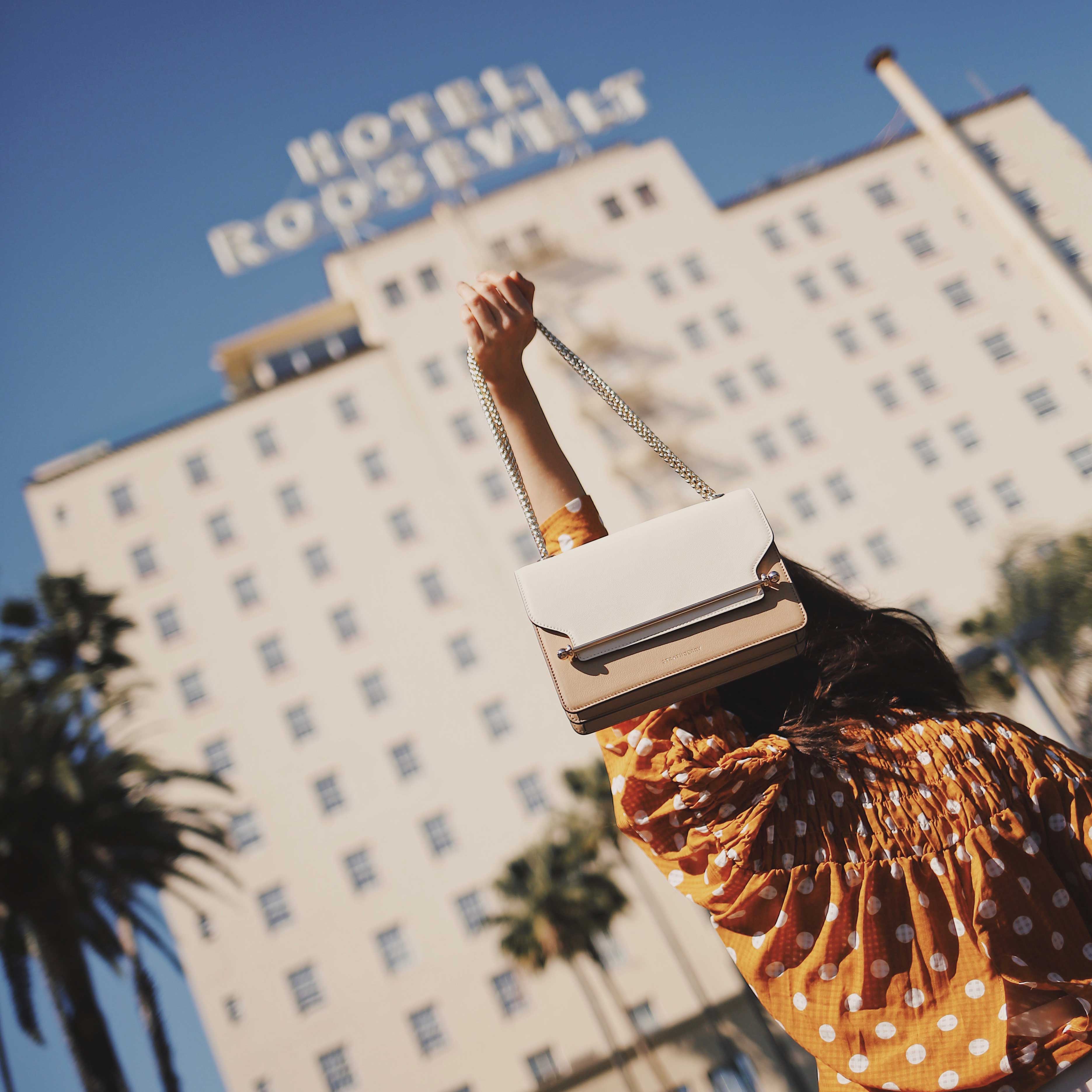 Strathberry Review: The classic nano tote bag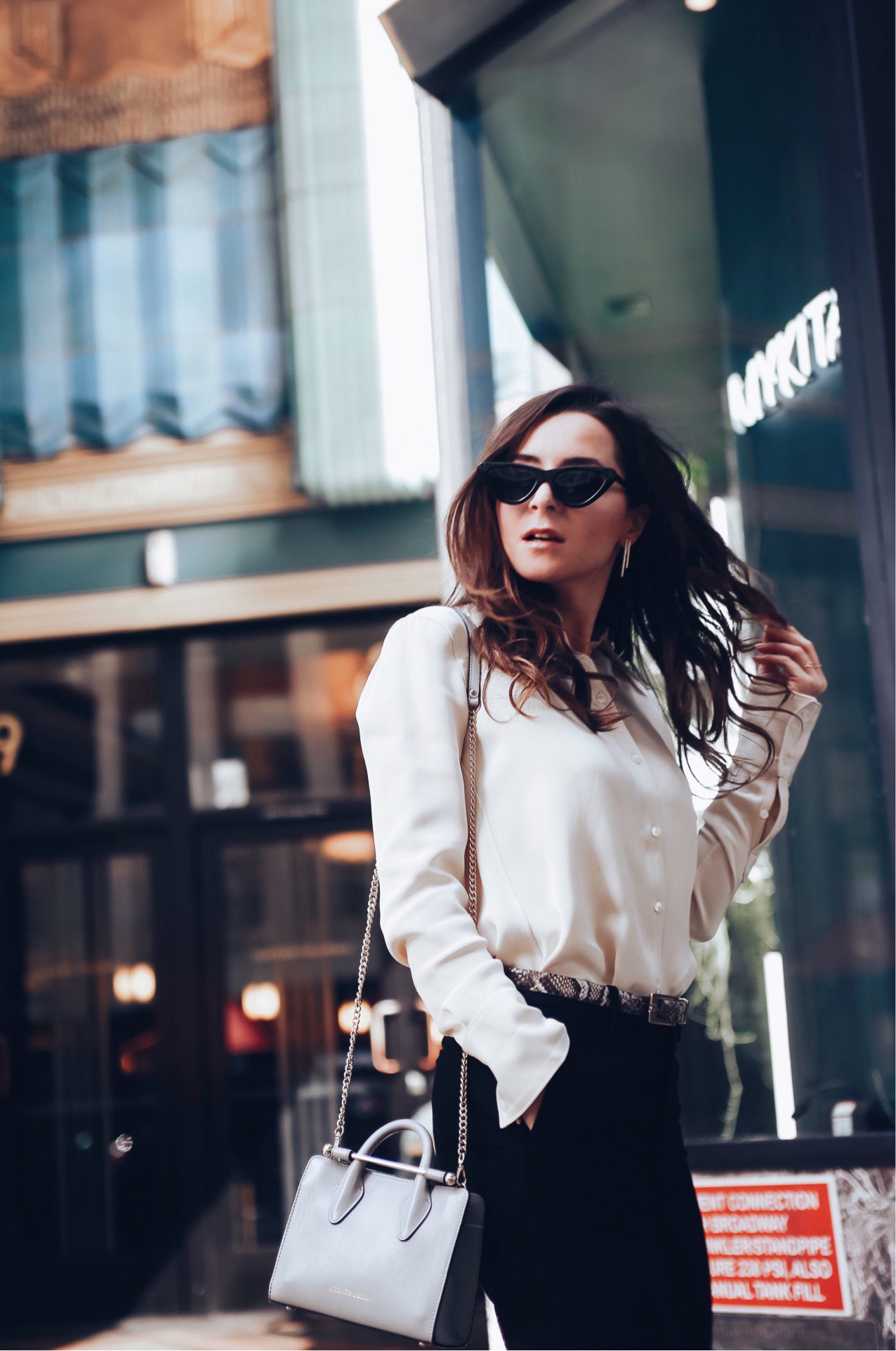 One of the most iconic model of Strathberry is the tote bag. As I was obsessed with the nano version, I contacted Strathberry and the luxurious label gifted me the nano tote bag in pearl grey! I am absolutely in love with this bag! The leather is of a very good quality, the pearl grey color goes with everything and the bar closure is a must! I have it for a year, and I am still using it and obsessed with it.
This bag has all the features of an IT Bag except the price tag. Indeed, the price is honest considering the quality and the level of the brand's trendiness. The nano bag retails at $395 and really worths it! Strathberry delivers in the USA!
Spring Summer 2018  The Chevron Spring Summer Collection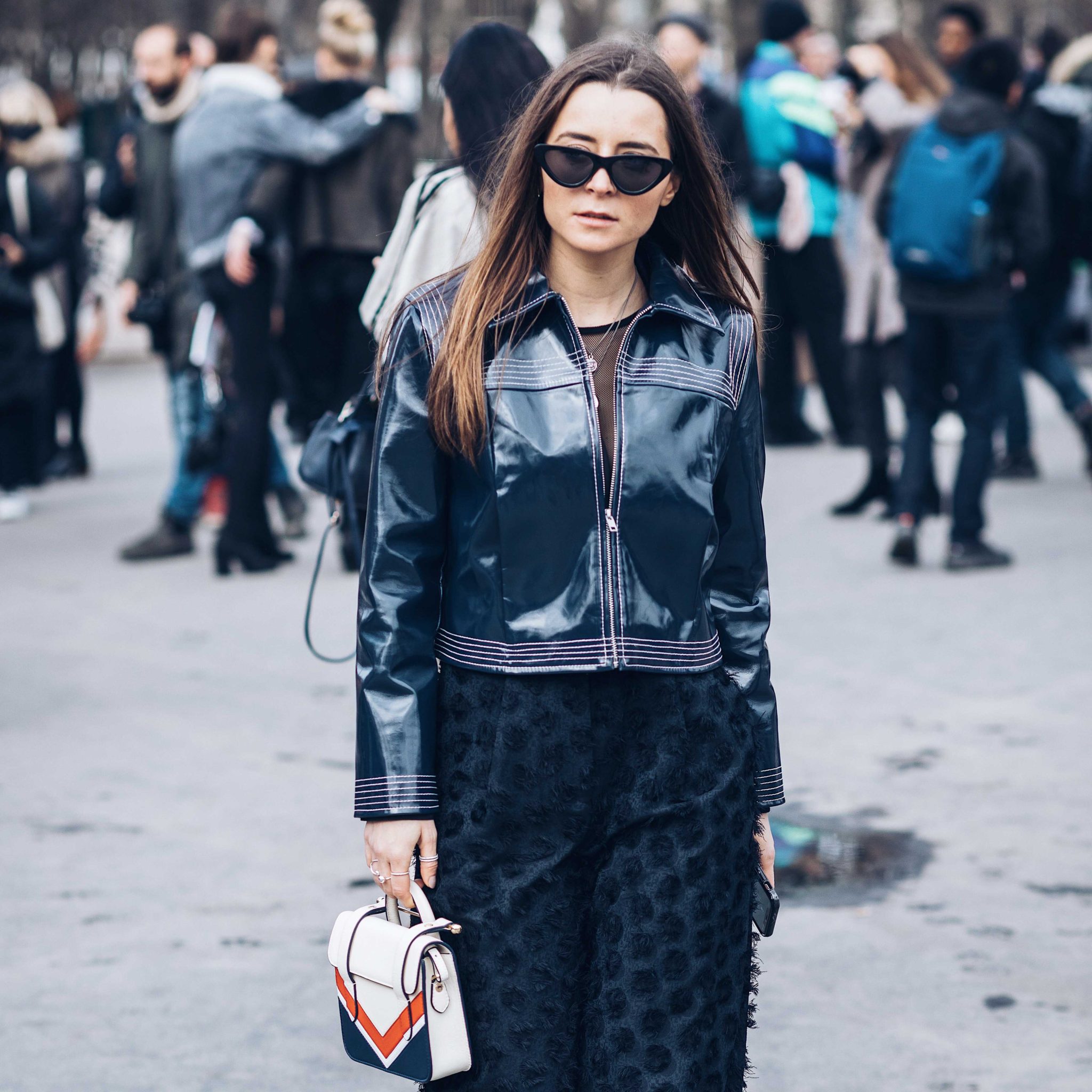 I have worn the Chevron Nano MC Bag during Paris Fashion Week and I got so many people asking about this brand and taking pictures of this bag! This bag is really my favorite for this season! Also, the back of the bag is eggshell-white and it is super convenient because you can turn it and it will be like another bag!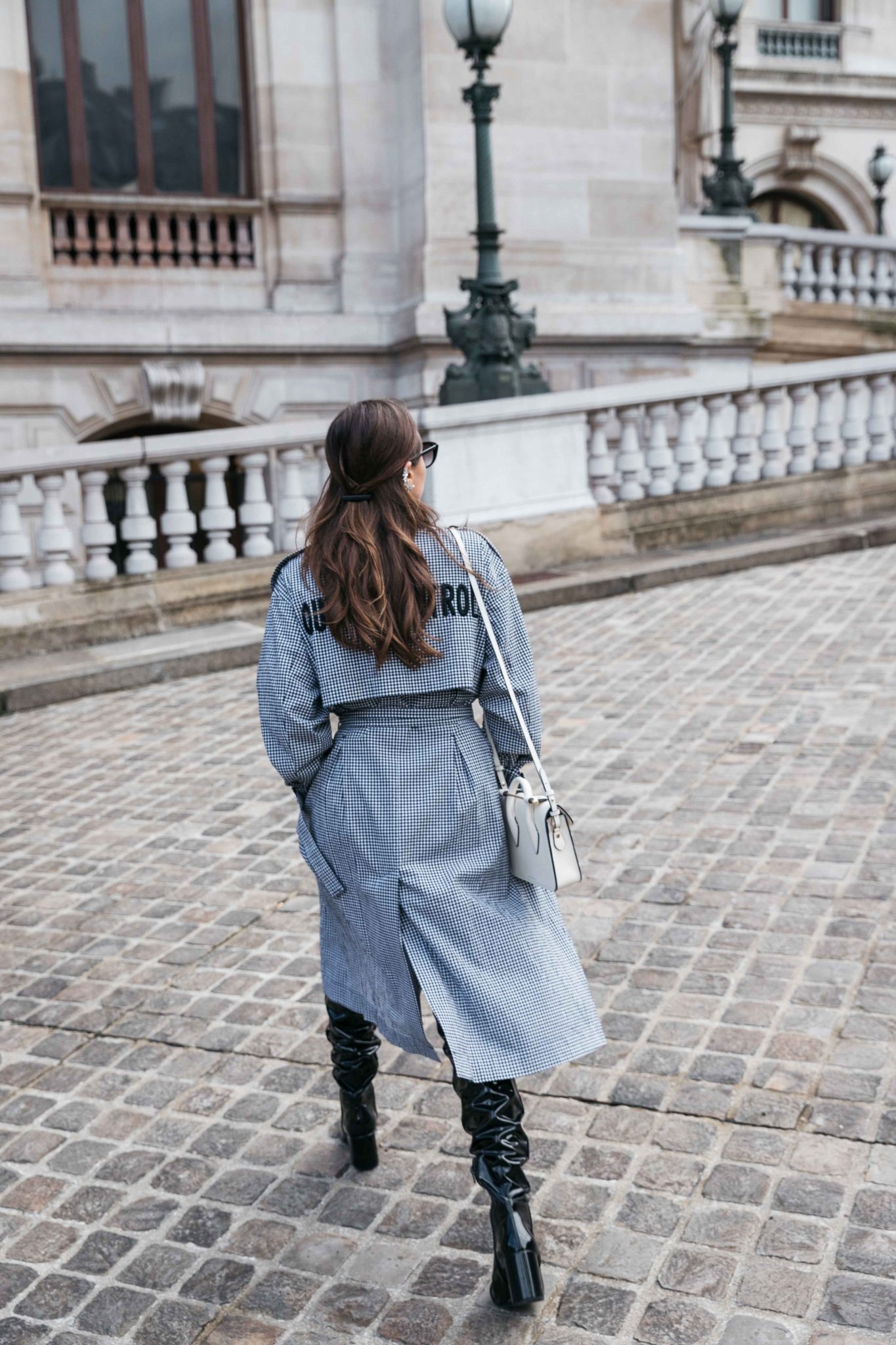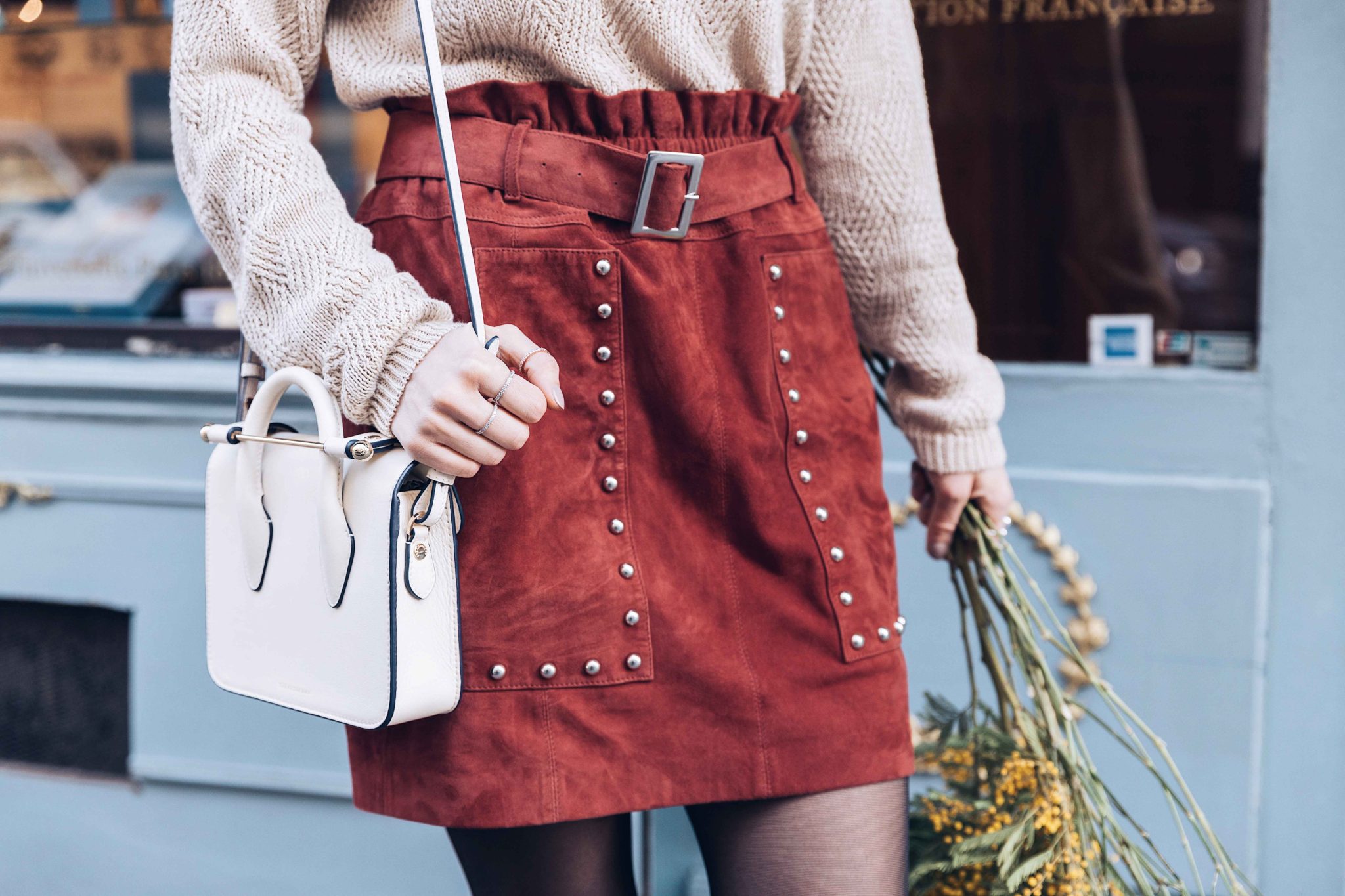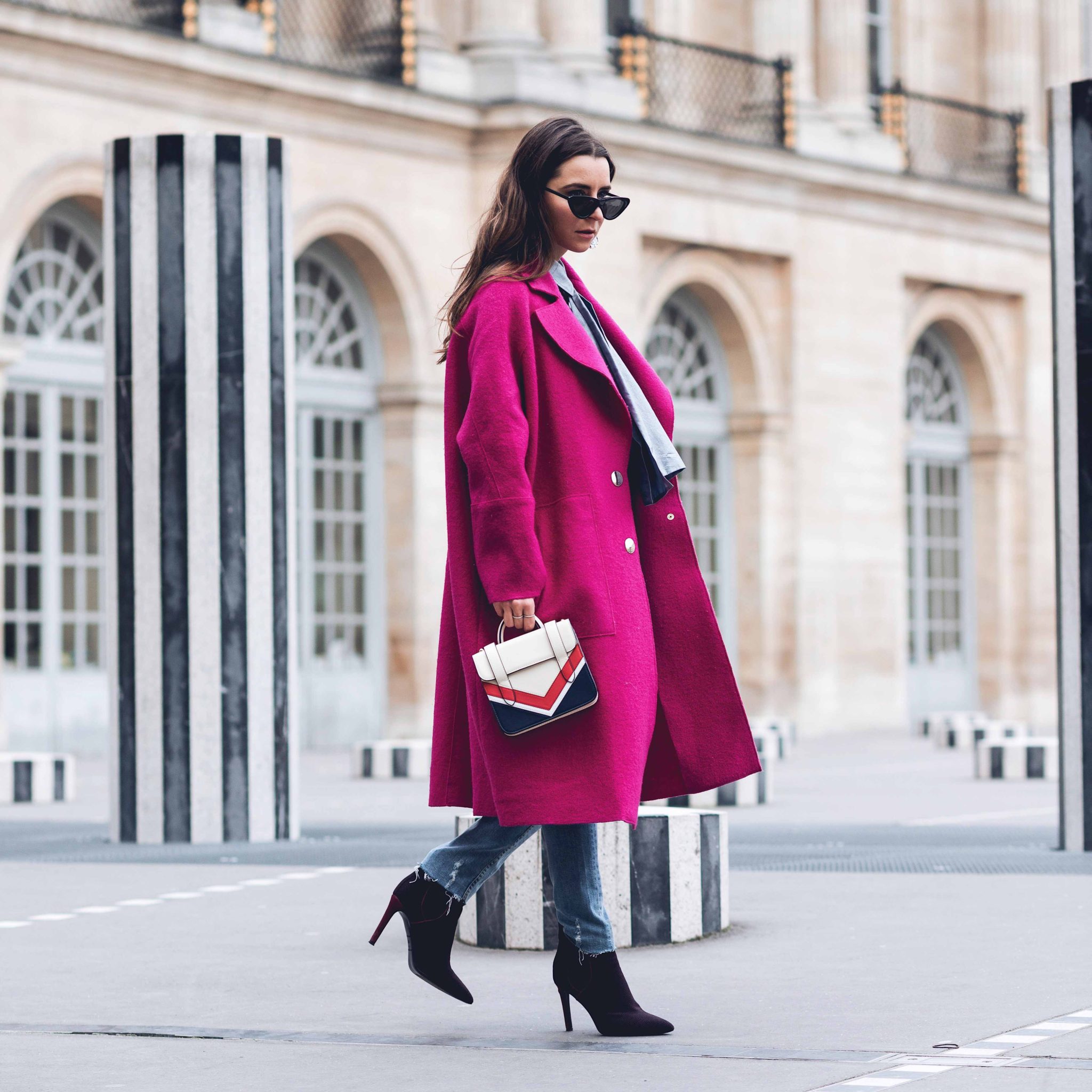 Shop the Strathberry Chevron collection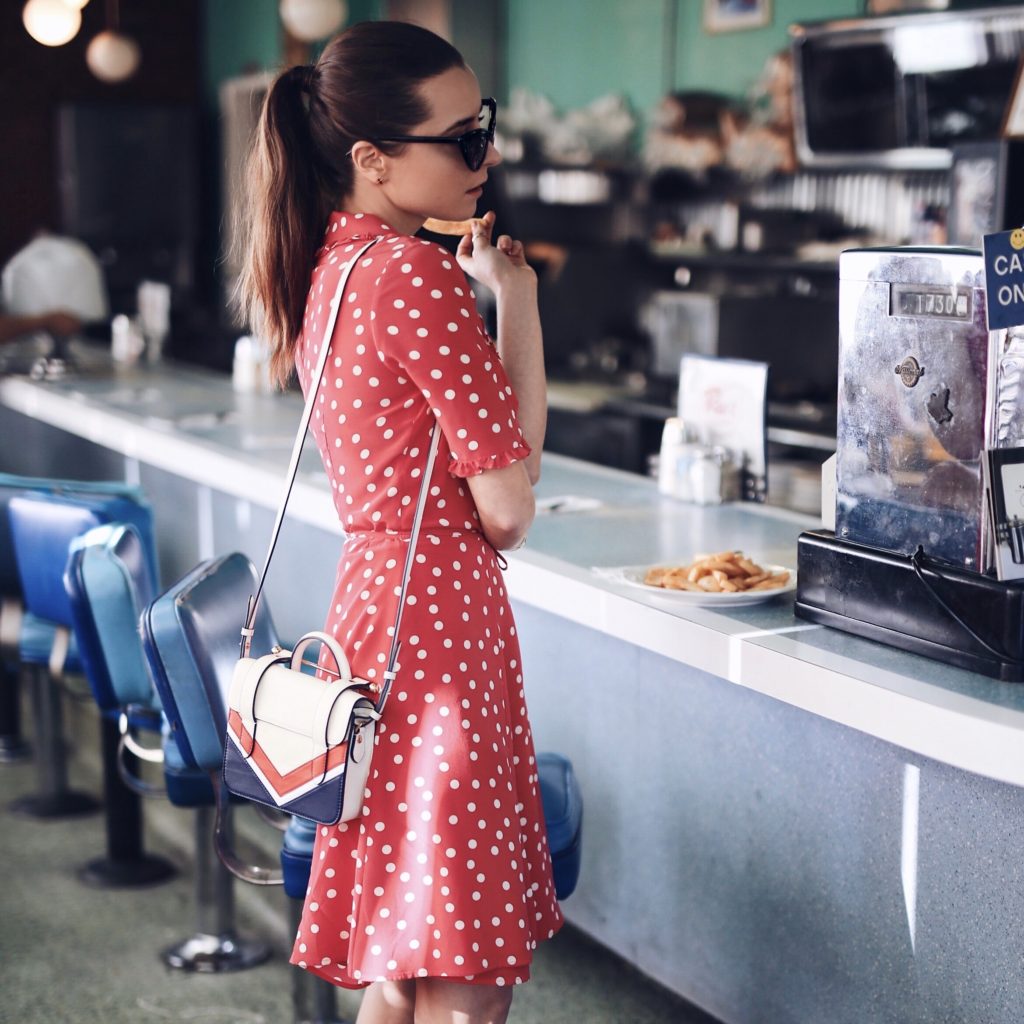 As much as I love my nano chevron MC bag, I am also obsessed with the whole collection below! The nano chevron tote bag is amazing.
Strathberry Review: The MC bag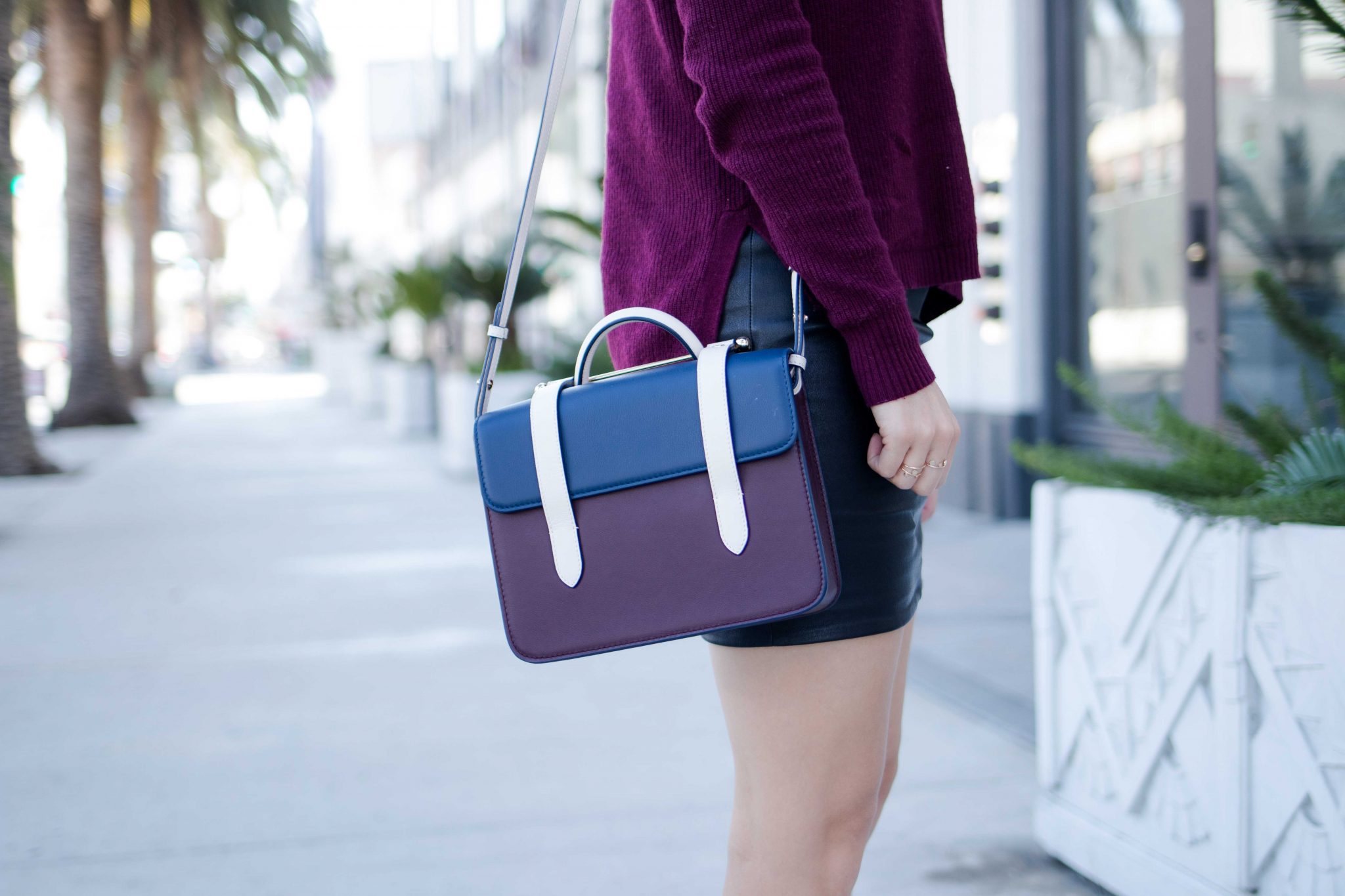 The nano is not the only style who caught my eye. Last fall, I was wearing the MC Mini – Tri Colour Burgundy / Navy / Vanilla bag! As I love wearing grey, dark navy and burgundy colors in fall/winter, this bag is the perfect companion for my outfits. In addition, in term of proportion, the mini is a medium sized bag: it is bigger than the nano but still small enough for my petite silhouette!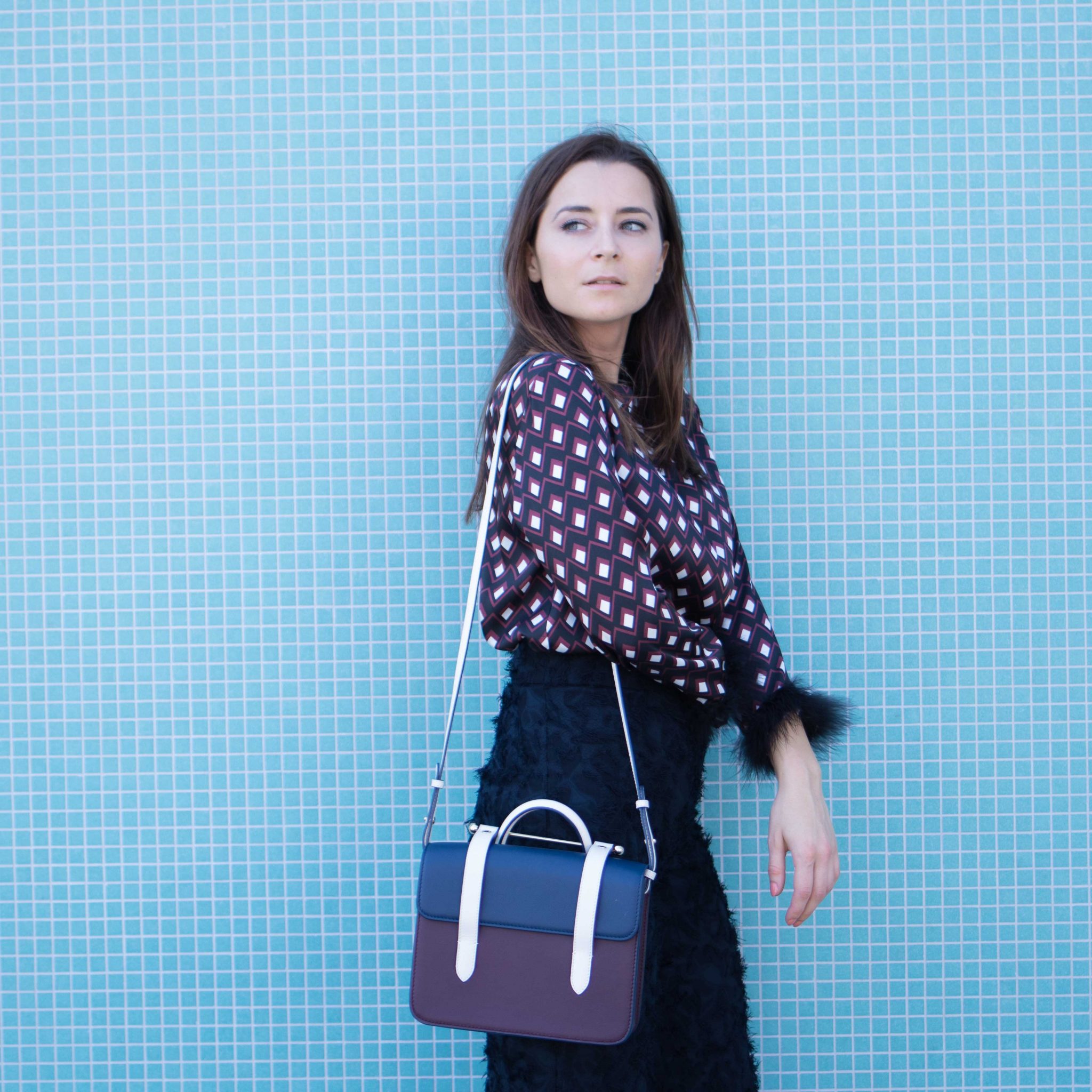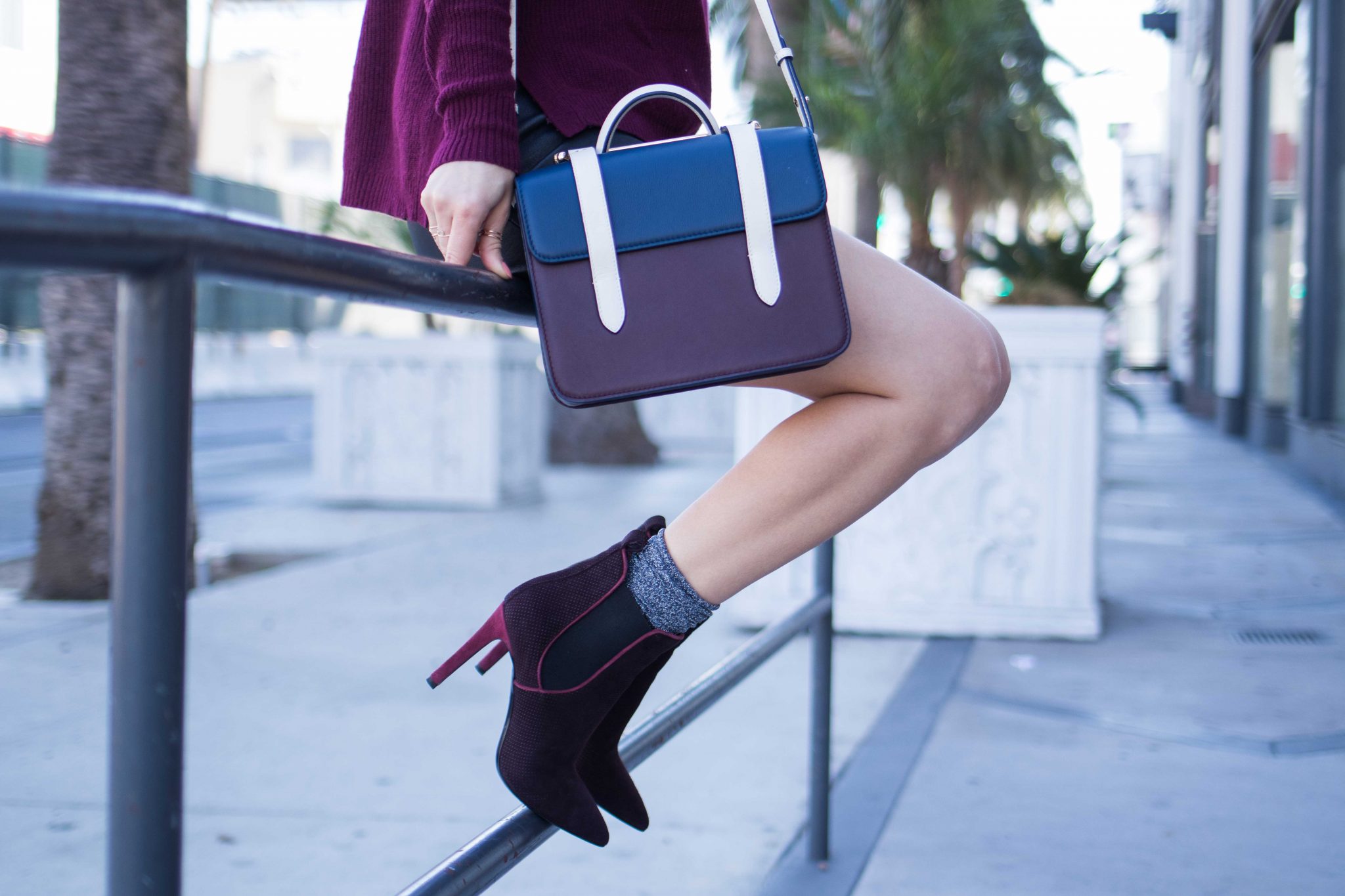 Fall Look 1: Skirt: DSTLD / Sweater: Madwell / Bag: Strathberry MC Mini – Tri Colour Burgundy / Navy / Vanilla bag
Look 2: Suits: Zara / Sunglasses: Fendi / Shoes: Pour La Victoire / Bag: Strathberry MC Mini – Tri Colour Burgundy / Navy / Vanilla bag
Discover Strathberry's collection
Strathberry has an amazing collection: from nano, mini, midi to backpack bags! This amazing handbag label creates understated elegance designs. Moreover, Strathberry plays with colors but also fabrics (leather, suede, etc.)! Indeed, Strathberry knows how to mix colors and patterns. A luxury brand to check out and to keep on our fashion radar!
Strathberry is always updating its iconic models and releases fall/winter or Spring/Summer collection. In 2017, they launched the new model: the East / West: Very feminine and stylish and worn by Meghan Markle! Also, in 2018, Strathberry expands its collection to beautiful strap bag, card holder, and folio case.
Here my favorite Strathberry bags which are currently available. So many styles are sold out since Meghan Markle worn it!
You can also find some bags from the permanent and previous Strathberry collection on Strathberry website, on Saks Fifth Avenue and on Lane Crawford.

Black Friday and Cyber Monday Strathberry Coupon Code
Update of this post: For Black Friday and Cyber Monday (from November 24 to November 28),
Get 20% off site wide with the Strathberry coupon code: SBF-Comil
Get 40% off on backpacks and MC Midi bags with the Strathberry coupon code: BPMC-Comil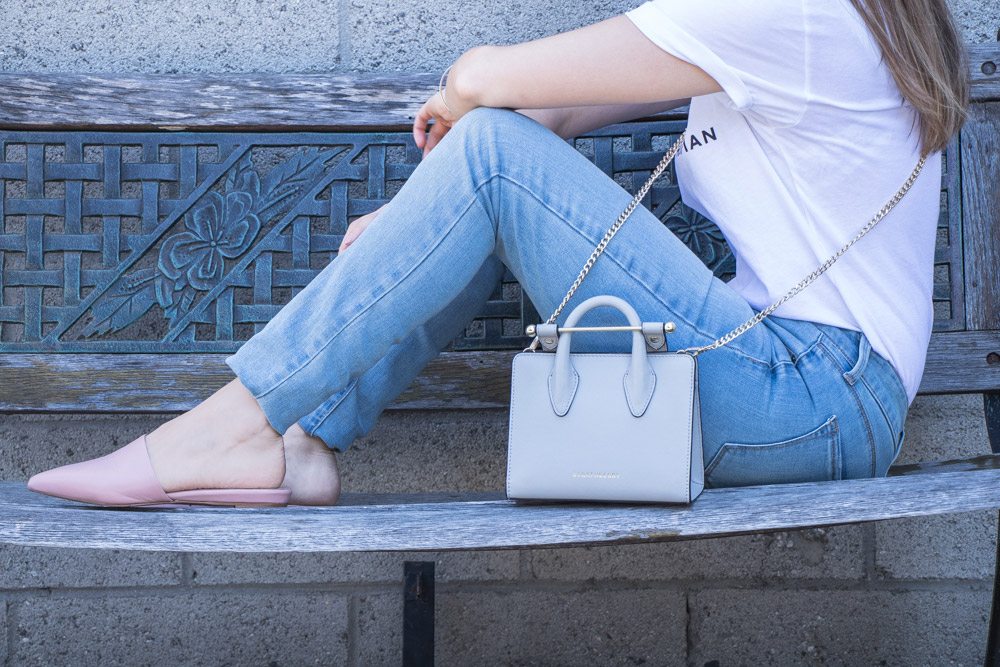 Credit: Denim: Straight Denim from DSTLD / Boyfriend denim pants: Joe's / Shoes: Everlane / T-shirt: Everlane / Sunglasses: Garrett Leight / Bracelets: Wanderlust + Co / Bag: Strathberry nano tote bag in pearl grey!
Stylist and model: Julia Comil
Disclaimer: I contacted Strathberry and I received the items to try for free. I truly believe this brand is worth knowing and learning about, hence the blog post! As always, opinions are my own. This blog post contains affiliate links.