The insider holiday gift guide of all the items and topics currently trendy on Instagram!
As a Style blogger, I spend a significant amount of time looking for the latest trends on Instagram. For the holiday season, I gathered the most coveted items by our favorite social network: Home decor, candles, capsule wardrobe, instant camera, watches, inspiring books, laptop skins, subscription boxes and neo-luxury accessories. Check it out and let me know your inspirations for the holiday season! Blog post updated on Nov 27, 2017
---
Home decor
---
Minimal designs in marble or metal (like copper or gold) are the inspiring trends of this holiday season. With these items, you can be sure that your house will be stylish and instagram worthy! See a selection of home decor for less than $50.

Perfumed candles obsessed generations for years. Stylish packaging and amazing smells are the perfect combination to create a neat and cozy ambiance. I am obsessed with the luxury perfumed candles by Diptyque, VoluSpa and Thomson Ferrier! My tip: when your candle is empty, you can remove wax with hot water and then use the pot to store your jewelry or small accessories.

---
A minimal watch
---
If you are scrolling your Instagram feed every day, the minimal watch trend cannot go unnoticed. The most coveted watch labels are currently Daniel Wellington and Cluse. I also love the brand Welly Merck because the glass is in crystal saphyre. My husband has a Nixon watch, and I borrowed it a lot!

For more information, check out my watch reviews: Daniel Wellington and Welly Merck.
---
Inspiring Books
---
Instagram community aims at inspiring other. And when it comes to their mentors, they love to share their latest books. The successful blogger Aimee Song from Song Of Style has released all the keys to Instagram success. Talented photographers and interior decor books are also a great source of inspirations and are pictured a lot on Instagram. Below my favorite inspiring books:

---
A stylish tech accessory
---
I have discovered Ideal Of Sweden phone cases this year and I am obsessing over the midnight blue marble case. The brand really stands out with its combo: phone case + wallet case clutch! Indeed all Ideal Of Sweden cases are magnetic and thus it is super easy to remove the case from its cute wallet! I absolutely love this concept which really protects the phone while being stylish and convenient!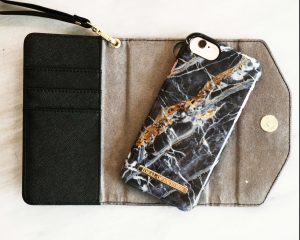 Another gift idea is to create your own laptop case and its matching phone case. Although there is no study regarding how a stylish laptop can improve your productivity, it is always a pleasure to look at your laptop like it is a piece of art! I love the cases of CaseApp, they have stylish pre-set designs (a beautiful collection of marble skins and cases) but you can also create or customise your own design or upload a photo of your choice. They have different type of marble skins which are currently very hype!
---
A vintage or pastel polaroid
---
Like last year, Instant cameras/Polaroid cameras are very trendy. Even Leica the top-notch camera company has launched its very first instant camera this November. To pick the latest design: choose a vintage design or a pastel camera. You can also offer a pocket smartphone photo printer! The pictures will look like polaroid!

---
Style in a box: The subscription boxes
---
The subscription boxes are one of the most popular gifts because when your loved ones receive the gift every month or season, they will be reminded of your thoughtfulness. Currently, there are tons of different plans, and most of them can be cancelled at any time.
My current favorites are:
The Box of Style contains all the items curated by the celebrity stylist: Rachel Zoe and the team of The Zoe Report. The box is delivered each quarter for $100 and the products have a combined value over $400.You can subscribe for a full year for $350 or pay $100 quarterly.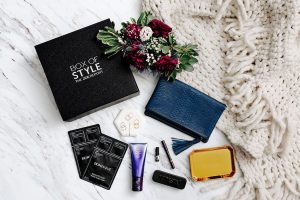 The Bouqs: The concept is to deliver sustainably grown farm fresh bouquets, which are hand-crafted by local Artisan Florists. The plan starts at $40 and you can choose the type of event (regular, special occasion) and frequency). I never tried it but I heard a lot of good reviews about this subscription box.
---
A luxury gift without breaking the bank
---
To provide a unique gift to a special one, check out my
Fashion Disrupt blog post
 about these neo-luxury labels producing luxury products for a fraction of the price.

---
Pin on Pinterest
---