The Classic Petite Ashfield has just been released! Review of this new release and get 15% off with the Daniel Wellington Discount Code at the end of the post.
This new design is a mix between the classic petite and the classic Sheffield black! As I love Daniel Wellington's previous designs, I could not resist testing the new classic petite Ashfield in rose gold.
Daniel Wellington Review – The Classic Petite Ashfield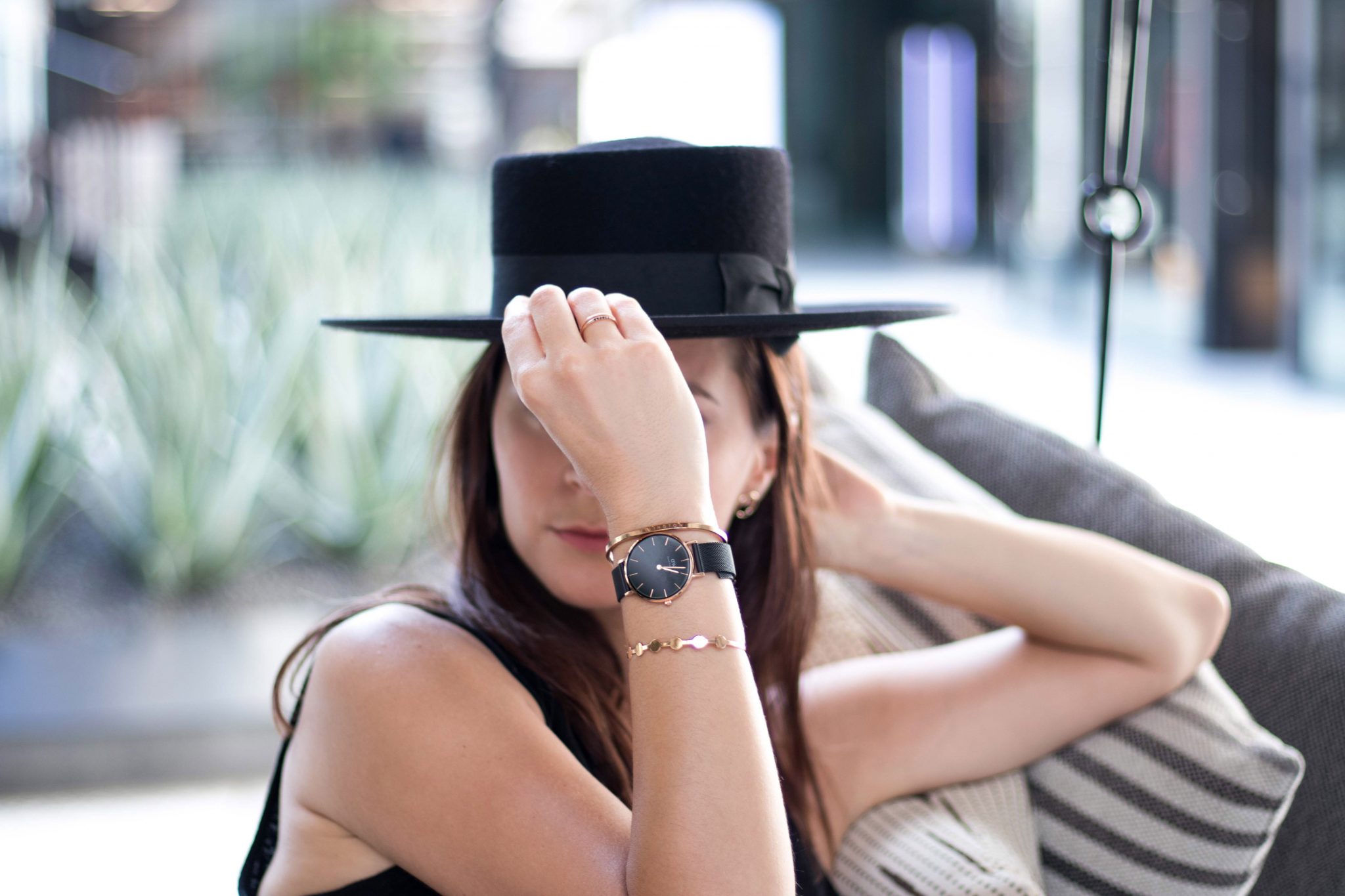 Daniel Wellington concept is to create an elegant, minimalist and versatile watch. I felt in love with its timeless designs and interchangeable straps. I bought the Classic St. Mawes three years ago and also owned the Black Classic Reading Watch (see the previous review here).
Watch Sizing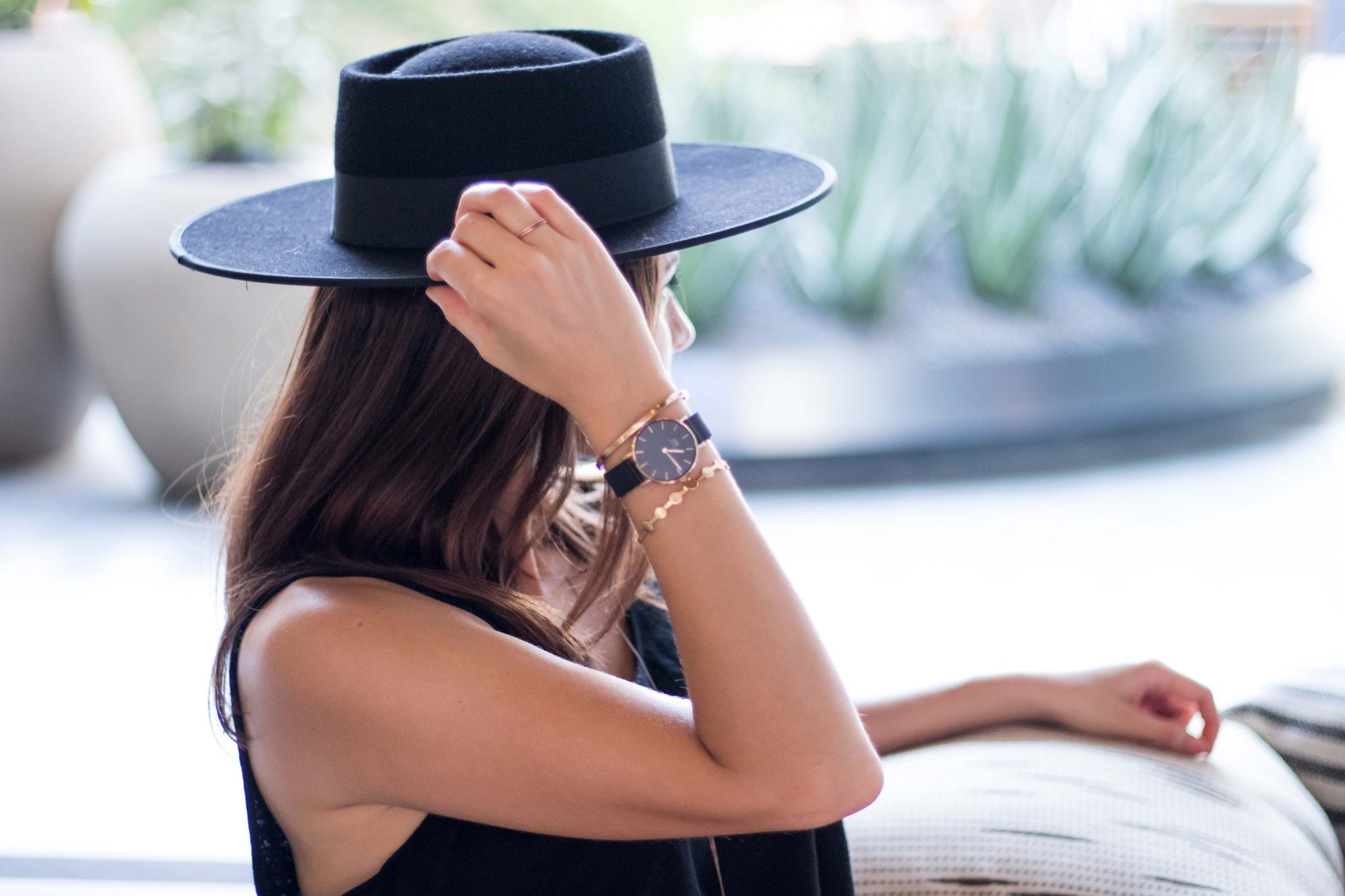 Unlike my two previous models, the Classic Petite Ashfield watch is smaller and also more feminine. For a unisex look, I prefer to wear the Classic Reading but for a more feminine look and to style it with several bracelets, I love to wear the Classic petite.
Mesh Straps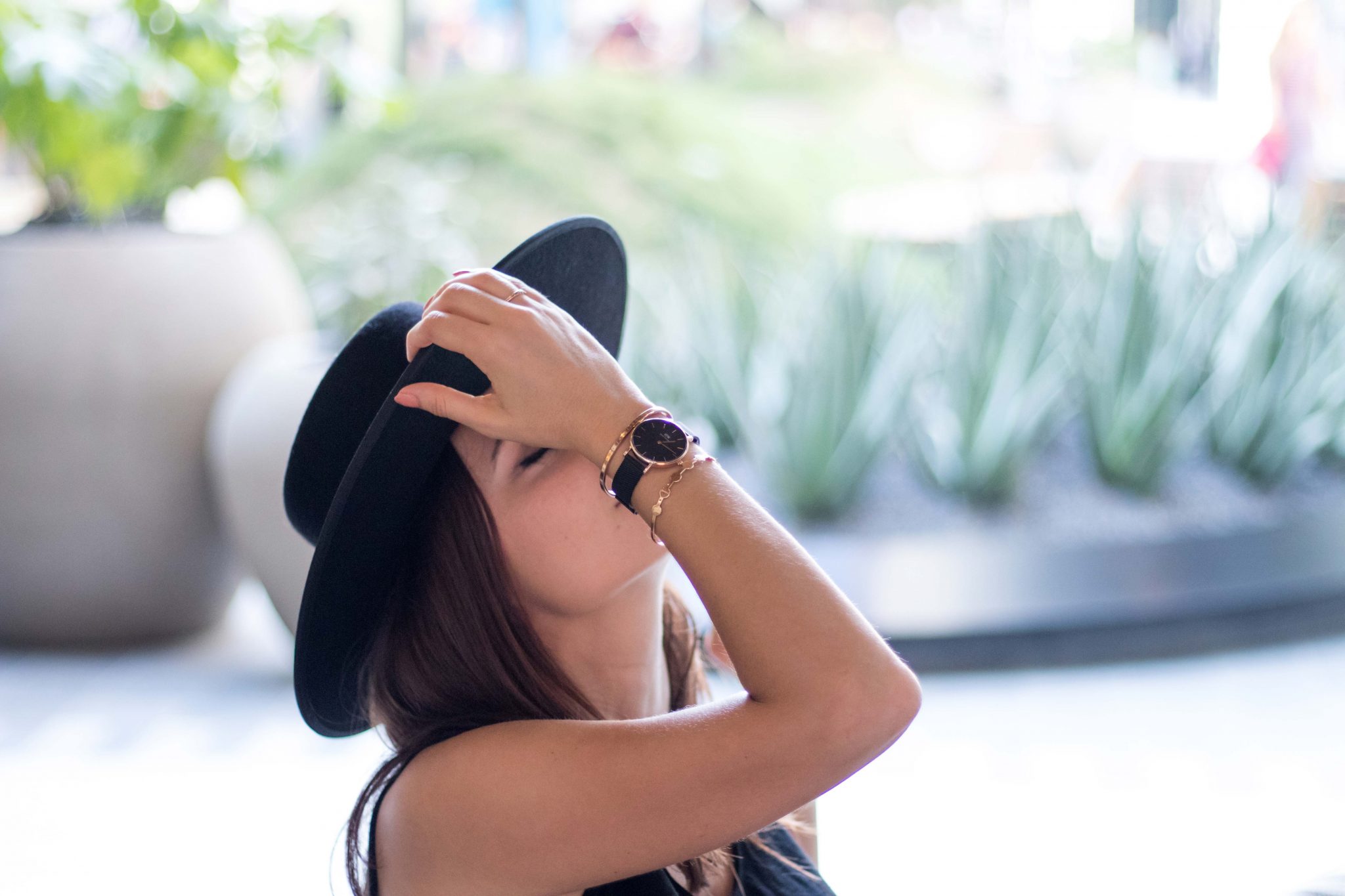 Regarding the mesh strap, it is super easy to change and to adjust to your wrist. You can change the strap with other mesh straps (like rose gold) or with leather straps.
Black Dial
This Classic Petite Ashfield features a black dial that accentuates classic elegance while adding a splash of refreshing attitude. This watch has you ready to go from office to rooftop party in the blink of an eye.
An accessible timeless watch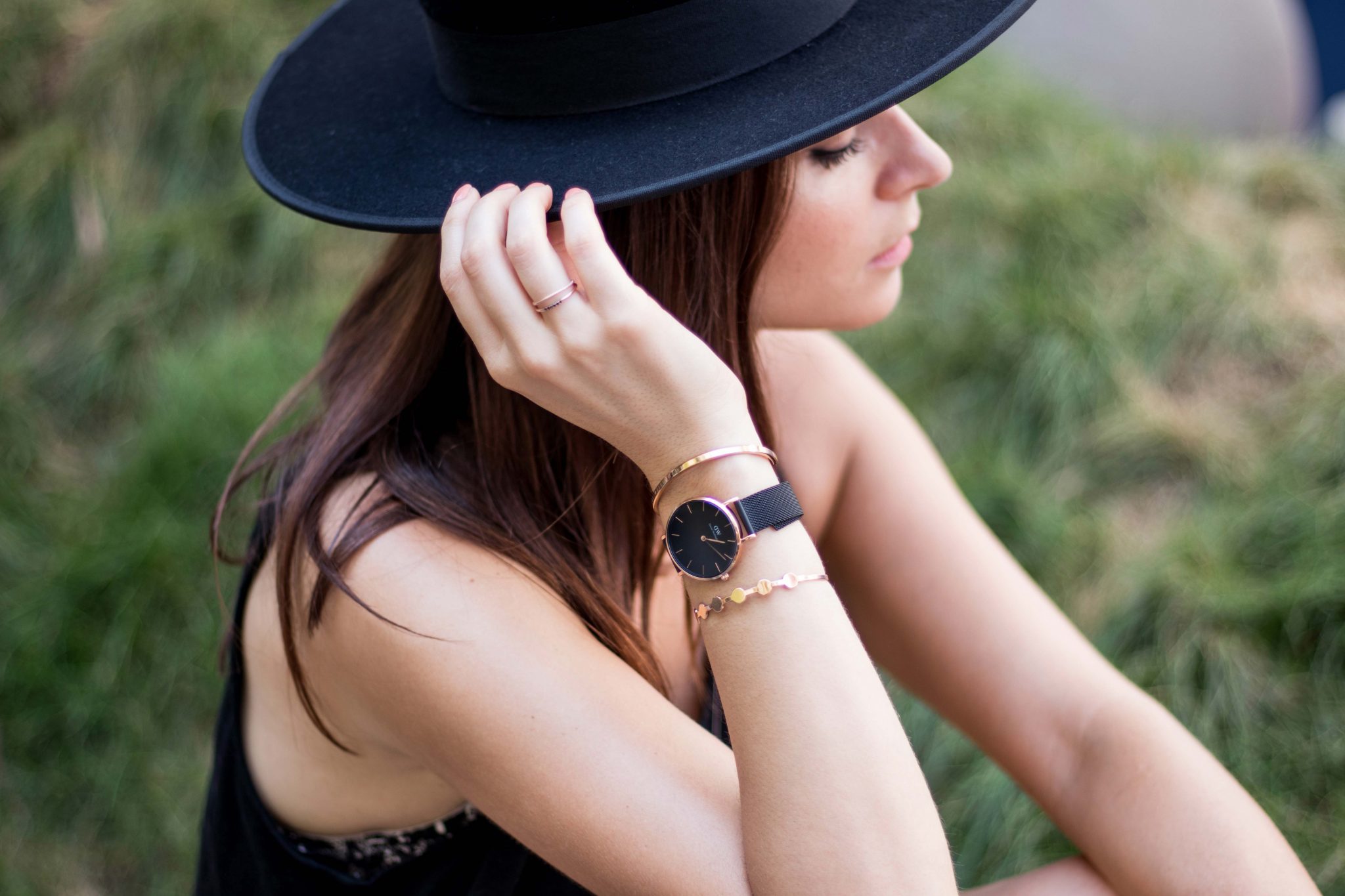 Daniel Wellington watches retail in the range of $160 to $200. Regarding quality, I did not have any problem with my previous watches, they still work like a charm.
The material used by Daniel Wellington is not gold but stainless steel; rose gold is only the name of the color ;), which makes sense at this price.
However, it should be noted that the glass is not made in sapphire, so you need to be cautious to not scratch it.
Daniel Wellington Discount Code: Get 15% Off with JULIACOMIL
I hope you found this review helpful, and don't forget to check out the new Classic Petite Ashfield collection and bangles at www.danielwellington.com, you can benefit from 15% off with the Daniel wellington discount code: JULIACOMIL.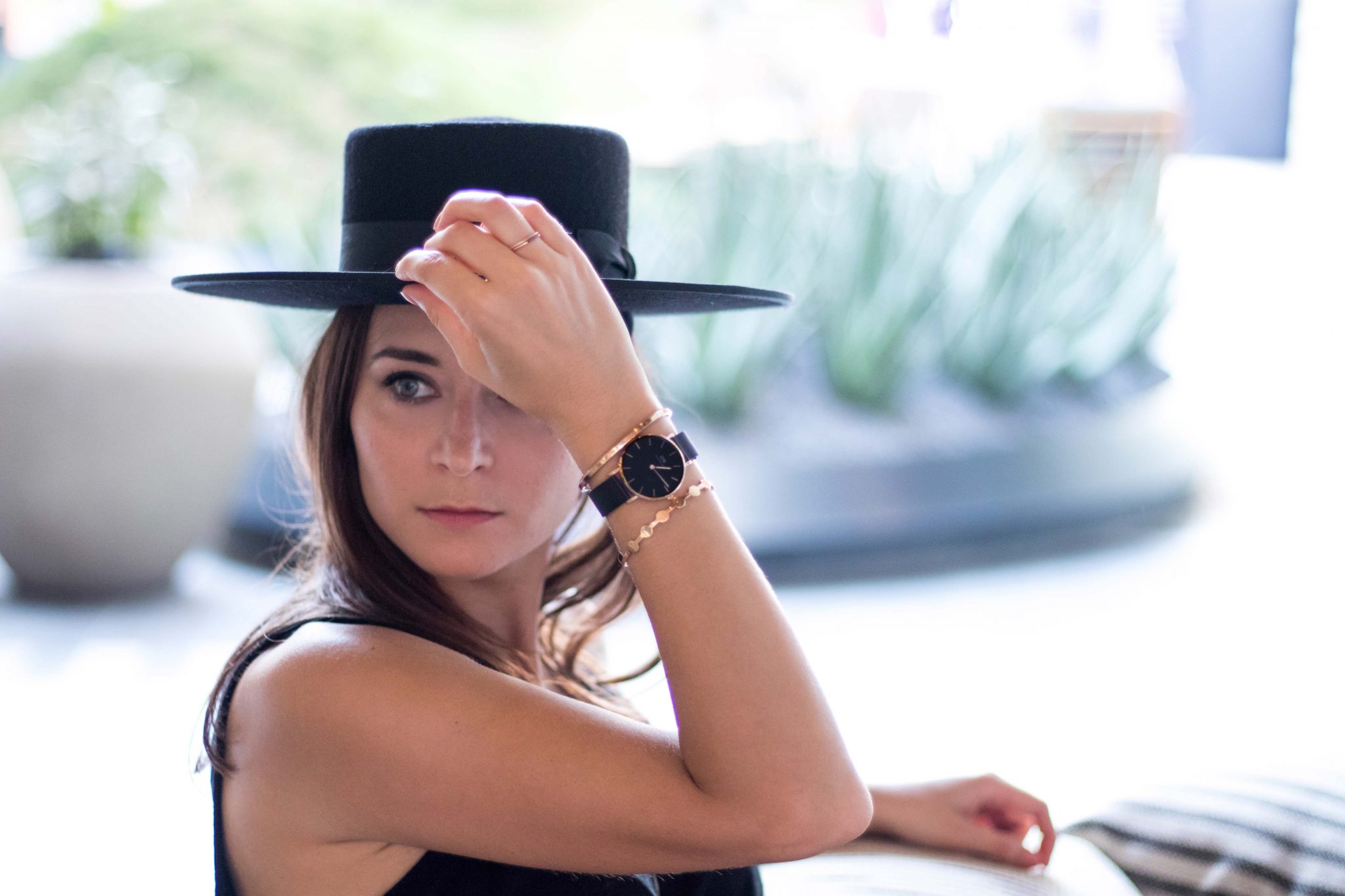 Watch: Daniel Wellington Classic Petite Ashfield / Cuff: Size Small – Daniel Wellington  / Ring: Mejuri / Hat: Etsy / Bracelet: Mya Bay – see selection below.

Picture: Nicolas Comil / Model: Julia Comil
Location: Los Angeles
Disclosure: I was gifted by Daniel Wellington this watch. I truly believe this brand is worth knowing and learning about, hence the blog post! As always, opinions are my own.