Last February, I attended the New York Fashion Week (NYFW) Fall 2019. I am super excited to share with you this amazing experience. I was able to attend awesome shows, discover emerging luxury labels and to see beautiful models rocking the next trends. Find below my NYFW Fall 2019 report as well as my looks to attend the shows.
My favorite show NYFW fall 2019: Longchamp
I was super lucky to attend the Longchamp runway. Longchamp is an iconic French luxury label. The label hired the talented French interior designer Andrée Putman to create the set of the show: The Supersonic Concorde. The trendiest Models were walking on the stage. The looks were an invitation to travel in the '80s and '70s. In addition, Longchamp has revealed its revamped logo. I can't wait for it!
#Iwanteverythingofthecollection: Nanushka
My favorite presentation was Nanushka. The fall 2019 collection is absolutely stunning. This brand has the most amazing luxurious faux-leather pieces; and Nanushka's color palette is amazing. In addition, next fall-winter, Nanushka will do a capsule collaboration with Sophie Monet: the Los Angeles accessory designer! Be ready to shop layback jewels, bags and shoes. The pieces were absolutely beautiful, stay tuned for the launch!
The coolest presentation: Sandy Liang
Sandy Liang, which is famous for its revisited fleece jackets had a casual presentation on Canal Street. It was the very first unisex capsule collection of the label. The models had this edgy gender-ambiguous touch and were rocking fleeces, knits, and fur outerwear! For Fall, Sandy Liang will offer leopard and camouflage versions of her famous fleeces.
Most sustainable brand: Rentrayage
I also went to an art gallery in the Mid Packing district to attend the launch of Rentrayage. Rentrayage is a collection made entirely from second-hand and vintage garments. Erin Beatty, the founder, and designer of Rentrayage was formerly part of the duo behind the label Suno. With Rentrayage, Erin shares her wish for a change in the fashion industry and shows us a twisted and modern approach of the American folklore.
Most unreal venue: Alice + Olivia
It is no wonder that Alice + Olivia presentation took place in the most unreal venue. The arty / very bubbly brand used an old church as a stage for her Fall 2019 presentation. People were lining up one block away in the street to see the collection.
The coolest Party
During Fashion Week you also have a lot of parties mixing designers, reporters, models, entertainers, etc. I attended the Milly party at the sophisticated Ludlow house! The founder: Michelle Smith and its team were amazing as always! The singer Estelle was singing at the party. Milly definitely represents bold women and advocates for advanced contemporary fashion with a feminine edge.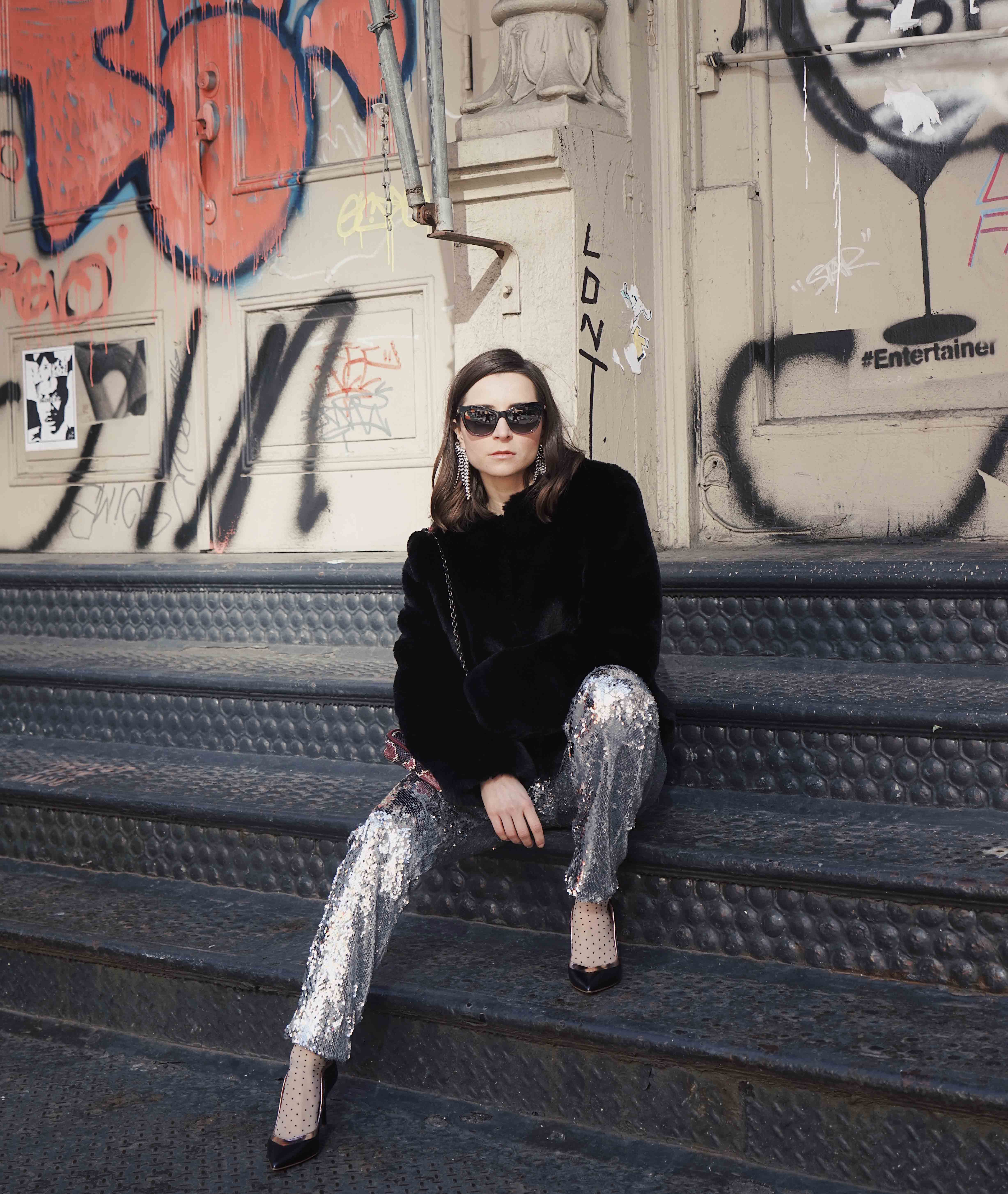 High Waisted Sequins Pants: Milly
What I wore for NYFW Fall Winter 2019 2020 Ready To Wear
My outfit for the Longchamp Fall 2019 show – Day 3 NYFW
For the Longchamp show, I wore my favorite Longchamp Amazone python shoulder bag, my Longchamp sleeveless jacket and my Isabel Marant crystal earrings. I also went to Spoke & Weal Soho for my hair. The Spoke & Weal Soho location is very nice and the team is amazing! I recommend them.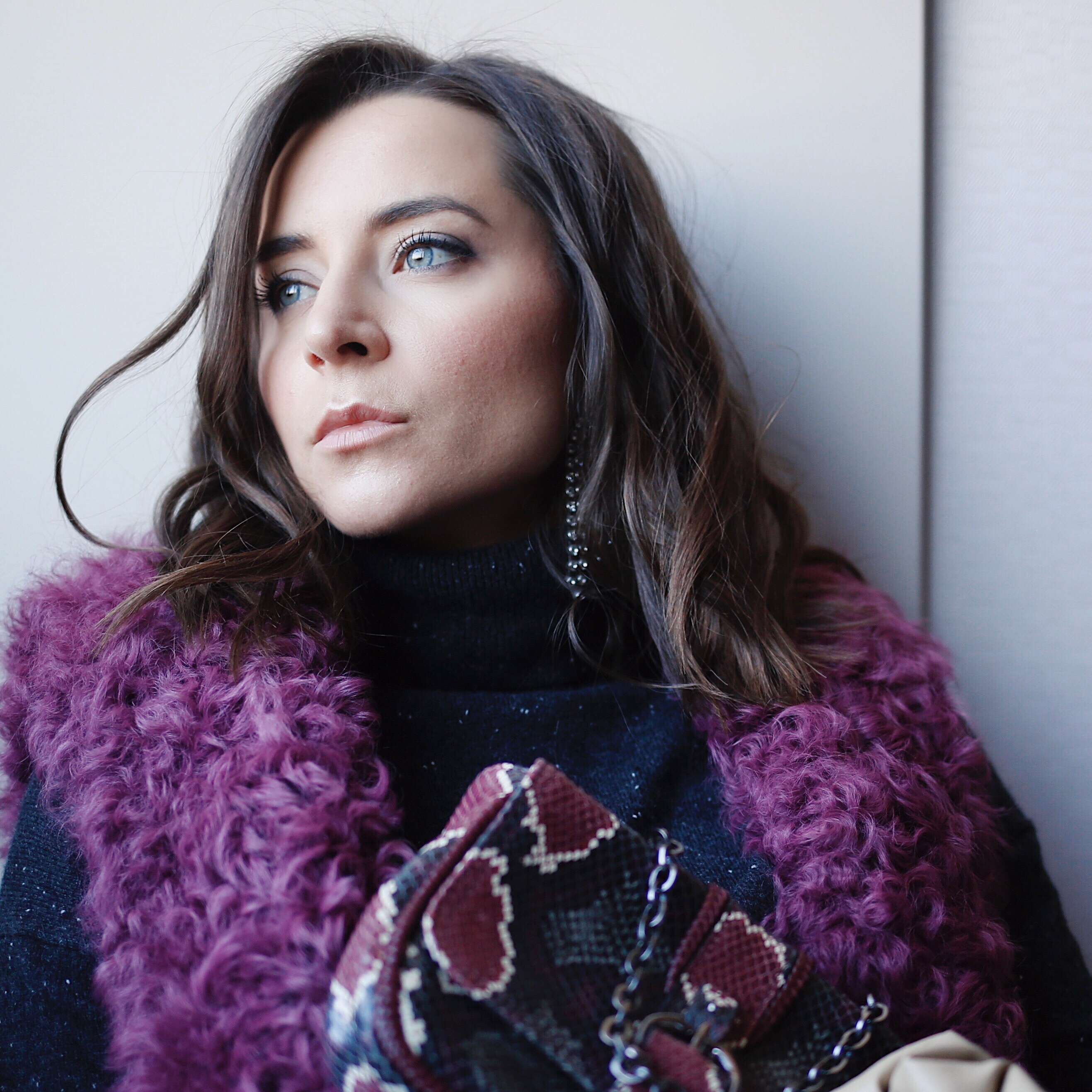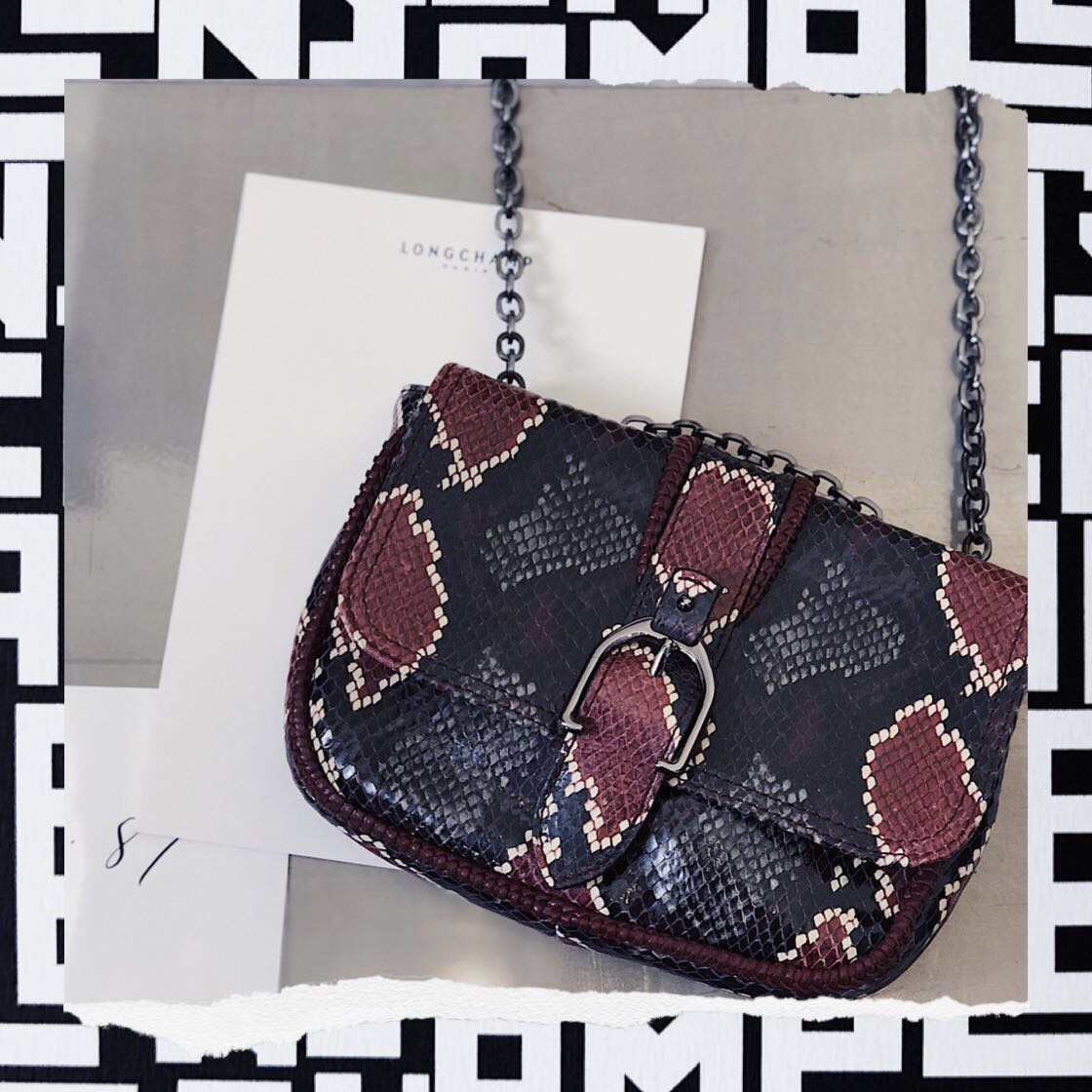 My outfit for Day 2 NYFW Fall 2019: Morning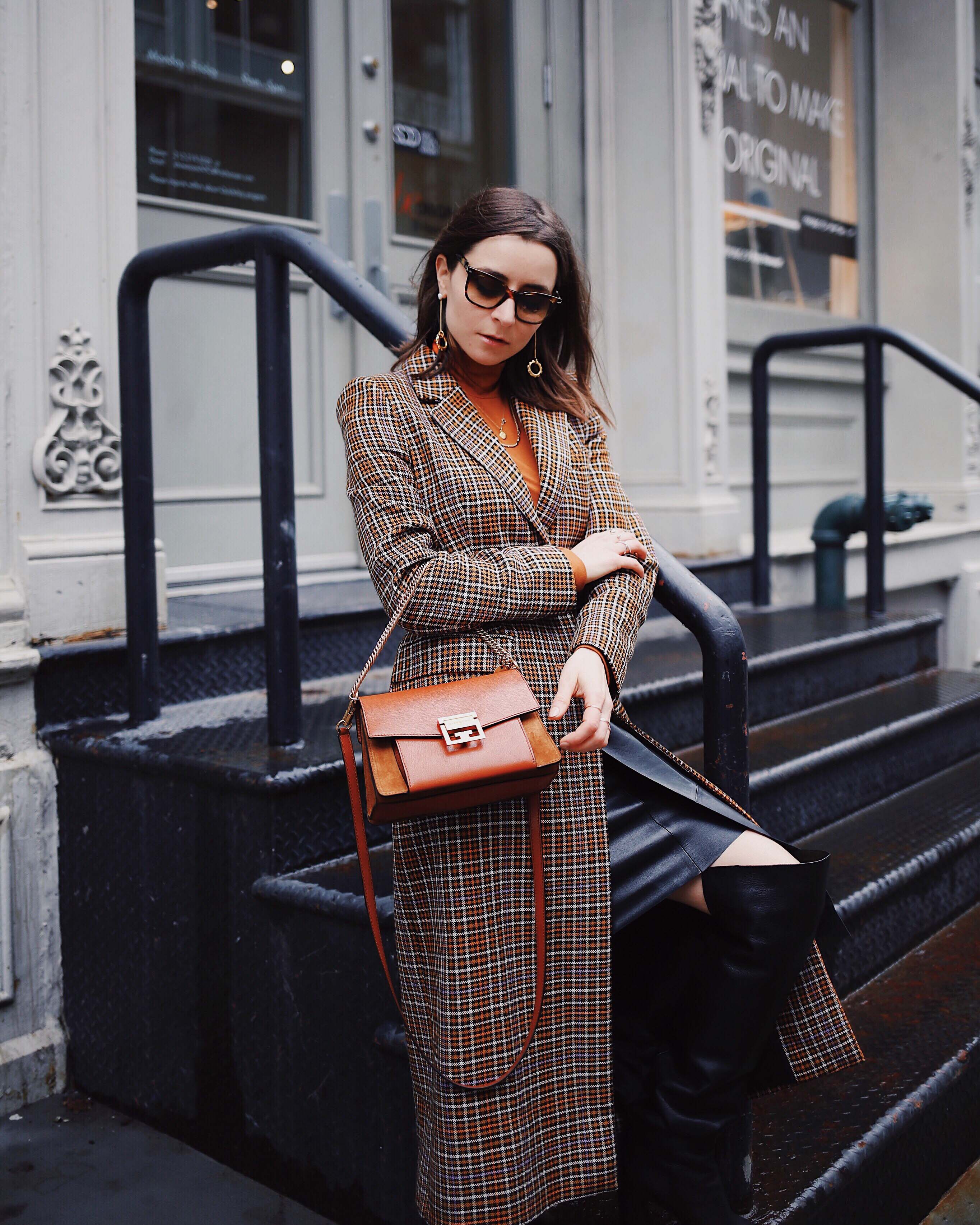 On this picture, I am wearing a top and a plaid hourglass coat by And Other Stories, the leather Lea skirt by Ba&Sh Paris, my Givenchy GV3 small bag, boots by What For Official, and Maria Black Jewelry earrings.
My outfit for Day 2 NYFW Fall 2019 – Afternoon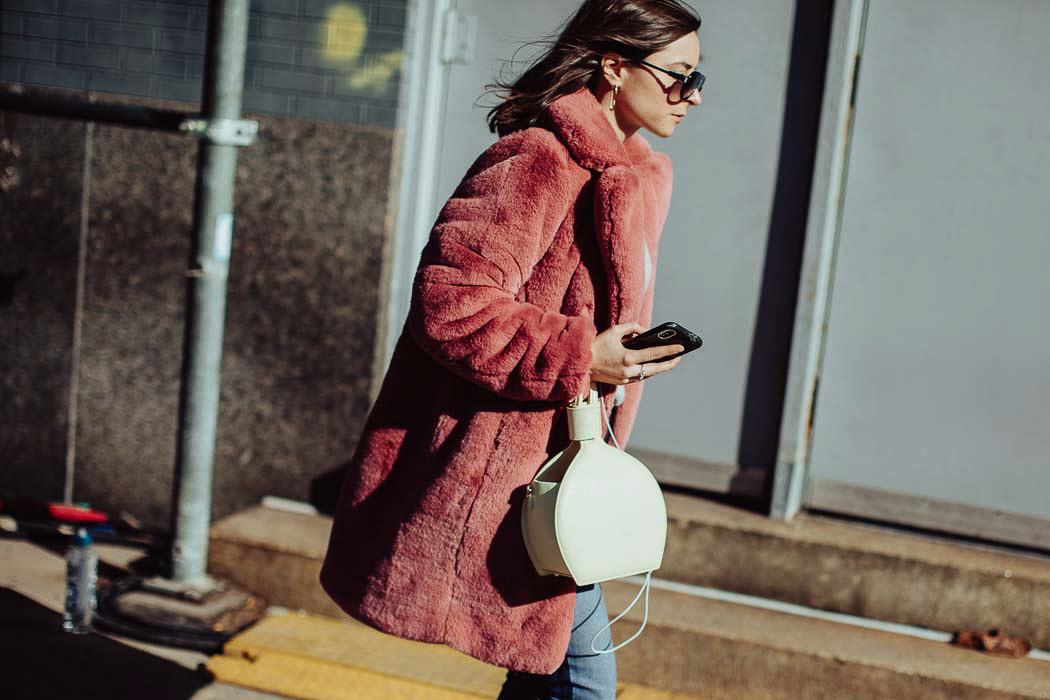 This look was featured in Harper's Bazaar Singapore. The street style photographer Joel Isaac took this picture. On this shot, I am wearing the cute Marie De La Roche Bag in Canary, Marilee faux fur coat by MKT Studio and, my Astrop Pop sunglasses: Morgenthal Frederics x Rosie Assoulin.
My outfit for Day 4 NYFW Fall 2019: Morning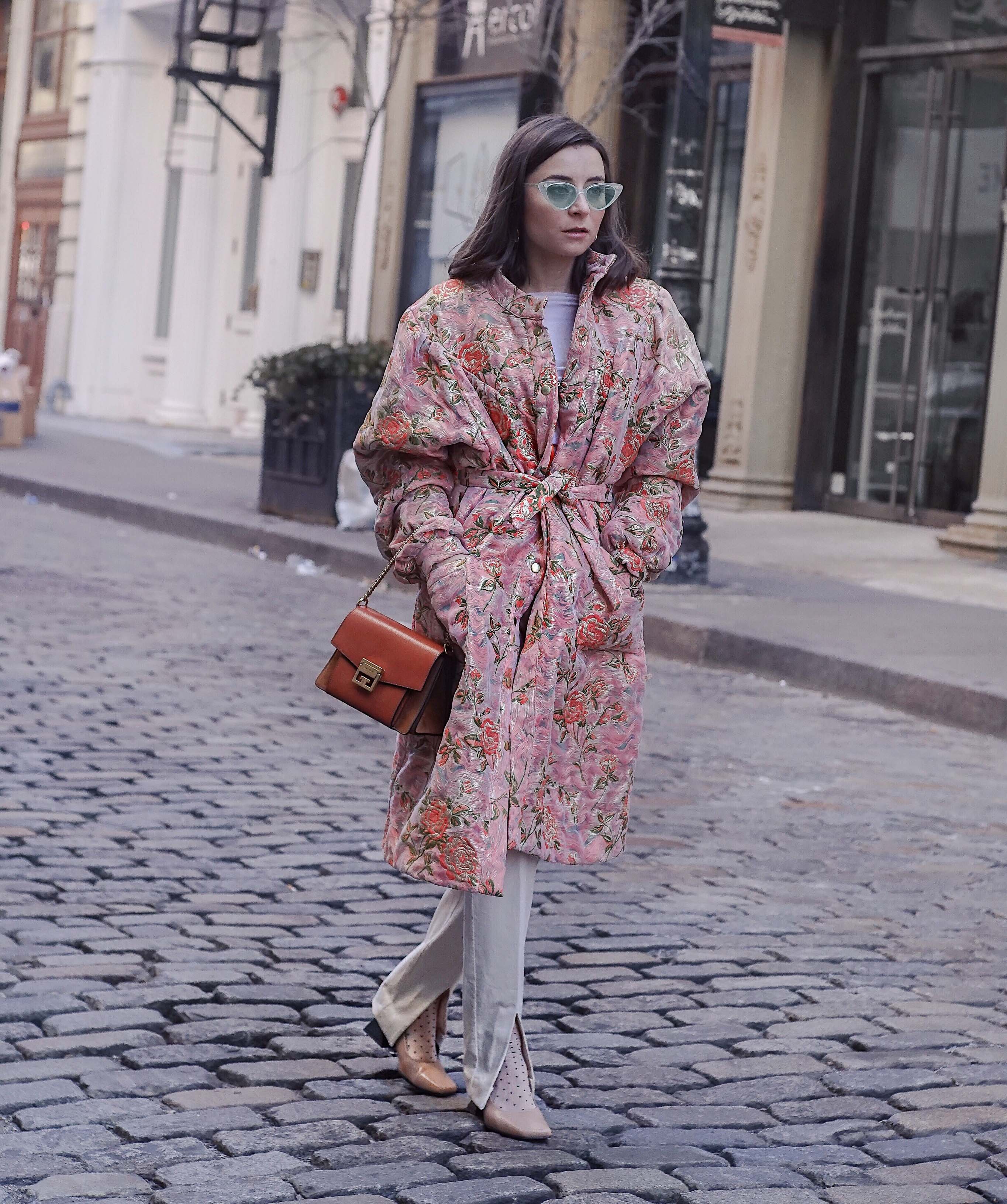 This outfit made to AOL Best Street Style. On this shot, I am wearing the amazing Malene Oddershede Bach hybrid coat (which features a unique jacquard fabric with loose threads) / Yuul Yie pumps / Givenchy GV3 small bag / Cutler and Gross Mint sunglasses / Mango pants.
Picture by Joey Wang.
My outfit for Day 4 NYFW Fall 2019: Afternoon

Outfit details: Coat and Top: Paula Knorr / Pants: Mango / Collection 004: Athena Bag in Canary: Marie De La Roche.
Picture by Joey Wang
My outfit for Day 5 NYFW Fall 2019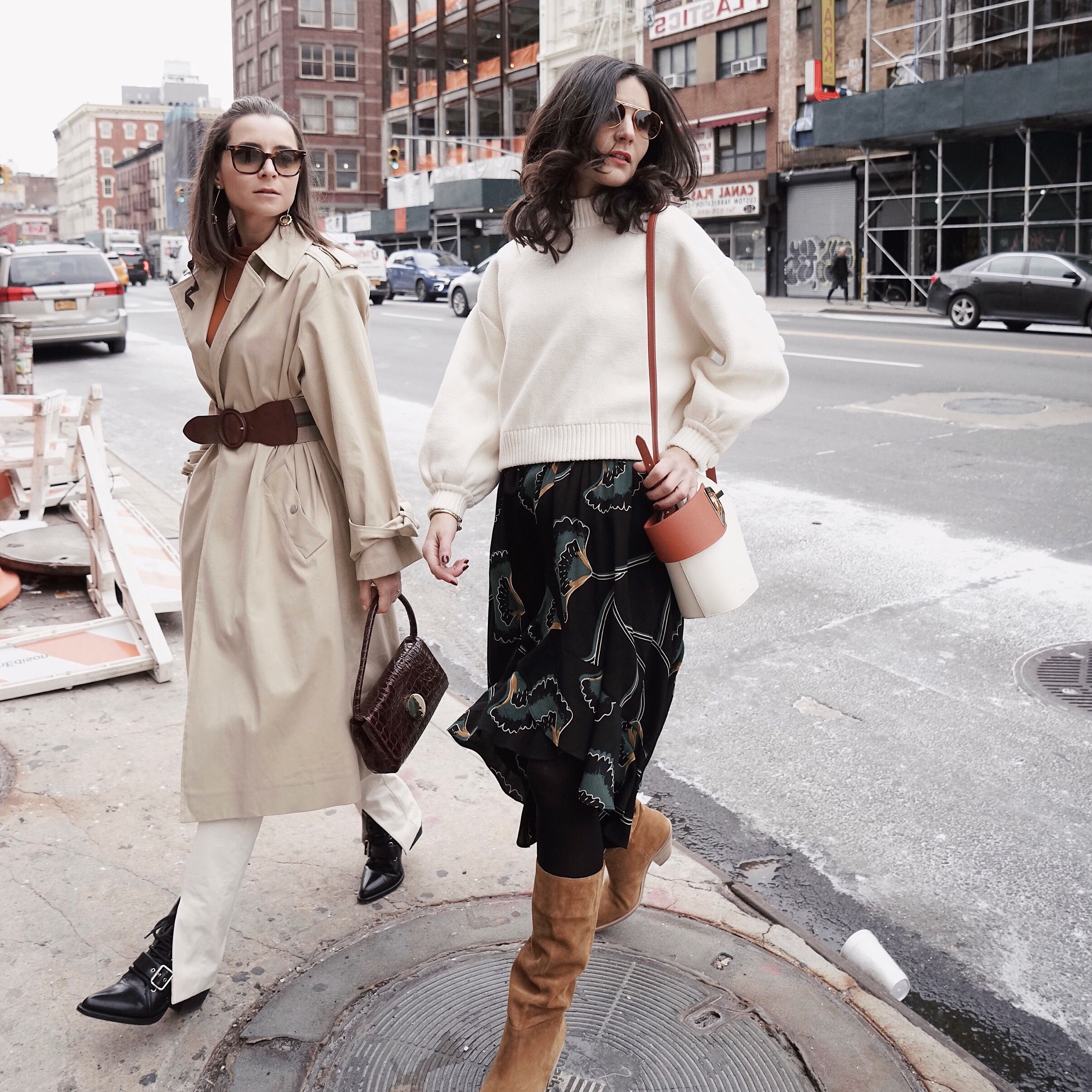 Laura Albouy and I wearing Ba&Sh Paris.
On Julia Comil: Trench Boat Ba&Sh Paris / Little Liffner Bag / Shoes: Chloe / Earrings: Maria Black Jewelry
On Laura Albouy: Sweater, Skirt and Boots Ba&Sh Paris / Bag: Danse Lente
Picture by Joey Wang
My favorite looks from the NYFW Fall 2019 shows
Master leather pieces, unexpecting layering, bold prints, and minimal silhouettes: my favorite looks as seen on the NYFW Fall 2019 runways. Pictures source: Vogue.
Part 1 – NYFW Fall 2019 report
Part 2 – NYFW Fall 2019 report