Best Fall Winter 2021 trends from the runway: leggings, diamond shapes, wallpaper, back to school, catsuit, bustier, après ski, green color, retrofuture, flared pants, sexy madame, etc. 
Best Fall Winter 2021 trend 1: The

 

leggings
The legging is the star to awaken a minimal outfit. Choose a graphic version (Prada, Pucci) or one with a cut-out (Dion Lee, Awake Mode).
Trend 2: Alice in Wonderland
Dress like you want to please the Queen of Hearts. A diamond shape will be your preferred pattern. As seen on Casa Blanca, Gucci, Dior. 
Trend 3: '70s Wallpaper power
The '70s inspiration is a predominant inspiration for this season. Maybe it expresses a desire to feel liberated. Wearing a floral look inspired by your grandma's wallpaper will be fun and free from any monochrome convention.
Trend 4: Back to school
School is back again: the fashion crowd will celebrate by wearing their favorite school uniforms with inspiration from the '50s. Get the back to school look like Max Mara, Etro, Celine. 
Trend 5: The catsuit
Hot in a unitard. Play with patterns, fabrics, and colors. The tighter, the better. 
Trend 6: '70s flared pants
Trend 7: 1921 meets 2021
A reinterpretation of fringes, feather, embroidered dresses to party in this new '20s.
Trend 8: Après Ski
The ski suit is à la mode. Wear your puffy clothes with pride.
Best fall winter 2021 trends: Sexy Madame
Pair a high-waisted midi or long skirt with a cropped top to create a lean chic silhouette.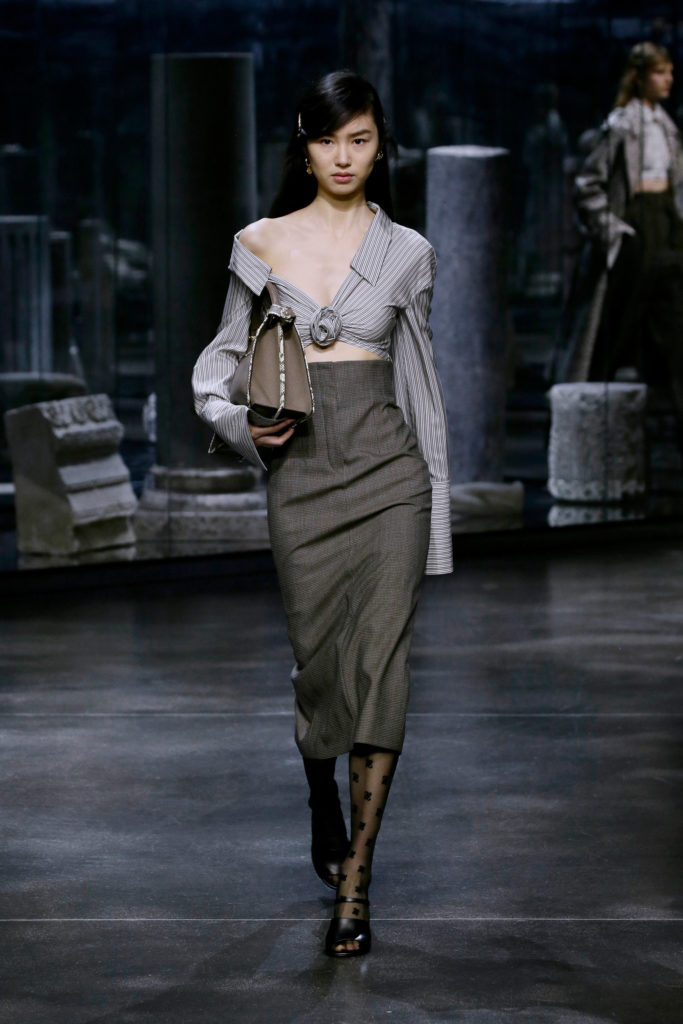 Trend 10: Bustier
Layer your clothes with a bustier to shape your silhouette.
Trend 11: Retrofuture
Inspired by a Sci-Fi movie, the retro-future silhouette is strong, minimal, and sleek to pair with some unexpected accessories.
Fall Winter 2021 Fashion Trends 12: 50 shades of green
Last but not least: the green color trend. There are many colors on the runway for Fall Winter (hot pink, purple, mustard). However, green is definitely one of the best fall winter 2021 trends. If it looks like the packaging of Bottega Veneta, you are on the right track!
More Fall Winter 2021 trends here