Parisian escape: favorite shopping addresses in Le Marais and Haut-Marais + a true gem 5-star hotel in Paris by Julia Comil, a fashion insider.
Where to stay in Paris? Luxury boutique hotel: Hotel Boutet
During my last visit to Paris, I stayed at Hotel Boutet, a newly renovated luxury hotel. Located in the heart of the authentic Bastille area, close to Le Marais, this new 5-star hotel is housed in a building steeped in history: the Maison Boutet. Once an importer of exotic wood then a chocolate factory, the building retains its historical charm.
I have mainly chosen this hotel for its location (I love Le Marais) and because it has a SPA (with 2 treatment cubicles, a pool, sauna, hammam and fitness room). There is no restaurant inside the hotel but they serve a delicious breakfast and have a bar.
I also loved my room and its big terrace (only 8 rooms come with a terrace, ask for it). Also, unlike most 5-star hotels in Paris, le Boutet remains affordable. Near the hotel, you have some brasseries, bakeries, a supermarket, and even a trendy juice store.
When I am in Paris, I mostly use the subway (I only take Uber late at night). The Faidherbe subway station (line 8) and Charonne subway station (line 9) are very close to the Hotel. Both lines are pretty convenient to explore Paris. You can download the app City Mapper to know how you can go from one place to another while using the subway. I used it non-stop while in Paris!
Staying at the Hotel Boutet, allowed me to explore my favorite places in Paris: Le Marais and Le Haut-Marais! Read below my favorite shopping walk in Le Marais and Haut-Marais and my favorite Parisian addresses.
Le Haut Marais and Le Marais best shopping addresses in Paris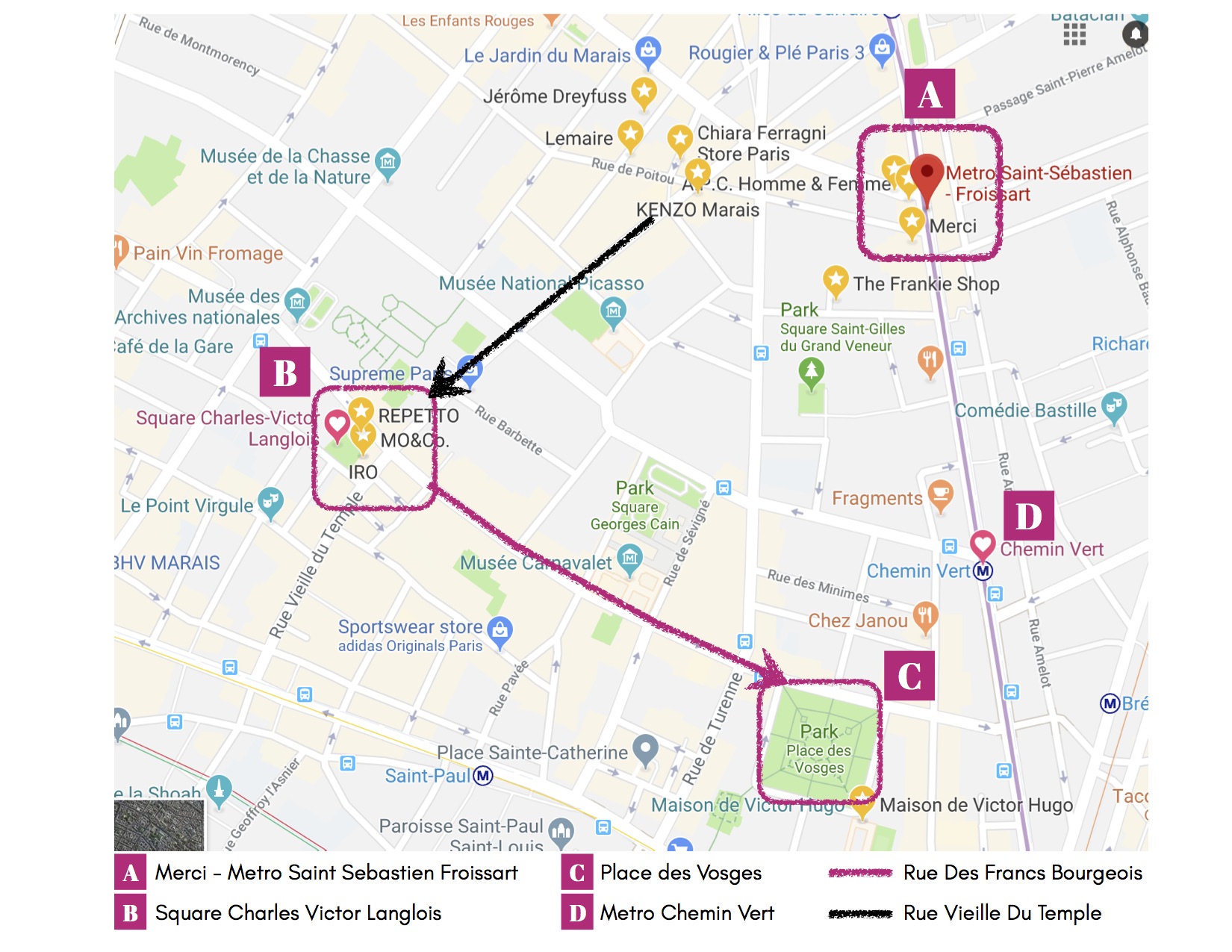 How to go there from Hotel Boutet: Take the subway at Faidherbe – line 8 direction Balard and stop at Saint Sebastien Froissart (4th stop. It takes 1 min per stop).
Why Le Haut-Marais: as a fashion blogger, I love this district as you have the trendiest designers and coolest restaurants.
1. Start your walk at Merci – Concept Store. Merci is an absolute must on Paris for its furniture, clothes, accessories, and gifts. Plus the restaurant and the bookstore cafe are definitely delicious and a great place to enjoy your meal.
Near Merci you will find The Frankie Shop (a must-have of new emerging designers), Acne Studio, Apc, Oh My Cream (for high end and non-toxic cosmetics), Le Maire, Chiara Feragni, Kenzo, Jerome Dreyfus, etc.).
2. Then you can take Rue Vieille Du Temple and walk to Square Charles-Victor Langlois. You will find famous and emerging fashion stores (Iro, Mo&Co, Repetto, Elleme and so much more). In this area, most of the stores are opened on Sunday.
3. Then you can walk on Rue des Francs Bourgeois (there are lot of shops in this street) to reach the beautiful and historic royal square: Place des Vosges. The place also hosted the home of the famous French novelist Victor Hugo ("Les Misérables").
4. You can come back to the Hotel Boutet by taking the metro station Chemin Vert. And after such a long walk, feel free to relax at the swimming pool and hammam!

Other must-see places in Paris
 Montaigne avenue:

Must-see: Dior Flagship and Montaigne Market (the luxury concept store).
Where to eat: Maison Blanche. One of my favorite Parisian restaurants with a view on the Eiffel Tower.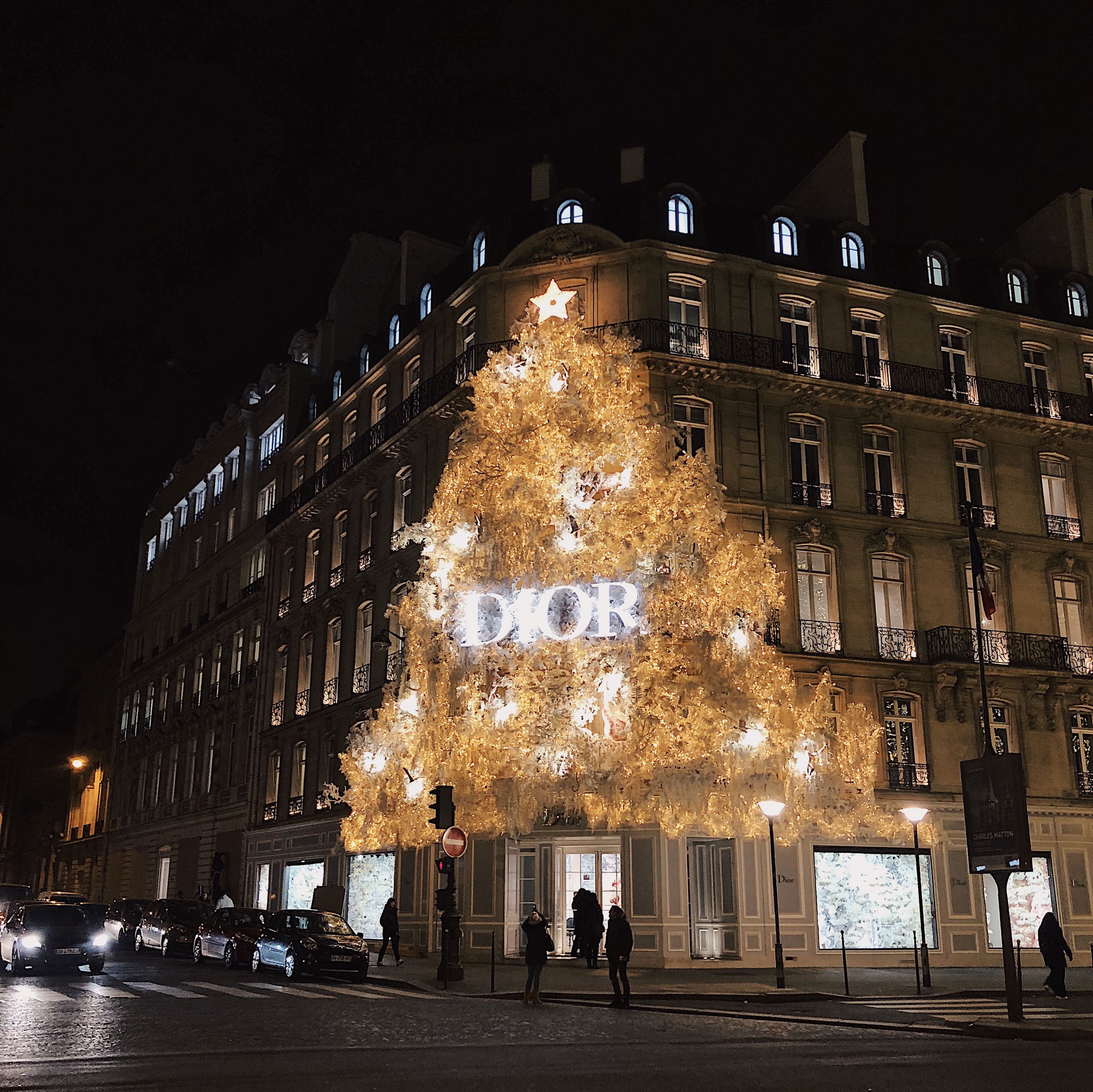 Easy Instagram worthy pictures? Go to Palais Royal 

to snap some great pictures and visit

Cafe Kitsune

which is owned by the trendy Parisian music and fashion label:

Maison Kitsune

.
Disclosure: There are definitely other places to see and to enjoy in Paris. This guide aims to provide a visit of Paris from a fashion standpoint.  I contacted Hotel Boutet to be hosted at the Hotel for free. I truly believe this Hotel is worth knowing and learning about, hence the blog post! As always, opinions are my own. 
More about Parisian fashion designers –  check out this blog post.