The woman's black leather jacket is one of the favorite French girl staples to achieve an effortlessly chic look. As a French woman, I can tell that my friends and I are always speaking about our leather biker jacket, also called "Perfecto"! We are always looking for Saint Laurent, Givenchy-inspired leather jackets.
See below a selection of stylish and premium buttery leather jackets.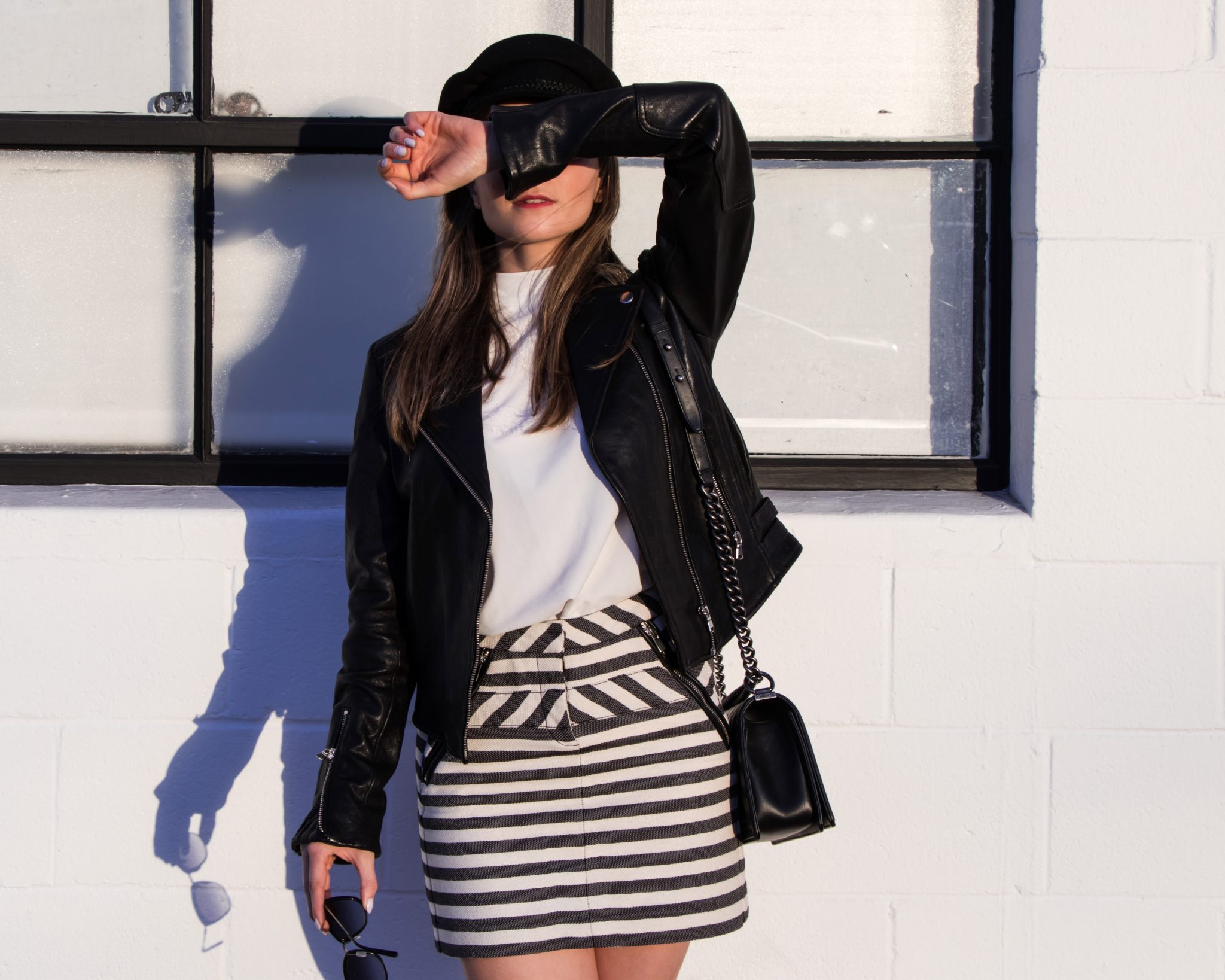 Best affordable leather jacket for woman
Although it is an iconic stylish piece, the designer leather biker jacket is (very) expensive as it uses premium leather: lambskin. Indeed, lambskin is the softest type of leather. I was on the hunt for a new affordable leather jacket, but I didn't want to compromise on style and quality. After different trials, I found the perfect fitted motorbike leather jacket at All Saints, Sezane, Maje, and Sandro.  For an It-Girl style, I will go with the Ashville Iro jacket (I own one in the cream color), Anine Bing jacket or the Acne mock moto jacket.
TOP 10 Black Leather Jackets for Women
All Saints is a great alternative for a leather jacket below $500. My favorite biker jacket is the Balfern (in sheepskin), and the cut is a little cropped. All Saints also introduces new colors and styles every season. If you are a fan of Saint Laurent / Acne / Iro leather moto jacket (prices are between $4500 to $1200), go for the All Saints Balfern jacket because it is a little bit cropped.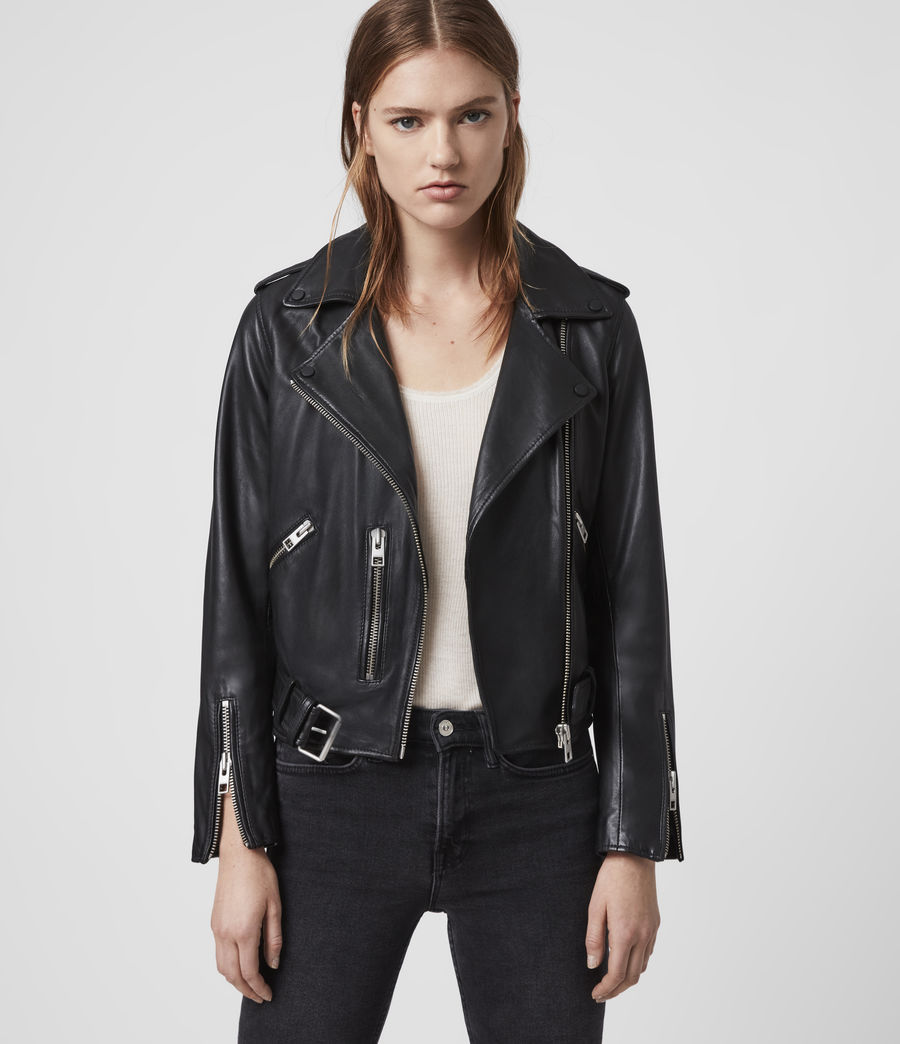 Balfern Leather Jacket
I also love to wear the Dalby jacket from All Saints.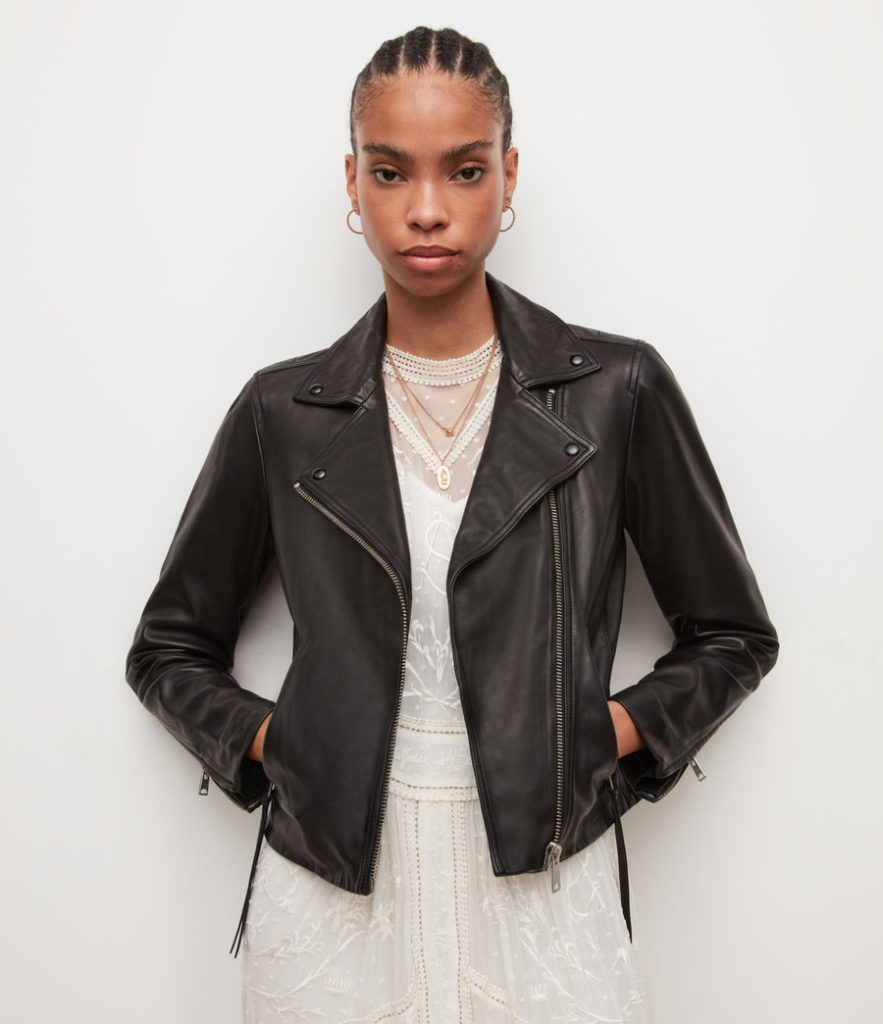 Dalby Leather Jacket
I love the Sezane Zig leather jacket. This jacket is a true Parisian staple. I saw many girls wearing it in Paris, New York, and Los Angeles, and each time I loved how it looks! Sezane doesn't use chrome for tanning its leather jackets, which is more sustainable. Read the full review here.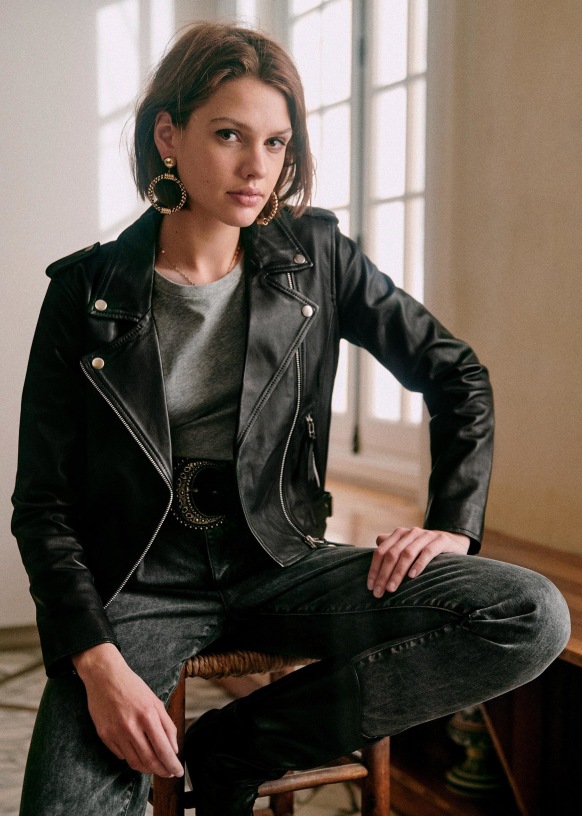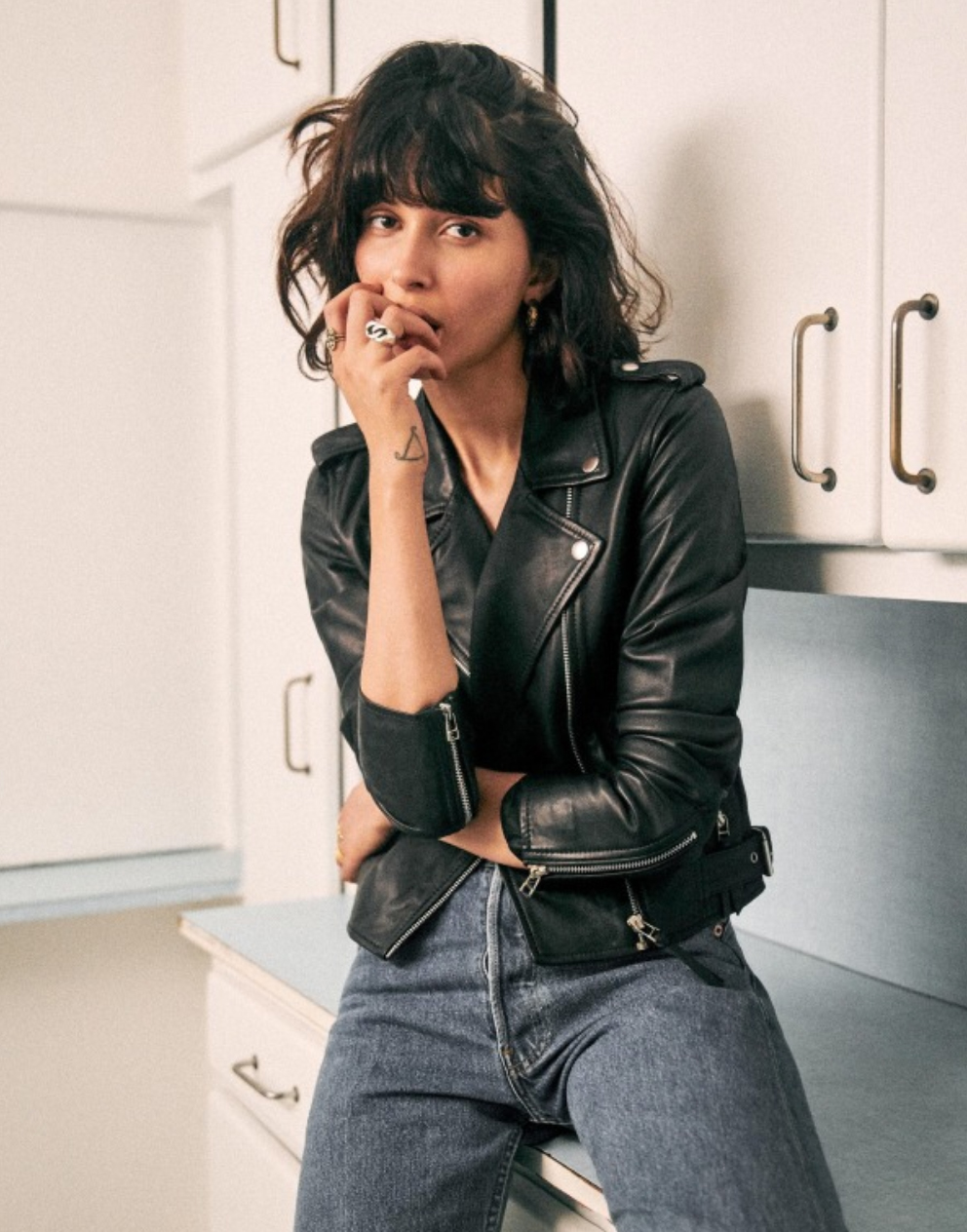 Zig black leather jacket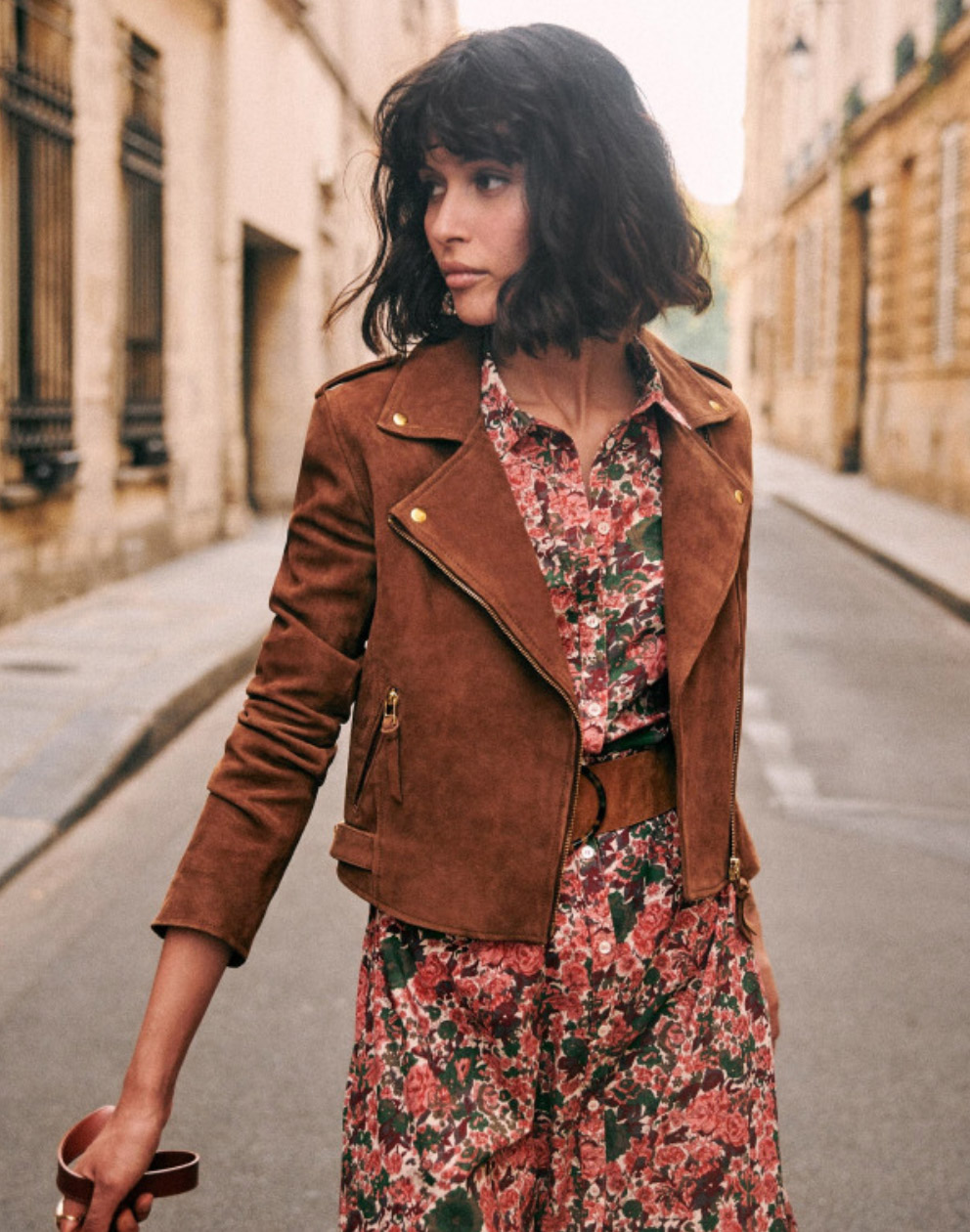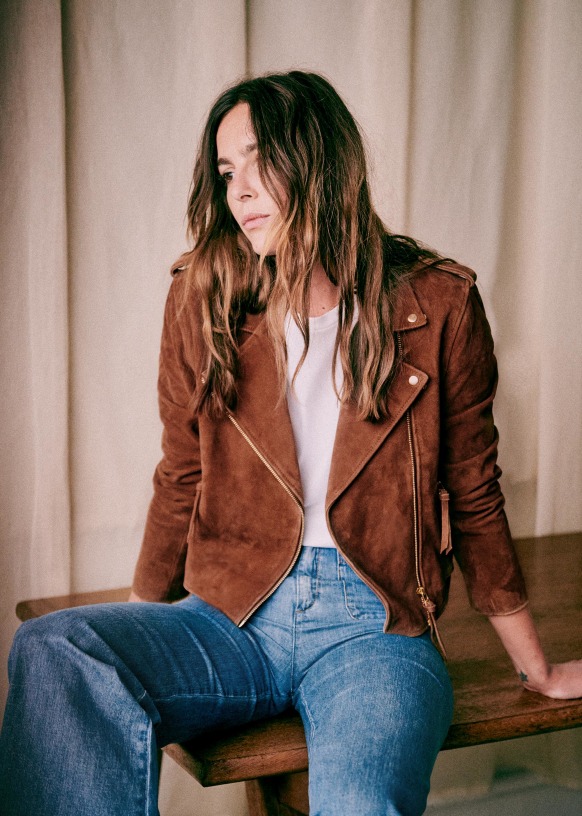 Sezane brown moto jacket
Anine Bing Benjamin Leather Jacket
Hype, effortless, and trendy, the Anine Bing Maverick and Benjamin leather jackets are a moto-inspired leather jacket crafted in supple black leather. This classic style is accented with silver hardware, lending a hint of rebellious edge to its timeless design.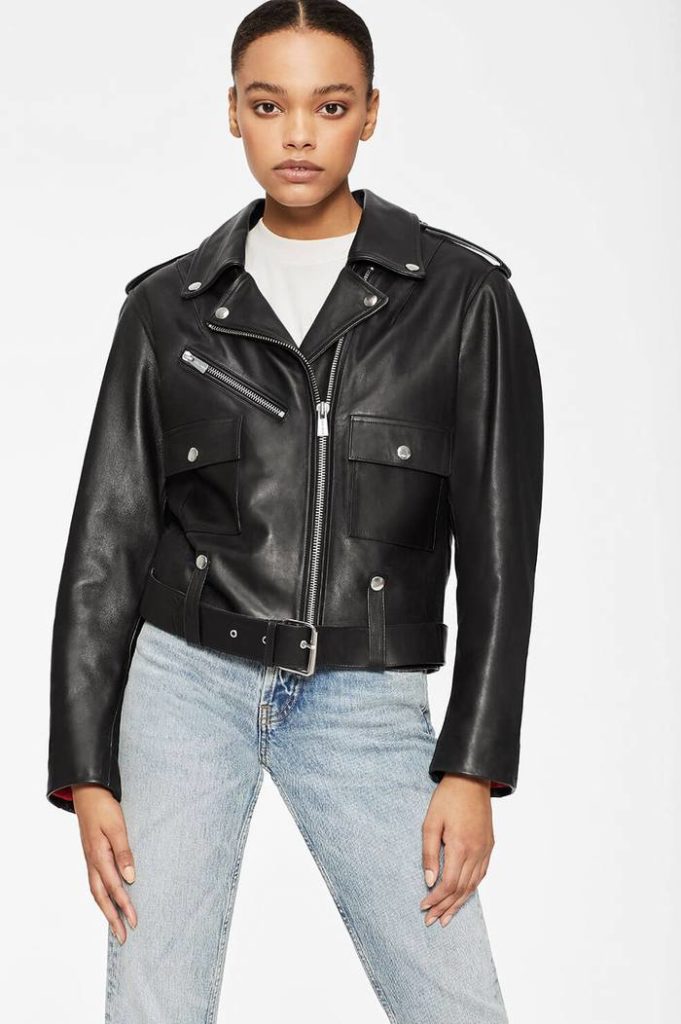 Anine Bing Biker Jacket – $1199

Anine Bing Benjamin Moto Jacket – $1100
The Sandro or Maje Leather Jacket
French girls love their French labels. Many Parisian girls shop their leather jackets during the annual sale of the Parisian labels: Sandro and Maje.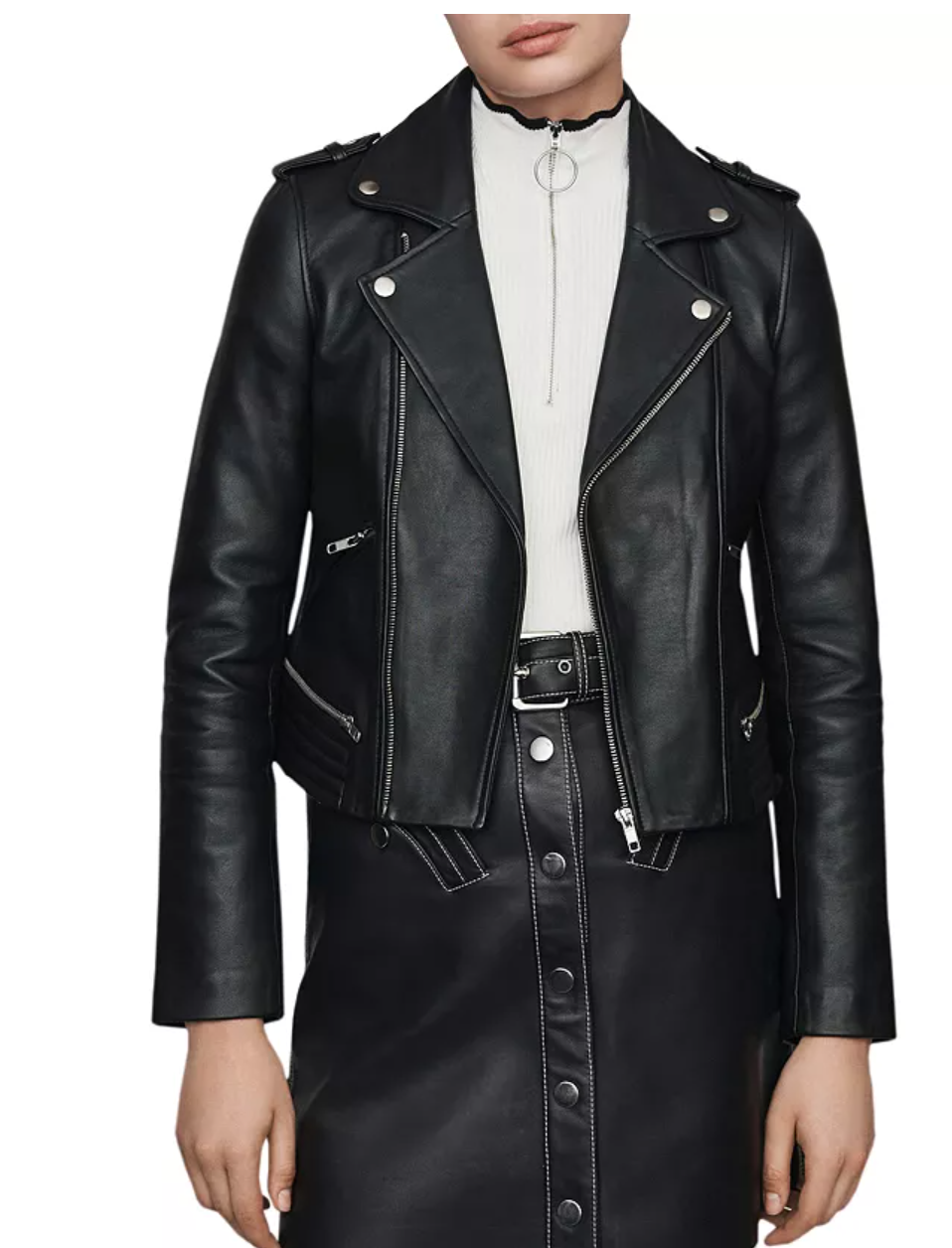 Maje lambskin leather jacket on sale –  $595, or here, or here.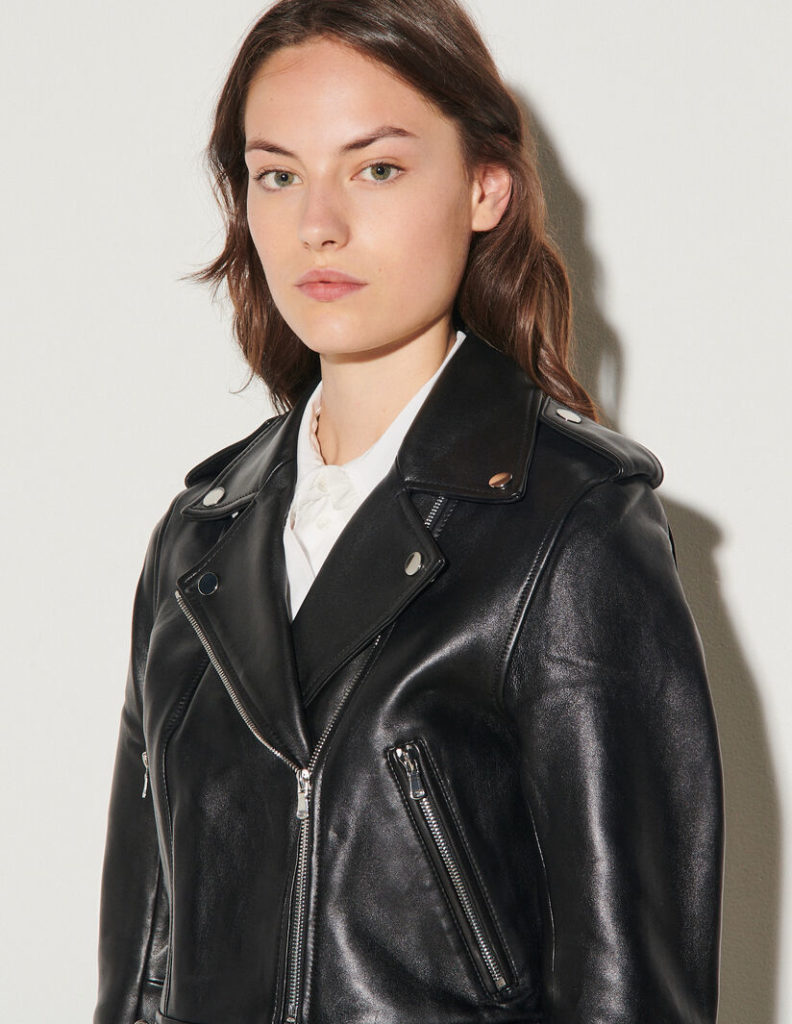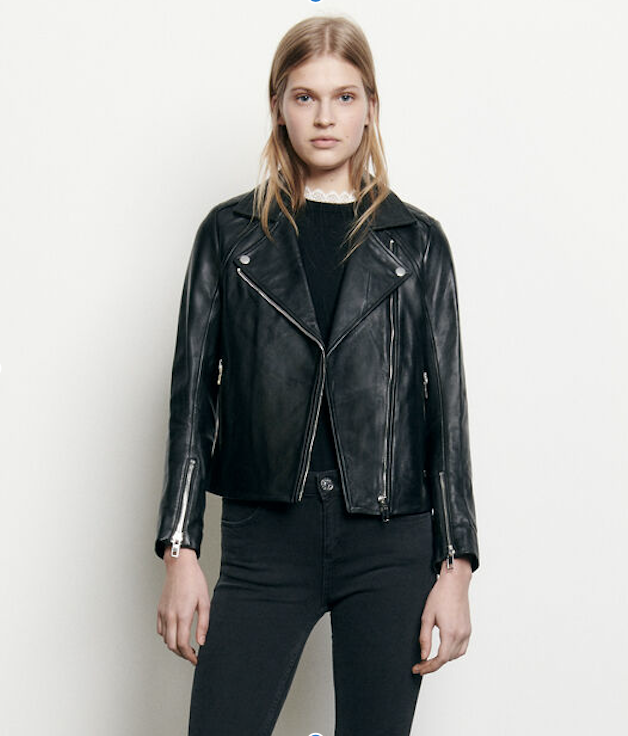 Sandro lambskin leather jacket – here and here
Theory
When it comes to staple, Theory is always a good option. The design is sleek and the material of high-quality.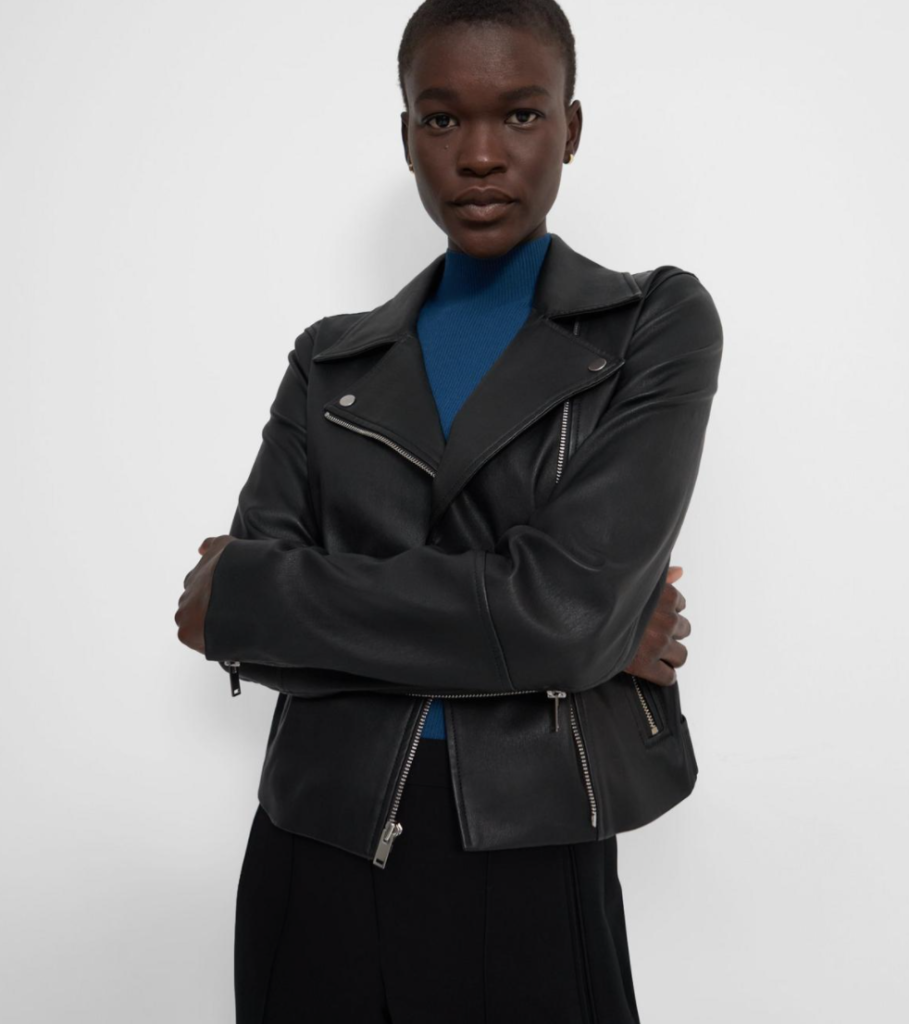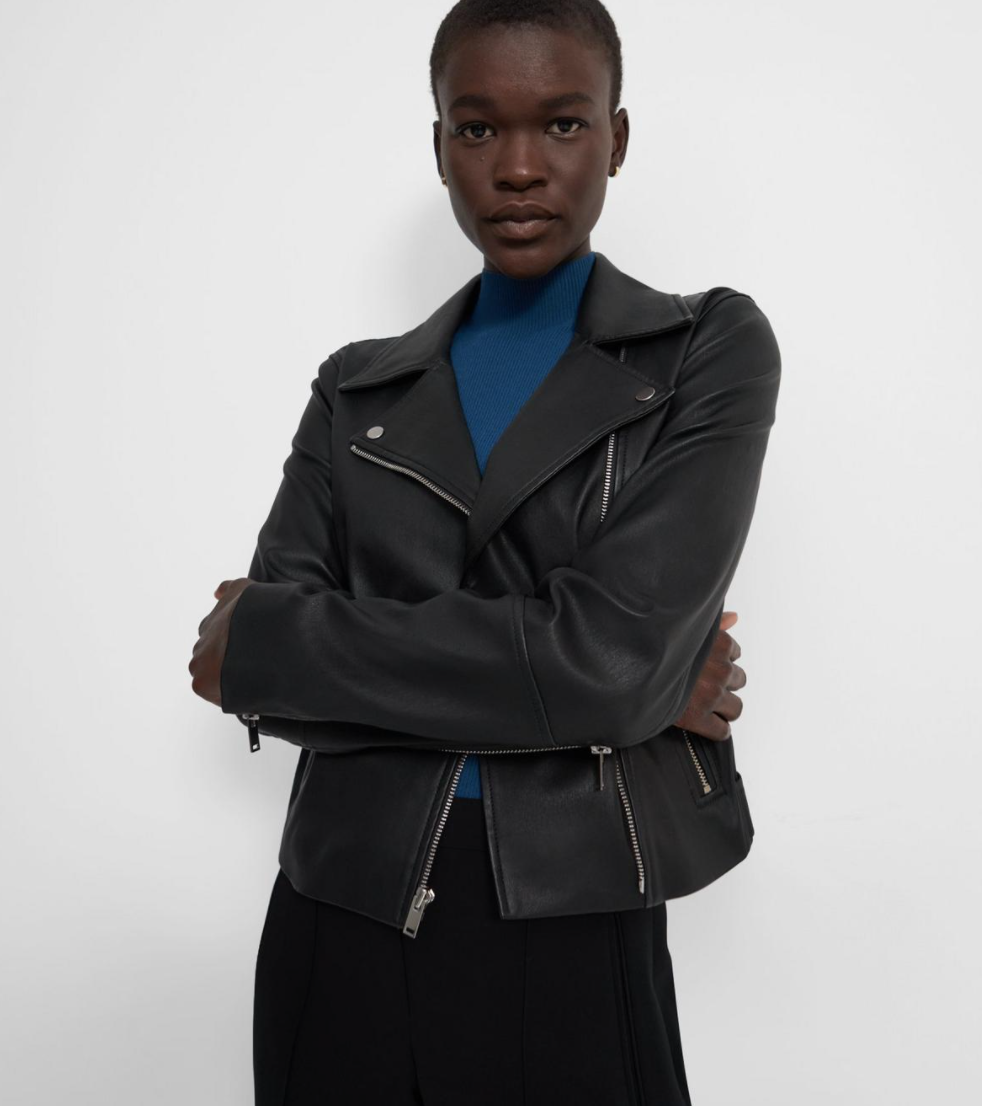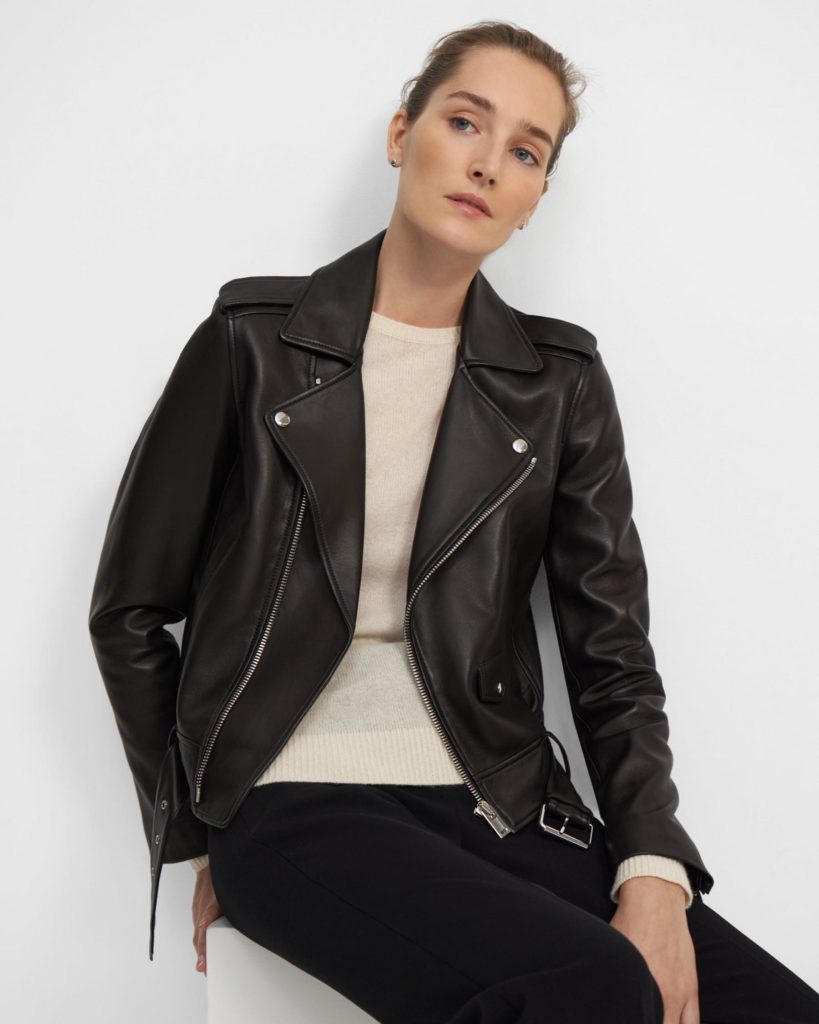 Iro Ashville leather jacket
One of IRO's most iconic pieces: the Ashville leather perfecto is an essential part of the Parisian wardrobe.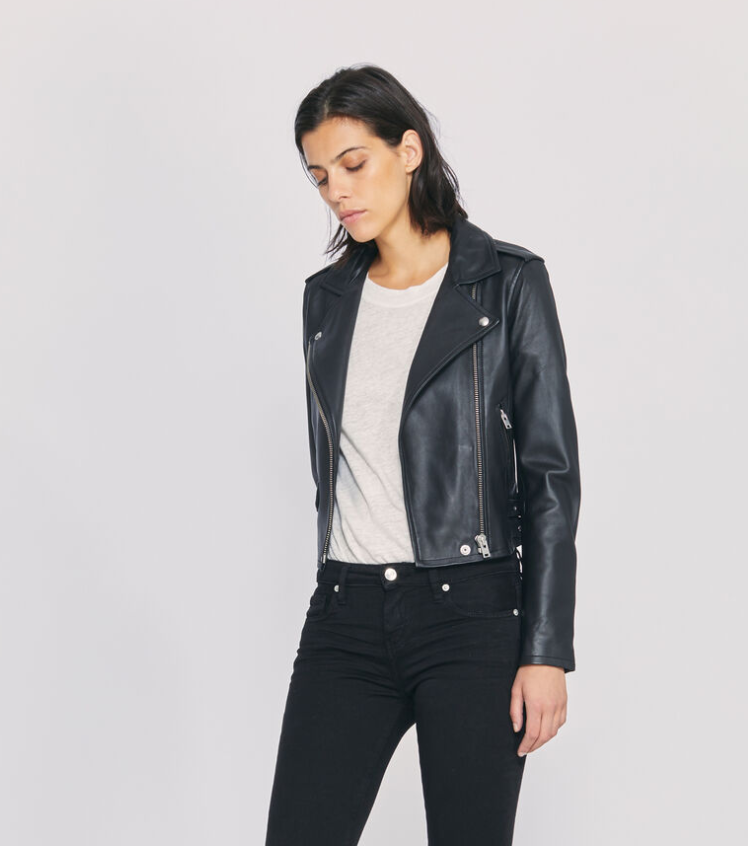 Iro Ashville leather jacket – $1200 here and here
Acne Mock Leather Biker Jacket
Hype, luxury, effortless, and trendy, the Acne Mock leather jacket is crafted to a classic cropped biker silhouette that transcends the seasons.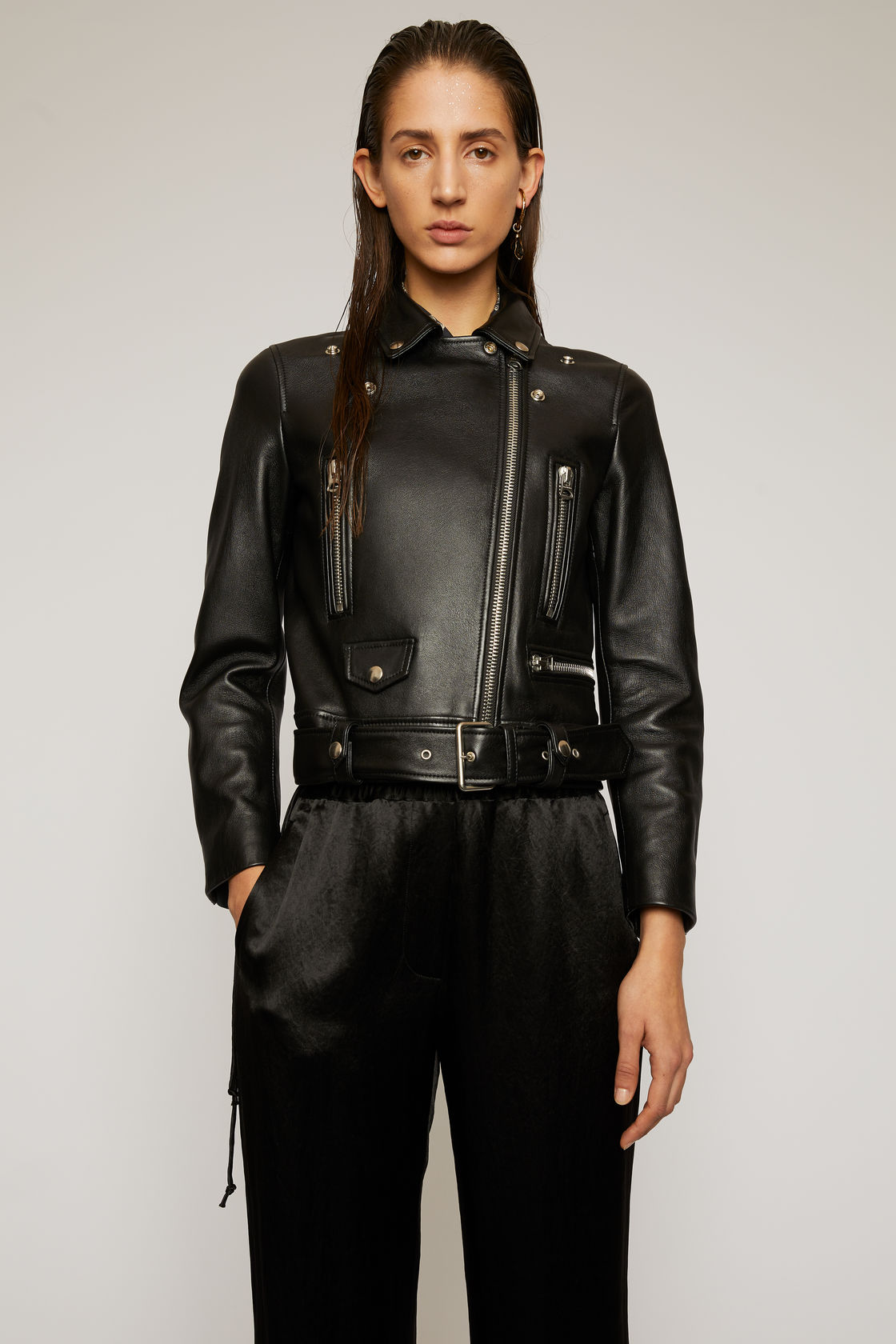 Acne Biker Jacket – $1550


How to wear the leather biker jacket
All Saints Dalby Leather Jacket
The black leather biker jacket is a year-round statement piece, the perfect it-girl jacket to go with any outfit:
Casual look: Wear it with ankle boots and jeans.
Night-out 1: Go for ankle boots and a skirt or short dress.
Night-out 2: Go for a jumpsuit and stilettos.
Polished: Wear it with a white shirt and cigarette pants.
Model off duty look: Wear it with a white shirt, jeans, and white sneakers.
Party: wear it with a 90's slip dress. (See here for slip dress ideas)
Concerning the size: I usually take a XS, which is my regular size for a jacket and I want it cropped. Also, it is trendier to wear your leather jacket opened (do not zip it).


Pin on Pinterest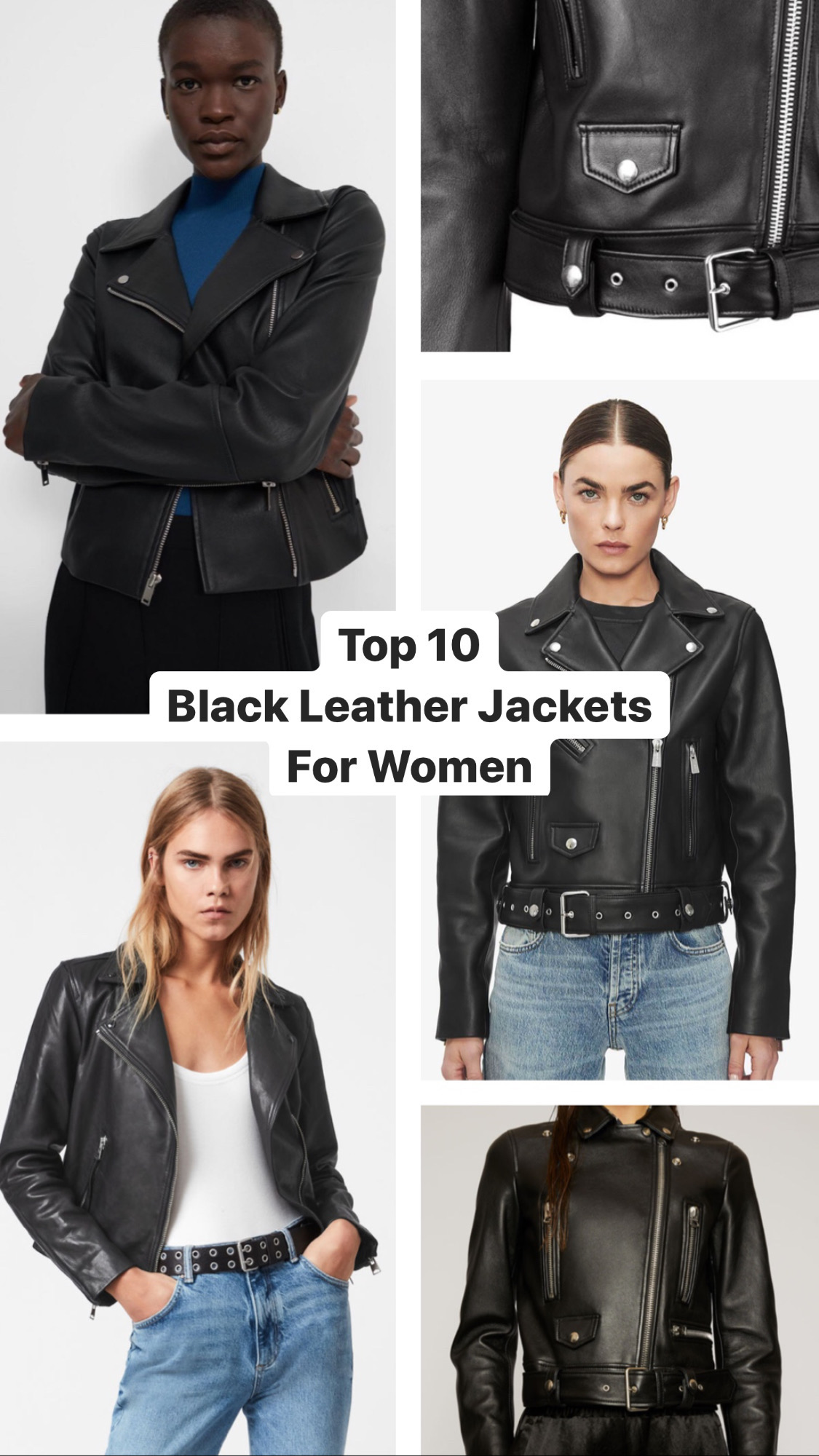 Disclaimer: This blog post contains affiliate links.