The Tory Burch sale is now live and here are five looks to wear now and forever: the French girl style, the minimalist, the BCBG, the museum-goer, and the 70s feel.
As women, we have to fill many roles and our wardrobe should support us to do them all. I love to shop at Tory Burch as the pieces are versatile, timeless, and always stylish.  Therefore I am so happy to partner with Tory Burch to curate my favorite looks. This season, I focus on timeless pieces with a vintage feel: ballet flats, cross-body bags, and riding boots are pieces that we can wear season after season.
French girl style
A midi dress, ballet flats, and a straw bag are the epitome of the French girl style. I love the cut-out that gives a modern and sexy edge to the dress.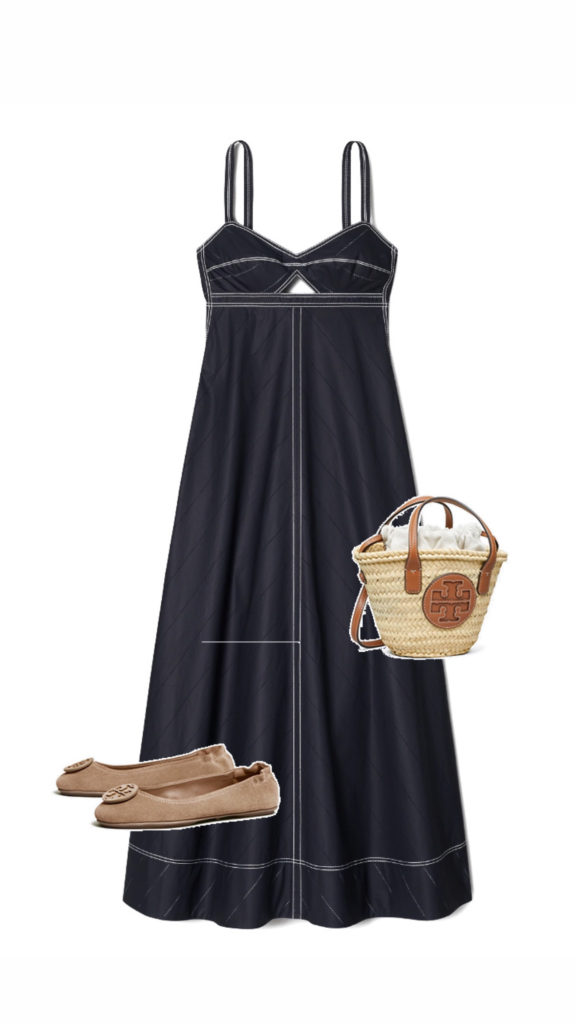 The minimalist look
Every closet should have these wardrobe staples: black leather boots, a beige cashmere dress, and a classic flap bag. You can wear this minimalist from day to night, every day of the week. It elevates any pieces of your wardrobe. The good news: all these must-have items are on sale! I particularly love the chevron flap bag, this luxe cashmere dress, and architectural black knee boots.
Country club – Bon Chic Bon Genre look
Tennis is not my favorite sport but I do love brunching at a country club and to wear my favorite French terry shirt for the occasion. I am obsessed with these monogram sneakers which bring Y2K fashion back. Plus this limited edition mini bag is a must-have: it is minimalistic and can be worn with so many looks and is easy to travel with – find similar here.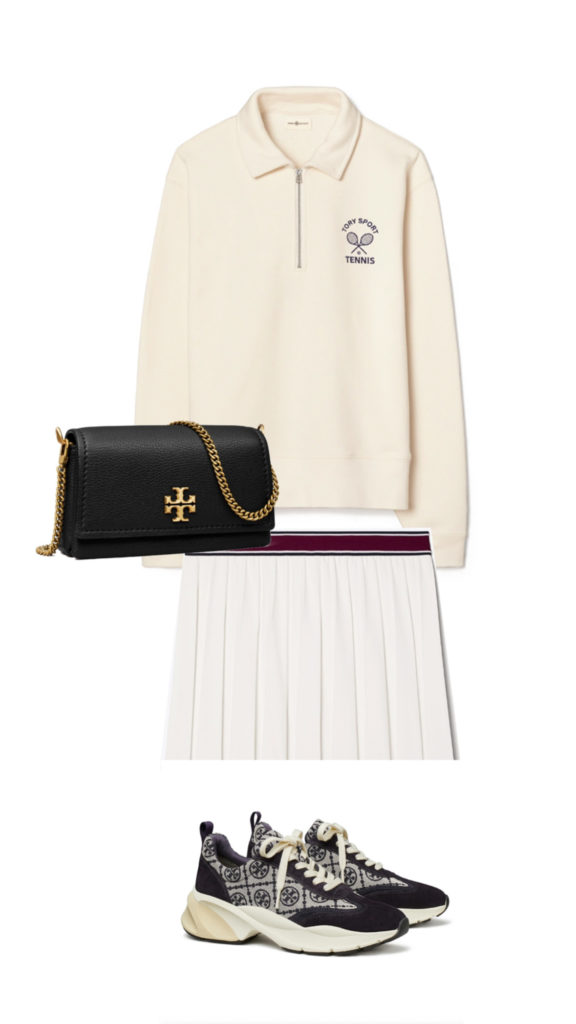 Museum goer
I love this artsy look with the maxi buttons crepe dress and chain-link loafers (similar here). I am obsessed with the mini monogram jacquard bucket bag by Tory Burch. It is a best-seller bag: you can wear it as a top handle or as a cross-body bag. Although it is not on sale the price is affordable and this classic shape won't go out of style. I also found a similar bucket cross-body bag on sale here and here.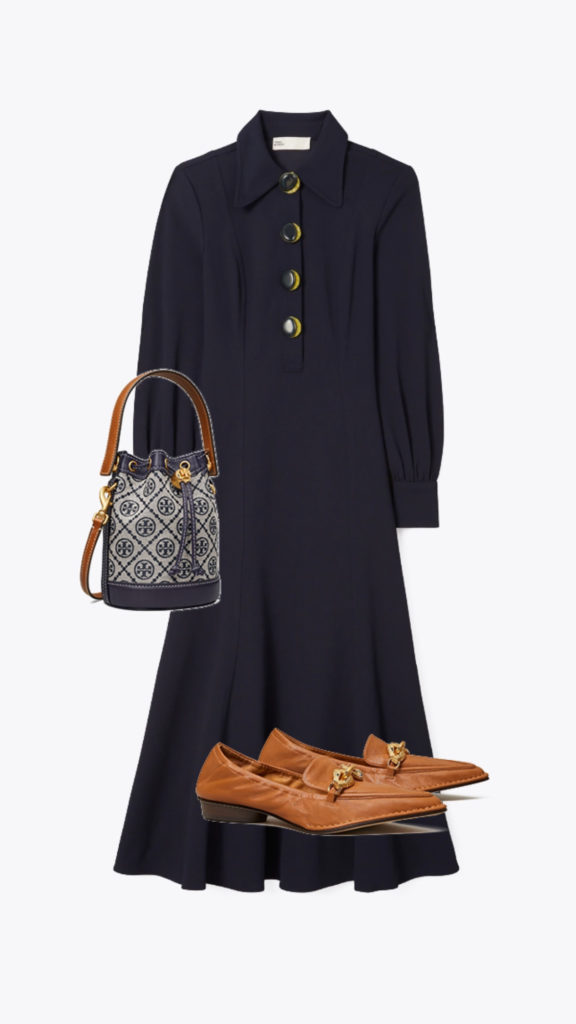 70s vintage feel
I love the 70s and I am so happy to see it more and more on the runway.  The glossy coat is perfect for every day and will elevate any rainy-day outfit. I also love the belt that structures this coat. Patchwork and shoulder bag are currently very trendy and I love how this die-cut leather patchwork bag brings some edge and timelessness to this outfit. The riding boots are a wardrobe staple to mix and match with all your other looks.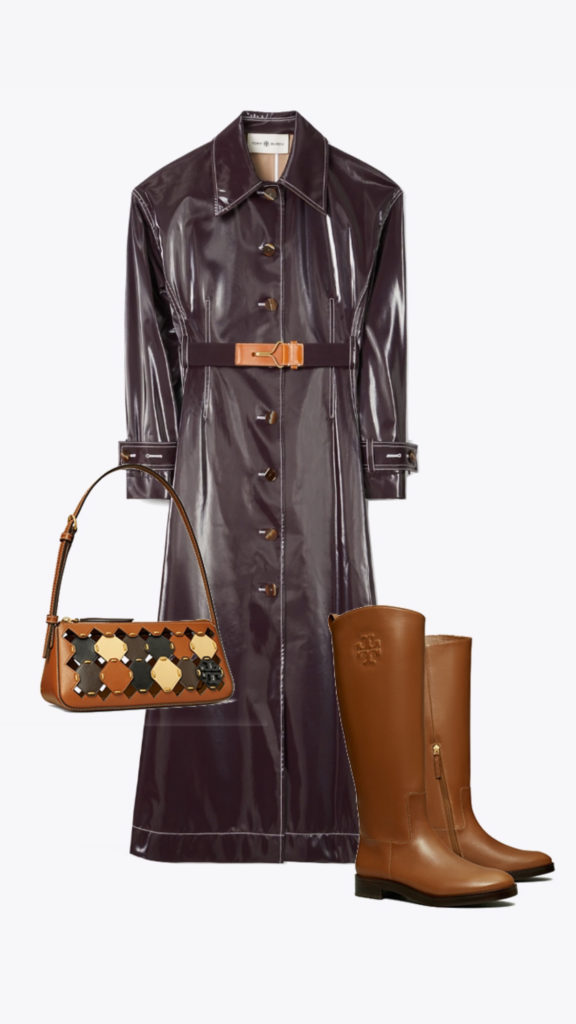 Best items to buy at Tory Burch sale
Find out more amazing pieces on sale here.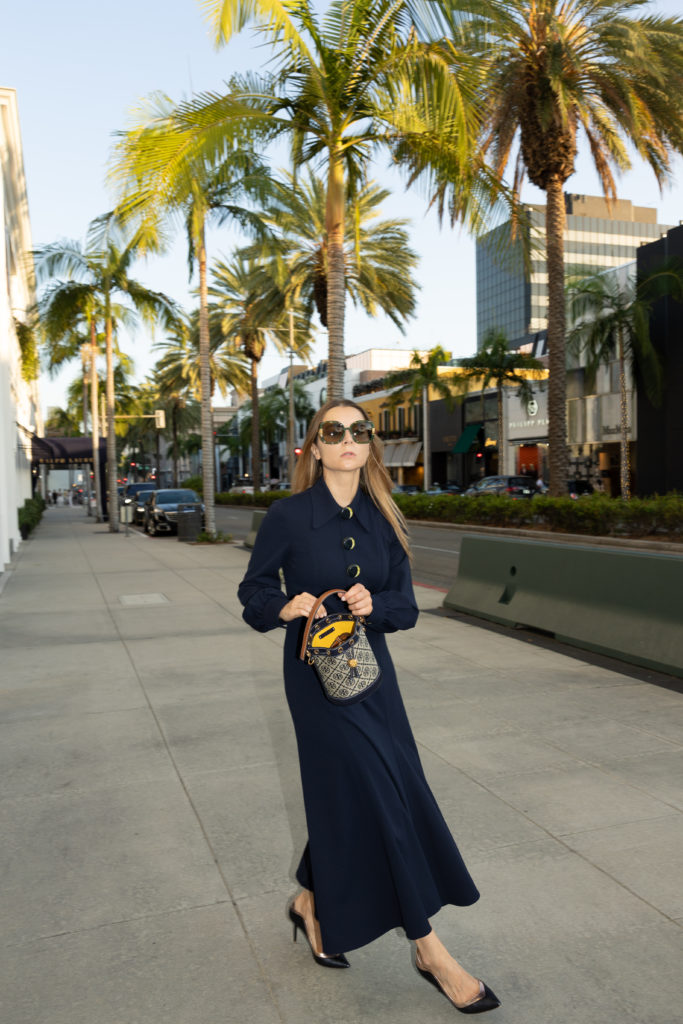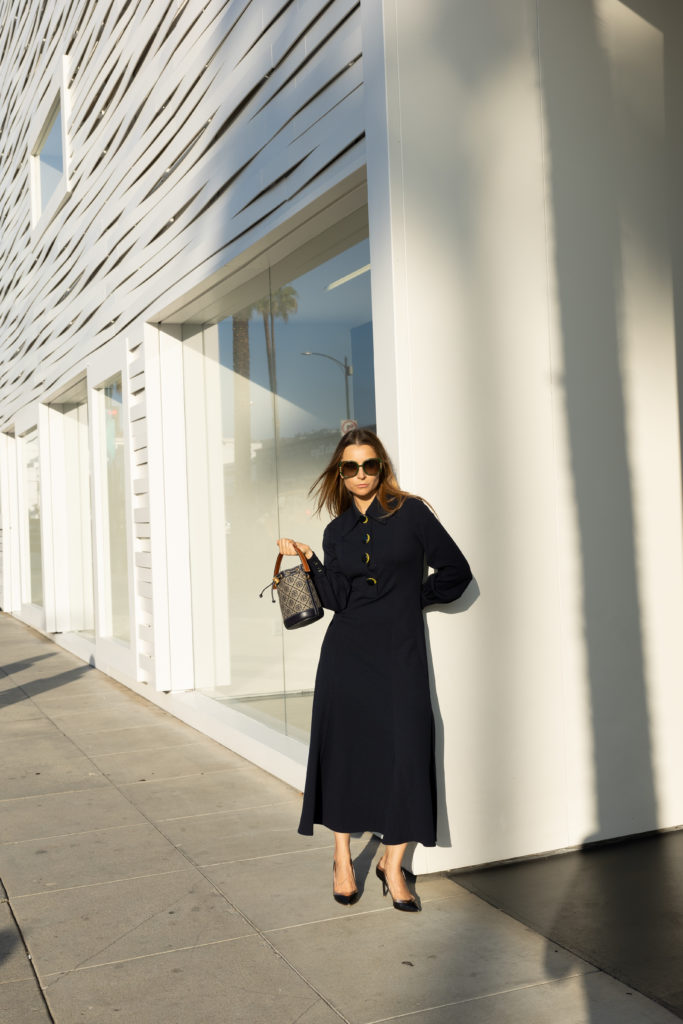 Wearing some of my favorite pieces from Tory Burch: crepe dress and Monogram jacquard bucket bag. Location: Rodeo Drive, Beverly Hills.