Today, I introduce you to two brands: Everlane and DSTLD. These two labels are disrupting the fashion industry by providing high-end basics at an affordable price with a focus on transparency and sustainability. Discover below my DSTLD and Everlane review.
For more disruptive fashion business models, check this blogpost.
Everlane: The Concept

Everlane is well known by fashion stylists and fashion bloggers alike to create minimal and high-quality clothing. What makes Everlane different is its radical transparency and attention to costs. I even heard celebrity wardrobe stylists saying that if a cashmere sweater costs $100 at Everlane you will never find a sweater at the same price with a similar quality! Everlane is the reference in the fashion industry to provide upscale and affordable designs.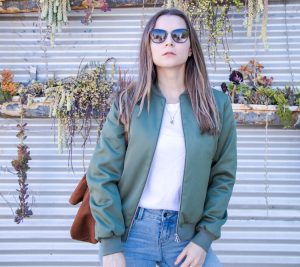 Everlane Review
I ordered the items with my usual sizes: tee-shirt and bomber in XS and the shoes in size 6.5. The fits are perfect. I am obsessed with the attention to details of this brand. The pointed slide shoes are made in Italy and the leather is so soft!
Immediately after wearing the bomber, my husband wanted to buy one for himself and people in the street were asking where these pieces came from! I  can wear these basics everyday and they are so easy to style!
With its radical transparency concept and humanist value, Everlane has launched the "100% Human" project. For every "100% Human" product sold, Everlane will done $5 to the ACLU (American Civil Liberties Union).

DSTLD: The Concept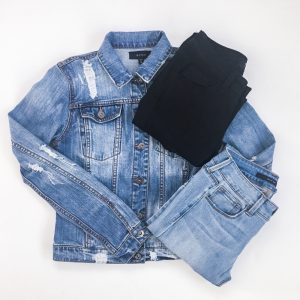 DSTLD (pronounced Distilled) designs and crafts luxury-grade denims and essentials and refuse to work with department stores and retail middlemen, passing on the savings to its customers. The label produces simple design, superior quality, and a pared-down product selection in order to deliver the perfect core wardrobe.
Moral Fiber: DSTLD carefully selects its fabrics and suppliers to bring more sustainability in the apparel industry.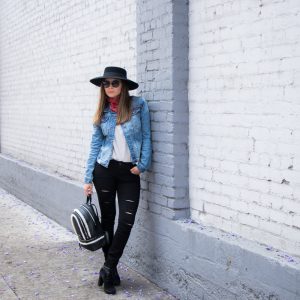 DSTLD Review
The cuts are very modern and the fabrics are super soft. Moreover, I love the neutral DSTLD color palette: mixing black, white, grey, dark, light and medium wash denims. These jeans are super comfy and they are as good as any luxury denim labels.
I ordered the denim pants in size 25 (my regular size) and the denim jacket in XS. The fabric is stretch and the fitting is perfect. Each denim pants cost less than $100. Thus, I really recommend to look at this brand before buying a luxury denim.
I am a huge fan of this brand, and fortunately I was able to get to my readers a 20% off coupon code to shop at DSTLD, use IGJC
Look 1: LA Girl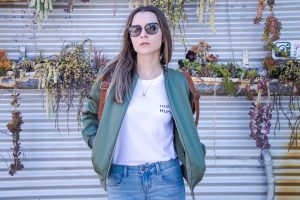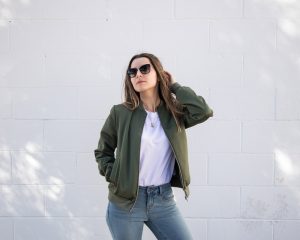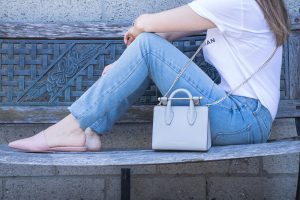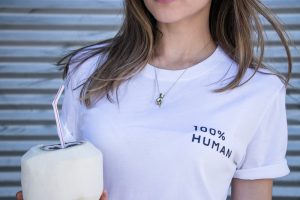 Item credits: Top, Bomber and Shoes: Everlane / Necklace: Monserat De Lucca / Sunglasses: Garrett Leight / Brown Bag: Monserat De Lucca / Pearl Grey Bag: Strathberry
Pictures: Nicolas Comil

Look 2: Denim Mon Amour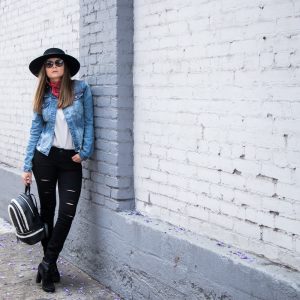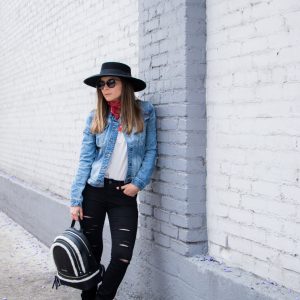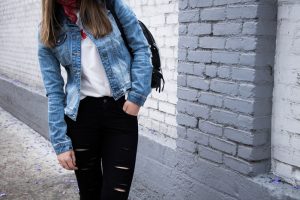 Item credits: Denim Jacket and Black denim pants: DSTLD / Tee shirt: Clare V. / Necklace: Monserat De Lucca / Sunglasses: Garrett Leight / Hat: Vintage – similar here / Backpack: Michael Kors / Bandana: Madewell
Pictures: Laura Albouy from Initialsla.com

These two brands are mastering the perfect fitting and quality fabrics at an affordable price! Check them for your next purchase! You will not regret it.
To discover other disruptive fashion business models, read this blogpost.
---
Disclaimer: I contacted the brands some months ago and I received the items to try for free. I truly believe these brands are worth knowing and learning about, hence the blog post! As always, opinions are my own. This blogpost contains affiliate links.