The Fall edit: The Shopbop Sale
Shopbop, the high-end trendy online retail store has started its sale of the season! Use code EOTS17 until September 29, 2017 at 11.59 pm PT on full price and sale items. With the Code: EOTS17, you can get 20% off orders under $500  and get 25% off orders of $500 or more.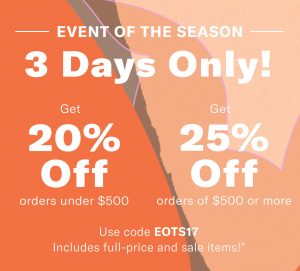 Note that the offer can not be applied to gift certificate, gift boxing, shipping fees, taxes. More info here
You can get the latest style between 20% to 25% off! I have selected some of my favorite pieces for fall: ruffles dress, corduroy pants, denim with bold details, stylish boots, cozy coats and a touch of burgundy!
Let me know your favorites or you scored at these amazing sale!
Shopbop sale shopping edit