Summer must-have items to pack and Review of the Cuyana weekender bag. Discover my weekend style with my favorite summer cosmetics, clothes and accessories.
When I moved to Los Angeles, one of my first favorite shopping streets was Abbott Kinney for its street-arts, premium and cool stores, good restaurants and palm trees! One of the first stores I liked on Abbott Kinney was Cuyana! Cuyana has a minimal aesthetics and all the pieces are very modern and effortless chic.
Cuyana Review: The Weekender bag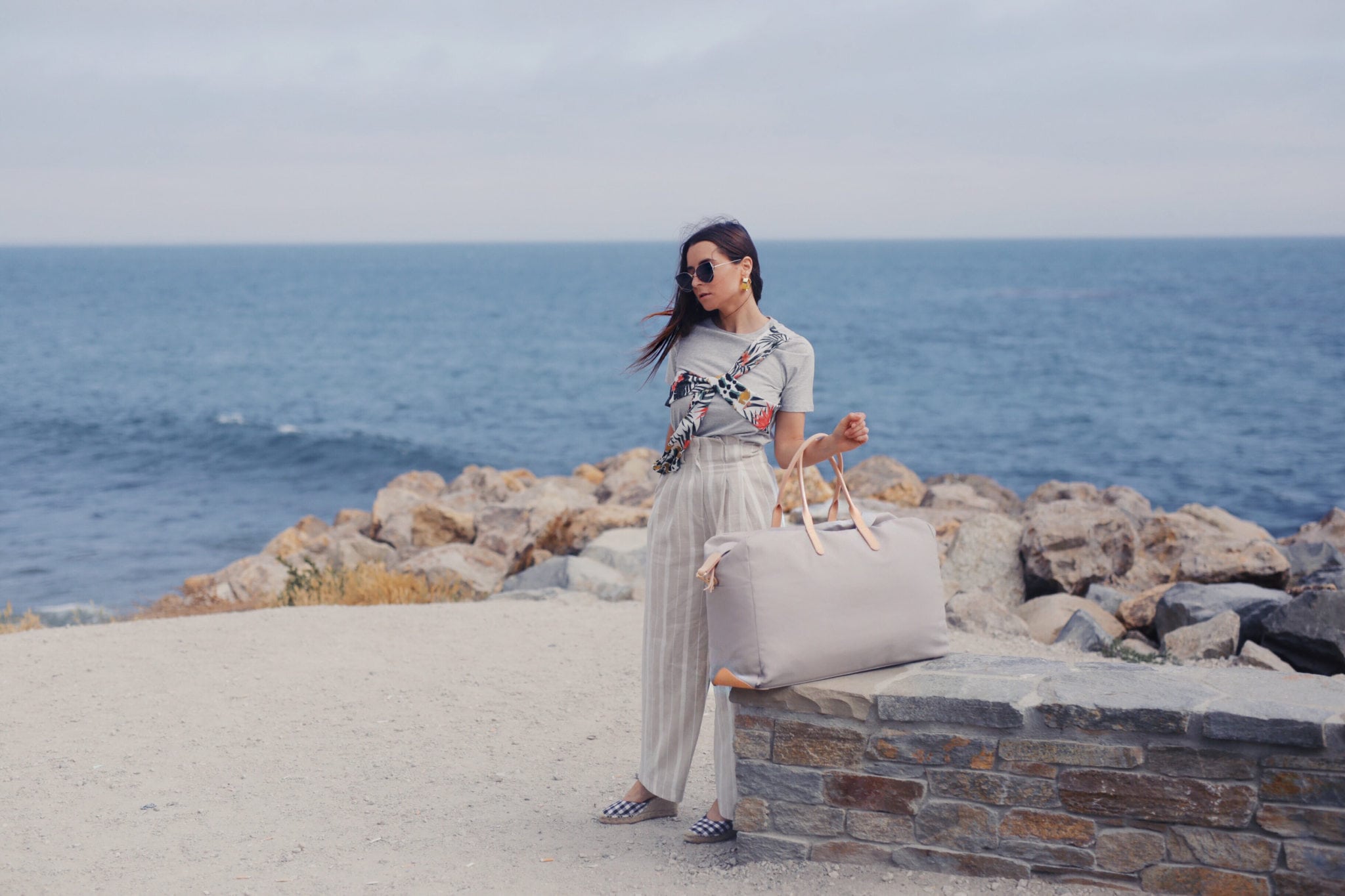 When Cuyan agreed to partner with me for this What's in my bag blog post, I was super excited! For this summer, I wanted the Cuyana weekender bag. The bag has the perfect size to put your cosmetics, shoes and favorite clothes!
Handcrafted in Turkey from cotton canvas and Vachetta leather, the canvas weekender bag is designed to travel well and often! Spacious and extensible, Cuyana Weekender bag is in it for the long haul. This bag embodies the essence of timeless style with its durable cotton canvas exterior, signature gold metal hardware, adjustable nylon strap and tubular top leather handles. The bag comes in three styles: blue, black and my favorite in natural/grey.
Weekend style: Summer must-have to pack for a weekend

Summer clothes to pack for a weekend
Favorite basics will be cut-off shorts, one tee, one top, a dress,  pants or denim, a denim jacket, one swimwear

Summer accessories for a weekend
The weekender bag, a handbag, a scarf (to put on your hair, neck or bag), earrings

Summer cosmetics must have
My essentials are definitely: Spf sunscreen, a mascara, eyeliner, a lip and cheek gloss, a bb cream, dry shampoo

About Cuyana
Each piece in Cuyana's collection is designed to be timeless and made to last. Indeed, Cuyana's craftsmanship expresses a deep-rooted heritage, skillful craftsmanship and a culture of artisans discovered around the world from European locations (Portugal, Italy, and Scotland) to the United States (New York, Los Angeles) and all over South America.
The Cuyana label loves to empower real women and celebrates multifaceted innovators and leaders with a definitive softness of character. Moreover, on its website, you can read the stories of inspiring women such as Jessica Alba, Ayesha Curry, Marie Kondo, etc.
In addition, Cuyana is also the founder of the lean closet movement challenge which aims to collect fewer, better things, and to donate the pieces in our wardrobes that are merely taking up space to those who need them. A beautiful mission!
Learn more about Cuyana on its website or visit its stores in SF, LA and NYC.
Disclaimer: Pictures taken in Malibu. Model and Creative Director: Julia Comil, Photographer: Samira from Style Me Samira.