For the Bridging The Gap Campaign: Meet my partner Chuky Reyna, the 58 year-old Gorgeous Miami Based Blogger behind the blog Mi Camisa Blanca!
From Venezuela to The USA and from PR to Blogger, Chuky is delivering her experience and best tips to turn challenges into successes and tells us how she uses blogging to serve her PR work and the SenosAyuda Foundation for which she volunteers and to share her passion for fashion!

Chuky Reyna, My Bridging The Gap Partner
For the Bridging The Gap campaign, I got the opportunity to partner with the stylish boss lady Chuky Reyna!
First of all we have a lot in common:
We are both immigrated to the USA!
We love French designers and mixing High&Low fashion!
We both come from the corporate world!
We love Cheese!
We also love Chocolate!
Second of all, I am passionate about everything about PR! That's why I am seizing this bridging the gap campaign to know all her tips to turn challenges into successes! Read them below!
You can also read my interview on micamisablanca.com
Chuky Reyna Interview
Julia: Hi Chuky, it is so nice to finally being able to speak with you! We have been following each other for a while on Instagram and I am thrilled to learn more about you, the PR Diva! I know you had a successful career in Venezuela and I would love to know why you moved to the USA although you already had a very established presence in your country?
Chuky: Yes indeed, I was like a PR Diva in Venezuela! I founded one of the most successful PR firms in the market affiliated with a global PR network with an enviable client roster including global leading brands such as, P&G, Sony, Kraft Foods, General Motors, to name just a few. The regime laws limiting freedom of speech as many other laws and increasing criminality were making unbearable to live in Venezuela and to maintain a profitable business.
One day I just saw what was coming and visualized how would I feel in 2 or 5 years, and I clearly pictured myself powerless to keep up with my business or started a new one. I made my decision to leave, knowing that starting over would be hard, but convinced that I'd be able to make it
So, I moved to Miami in 2012, I got a O1 Visa, due to my awards, published articles and references regarding my PR career.
Being an immigrant is never easy, you are someone in your country, and you're just another foreigner abroad. It took me two years to sell my apartment, choose Miami as my new home, got my work visa and settled. I now have a boutique PR agency in Miami, focused on helping business in Latin America.

Julia: Chuky this story is amazing! And congratulations for your O1 Visa it really tells a lot about your impressive career.
Why did you choose Miami?
Chuky: First, I thought to go to Madrid since I lived there for 8 years and have family and friends. But Spain was in a severe economic crisis and I decided to come to Miami where I also have friends and family living and working in the US.
I also chose Miami because I saw that the city was changing in a positive way, it was evolving from the city of retirement to a quite cosmopolitan one. Lots of start-ups chose Miami and Florida is becoming a new center of innovation in the US.
Julia: I love how you are able to look at the global picture and think forward! When I moved to the USA, I stopped working in Finance to seize new opportunities in Fashion and in the Digital industry. Are you still a PR in the USA? 
Chuky: Yes, I've been in PR for over 30 years and have managed leading global brands, which enabled me to connect with companies doing business in Latin America to reach out and hire my company. I also have a network of PR agencies in the Latin American region to rely on.
Besides, I'm also a founder and board member of SenosAyuda Foundation, a US based non-profit, created to raise funds for breast cancer patients in Venezuela, who are dying due to lack of cancer treatments and therapies. I'm not a breast cancer survivor but I've been a founding member and pro-bono PR of Fundación SenosAyuda in Venezuela since its creation in 2004. I'm currently organizing a Benefit Fashion trunk show that will take place on October 19th with local Miami and Latin American Designers. [See more information about this event on Instagram].
Julia: Chuky this is really impressing because you were able to set yourself as a Latin America expert in the USA 
and to use your connections to develop your business and foundation! You also started your blog and your social media accounts! I believe social media gives us the opportunities to increase our network. How did you leverage social media to create new relationships? 
Chuky: Yes, definitely social media is amazing in growing your network.
Especially when attending blogger networking events since you have the opportunity to learn more about each other. Undoubtedly, online communities like Forever Fierce, Style Collective and South Florida Bloggers have provided me with opportunities to make new friends.
Being a blogger also widened my reach to PR agencies, brands and designers.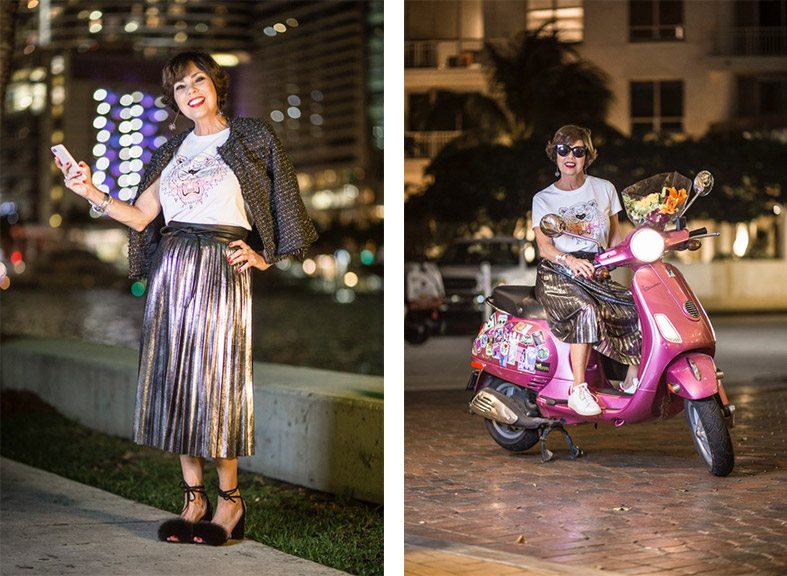 Julia: I am very impressed with all your projects and experiences! I would love to know your top 3 professional and personal advises to enjoy life! 
Chuky: First of all, be passionate about what you do and never be afraid to change career paths whenever you feel. If you're not happy and passionate about what you're doing, it is time to leave and start over.
Second of all, work to live your life to the fullest, never sacrifice your personal needs, dreams or goals because of work. There will always be work and career opportunities, but you only have one life.
Love yourself so you can love others more. If you neglect yourself you'd never be able to love and support others.
Julia: Thanks Chuky. I really love these tips! It really motivates me and it is exactly the reasons why I joined the Bridging The Gap Campaign! I was in the search of meeting people who succeeded by taking risks and changing career paths. I would love to know your motivations for being part of this Bridging The Gap Campaign?
Chuky: I joined the campaign because I truly believe that if we cross the generation gap as women, we'll grow stronger. I strongly believe we'll be able to learn from each other and I'm also happy that this campaign has a social service objective in creating a foundation to benefit women with disabilities.
I strongly believe we'll be able to learn from each other and I'm also happy that this campaign has a social service objective in creating a foundation to benefit women with disabilities. I was really excited when Catherine Graceo [Founder of The Fierce 50 movement and The Bridging The Gap Campaign] told me that you'd be my partner since I've been following you for a while not only on IG but your blog I love your style.
Julia: Thanks so much Chuky! I share t

he same

excitement!! Showcasing my style is a way to express all the things that are inspiring me! From nature to the arts, inspirations take many forms! What are your main inspirations? 
Chuky: Wow! Many, many things!
Reading, since I have the gift of picturing what words describe.
Traveling is a great passion to me because I have the opportunity to learn about other cultures, history, traditions, food, art, fashion, décor, etc. I am a Sagittarian, so I guess it explains why I love traveling, discovering new things and meeting people!
Art exhibits, museums, fashion shows, small boutiques with a great curated selection of pieces, historic monuments, and neighborhoods.
Music! All types from Classical such as Mozart, Beethoven, Chopin, Debussy, Bach, Stravinsky; to Rock, Pop and obviously Salsa!
Street style, fashion magazines and also home décor accents shops.
Movies, TV series.

And Other women

, those who'd faced their demons and fears but never gave up on their dreams.
Julia: Indeed, you are really inspired! I would love to know how you have built your own fabulous personal style over the years? 
Chuky: Regarding fashion and style, I'll always prefer style. When I was thinking about my blog's name I chose Mi Camisa Blanca (My White Shirt ) because it is a basic staple that will always make you look good. It is also a way to tell people to never overdo it or try too hard.
I learn to take from the trends those I really like and make me feel great. Shoes, bags and belts are investments for me, I keep and use my mom's black Kelly bag from the 70's and I don't intend to give it up. I have a Moschino leopard bag from the 90's that I love as well as 6 Balenciaga bags, 4 of which I bought at my cousin's Maria Luisa Poumaillou boutique in Paris. I also like Gucci, Mansur Gavriel and Chloé. But I love Straw bags from Latin America, Moroccan baskets and Ximena Kavalekas, piton bags. Shoes, Chanel, Manolo, Prada, Miu Miu, Charlotte Olympia, Sophia Webster, Stuart Weitzman and Loeffler Randall.
I'm glad I've kept some of my best blazers from Sonia Rykiel, Alexander McQueen, Max Mara and Dolce & Gabbana, from the 90's that are currently very trendy. Those were certainly great investments and I'm glad I never sold them.
I consider myself an eclectic because I might love a great suit and a shirtdress, but I also love jeans, jean jackets, boho dresses, kaftans and kimonos.
Accessories are one of the things I love to buy and collect. Pearls are one of my favorites and I'm glad they're very much in style right now. I love big statement earrings, especially now that I have short hair.
I like to mix high & low and love a good sale.
Even though I love great designer brands, I currently love emerging ones since their clothing are very well cut and tailored and don't break the bank.
I love Zara, because the cut of the clothes and especially the blazers and jackets is impeccable.I'm very fond of all time French brands such as Cacharel, Sonia Rykiel and Petit Bateau.
Julia: I love all of these! We have a lot in common: I love to invest in timeless pieces and I love being effortlessly chic while mixing eclectic items! Also, I can't resist a good sale (I really can't) and I love mixing high and low! And at last but not at least: all the brands you mention are really part of my fashion heritage! Thanks Chuky! One last question: What are your core values? 
Chuky:  I'm very independent and value my freedom. I hate injustice and can't stand lies.
Julia: Thanks Chuky! I truly share these values too! It was amazing talking to you! And loving all your white blouses in these pictures! I can't wait to read your next blog post on micamisablanca.com and to follow your next Instagram posts and stories!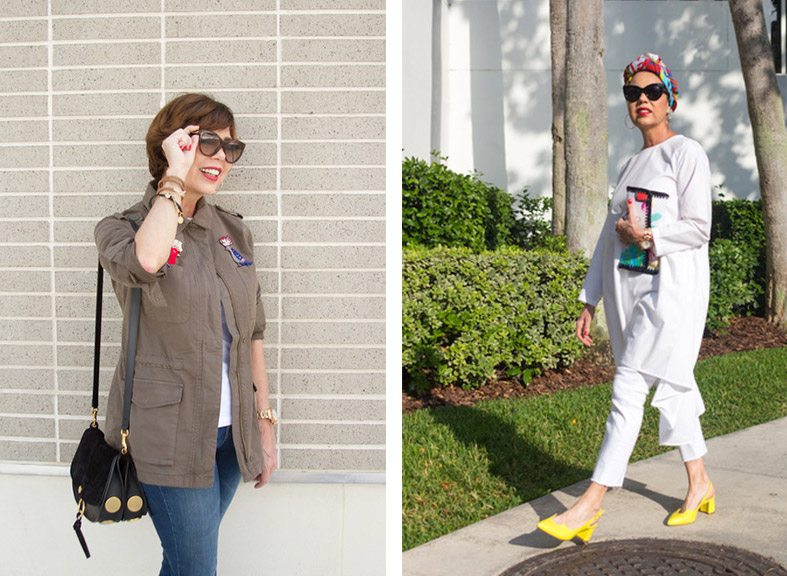 Follow Chuky Reyna on Instagram and catch up with her latest blog posts on Micamisablanca.com you will enjoy every minutes of reading her!
Bridging The Gap Campaign
What's the Bridging The Gap Campaign? It is an amazing movement founded by the blogger Catherine Graceo, the leader of the #Fierce50! Why this campaign? Because as per Catherine:
"Some of my best friends are Millennials. I no longer have time for those who wish to separate women by their demographic and impose a set of stereotypes on aging. We are going to Bridge the Gap. Why? Because we're stronger together." – CatherineGraceO
This campaign intends to change the vision of Midlife women. "Deep inside of every Midlife Woman, a Millennial exists and within every Millennial lies a future Midlifer to be" . We invite you to join us as we show you that age is just a number while it's your attitude about life that keeps you young or makes you old. With the concept of Reciprocal Mentorship, we encourage these demographics to embrace one another and share their unique wisdom.  Learn more about this Campaign by clicking here.
Thanks, Chuky for bridging the gap with me as we are definitely #StrongerTogether.
You can also read my interview on micamisablanca.com