The rock tee was everywhere last season for Coachella! How to wear it for fall? With an asymmetric leather skirt and metallic ankle boots!
Enfant Terrible by Maje Paris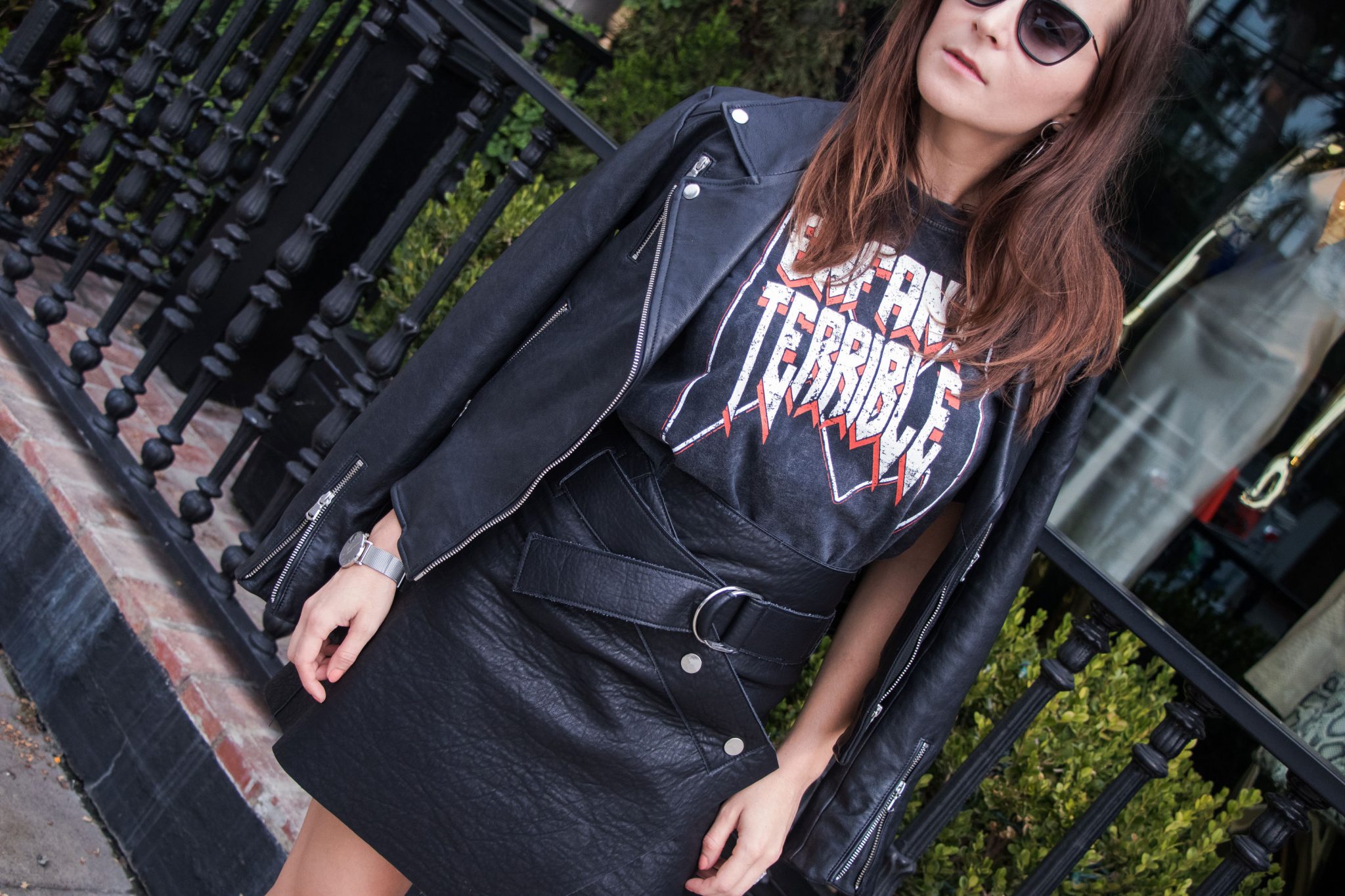 I love this shirt for Maje: Enfant Terrible. The faded sweater tee has a very good shape and I like the rock band inspiration! I love the message! From my hometown Lyon, France: "Bad Gone" is a classic expression which means "Enfant Terrible": a clever child but who has unconventional behaviors, and often cause problems or embarrassment for his/her friends or families (source Collins). This expression resonates with every people from Lyon as this is the name given to the most vivid supporters of OL (the football team from Lyon).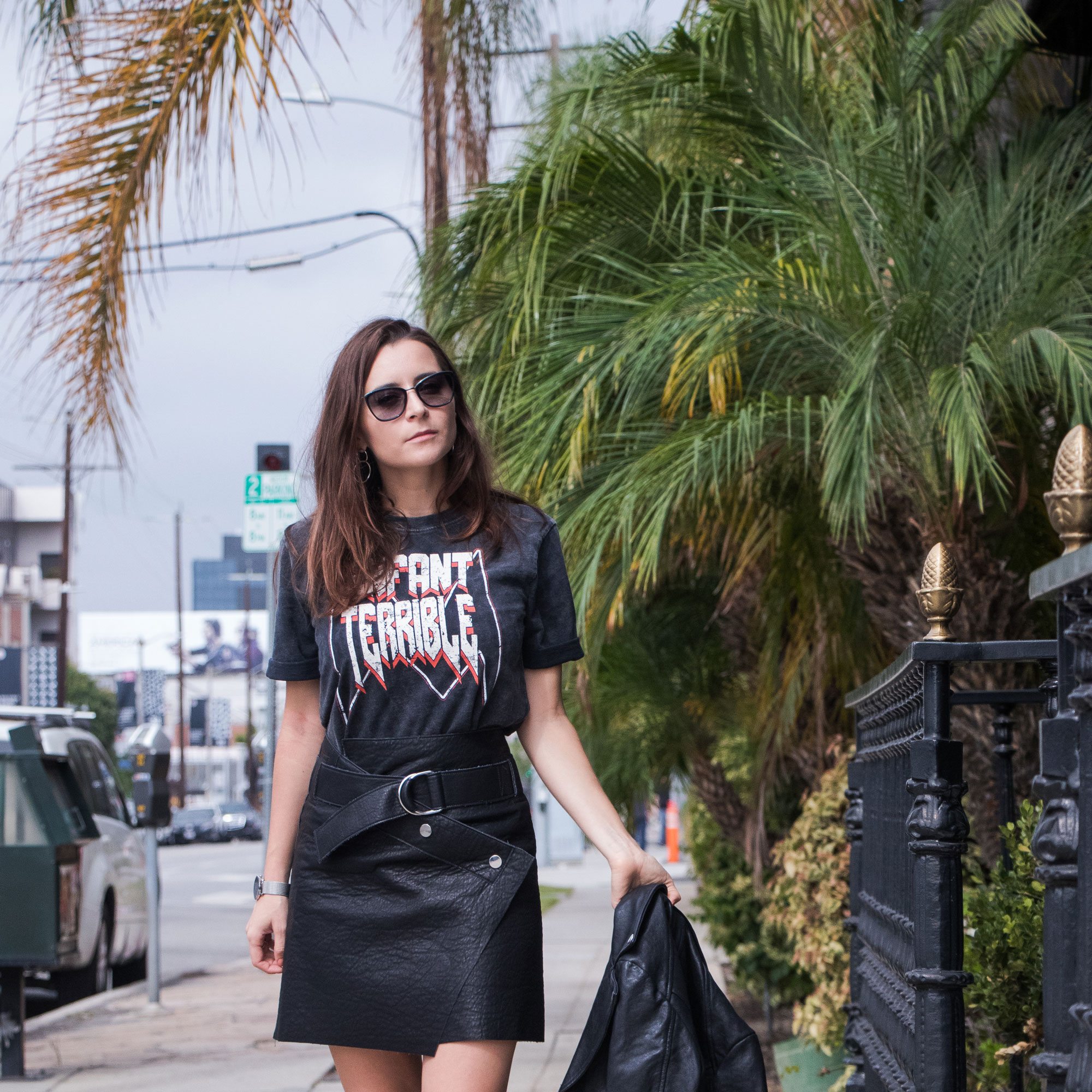 The Asymmetric Mini Leather Skirt
The leather mini skirt is on the lookbook of a lot of high-end fashion brands like the Kari Isabel Marant leatherskirt, the Rag and Bones Racer skirt, Maje or Anine Bing. Asymmetric details or adding a zipper and integrated belt are the trends this season! On these pictures, I am wearing a skirt from Zara. I like this faux-leather mini skirt with the belt and metal buckle and the features front appliqués. Check out the selection of leather and faux-leather skirts below!
The Silver Metallic Ankle Boots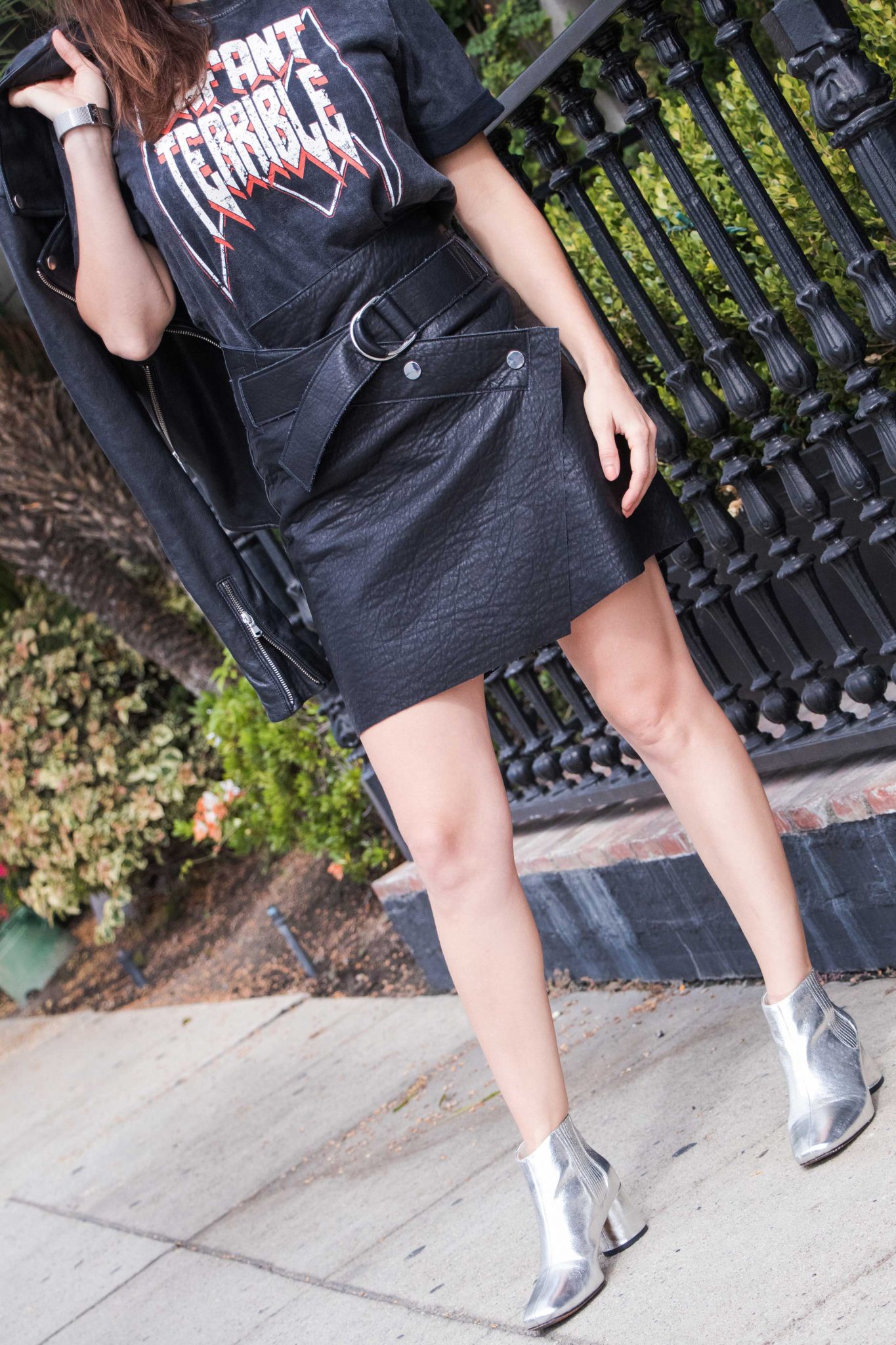 To complete this look, I am wearing this super comfy silver metallic ankle boots. Metallic boots are actually very easy to style and really bring an edge to your outfit! I am obsessed with them! See how I styled them with a boyfriend denim here.
Are you also an Enfant Terrible?
Shop The Fall Rock Look
Top: Maje / Skirt: Zara / Boots: Rocket Chelsea Ankle boots by Marc Jacobs / Leather jacket: DSTLD 20% off with code IGJC see review here / Earrings: Forever 21 / Watch: Welly Merck use code WMxJC20 for 20% off more info here / Sunglasses: Garrett Leight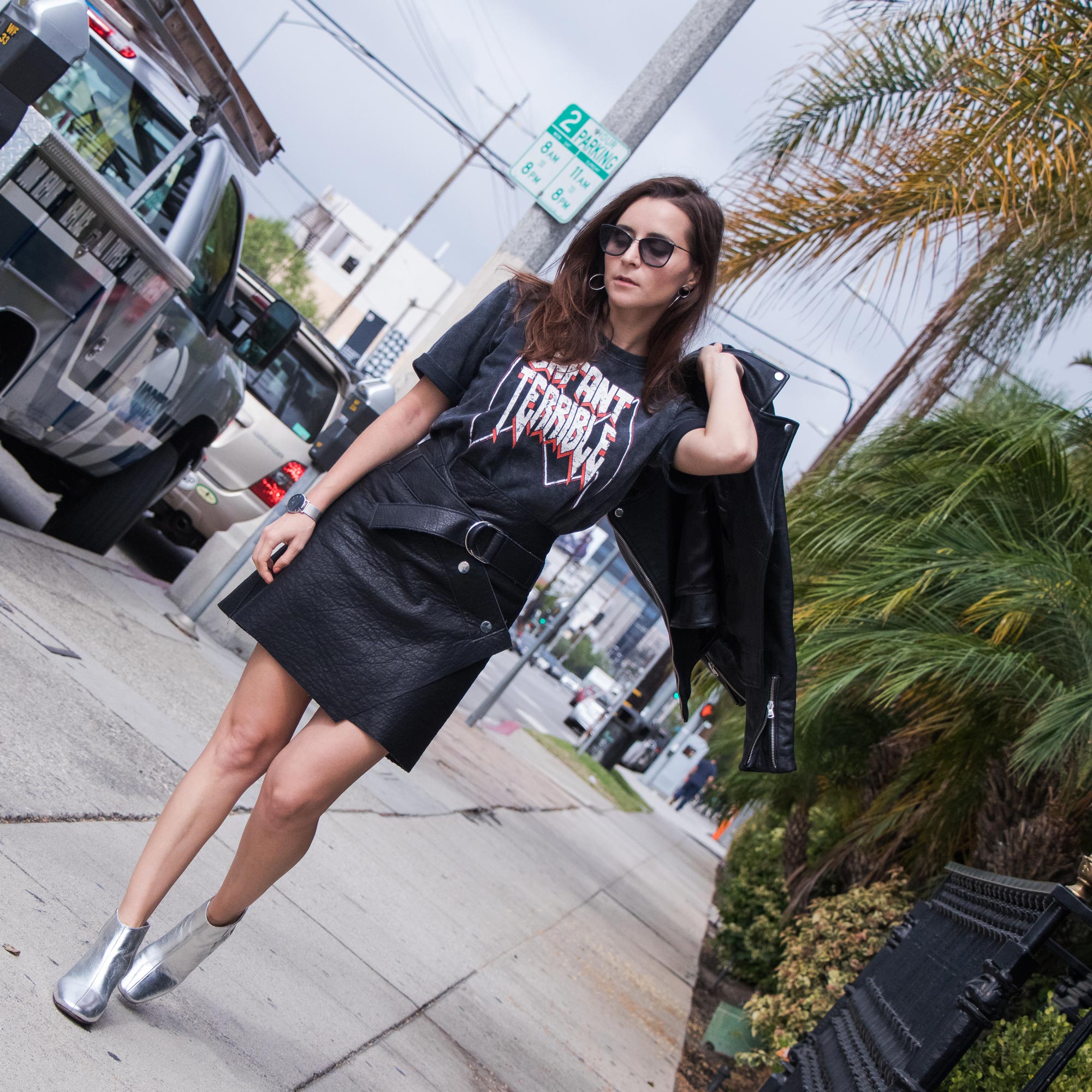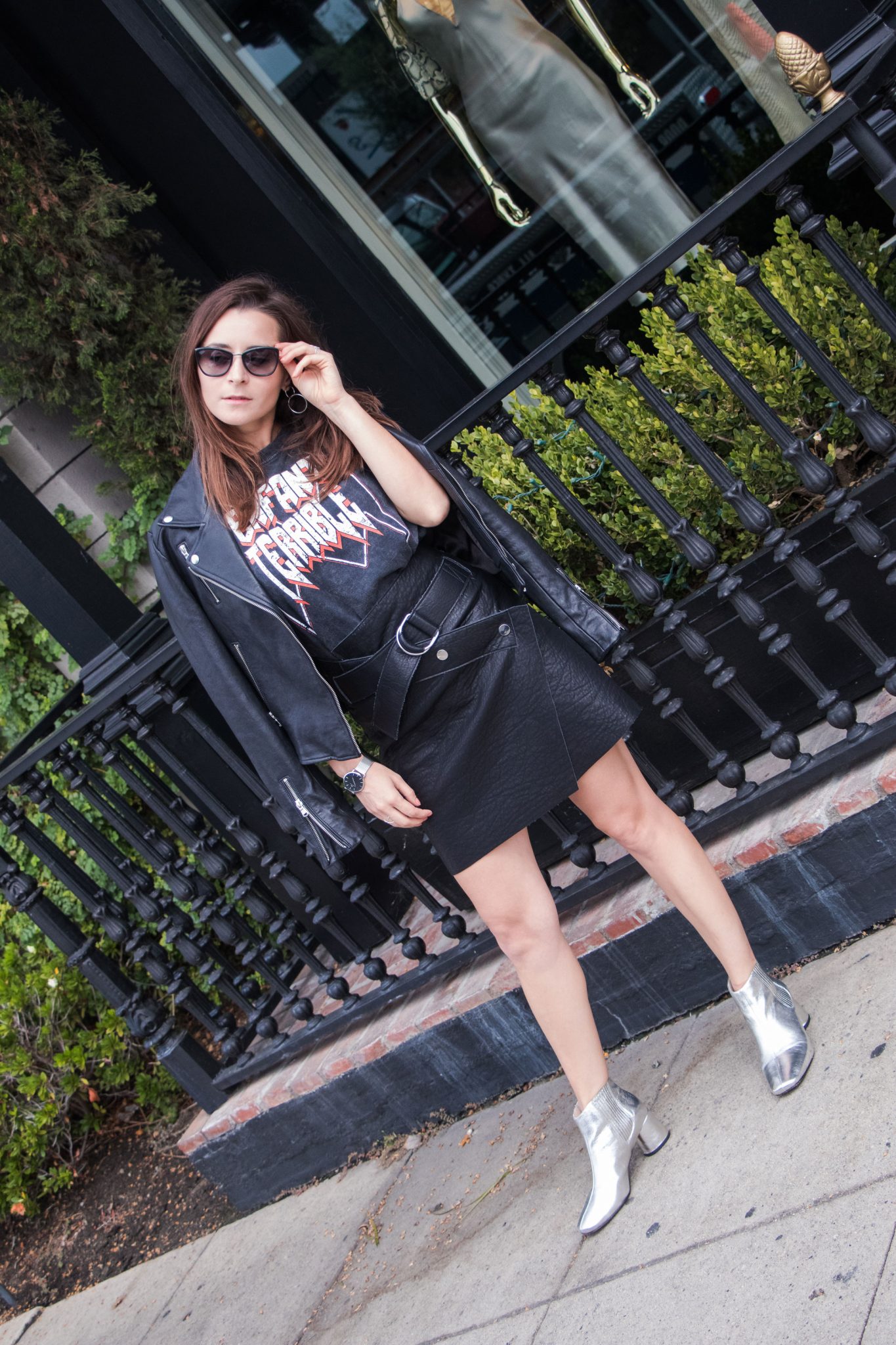 Pictures: Laura Albouy from Initialsla.com
Model and stylist: Julia Comil
Location: 3rd Street West Los Angeles