Style Edit: Effortlessly Bold and Chic: Silver boots, tassel earrings,  off the shoulder top and fishnet tights.
I will not hesitate to mix and match different bold trends to achieve an effortless chic look! On this outfit, I paired four of my latest obsessions: tassel earrings (Hart Hagerty), fishnet tights (Topshop), off the shoulder top (Bailey 44) and silver boots (Marc Jacobs).
The Silver Ankle Boots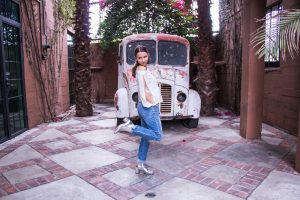 Metallic shoes are very trendy this season, and numerous brands are using them for their lookbooks. I also notice more and more editorials with summer dresses and metallic ankle boots!
These boots have chunky heels so they are super comfortable. They will be part of my fall outfit for sure!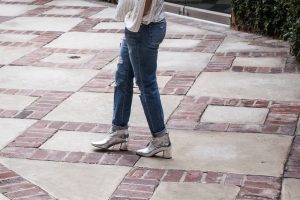 Shop the silver boots

The Tassel Earrings from Hart Hagerty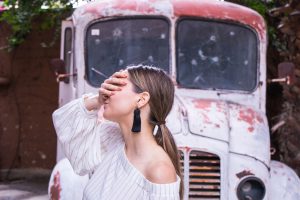 On Instagram, you can see the tassel earrings everywhere. My choice are the earrings from Hart Hagerty. They are very lightweight, bold and very chic. The fabric of these jewels is in rayon (a natural fiber), which makes them more beautiful and super soft! These earrings are suitable for sensitive ears (nickel-free and lead-free) and they exist in different colors. I could wear them everyday as they go with everything! Also they are very eye-catching, I always get super nice compliments!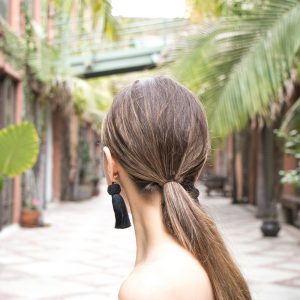 Shop Hart Hagerty Tassel Earrings
The Off The Shoulder blouse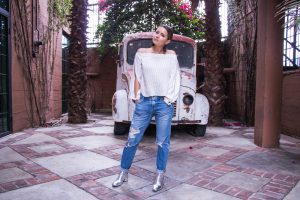 The off-the-shoulder trend ("ots") emerged last year as a major trend and it is still very trendy this season. But to be super hype we should wear it with stripes! It is easy to style this type of tops with a boyfriend jeans, shorts or a skirt (leather or faux-leather skirt is the best for an edgier look).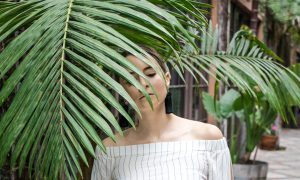 Shop the off the shoulder and stripes blouse

The Fishnet Tights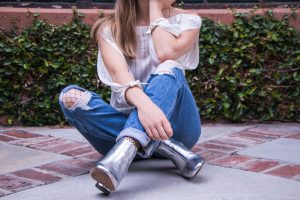 Fishnet tights is everywhere on Instagram. But it is not always very chic. I love this trend because it adds a little something(un "je-ne-sais-quoi) edgy  to the look. However to stay classy and a bit sassy, I only wear fishnet socks or fishnet tights with looser pants like these boyfriend jeans. The key is to intrigue a little bit and to play with fabrics and to layer it.
Shop the fishnet trend

Which trend do you like the most?