Review of the DSTLD womens black leather jacket, a lambskin leather biker jacker at an affordable price. Plus get your DSLTD coupon code to save 20% off at DSTLD.com (use code IGJC).
The black moto leather jacket is one of the favorite French girl staples to achieve an effortless chic look. As a French woman, I can tell that my friends and I are always speaking about our leather biker jacket! We are always dreaming about Saint Laurent, Balenciaga and Iro biker jackets. Fortunately, there are more affordable options to get your perfect leather jacket.
Selection of luxury leather biker jackets

Selection of affordable womens black leather jacket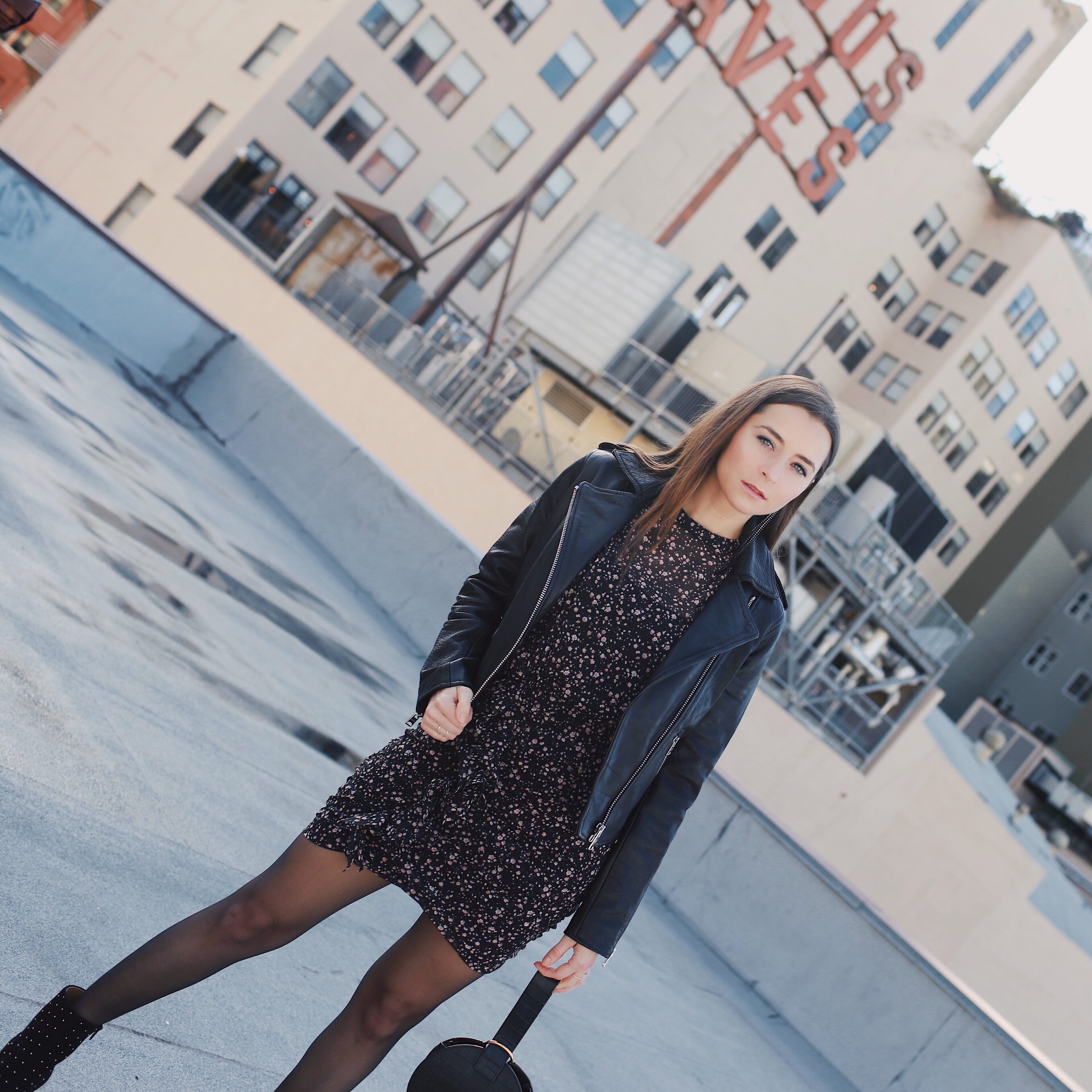 DSTLD coupon code: Get 20% off at DSTLD.com, with the code IGJC.
DSTLD Review: A premium leather biker jacket at an affordable price
Although it is very stylish, the lambskin leather biker jacket is (very) expensive. Indeed, lambskin is the softest type of leathers. As I am always looking for affordable options without compromising on style and quality, I eventually found the perfect fitted motorbike leather jacket on DSTLD.
In one of my former post, I introduced you to DSTLD, an online brand disrupting the fashion industry by providing luxury basics at an affordable price. They have released an irresistible collection of leather jackets!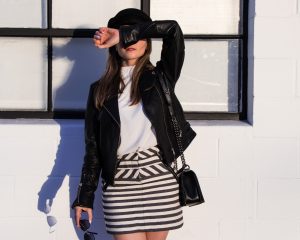 DSTLD black leather biker jacket is a year-round statement piece, the perfect it-girl jacket to go with any outfit:
For a casual look with boots and jeans
For a trendy dinner with boots and a skirt
Or for a cocktail party: with a dress or jumpsuit and stilettos.
If you like a fitted jacket, the DSTLD jacket's cut is a little bit cropped and the design is very similar to Iro's moto jacket ($1200).
Regarding the fabric: the leather is in lambskin and is made in India, whereas the Iro jacket is made in Italy. DSTLD leather quality is very good but less soft than a luxury leather jacket. However, the DSTLD leather moto jacket is lighter, which is more convenient for all seasons.
Concerning the size: I took a XS, which is my regular size for a jacket. It should be noted that this jacket should be worn opened. The silver hardware is of good quality.
DSTLD also added reinforced leather patches on elbows, which is a great addition considering that it will lengthen the lifespan of this precious garment.
To conclude I am super happy with this jacket! Although the leather quality of DSTLD jacket does not equal the quality of a $1200+ leather jacket, the DSTLD leather biker jacket is more affordable and the quality is way better than usual retailers!
DSTLD coupon code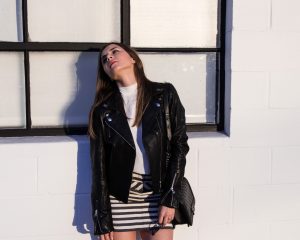 You can get your own lambskin leather jacket for less than $300 with the code IGJC. Actually, DSTLD offers 20% off to my readers on its whole website! And believe me, you can find a lot of must-have styles (see at the end of the post for a selection).
All Saints Review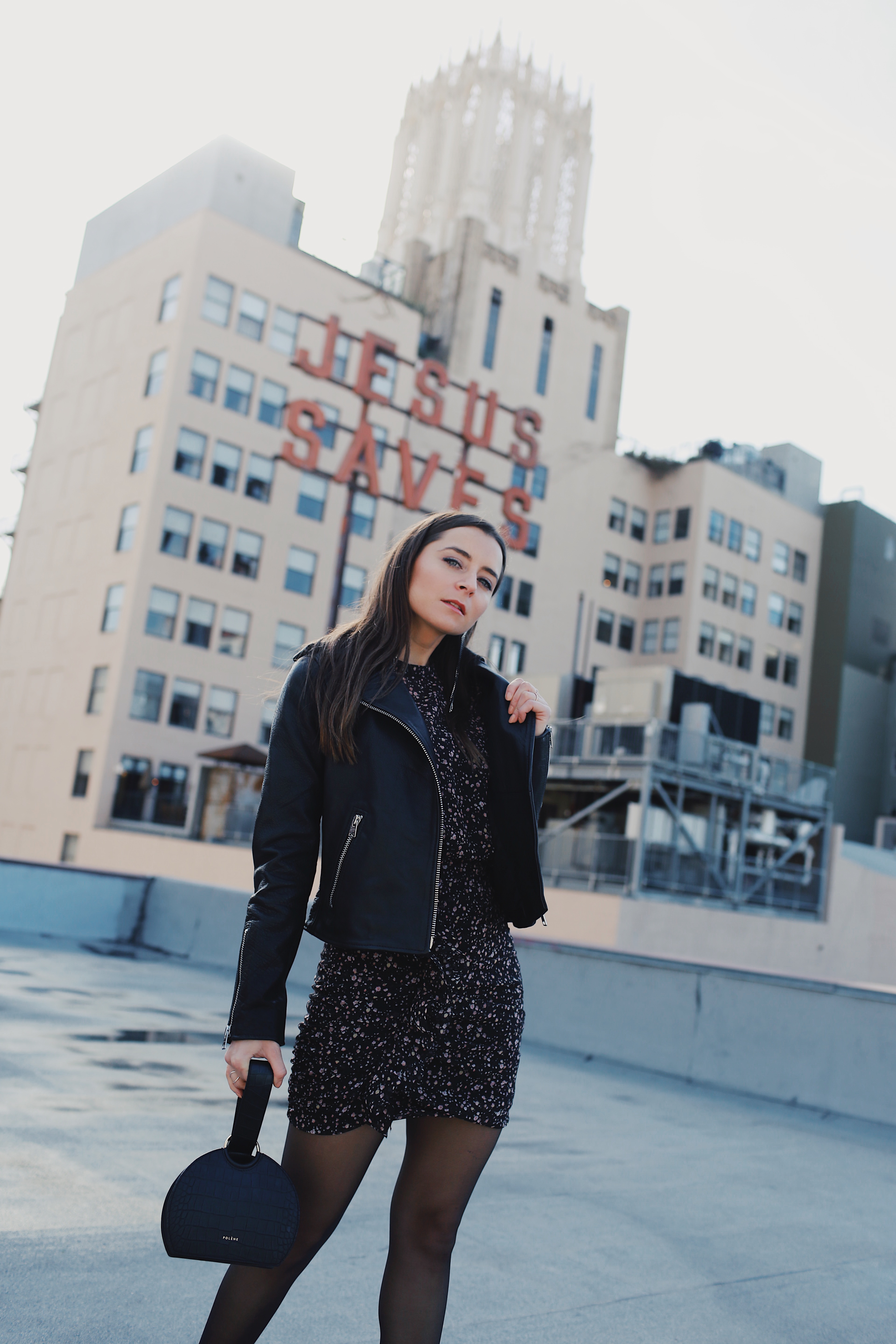 I recently received an amazing leather jacket from All Saints. I absolutely love the quality of the leather. Also I went to the store to see other different models. All Saints knows how to make cool and high quality leather jackets. Plus, All Saints do some sale so check it out to find your perfect leather jacket at an interesting price!
Below my favorite leather jackets from All Saints

Dress and Jacket: All Saints / Boots Sezane / Bag: Polene Paris Numero 6.
Discover my favorite DSTLD pieces to wear all year round.

More about DSTLD? Check out how to style the oversized blazer in this blog post.
Photograph: Nicolas Comil / Stylist: Julia Comil
Disclaimer: I contacted DSTLD to try and feature its jacket against a free product. I wore this jacket for more than one year and I am very happy with it. I truly believe this brand is worth knowing and learning about, hence the blog post! As always, opinions are my own. This blog post contains affiliate links.