I have a deep obsession with moto jacket! I usually have them in leather, but I got my first womens suede jacket from DSLTD and I love it!
The women's suede jacket I choose is a moto jacket because this style is my favorite! The design is the same as the iconic black leather moto jacket (read this post to learn more). I am wearing my usual size: the XS. The jacket comes in black and grey (smoke). You can use the DSLTD promo code IGJC for 20% off at DSTLD.com! This jacket is really my fav and I listed 5 reasons, why we should consider the womens suede jacket as a staple for our wardrobe!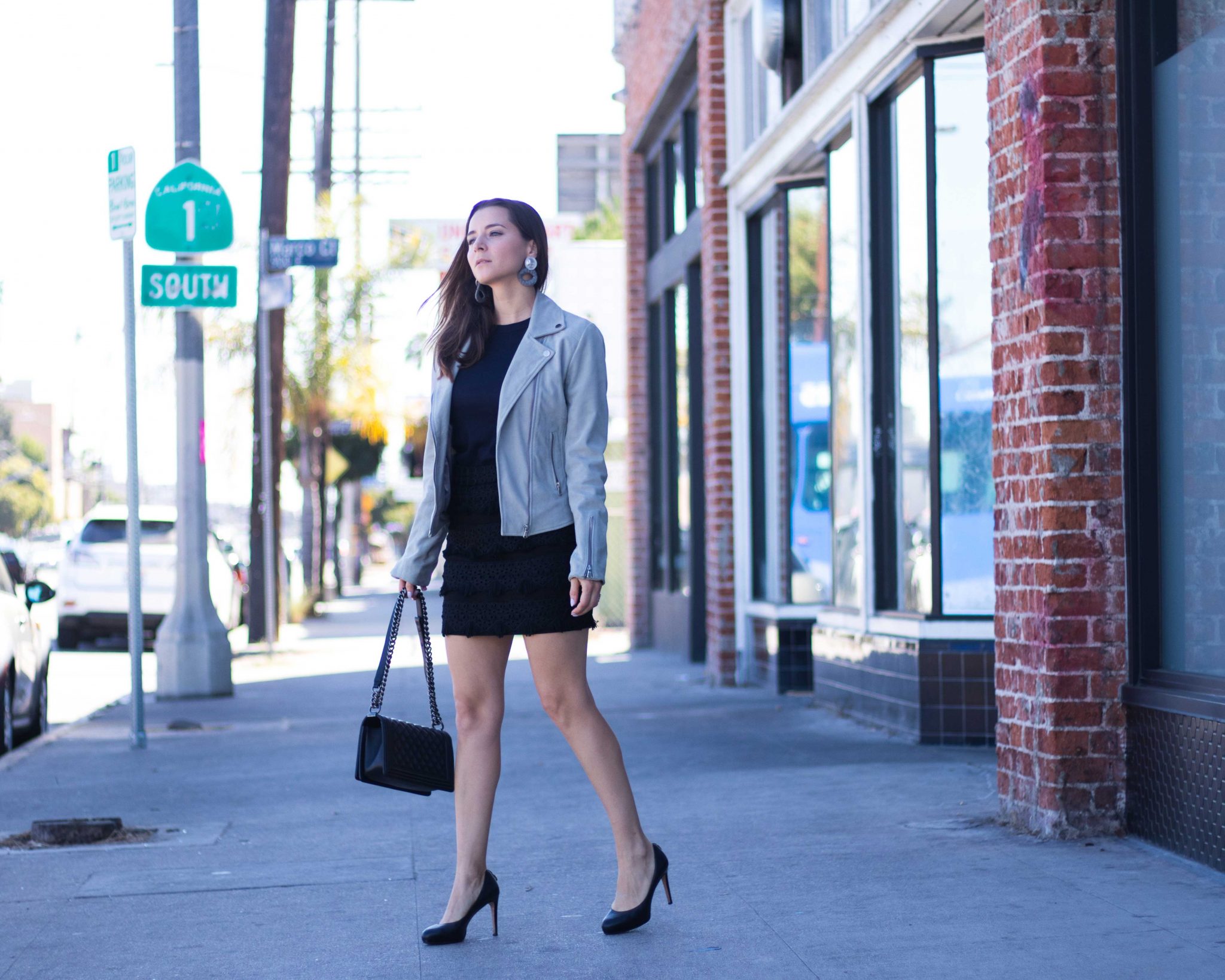 # 1: The softest biker jacket I have ever worn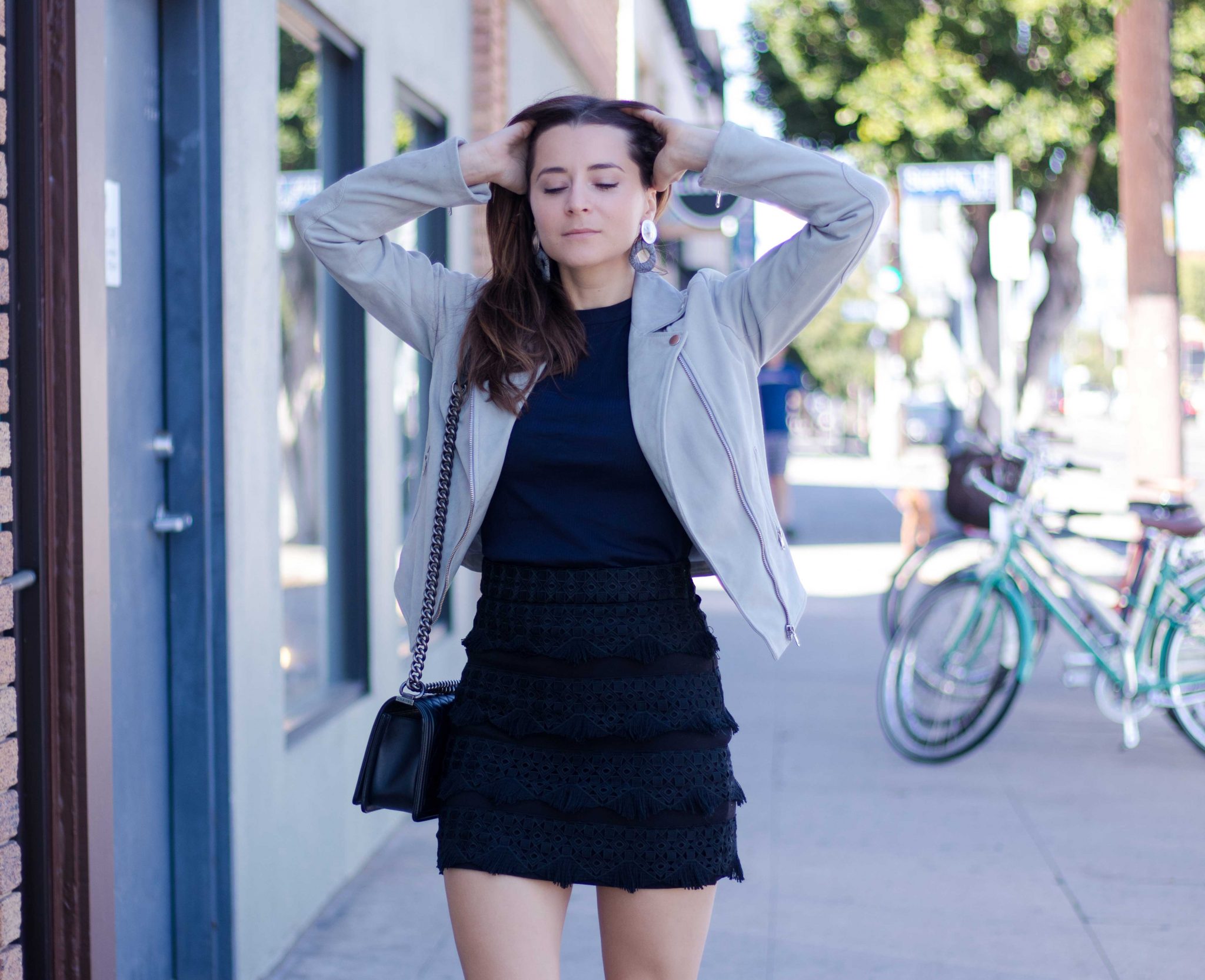 The touch of this DSTLD suede jacket is absolutely amazing: super soft. My friends (both females and males) and I were really impressed by the quality of the jacket! It is really the softest moto jacket I have ever worn. And the quality is really stunning for that price.
Featuring a classic three pocket and adjustable waist buckle design, this women's suede jacket has reinforced elbow patches and an asymmetrical front zipper to add an element of edge.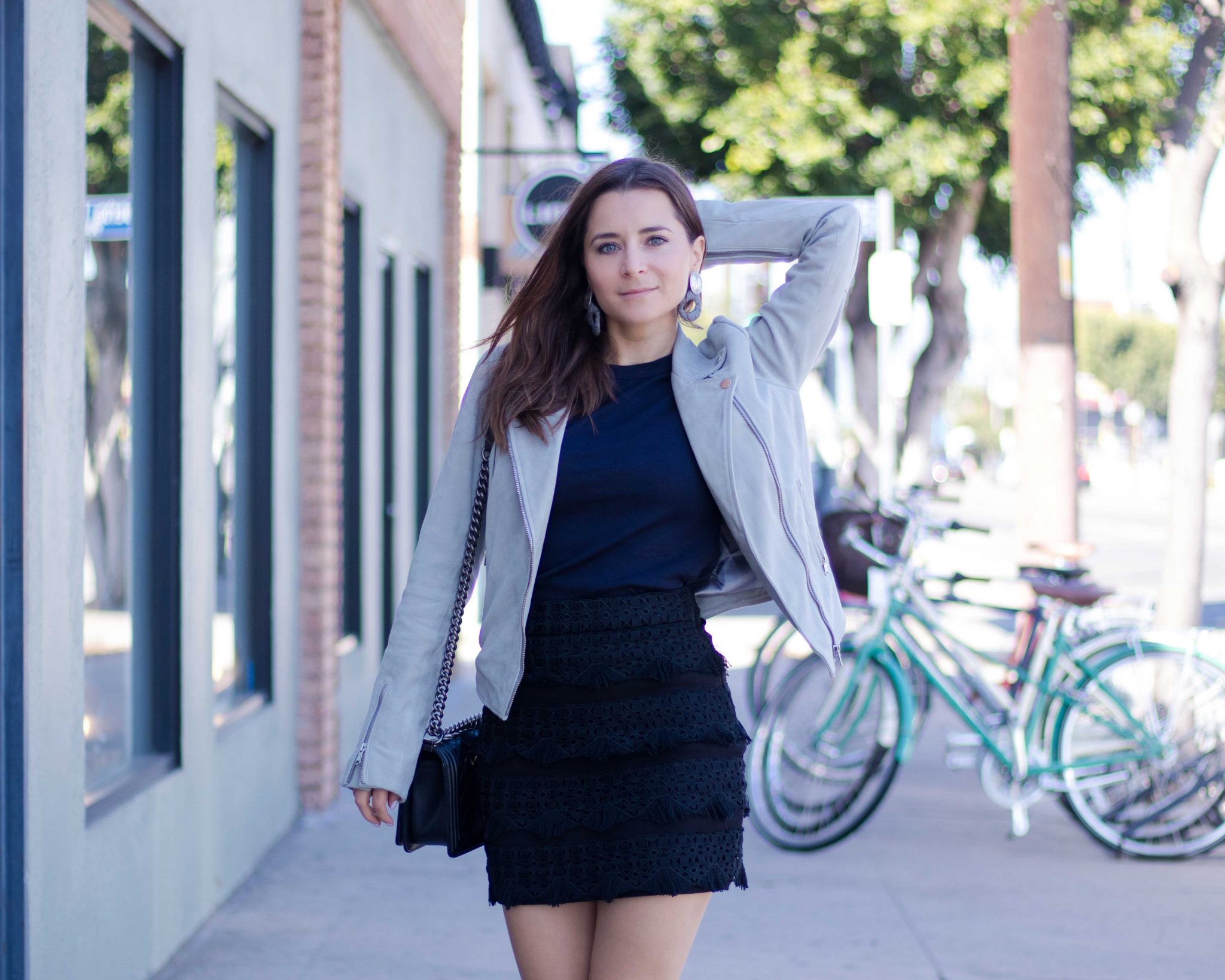 # 2: The DSTLD moto suede jacket refines the silhouette
First of all, the suede jacket is thinner and more flexible than the leather jacket. It really refines the silhouette for a more feminine and rock look!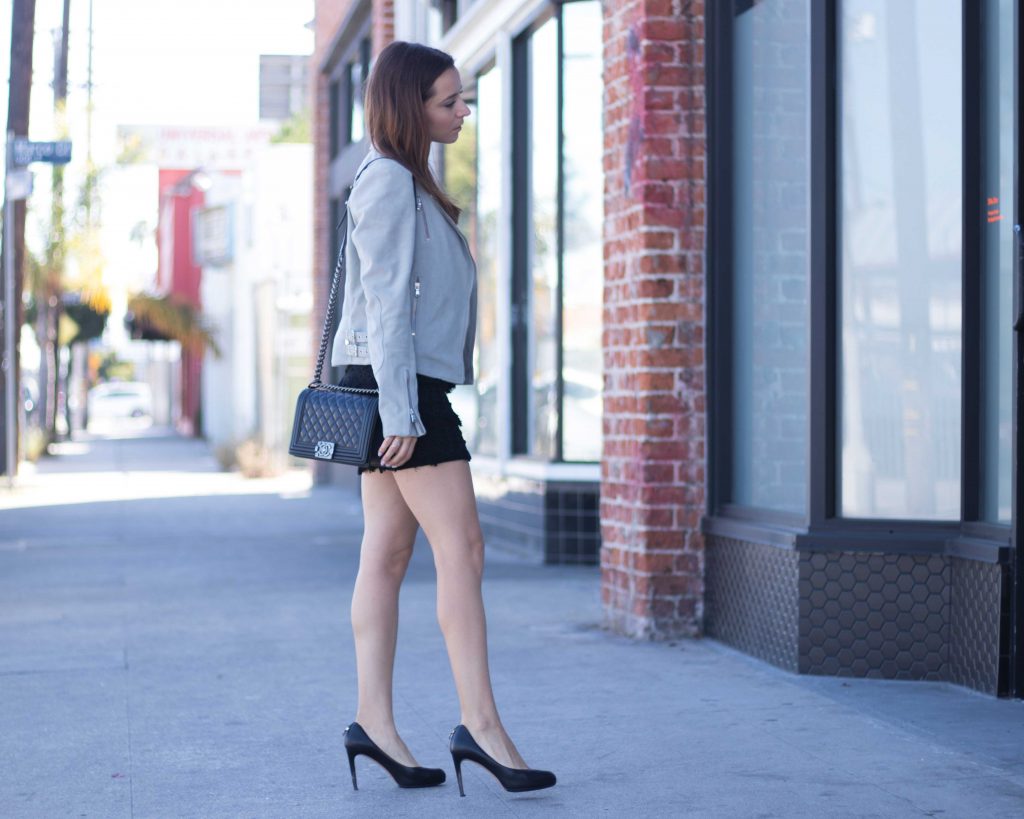 # 3. The womens suede jacket is easy to mix and match
It is easy to mix and match! Everything goes well with this DSTLD jacket (pants, skirts, denims, dresses you name it) and because the suede fabric is flexible, it is easy to layer. You can wear it as a cape (arms not in sleeves) or as a standard jacket (arms in sleeves).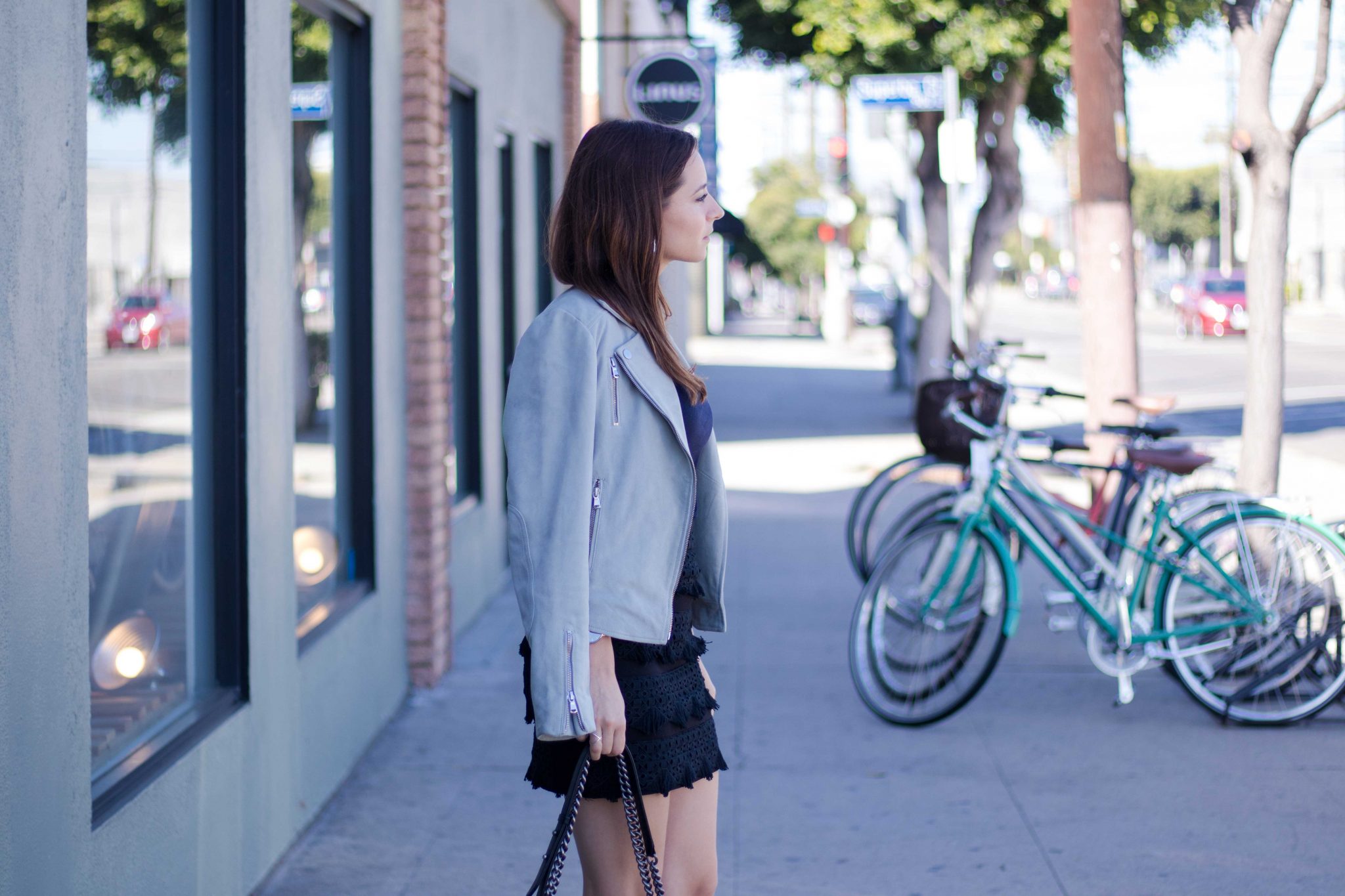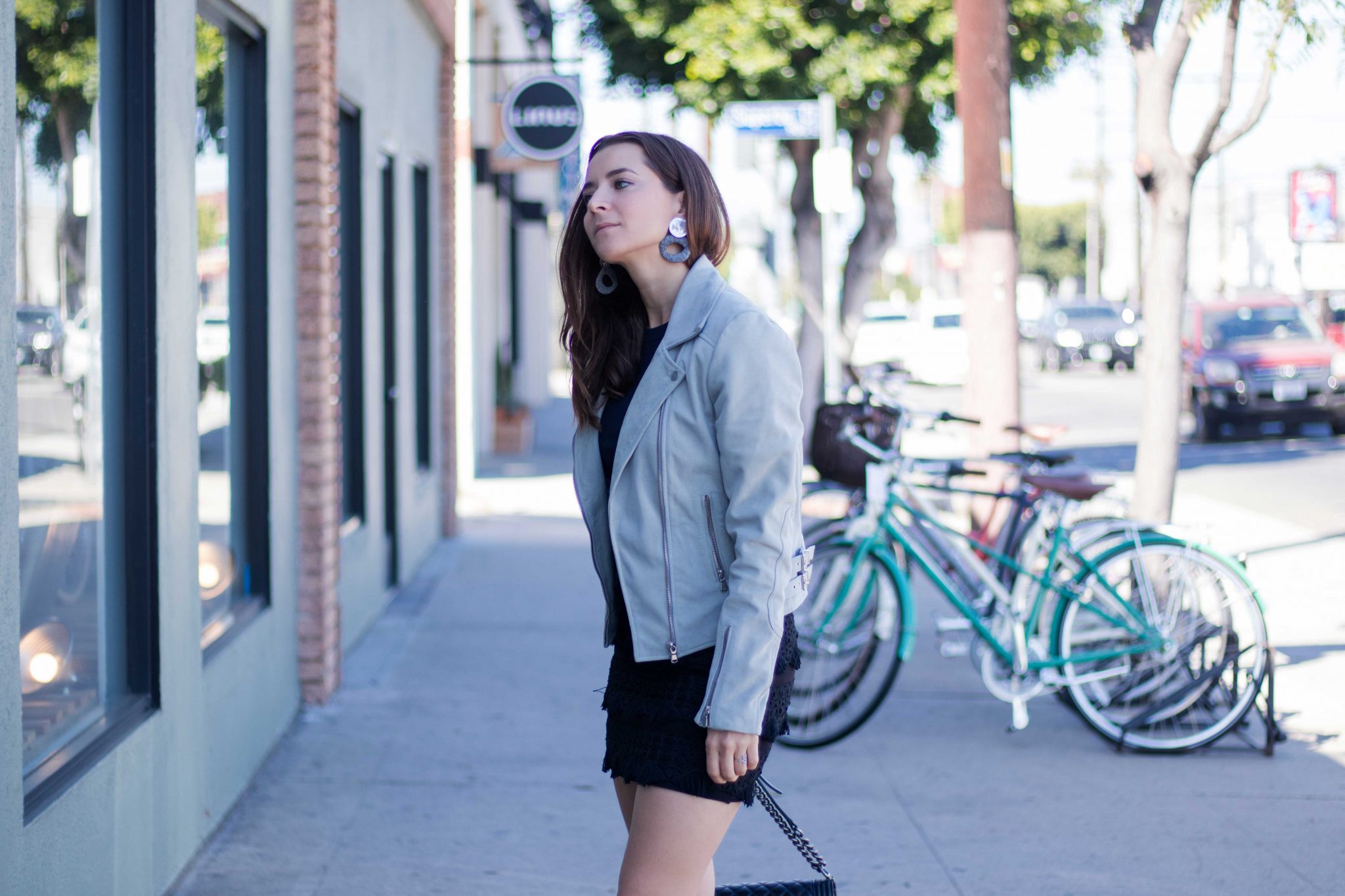 # 4: The suede jacket is timeless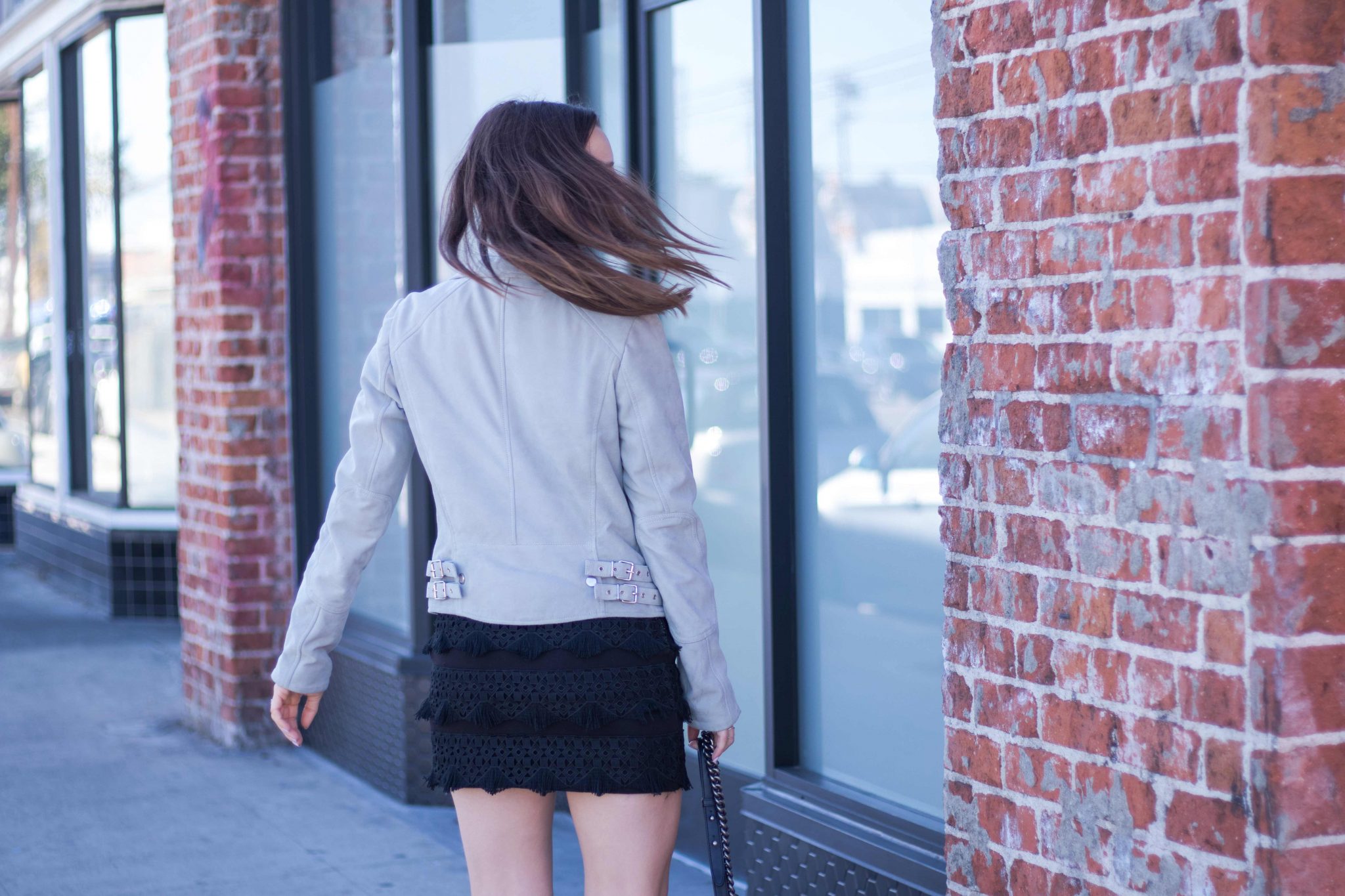 It is safe to say that this women's suede jacket is not going to be obsolete in the coming decades.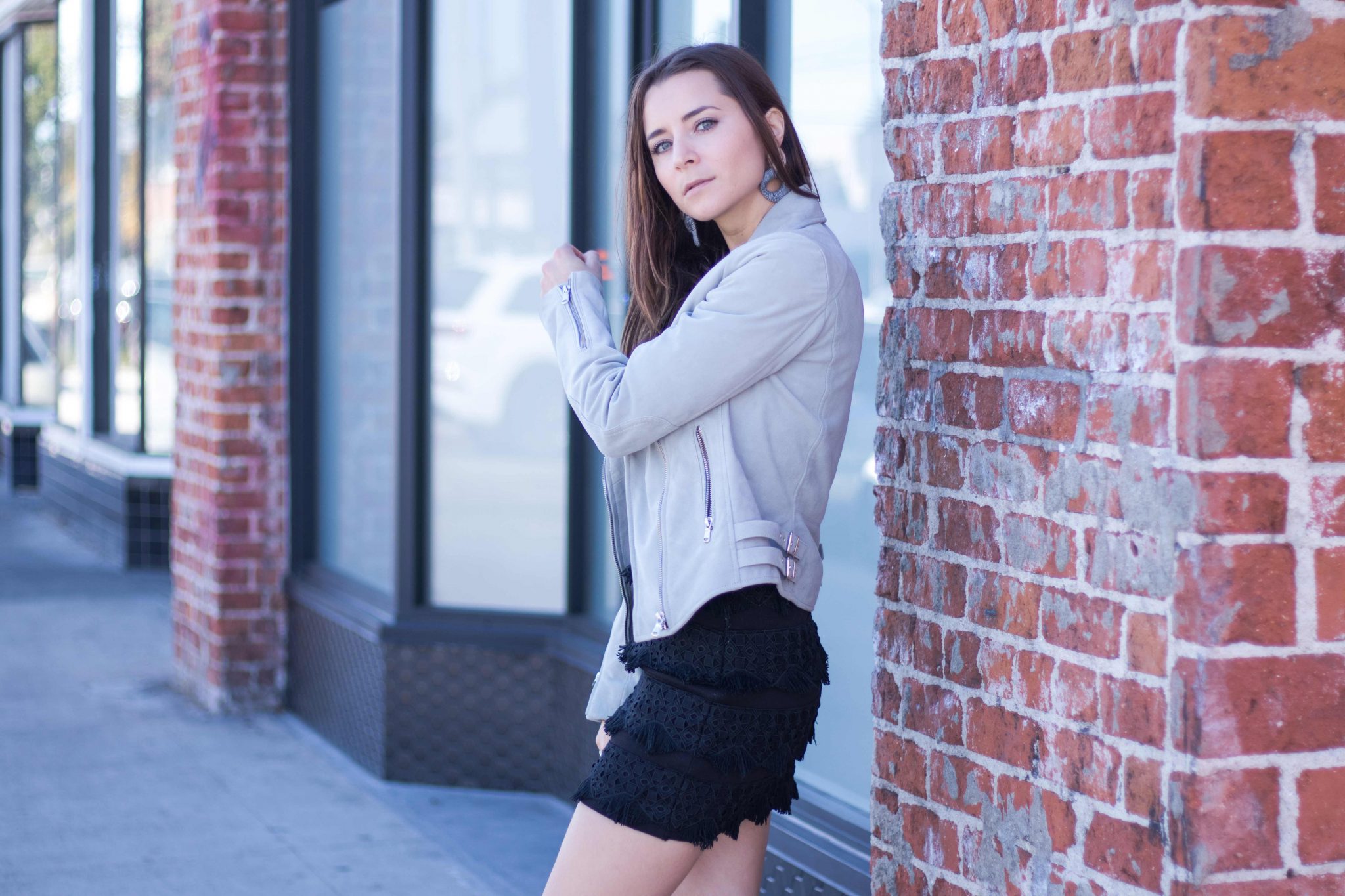 # 5: The suede jacket is seasonless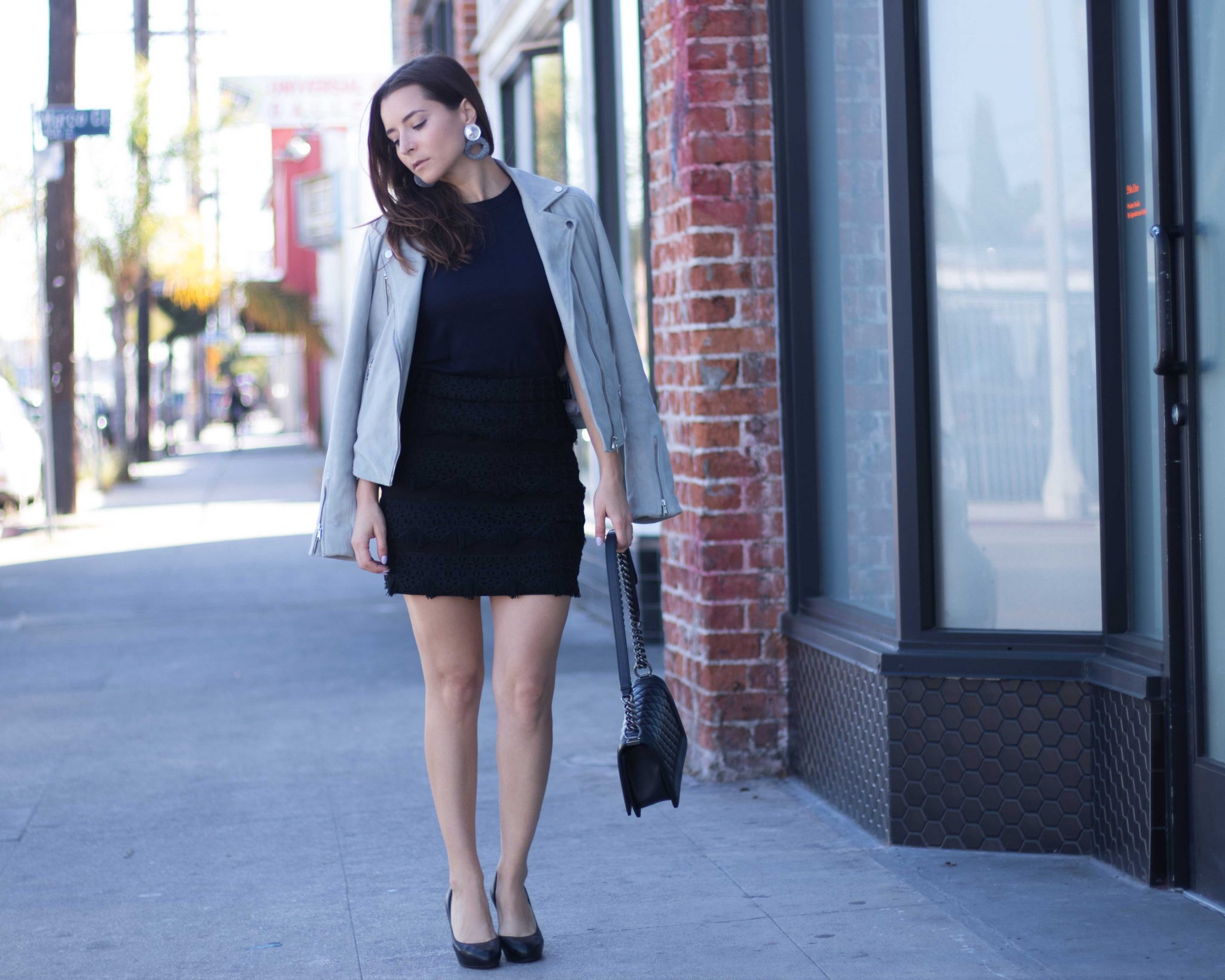 Layer it during colder months under your favorite coat or out a puffy jacket or wear alone as a lightweight spring jacket. If you are afraid of stains, try the black version of the jacket.
Suede care and cleaning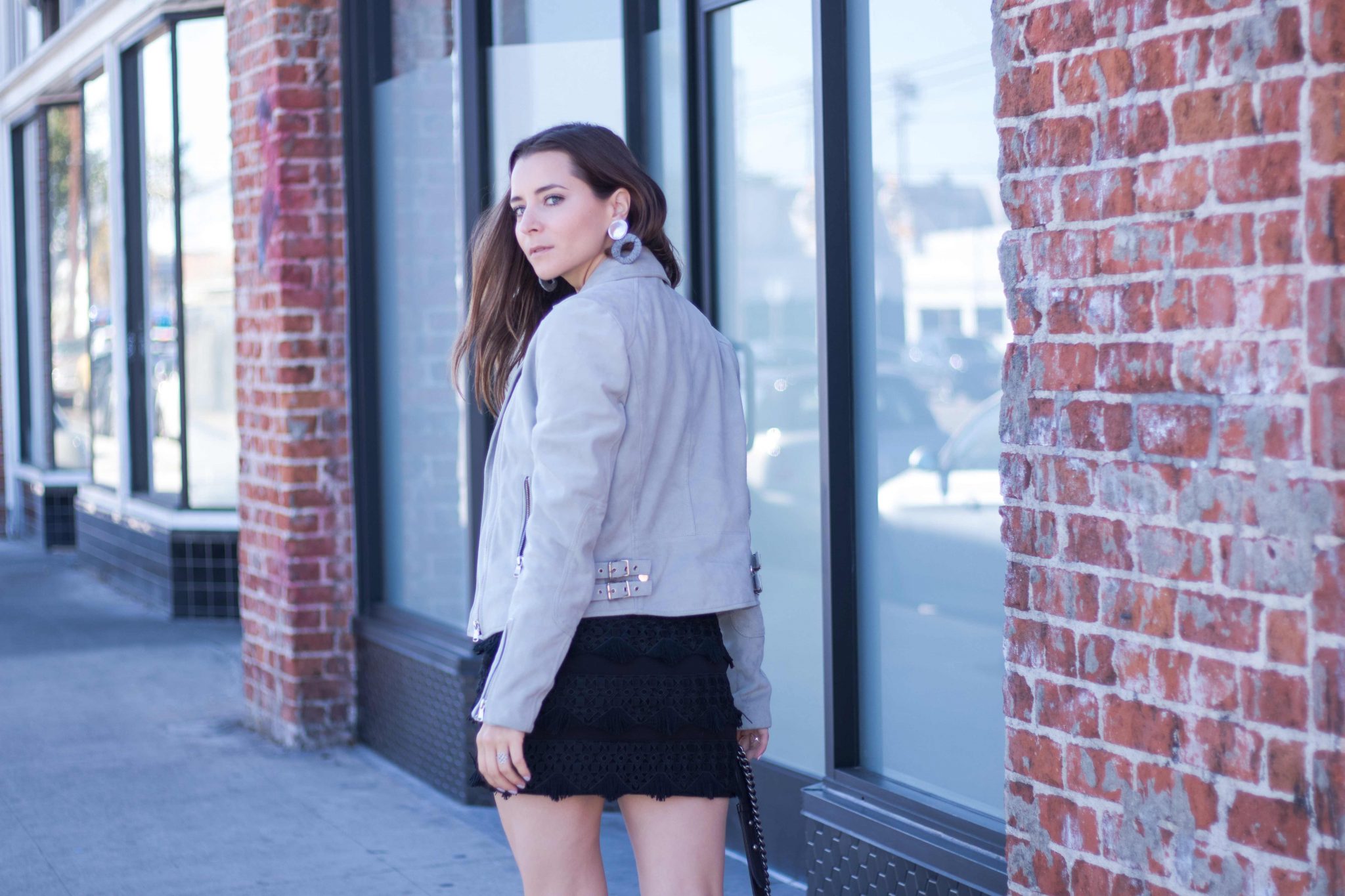 Suede needs to be cleaned with specialized rubber eraser or toothbrush. I also heard if the stains are deep: you can use a combination of steam and rubbing to remove marks.
You can also have this model in black.
DSTLD Promo code
You can get your own suede jacket for less than $300 with the discount code IGJC. Actually, DSTLD offers 20% off to my readers on its whole website! And believe me, you can find a lot of must-have styles – see these posts here and here for other style inspirations.
Plus DSTLD provides free U.S. shipping and returns and international shipping (see list here).
Shop the look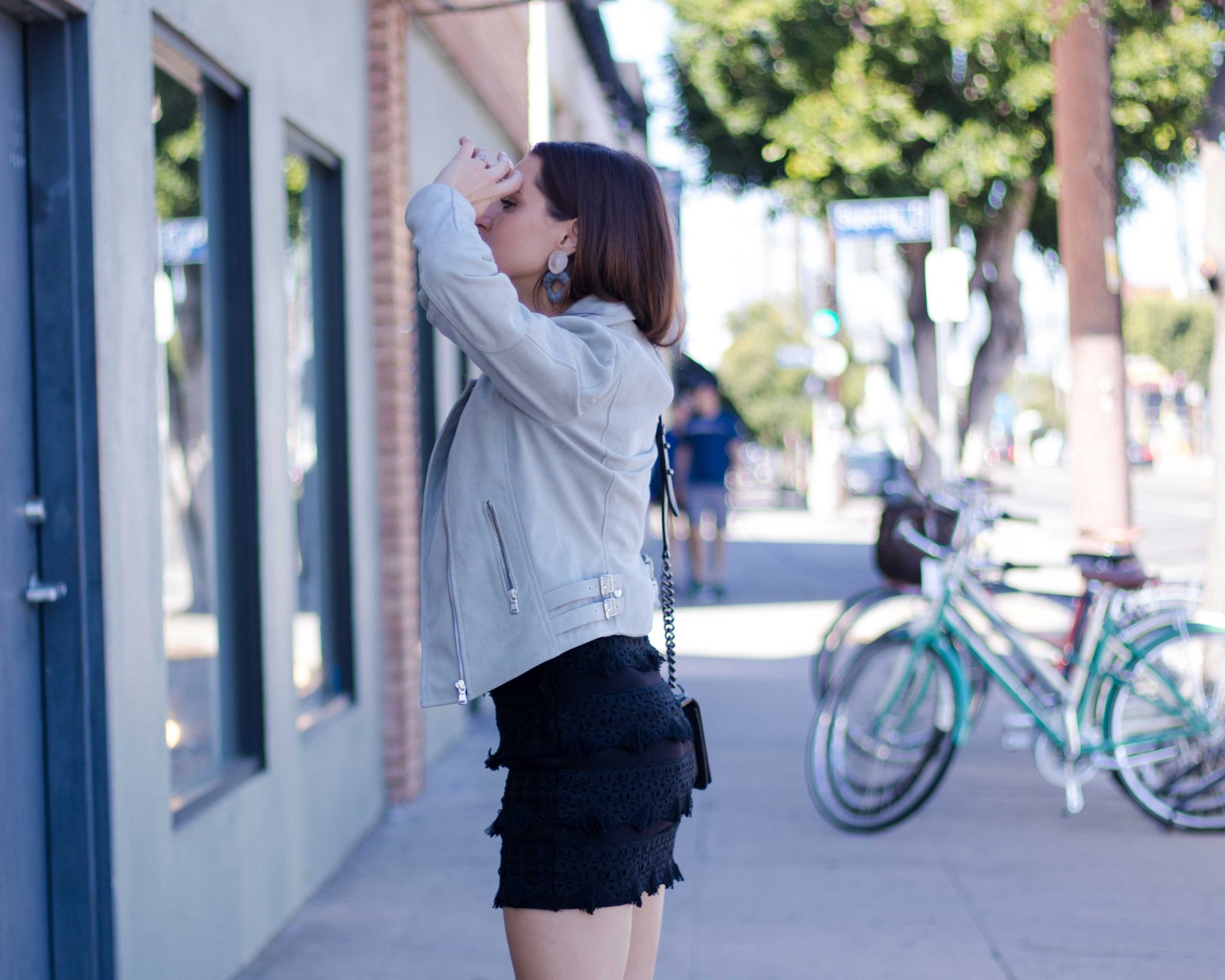 Jacket: DSTLD (promo code IGJC for 20% off at DSTLD.com)  / Top: Uniqlo / Bag: Chanel Boy / Skirt Maje Joe Neoprene Embellished skirt (old collection – see similar below) / Combined Checked Earrings: Zara

Disclaimer: I contacted DSTLD to try and feature its jacket against a free product. I truly believe this brand is worth knowing and learning about, hence the blog post! As always, opinions are my own. This blog post contains affiliate links.