Melrose has the Los Angeles most instagrammed walls and the Los Angeles best places to shop and dine. No wonder why I love spending an afternoon on Melrose Avenue in West Hollywood. Find below the 5 reasons why I strongly recommend to visit this place.
1. Melrose has the Los Angeles most instagrammed walls
The most instagrammed wall in Los Angeles is for sure the famous Paul Smith Pink Wall is on Melrose (8221 Melrose Ave.) – see here a previous photoshoot. It should be noted the wall is currently multi-color to celebrate the pride parade in Los Angeles since June 2017.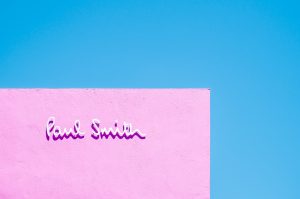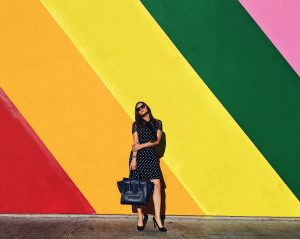 "Made In LA" wall (8025 Melrose Avenue)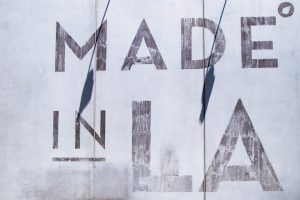 Upside-Down Los Angeles sign (7977 Melrose Ave.)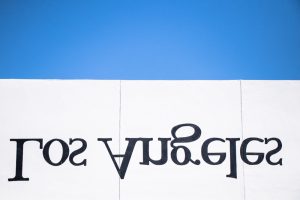 Mural by Retna (8826 Melrose Ave.)
"Three Flowers Wings" – Colette Miller (in front of Fairx Fax Trading Post) – see my IG shot
2. Vintage shopping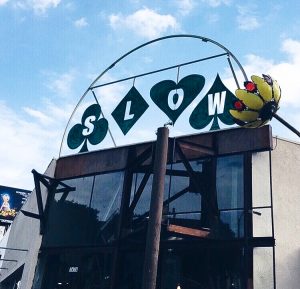 3. Upscale and trendy shopping
More stylish and more fashionable than Rodeo Drive. You will discover the latest flagships of luxury brands such as Isabel Marant, Anya Hindmarch, Rebecca Minkoff.
Best multi-brand stores with an amazing curated selection such as MaxField or Fred Segal – Ron Robinson (see this article here why you need to go to Fred Segal – Ron Robinson).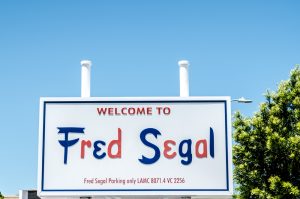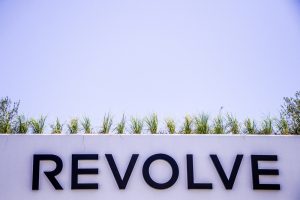 4. Best of Coffee and Dine Places on Melrose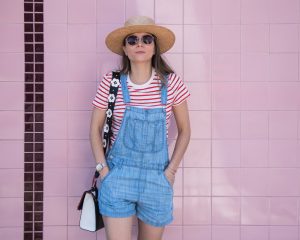 Alfred Coffee: With its floral wallpaper, beautiful illustrated walls, bright white mantle tiling, Alfred Coffee, the famous coffee place of Los Angeles is as renown as its neighboring luxury stores. The place where fashionable people hang out! Alfred Coffee is now available at other locations in LA but it started on Melrose.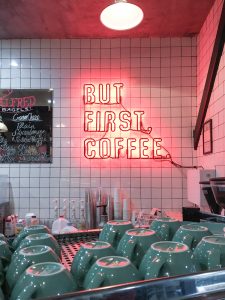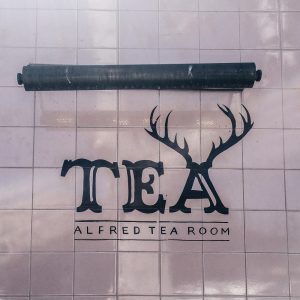 Carrera Cafe: Carrera Cafe is a charming European style Cafe. Very instagram-worthy, Carrera Cafe offers to get your custom designs on your coffee foam! They also have great painted murals.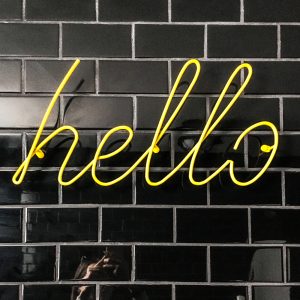 Dine: From vegan to delicious Italian restaurants, Melrose is where the hottest restaurants are opening. Expensive but in a very nice environment, these restaurants are the perfect places for a romantic dinner or a trendy night out with friends. Try out: Gracia Madres, A.O.C., The Catch L.A., Craig's, Fig & Olive, Lucques, Cecconi's, Au Fudge. You may eat next to celebrities so reserve ahead!
5. Its arty details
Pretty crosswalks, cute drawings, the atmosphere is very arty in this district!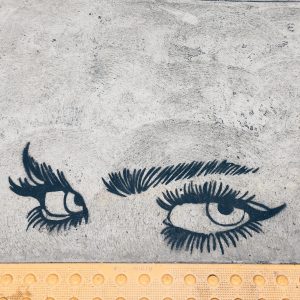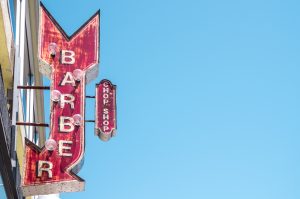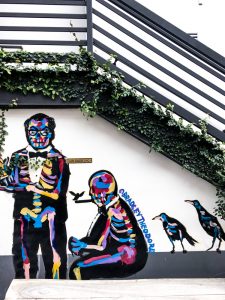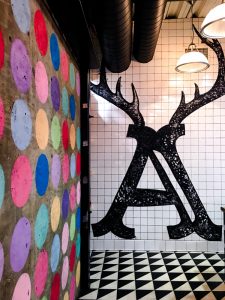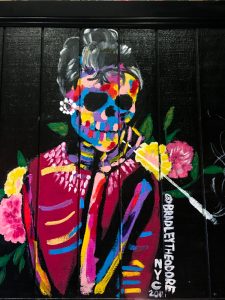 An afternoon on Melrose: the Denim overall look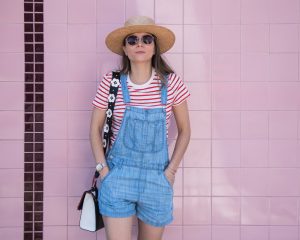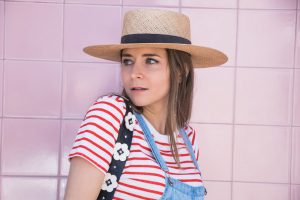 Relax but trendy, the dungarees is perfect for an afternoon walk on Melrose Avenue. I love to style it with this summer straw hat and stripes tee!
Items: Denim Dungarees overall jumpsuit: Aritzia size XS / Tee shirt: AndOtherStories / Hat: Janessa Leone / Bag: Les Petits Joueurs (shop similar below)/ Fest aviator sunglasses in golden brown: Madewell / Watch: Welly Merck – discount code WMxJC20 (more here)

Pictures by Julia Comil and Nicolas Comil
Place: Los Angeles – Melrose – West Hollywood