As a full disclosure, this post was sponsored by JTV.com. I was paid for this post and received JTV.com jewelry pieces as compensation.
Be chic while running from meetings to meetings all day is quite challenging. However, there are still some easy tricks to take your outfit from day to night! To elevate day to night outfits,: mix and match delicate jewels and voilà: ready to slay all day with an effortless chic look!
To demonstrate the impact of jewels to upgrade your outfit, I have teamed up with JTV.com, a leading retailers of jewelry and gemstones in the United States.
Effortless chic outfits
I usually wear neutral colors when I have different meetings and tasks in the same day. It is effortless chic and easy to style. My favorite color picks are white, black, dark grey, olive colors and denim.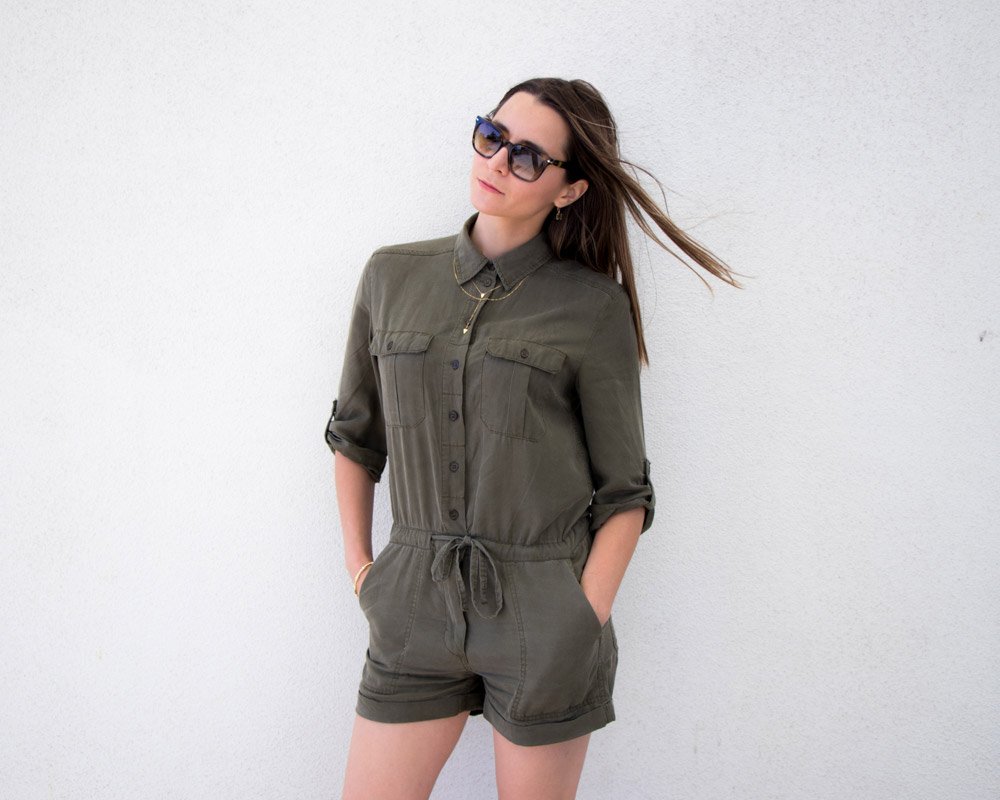 Also as I am based in Los Angeles, I love wearing shorts or rompers. This olive long sleeves romper. It is one of my favorite pieces. It is super easy to wear but I need to add some jewels if I go to a party or a nice event.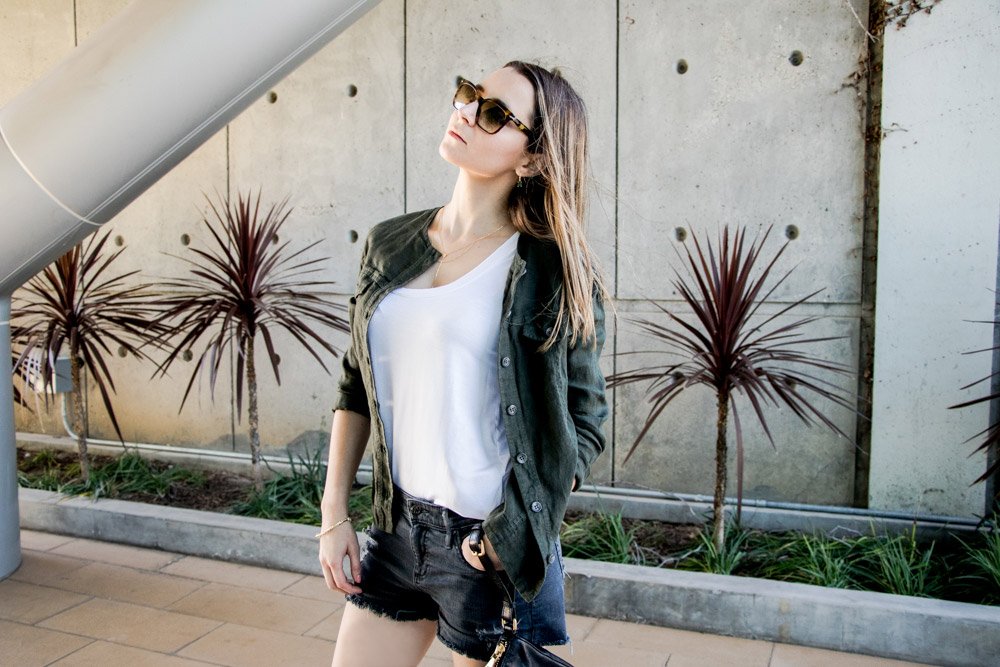 For an upscale casual look, I love to wear this white tee-shirt combined with this olive jacket in linen. The fabrics are of high quality and the cuts fit me so well. However if I want to upscale this look, to go to an afterparty or for a nice dinner with friends, I always put some accessories.
Day to Night outfits? Add jewels
When I wear jewelry: I prefer to either go for a single statement piece (like an oversized necklace or earrings) or by mixing several delicate jewels.
Also when wearing yellow gold, I love to match my outfit with black, white, dark grey and olive colors.
With my skin tone, olive and gold are a great match! I love this rectangular moldavite 10k yellow gold earrings. The shape is very minimal and I am obsessed with the mix of gold and stone.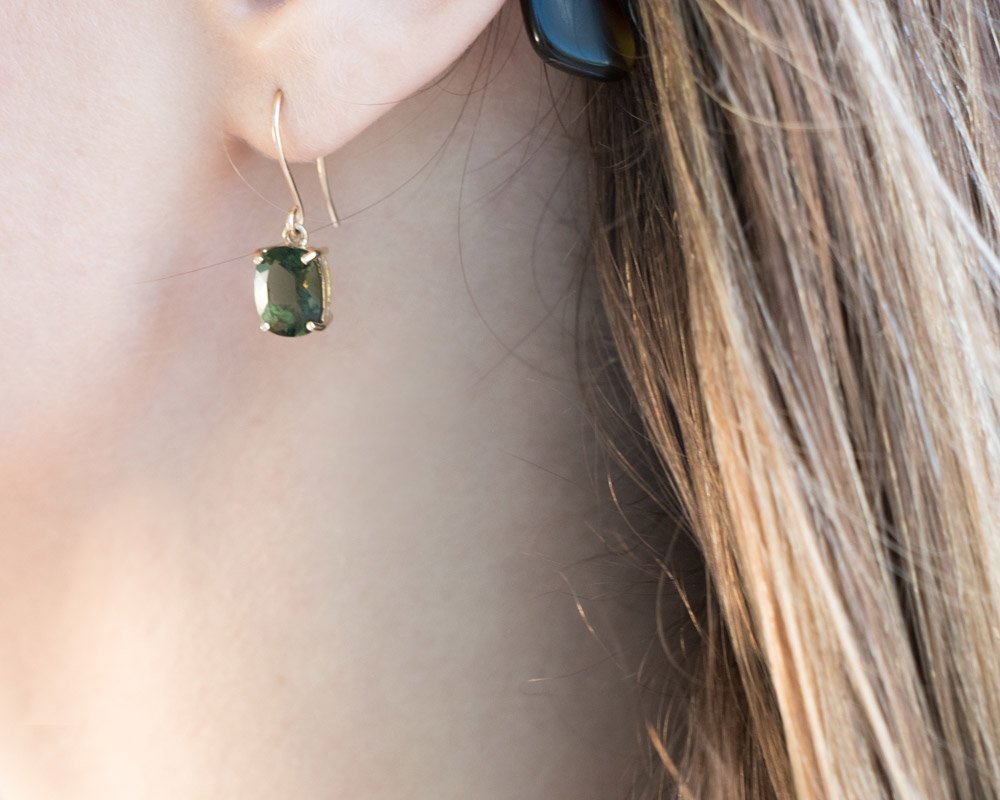 I found the perfect bracelet at JTV.com: the 10k yellow gold bamboo cuff. It reminds me of a vintage bracelet.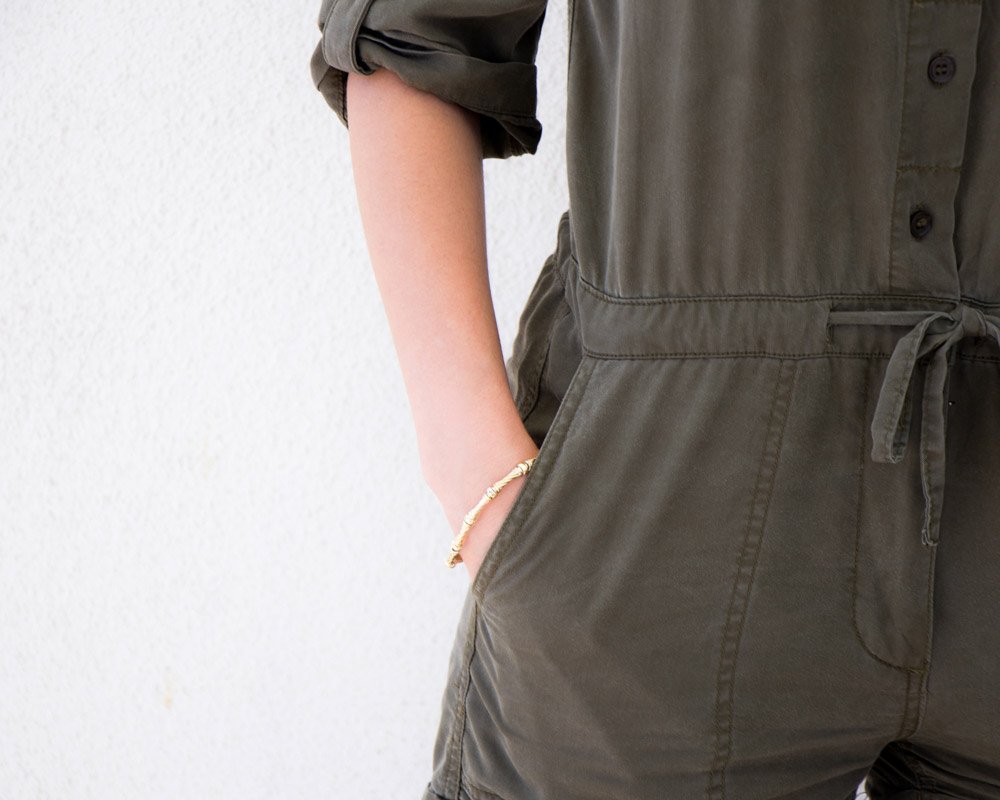 I am sure if you follow me on Instagram, you have noticed I am always wearing very thin necklaces.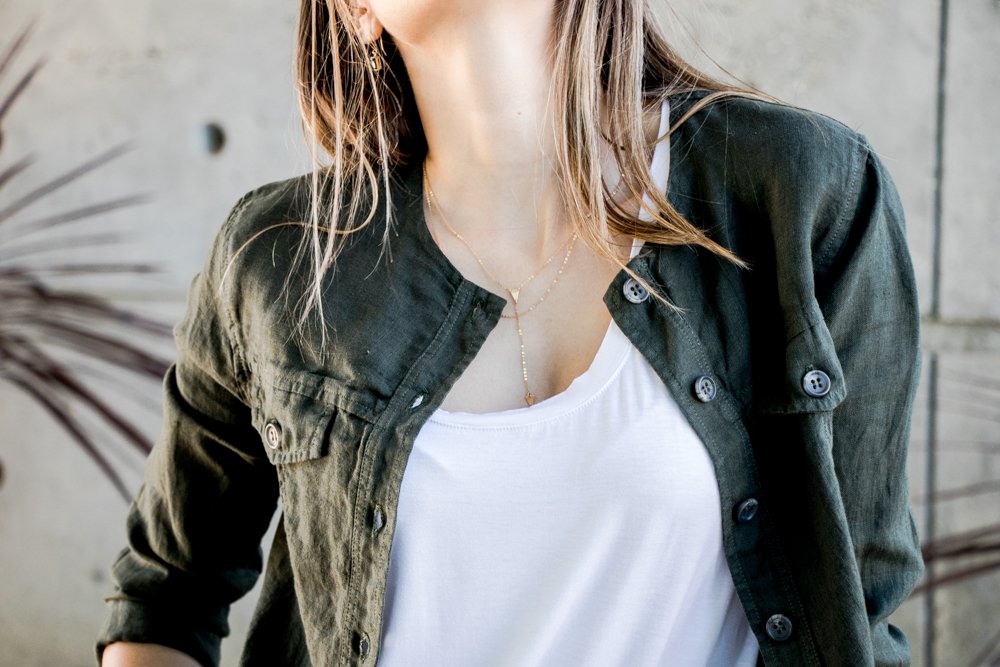 This Italian necklace (14k yellow gold) is totally my style
With its two strands, this necklace is the perfect piece to upgrade a button-up shirt.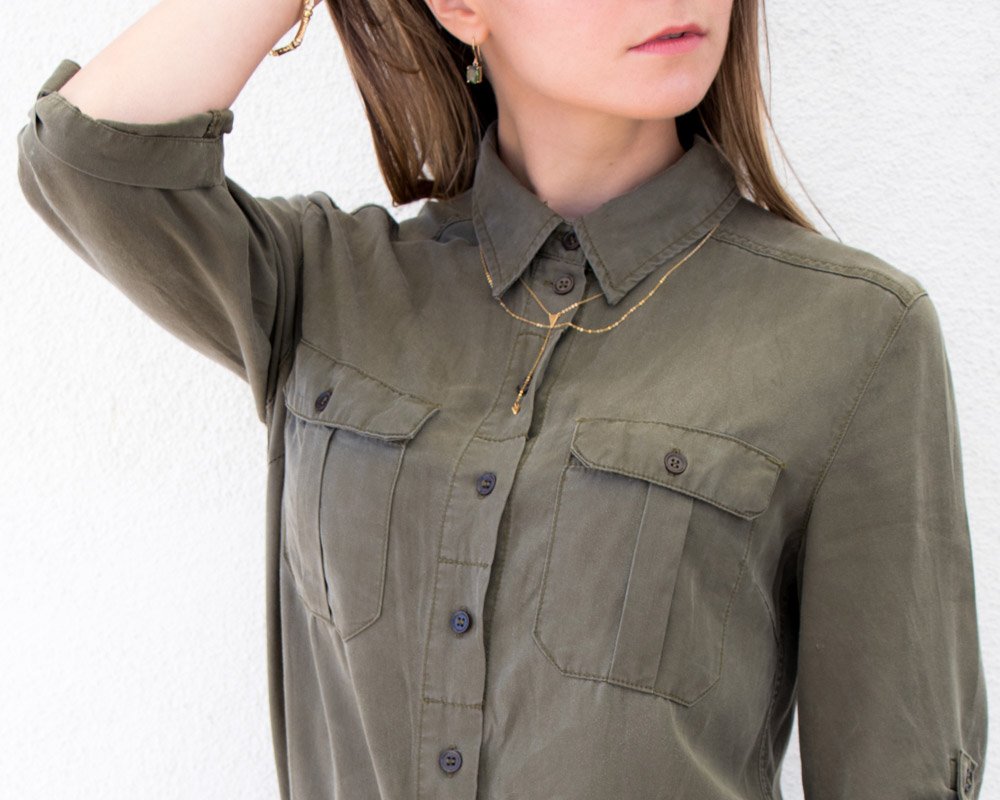 As these three pieces of jewelry are very thin, you can mix them together, be sophisticated while being effortless chic.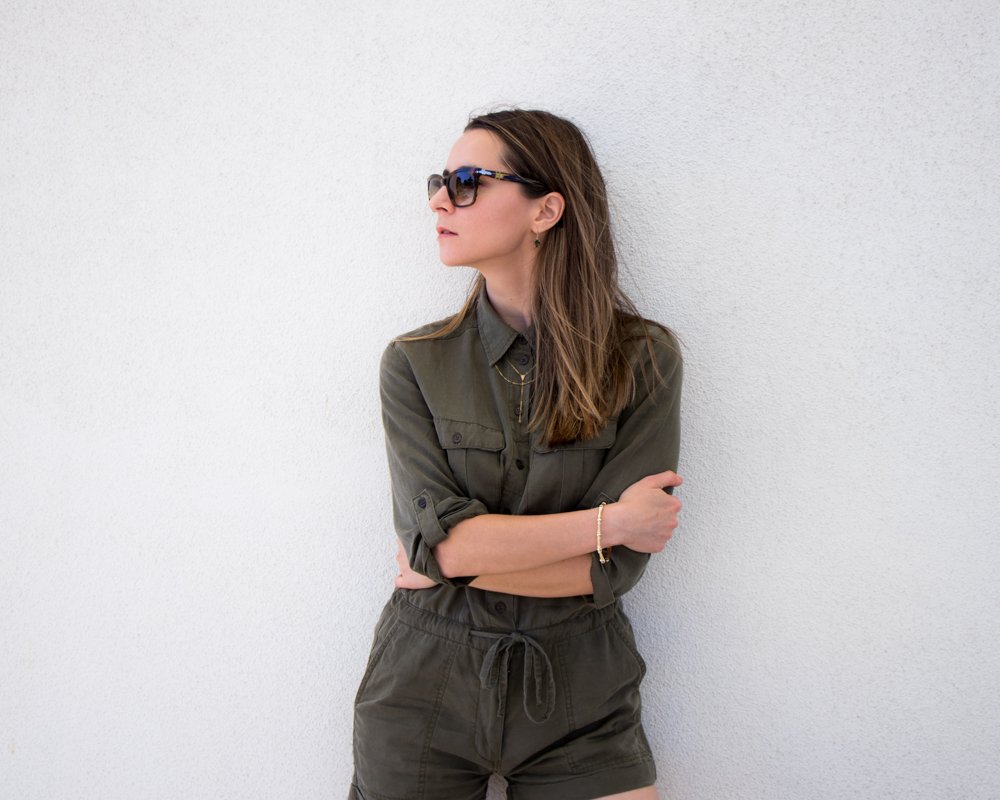 Let me know what is your favorite accessories to easily upgrade your day to night outfits!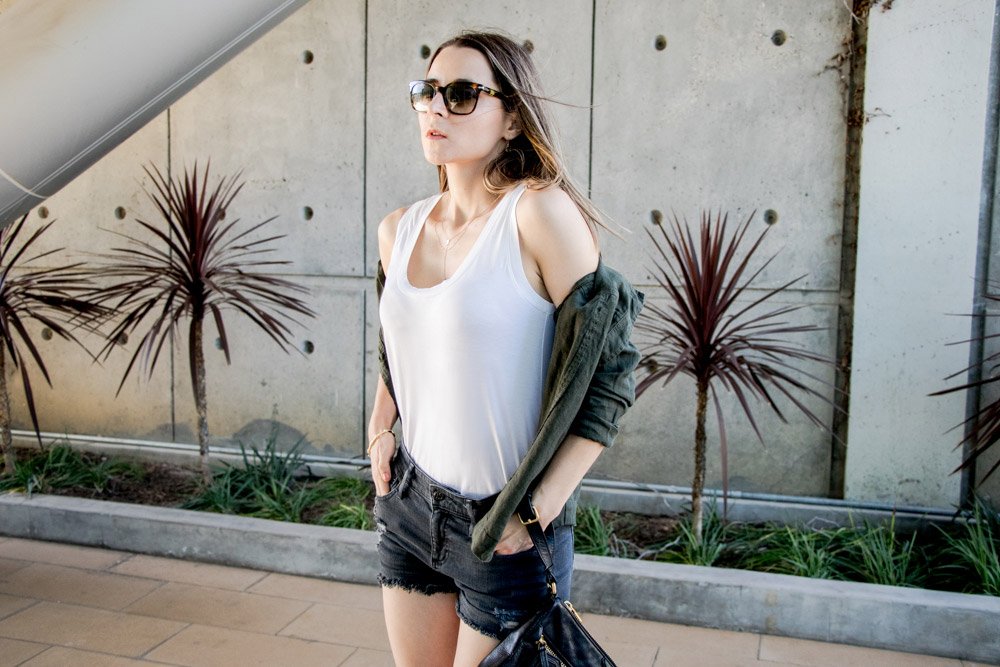 About JTV.com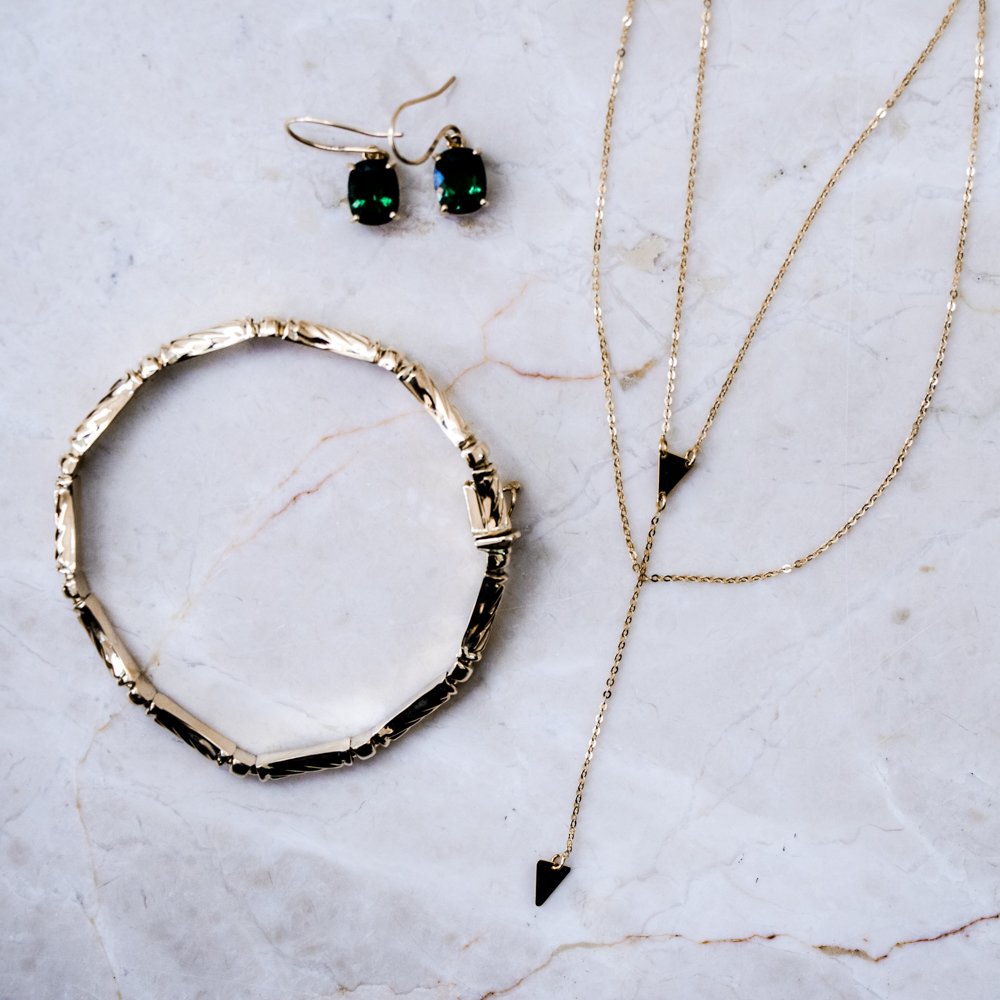 Jewelry Television® (JTV) employs numerous Graduate Gemologists and Accredited Jewelry Professionals. JTV.com is the largest non-bridal jewelry e-commerce website in the country according to Internet Retailer's Top 500 list for 2016.With a proven 23 year history, JTV.com has a digital retail strategy: It broadcasts live programming 24-7 to 86 million U.S. households (watch here), has a mobile optimized e-commerce platform and a robust social media presence (instagram, facebook, youtube, twitter). Source: JTV.com
My blog may contain links to other websites. I am not responsible for the privacy policies of those other websites. When you click on a link, your information may be collected by those websites so I encourage you to read their privacy policies.
Affiliate links are not associated with JTV.com.