Los Angeles DNA: Monserat De Lucca
Monserat De Lucca is one of the most creative Los Angeles designers you need to know!
Monserat De Lucca offers a unique standpoint: a mix between effortless and boho chic styles. The label designs beautiful bags and accessories that you can wear all day long. The creations of Monserat De Lucca always surprise with a subtile twist and there is no wonder why celebrities and LA tastemakers are in love with this unique label.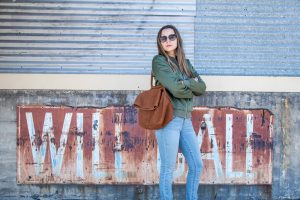 The quality, attention to details and creative twists are the brand's DNA. Designed in Los Angeles, a part of the production is made in its workshop of West Hollywood. While having a great concerned about quality and affordability, the brand also outsources a part of its production to local artisans overseas. The designs are produced in limited quantity and the prices range between $60 – $400. A unique and luxury Los Angeles bag that you will not find everywhere!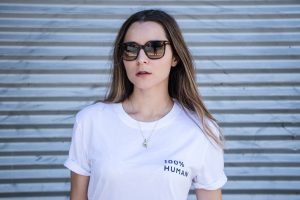 Monserat De Lucca Beautiful Flagships
Monserat De Lucca is carried at luxury boutiques and department stores around the world. Since 2015, Monserat De Lucca has opened two flagship stores in Los Angeles. The first location is in the heart of West Hollywood which also houses its workshop where all designs are formed. The second location is based in the trendy and revitalized area of Lincoln Blvd in Venice (near Christy Dawn and The General Store). The Lincoln store is very bright and emphasizes on raw materials: linen fabrics, woven baskets, natural woods. See pictures below.
Fashion picks
The collection of Monserat De Lucca is genuine and unique.
This year, the label provides bohemian and glamour vibes by mixing shimmering colors with soft suede and leather.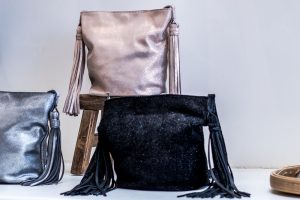 Monserat De Lucca has also released the ultimate bohemian bag: the Della Cross Body (available in black or brandy).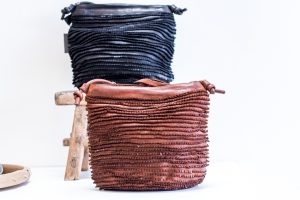 My pick is for this unique backpack: the Bautista. Super soft, a bit retro and very versatile, this bag can be worn as a backpack or a satchel thanks to its large round handle! I love the idea and it completely fits with my lifestyle. After its first week of release, the bautista in camel was already sold out. The wine color (which will be very trendy this fall) is still available!
Regarding jewelry, the latest designs: the brass cooking or sign language collection are very arty and stunning. On the picture below, I am wearing the J sign language necklace.
Last year, I also bought the feather brass bracelet which I can't stop to wear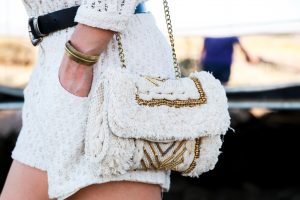 With new stunning designs released every week, this brand is absolutely on my fashion radar!
Shop the look
Bag: Monserat De Lucca: The Bautista in Camel / Necklace: Monserat De Lucca: The J Sign Language / Pants: DSTLD Mid Rise Skinny Jeans in light vintage / Tee Shirt: Everlane / Bomber: Everlane
---
Location: Santa Monica – Galleries
Photographs: Julia and Nicolas Comil
---
Disclaimer:I received the bag and necklace for free by Monserat De Lucca. I truly believe this brand is worth knowing and learning about, hence the blog post! As always, opinions are my own.