The 10 most important Spring Summer 2019 trends
Spring Summer 2019 Fashion Week Coverage: The luxury houses are becoming crazy with beige, metallic fabrics and feather embellishment. Whereas Festival fashion may turn to folk. Also, bike shorts confirm their comeback. In addition, the planet fashion continues to surprise us with the most amazing bold prints and statement sleeves. Discover the top 10 Spring Summer 2019 trends below.
50 shades of Beige – Main Spring Summer 2019 Trends
This color has inspired many designers this season. Indeed, Burberry, Sally La Pointe, Balmain, Kenzo have declined this shade in many different ways (latte, espresso, mocha, cream, etc.). Your closet will become way more motivating than the menu of your local coffee shop.
20's revival – The return of feather and trim
"In 1928, women were essentially seen as accessories to be shown off…" Cable Girls Netflix TV Shows. 
The famous embellishment, emblematic of the 1920's is back. However, feathers and trims are here to support the strength and audacity of empowered women. Tom Ford, Loewe, Marc Jacobs, Pamella Roland, Gucci to No 21 created statement outfits by using this classic adornment.
Folk Spirit – Festival fashion
Coachella festival is still one of the most sought-after fashion events. Therefore it is not surprising that fashion designers (Chloe, Longchamp) are revisiting our festival look with folk vibes.
Bionic Girl – Metallic fashion trend
The metallic fabric was a huge trend of the last fall-winter season (read this coverage for more information). Also, it will be a major trend of Spring Summer 2019. The designers Isabel Marant, Balmain, and Talbot Runhof delivered outstanding metallic outfits.
Devious Print
Forget the classic graphic prints (see here the former fashion week coverage). Designers went bold this season with the 90's print (Louis Vuitton), logo print (Marine Serre), bold flowers (Michael Kors) and more.
Green watercolor
In case of beige fatigue, Designers tell us to wear the green watercolor. Actually, this color is on point for Spring for an elegant silhouette.
The bike shorts
The bike shorts trend confirms its return! So, try it this season with an elevated top or layered it with a dress. Check out this blog post for more outfit ideas.
Statement sleeves
The sleeves have been reviewed by luxury designers to provide a new take on a classic chic silhouette. Indeed, Valentino, Balmain and Balenciaga use this edgy detail to instantly elevate your dress or blouse.
Transparency and layering Spring Summer 2019 trends
The clear trend is becoming a recurring fashion week trend (read here for more information about last year trend). For this Spring Summer 2019, Designers play with the PVC fabrics to master the art of layering clothes.
Perfecting the basics
Luxury fashion houses provide an updated version of their most famous looks.
Accessories from the Spring Summer 2019 Fashion Week Coverage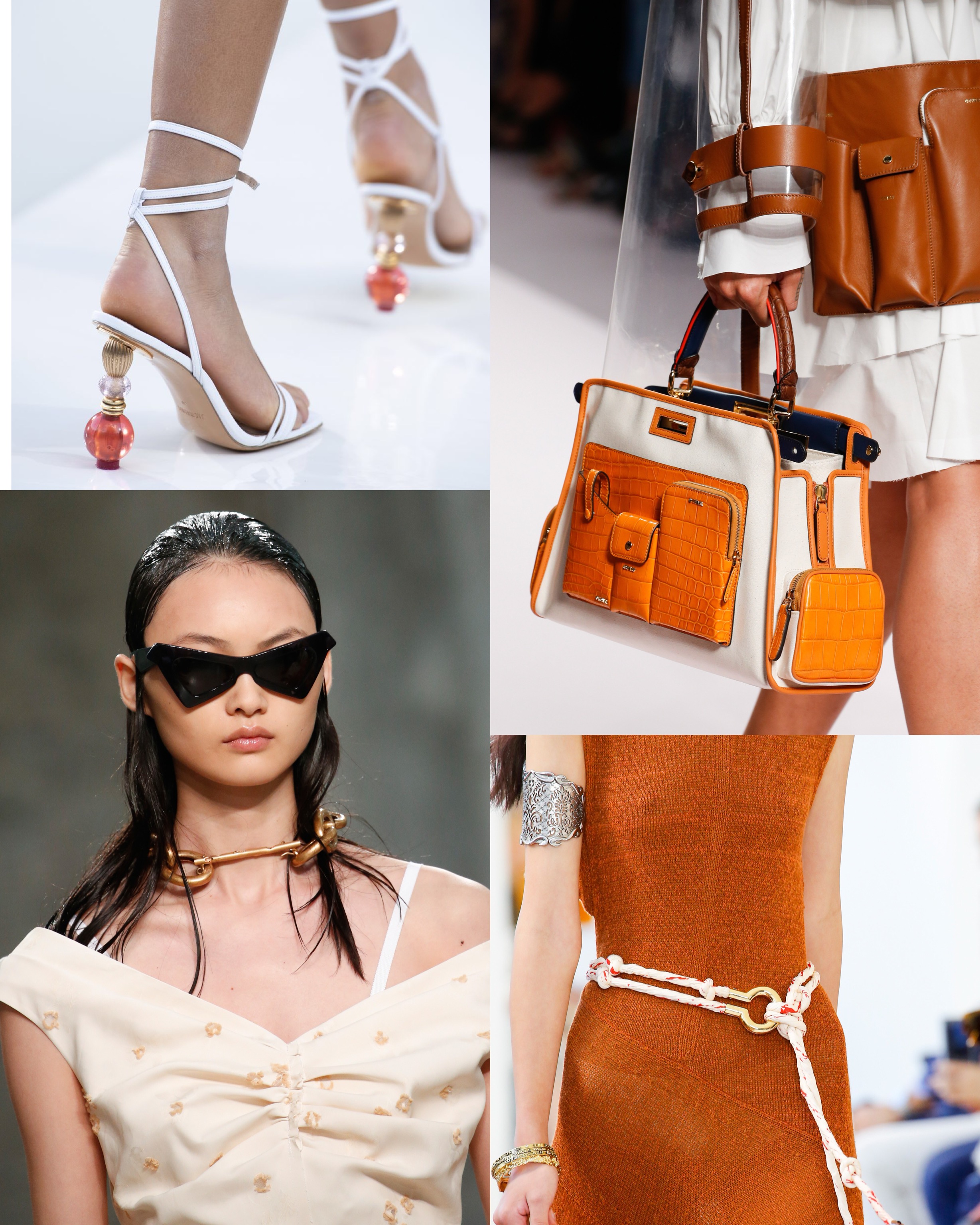 Bag & other accessories Spring Summer 2019 trends
Oversized but minimal design accessories
Noteworthy footwear spring summer 2019 trends
Statement shoes with Jacquemus, Prada, Dior, etc.
Pictures sourced on Vogue Runway.