In this post, I am sharing with you my favorite clean beauty / non-toxic products which I use on a daily basis (I keep reordering them over and over!). I have been using these clean beauty brands for over three years! I have a sensitive and combination skin and my main aim is to get a youthful glow, hydrated and balanced skin. Also, as I am over 30 years old, I need anti-aging products to keep up with a firm skin.

I would definitely recommend these items if you are looking for safe, efficient and glamorous cosmetics. You can get most of them at Credo Beauty, Sephora and Target.
I consider that face cleansing is the most important step to have glowing skin, so don't forget to remove your makeup before going to bed!

Step A: Clean Beauty – Night Routine

At nighttime, I always double cleanse to remove makeup & impurities and to balance my skin. Since I started doing this double cleansing, I have noticed fewer breakouts.
Step 1: I start with the Caudalie gentle cleansing milk. I am using the Target oil-free eye makeup remover (paraben, phthalates, and sulfate-free) to remove my eye makeup. It works well for my sensitive eyes, although I am still in the hunt for a clean oil-free eye makeup remover.
Step 2: I wash my face with Caudalie instant foaming cleanser. I also love the one of Burt's bee gentle foaming cleanser.
Step 3: I use an alcohol-free natural toner (a must-have for sensitive skin). Although Caudalie Moisturizing toner is a very good one, I also love the Thayers Lavender Witch hazel formula or the Pixi Rose tonic.
Step 4: I apply a recovery oil at night. I am obsessed with the Caudalie Vinosource overnight recovery oil or the Josie Maran Argan oil. From time to time, I also massage my face with the Herbivore Jade Roller after applying the oil.
Step 5: I religiously apply an eye cream. I have dark circles, and I really need to hydrate the eye area to avoid fine lines. I am buying on repeat the Caudalie Resveratrol Lift Hyaluronic Acid Eye Lifting Balm. You can apply it under the eye, on the eyelid, and around the lips. 
Then and only then, I am ready to go to bed! If I can't sleep, I also take a pill of Melatonin. I try to go to bed without it, but if I am stressed or if I need to wake up early, I find it pretty useful.
Step B: Clean Beauty – Shower Morning Routine

Step 1: On mornings, if I feel that my skin is fatigued, I wash my face with the Caudalie instant foaming cleanser. Most of the time, I'll skip the cleanser and only use a toner.
Step 2: I wash my body with a sulfate-free soap. I love Dr. Bronner's Pure Castile Soap almond and Raw Sugar Living Almond and Oatmilk shower gel.
Step 3: Once or twice a week: I use a face scrub after the shower. I love Caudalie Deep Cleansing Exfoliator or the Goldfaden MD Doctor's scrub exfoliator.
Step 4: Every week: I use a body scrub. My current favorite is the Oribe body scrub.
Step 5: Three times a week: I clean my hair with a shampoo. I am using Oribe Gold Lust shampoo and conditioner and I love it for my hair (I have the 33.8 oz bottles, but they have smaller versions). I also love to apply a hair mask once a week or to go to bed with the Josie Maran Argan oil on my hair.
Step C: Non toxic beauty: Hydrating and Protecting

Step 1: I use a hyaluronic serum and a hydrating cream for the face. It's perfect for sensitive and combination skin. I try to avoid retinol and vitamin c serum as they are a little bit harsh for my skin. Usually, I use the same brands for both serums and face creams for a better result and less skin reaction. One of my favorite clean beauty brands is Susanne Kauffman products, which are very efficient and have a clean formula. I love the hyaluron serum and regeneration cream F. These products are expensive. Still, I think they are an excellent investment and as efficient as La Prairie or La Mer.
Step 2: I use a body cream daily. I think it is crucial to hydrate your skin after showering. Oil or cream? I don't really have a preference. When I go to France, I stock-up the Bio-Beaute High Nutrition lotion with cold cream and almond oil.
Step 3: Eye cream: I use the same eye cream for day and night (Caudalie: Resveratrol Lift Hyaluronic Acid Eye Lifting Balm).
Step 4: SPF. Regarding SPF, it really depends whether I am wearing a foundation or not. If I am not wearing a foundation, I use a BB or CC cream, which contains SPF. My favorites are the Dewy cream from Beauty Counter (shade 2), the CC cream from Juice Beauty, or the Bio tin SPF 30 cream (color Fair) by W3ll people.
If I am out all day in Los Angeles, I usually apply the Skinceuticals Sheer Physical UV Defense SPF 50 (it is a mattifying, broad-spectrum sunscreen for normal, oily, combination, and sensitive skin types).
If I don't wear any SPF and go out, I spray some Coola makeup setting spray SPF 30 (I always have a bottle in my car).

Step D: Non-toxic make-up

It is difficult to find great clean makeup labels. I have tried many brands, and often I am disappointed by the texture or the ingredients. I share below the clean products I use on repeat and which does not contain paraben, phthalates, and talc.
Step 1: Correct
Layering a corrector and a concealer is a game changer!
First, I use the Nu Evolution Disguise skin corrector on my dark circle from Nu Skin, and then I apply the Vibrancy concealer from Josie Maran under my eye, eyebrow, and near the nose. 
Step 2: Cover
I prefer to apply my foundation with a makeup sponge (which is also a game-changer as it gives a natural finish). I love Ilia True Skin Serum foundation. 
If I don't have something specific, I wear a BB or CC cream. The Bio tin SPF 30 cream (color Fair) by W3ll people has great coverage.
Step 3: Accentuate
Eye: For my eyes, I wear an eyeliner and a mascara from Tarte Cosmetics. I have been buying the mascara for more than three years. The liner stays well.
Eyebrows: If I have an event, I define my brows with the ecobrow wax and brush. I always use a shade lighter than the color of my eyebrows to make it natural.
Highlighter: If I have a photo-shoot or an event, I use RMW beauty highlights around my eyes and lips.
Bronzer: I use a bronzer with no talc. I love the one of Han Skin Care Cosmetics. The color and odor are amazing. It is my favorite bronzer, but unfortunately, the packaging is not very solid. When I am tanned, I am using the W3LL People bronzer.
Step 4: Fix it
I love W3LL people invisible powder to fix my makeup. If I am out under the sun, I add the Coola makeup setting spray.
Step 5: Lips
I don't do a lot on my lips as I prefer accentuating my eyes. Indeed, as a French girl, our rule is to emphasize either the lips or the eyes.
Most of the time, I use a coconut lip gloss from Kopari. If I want some plumps, I love applying the Josie Maran argan sting plumping lipsticks. For an event, I use the lipstick from Nudestix magnetic matte lip pencil, it looks natural and the pen gives a great definition. I also love the rosy beige sheer lipstick by Beauty Counter, which also looks natural and has an ultra-moisturizing formula.
And voila! It was a pleasure sharing what I have learned during these past years to satisfy my sensitive and combination skin.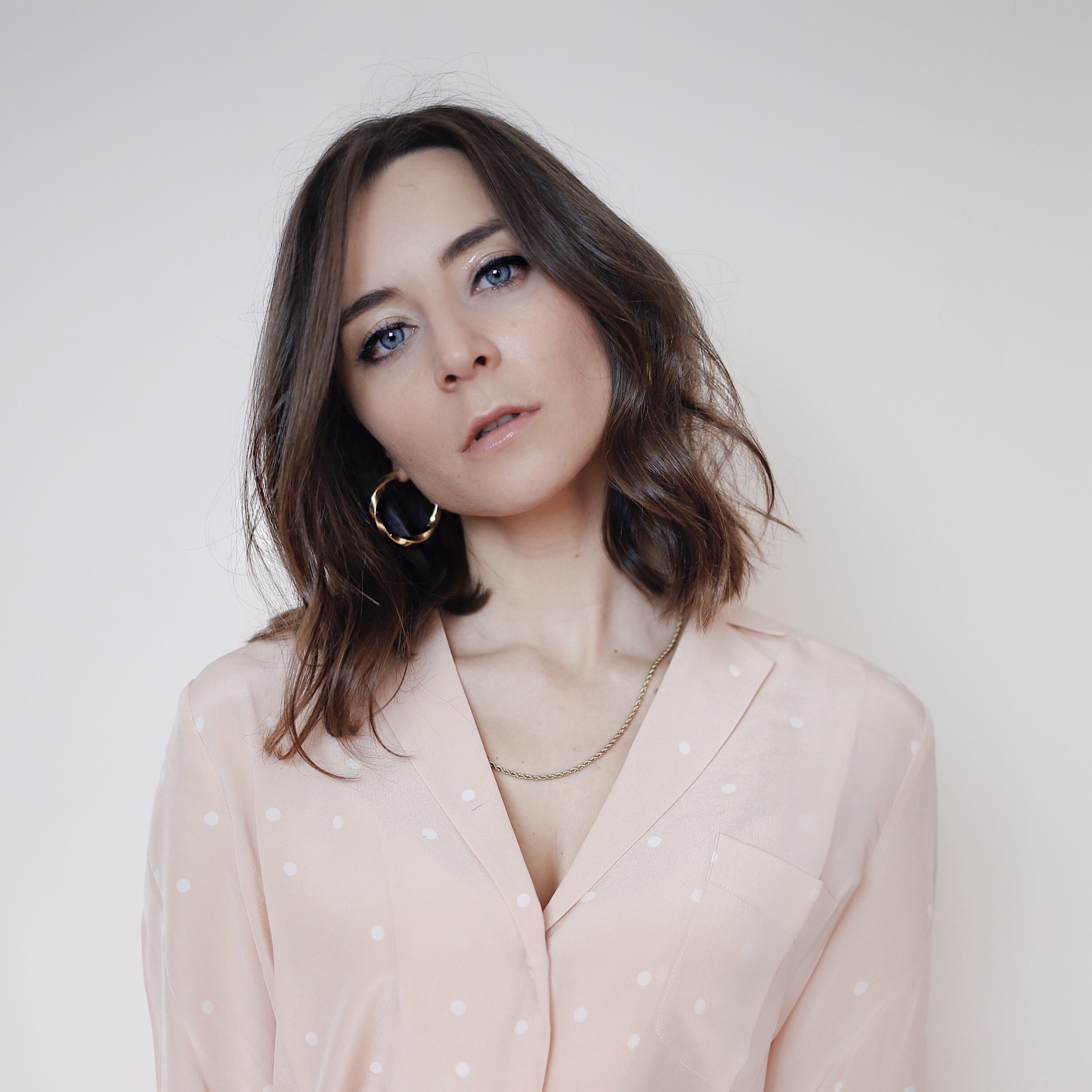 Outfit: Sezane polka dots shirt and Maria Black earrings.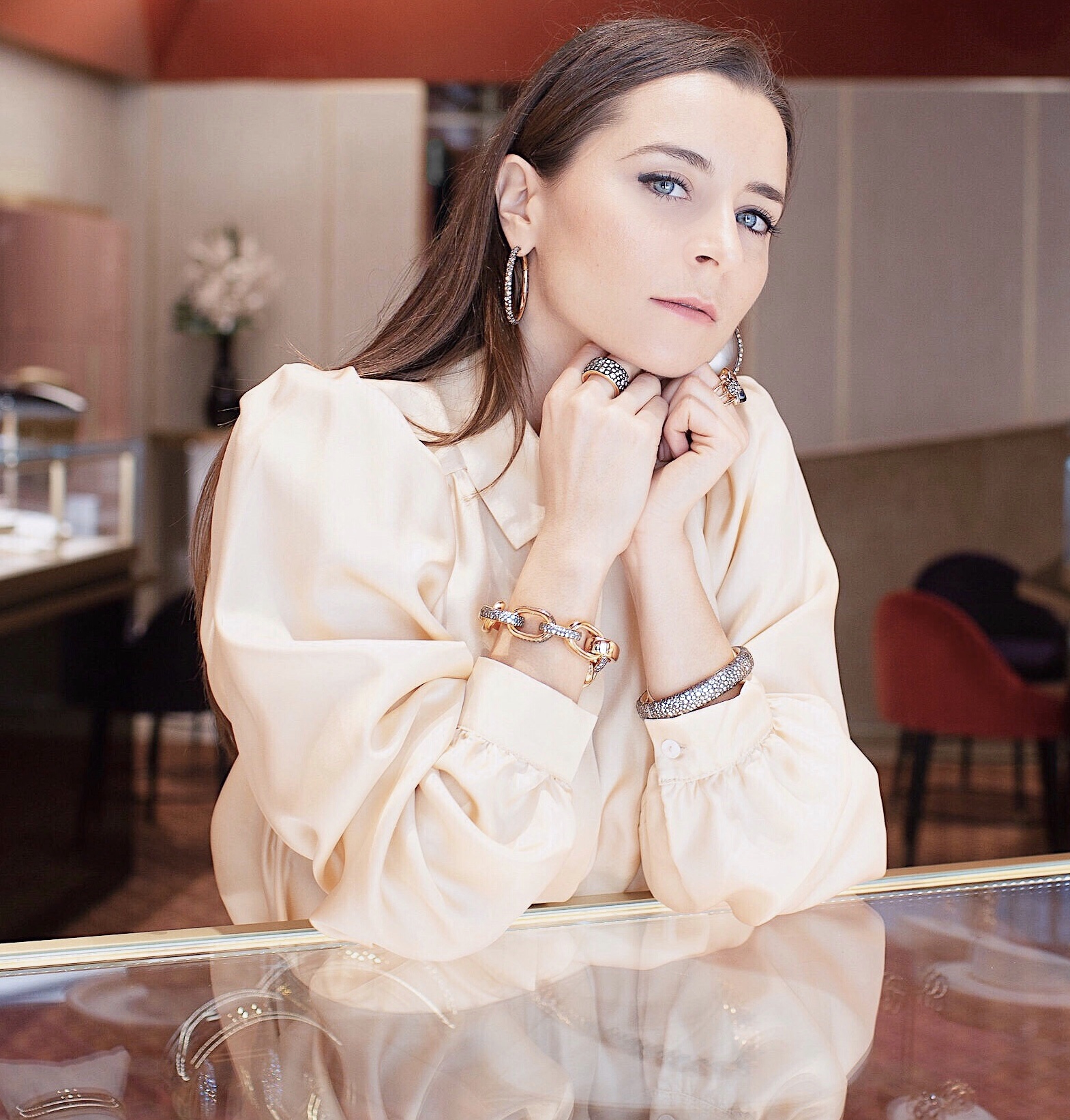 Outfit details: Eliza Ivory Shirt by Lisou London / Jewelry: Pomellato