Where to shop modern and minimal furniture with an edge: Lulu and Georgia Review.
I have been a long-time client and fan of Lulu & Georgia. Lulu & Georgia is an online furniture shopping destination. The team designs and curates the best and latest interior design trends, make them accessible, and keep us up-to-date. They also include exclusive styles that we won't find anywhere else. In addition, Lulu & Georgia is a female-founded business (which I always love to support!).
I have recently partnered on Instagram with Lulu and Georgia to redecorate my dining room. I absolutely love the products I received and how my dining room looks now.
Since I have redecorated this place, we spend much more time with my family and friends: sitting around the table to enjoy a meal, playing games, or simply discussing and getting inspired. I am so glad I took this opportunity to redecorate my living room and the way it improves my lifestyle.

Sculptural, modern, minimal, organic dining room
I picked organic and timeless pieces made with beautiful raw materials.
Organic and sculptural wooden bookcase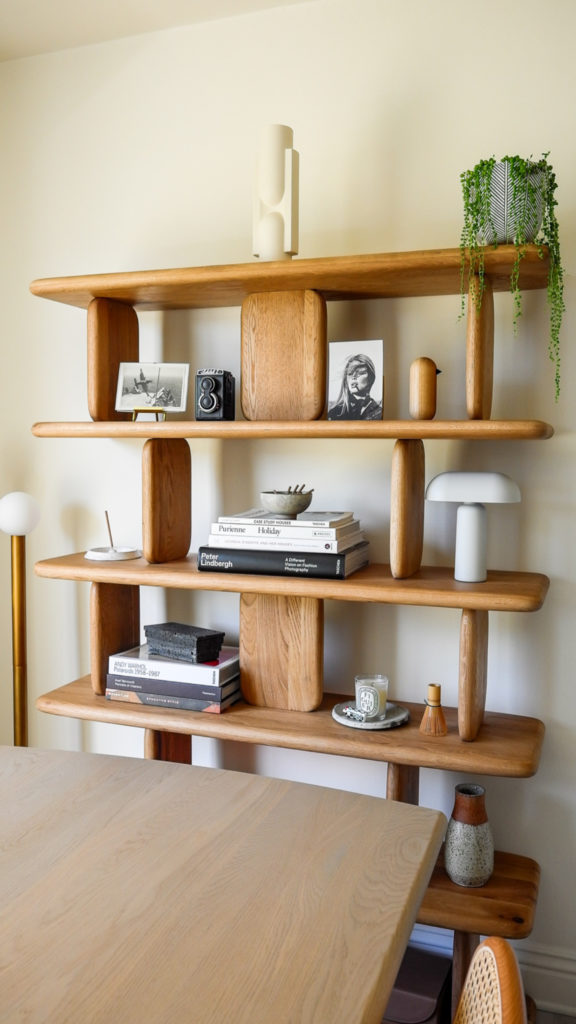 This bookcase is an absolute crush, and it really stands out in our dining room with its organic shape. This modern display bookshelf features staggered support pieces with interesting woodgrains and rounded corners for a softer, more approachable look. Plus, it is roomy, practical, and perfect to showcase our favorite home decor pieces. Shop it here.
Curved and minimal solid wood dining table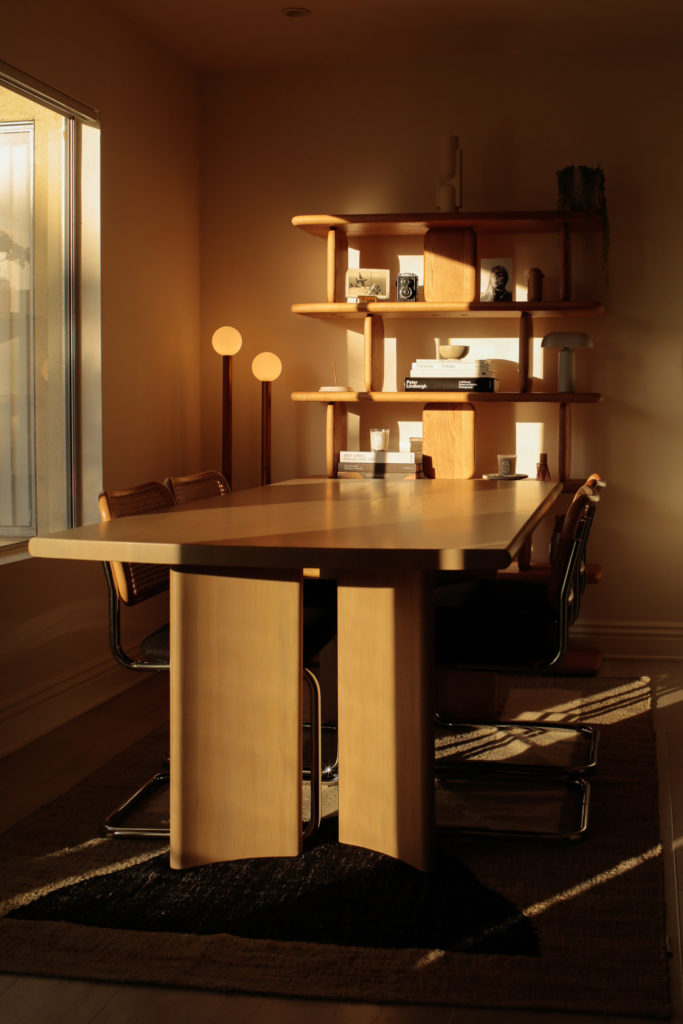 This curved table from Lulu & Georgia is very sturdy, well made, and I absolutely love the round angles. We chose the oak wood finish and the 78″W dimension.
This table helps create an open, natural space with its minimal shape. A solid white oak slab tabletop sits atop the offset, curved legs of the dining table, which seamlessly blends a clean, architectural line. Hand-built, this long dining table is an excellent addition to our home, where we can sit at drinking, eating, playing, or just socializing for long after the meal ends. Shop it here.
A modern and playful accent floor lamp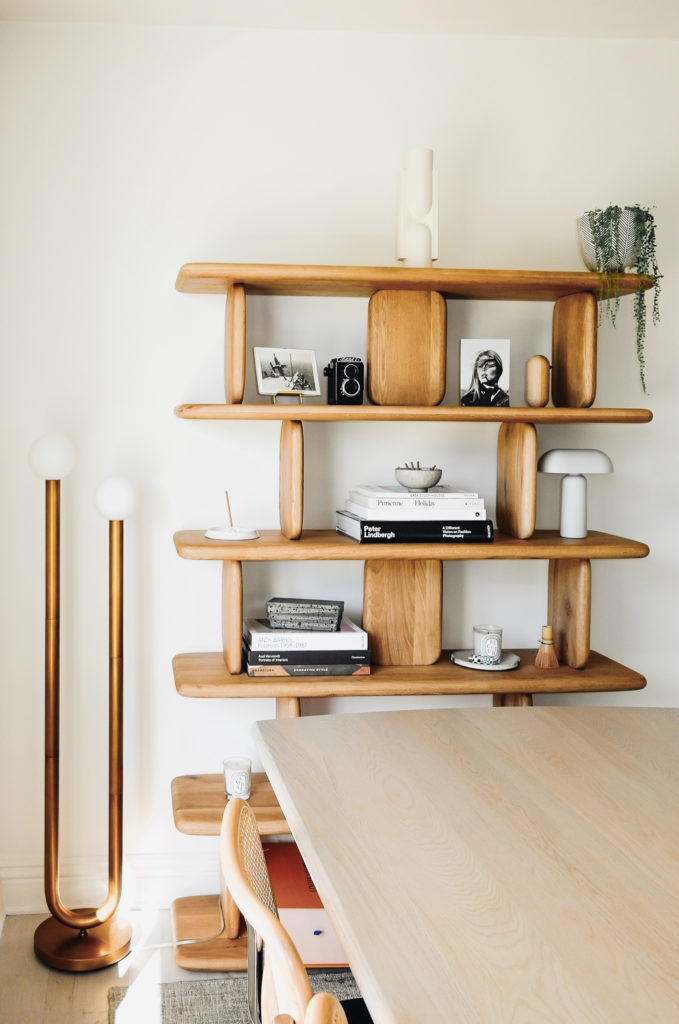 The name of this floor lamp is "Happy," and it really helps to create a warm and charming atmosphere. The Happy Floor Lamp features a metal tube silhouette and contrasting matte white bulbs. In addition, you can easily set the perfect mood with the lamp's dimmer function. Shop it here.
A natural, geometric rug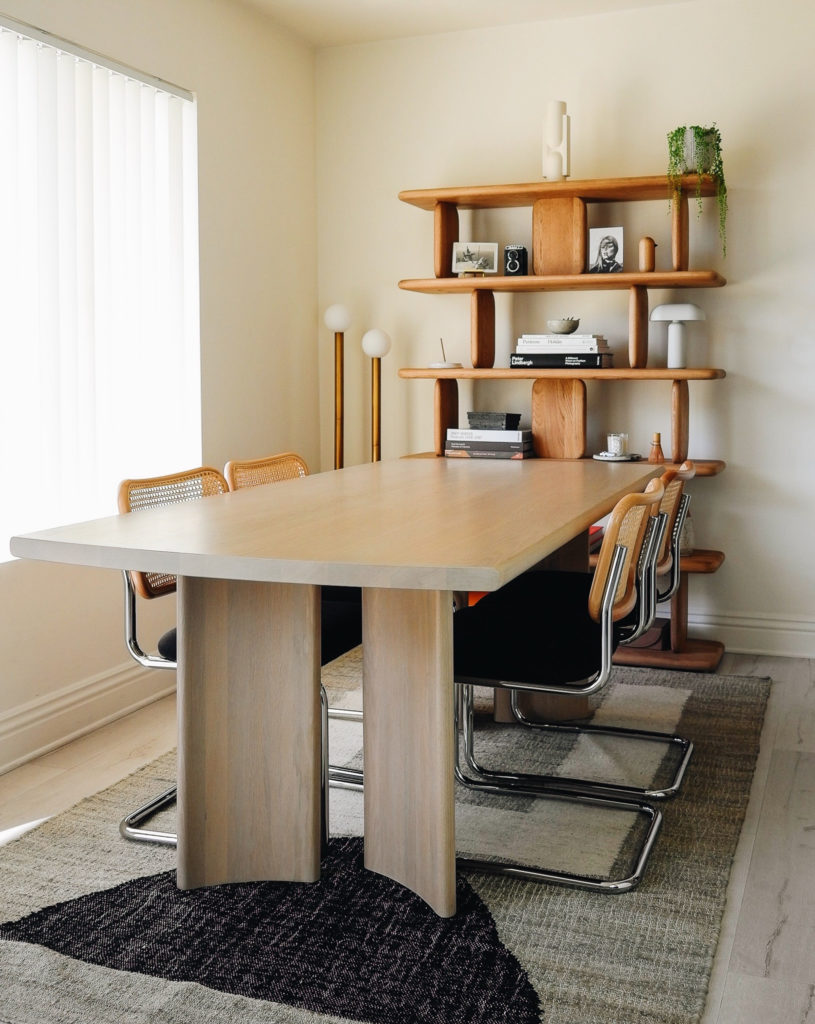 This modern rug with a bold geometric design adds a sculptural look to our dining room. This handmade flatweave area rug features neutral tones and yarns blended with natural fibers for a texture-rich feel. As a lover of neutral and geometric patterns, I am naturally obsessed with this rug from Lulu & Georgia. Also, this rug is really versatile. We tried it in our other rooms, and we love how amazing it looks in our living room, bedroom, and entryway. We selected the 5'x8′ size. Shop it here.